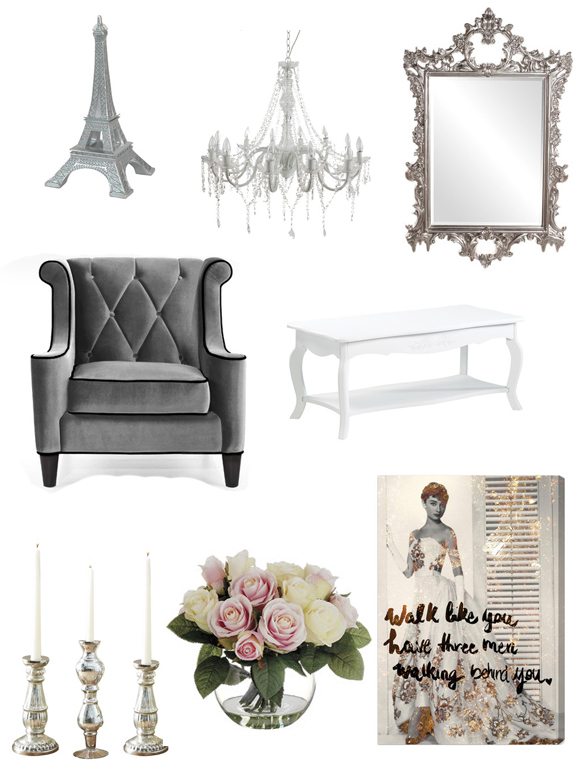 Get the look: Roses / Eiffel Tower / Chandelier  / Mirror / Chair / Table / Candle Holders / Canvas
It has been all about the glam and gorgeous when it comes to decorating here on the blog! I just can't get enough of all of the prettiness!! In one of my previous posts, 10 Ways To Make Your Living Room Extra Glam, I shared how I have been making things even prettier in my home.
In order to do this I followed an ideal list of the ways that I truly believe glammify any space! In this post I dished out on those 10 ways and now I'm going to share with you an oh so special little mood board to go right along with it.
In this glamorous mood board I compiled some of my absolute favorite and also essential decor pieces. With just these few pieces alone any room is sure to look instantly glam!
Seriously how gorgeous is that chandelier? I would love to have such a gorgeous piece right in center of the living room. As for the drool worthy ornate-french styled mirror, would look divine styled over the couch. If you happen to have a living space that has to share it's self with the dining area, the mirror would also be perfect over a hutch or shelf across from the dining table as well.
This mood board gives a good idea of what makes a gorgeous room exactly that! You need to make sure that you're covering your bases with the furniture of course, as seen in the mood board with the velvet accent chair and darling shabby chic coffee table. Adding in the mercury glass candle holders, some pink hued blooms, a little bit of the always lovely Audrey Hepburn, and a darling Eiffel Tower statue, and voila your room is now totally glam & gorgeous!