Hey Dolls! it's all been about decorating and re-doing the living room over here and I've put together my list of 10 ways to add that extra glam to your space and they also happen to be exactly how I am going about re-doing my space at the moment. They mostly consist of the smaller ways you can glam things up around your place without having to break the bank.
We all love to switch things up a bit from time to time right? It can truly feel rejuvenating (at least it does for me) to make some changes and pretty up a space or two. And with the holidays fast approaching which also goes hand in hand with the visits from family and friends, glamming the living room up a bit sure seems like a great idea!Now, you don't necessarily need to go and revamp your whole living room to get the right touch of lovely in your space.
Note: Aside from the items you're choosing for your space, where you purchase them is key, as well, to saving while decorating. I'd always recommend Homegoods , Tjmaxx, and Marshalls, without a second thought. The fabulous items and deals you can find at these stores is real life!
1. Fashion coffee table books // I can't even begin to tell you how much I love these! Not only are they wonderful because they're beautiful books on one of my passions in life, but they look absolutely divine when styled in your space! Placing them in a styled way on your coffee table, side table or shelves is sure to add a chic look to your living space (and also gives your guests something pretty read & look at!).

2. floor to ceiling curtains // I have always been an advocate for curtains in the home. Not only because I like that added layer of privacy but I feel like the right choice of curtains truly adds character and a certain lovely feel to your home. When shopping for curtains I always choose the longer lengths or the average length that you'll find when purchasing curtains. Yes at times this is the pricier option if you're shopping and not looking for a deal! But this also gives such a different look to a room when styled the right way. We always install our curtain rods as close to the ceiling as we can get it without looking awkward and this also ends up beings quite a few inches above the actual window. However, when the curtains are finally up it makes the room look much taller and that much more lovely.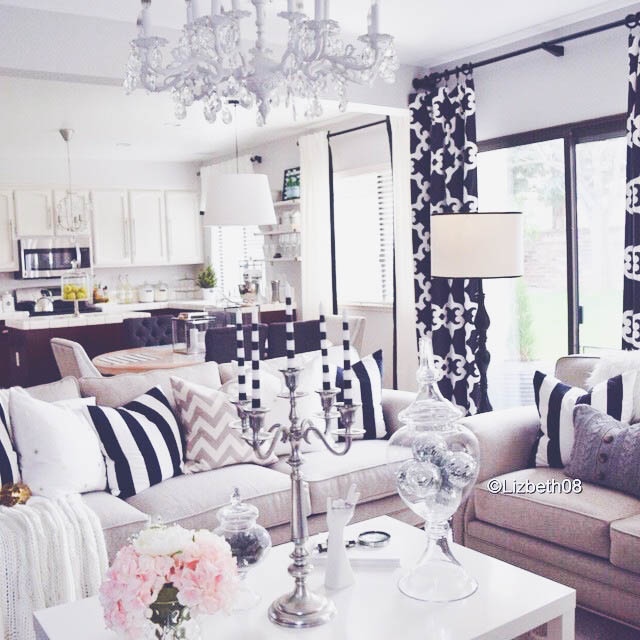 3. 

gold decor/furniture accents
// There's something about golden details that truly gives a glam feel to a s

pace

( 

especially when paired with pink details!

). To get the glam golden look you don't really need to go all out with gold accents all over your home. You can keep it simple with a few minor objections, such as a candle holder, picture frame or what not to incorporate the golden look into your glam living room.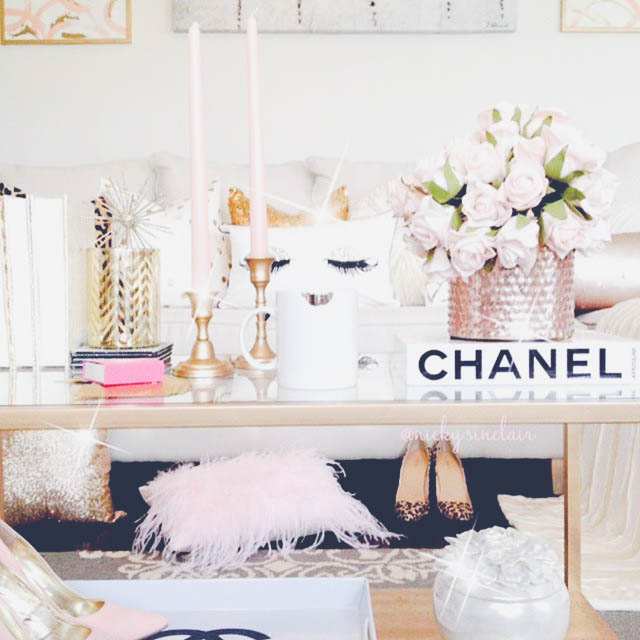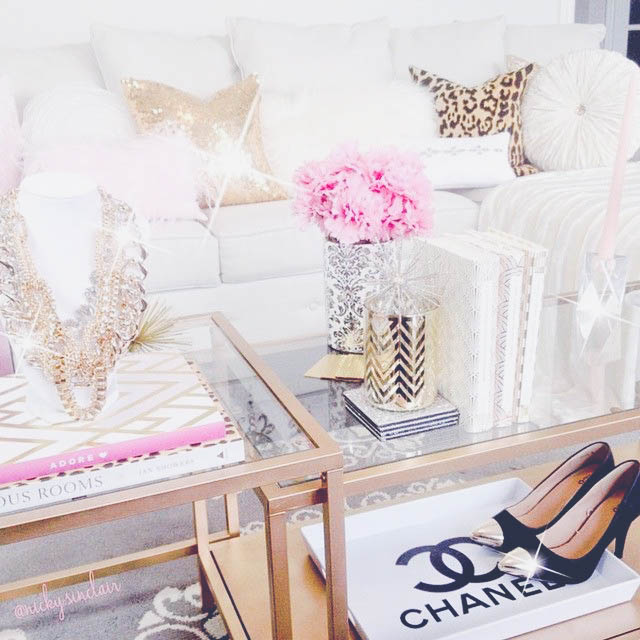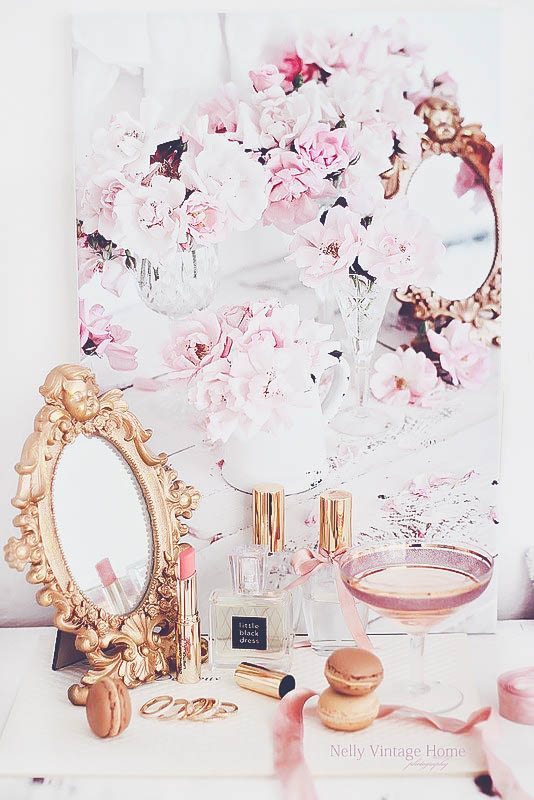 Photo and decor by the lovely Nelly Vintage Home, Click here for more pretty from her.
4. a chic statement rug // This is a staple-must and always has been in my living room. Depending on your price range and choices, when it comes to choosing a statement rug for your space it can dramatically change the look of your living room without having to pay too much. I like to think of the rug as bringing all of the other components in the living room together so for my space I'm choosing a neutral color with some glam details but neutral enough that I can switch out the curtains, pillows and decor details without having to stick to any specific color palette or style.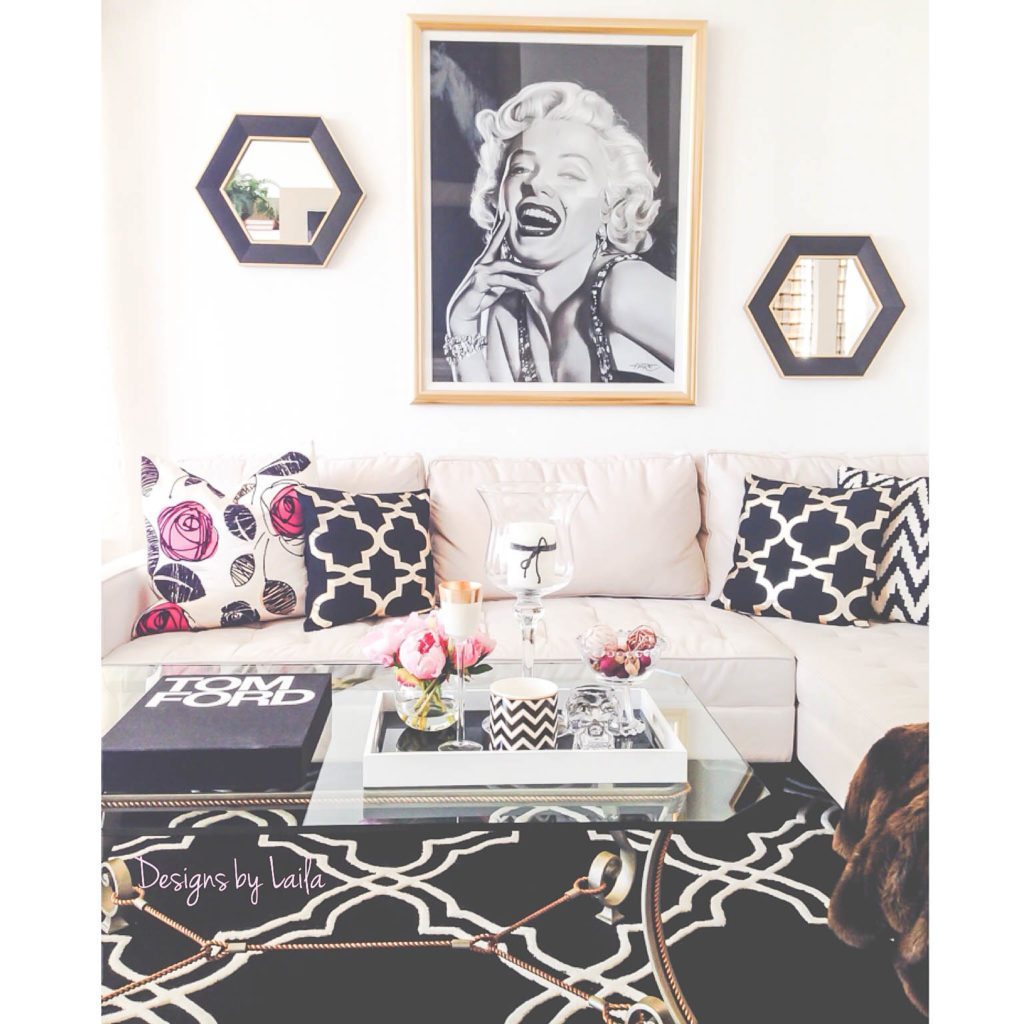 Photo & styling by the gorgeous Designs by Laila, Click here to see more fabulousness by her.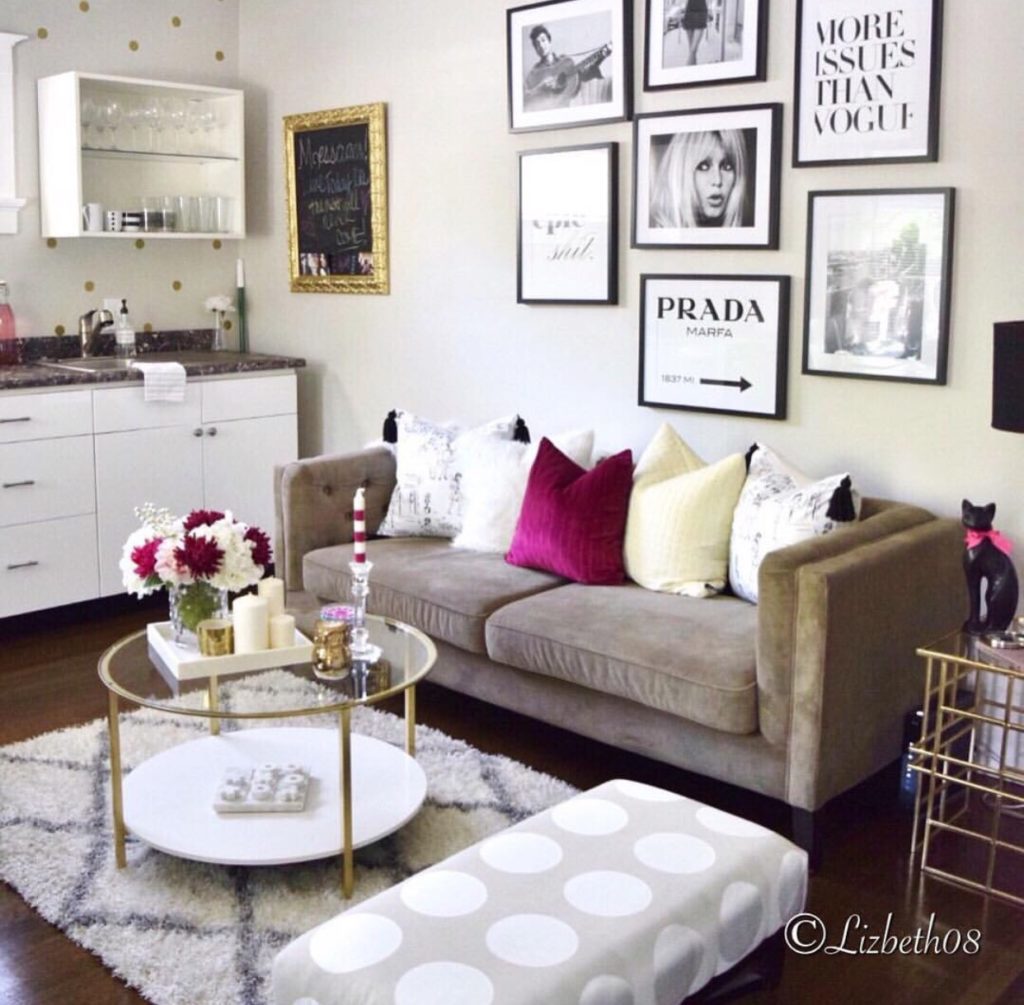 Photo & styling decor from the wonderful Home & Fabulous, Click here to see even more fabulousness from her.
5. accent pillows and throws // I'm a little too in love with throw pillows and blankets as my husband would say but they're fabulous! I think that they are another great way to glam a space up but by making just a small change. For a glam look, I would throw together some sequin covered pillowcases ( to get that sparkle) and also combine it with some faux fur pillows and rugs. Overall it adds a glam and soft feminine look and it's also a perfect combination for the holiday season.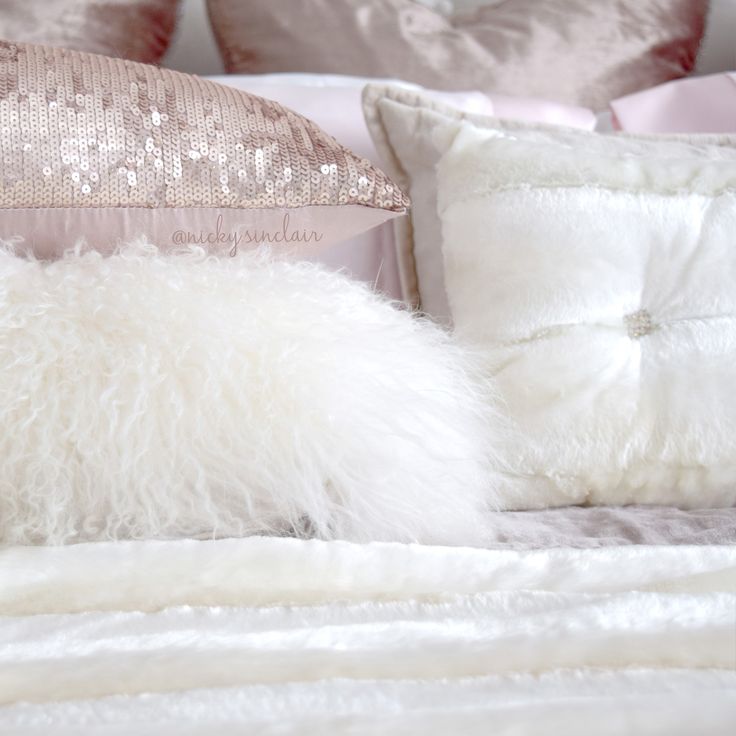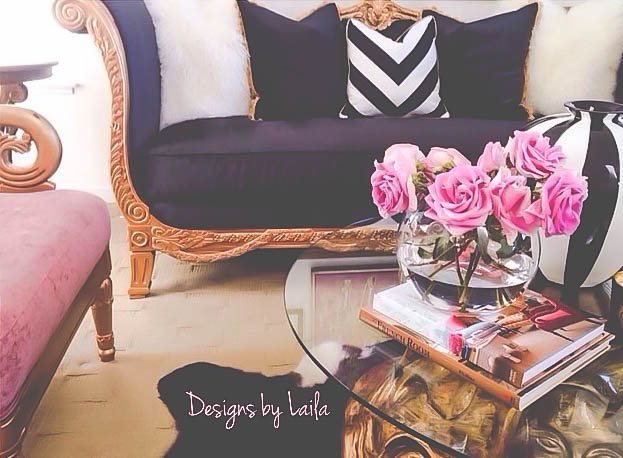 Photo & styling by the gorgeous Designs by Laila, Click here to see more fabulousness by her.
6. candles and lighting// One of my all-time favorite things ever has to be candles! These and some lovely light fixtures can make any space, that much lovelier.
 Photo & Decor by Dana from Inspire.Home.Decor, For more fabulousness from her just simply click here.
7. crystal decor accents // When I see crystal decor accents such as candle holders, vases, frames, I immediately think glam. For this reason, crystal had to make the glam living room list! I know crystal can also be a bit pricey as well but if you're wanting to not spend too much you can find some lovely little crystal candle holders and what not for a good price! For example, Macy's just had a super duper great sale with their home stuff and their crystal candle holders were marked WAY down. I bought two different candle sets that were originally $60-$80 for $19.99 and they are sets! Super Yay and they look just like the ones shown below! I cant wait to have them styled in my living room with the natural lighting making them glisten and sparkle.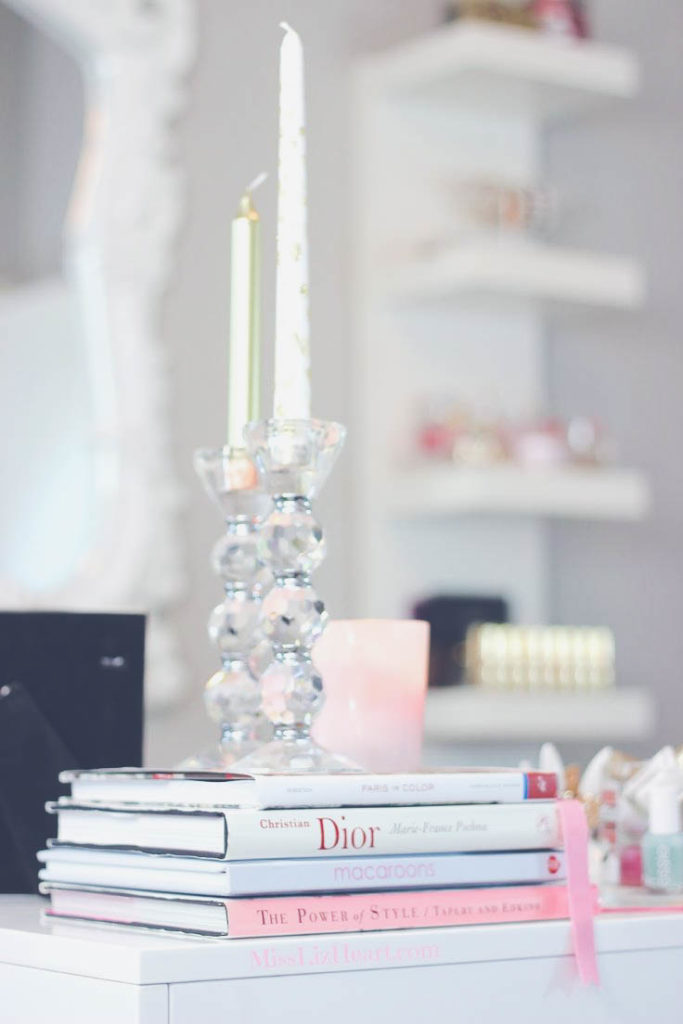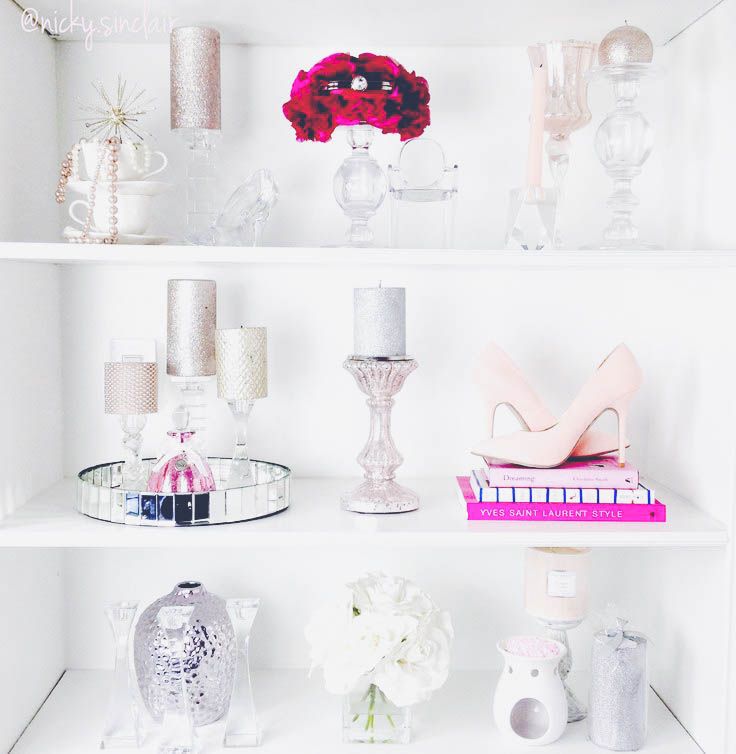 8. floral arrangements // I swear by adding florals and blooms to any space! Of course, real flowers are always the preferable option but faux ones can work just fine as well! I love going for pops of pink when it comes to adding flowers to a space for a glam effect.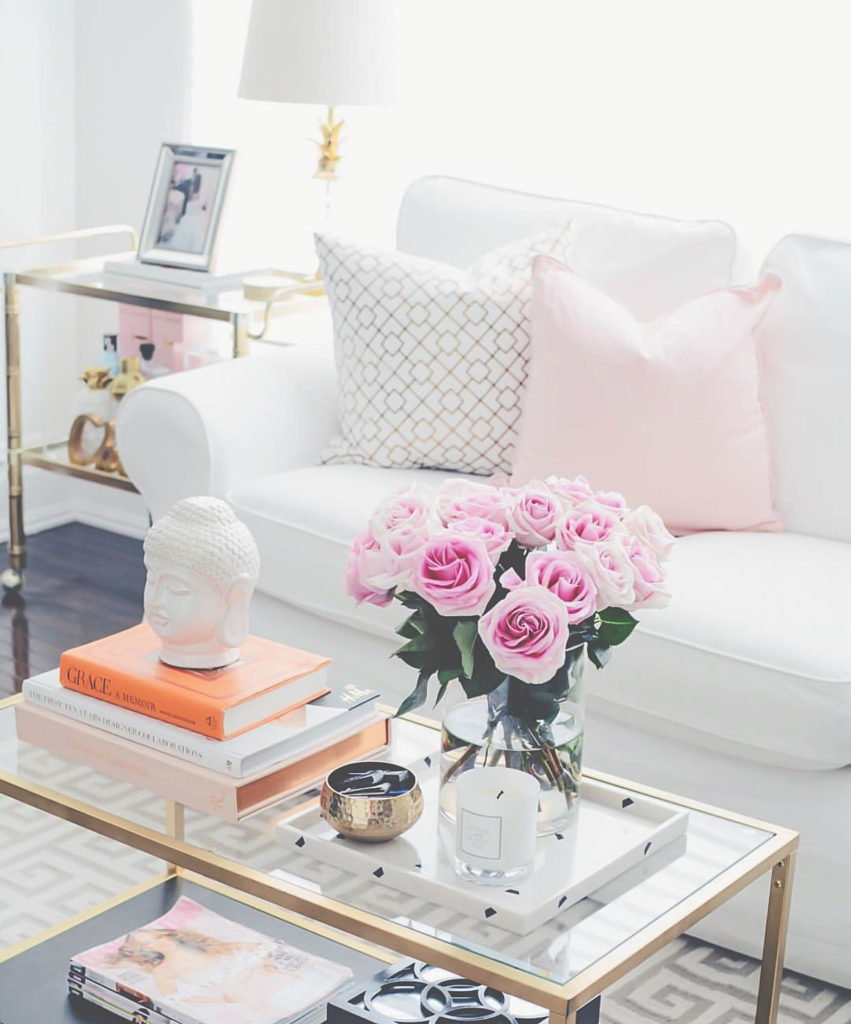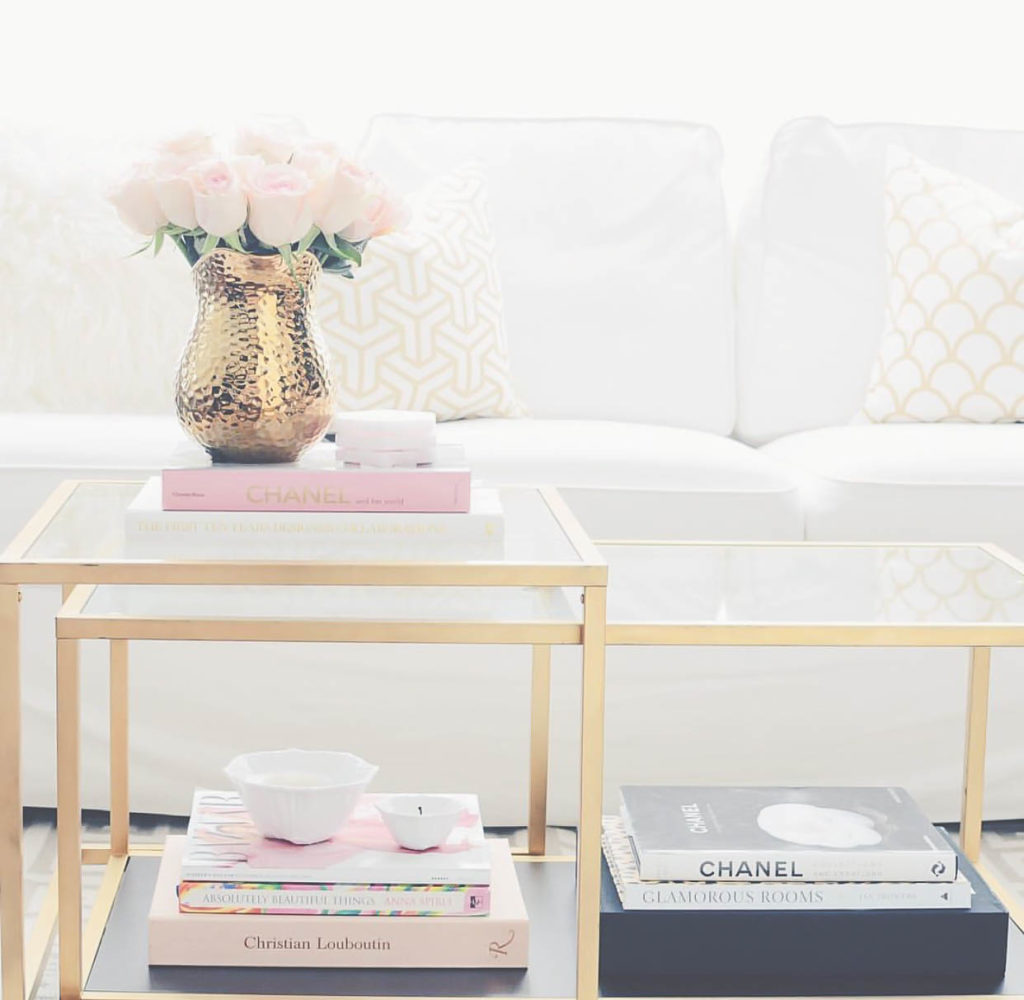 Photos & decor designs by the fabulous Ceres, Click here to see more prettiness from her.
9. accent chairs  / I find it so surprising the effect you can achieve by adding a simple accent chair to a corner or space can have on the overall look of a room. After all, it's just a chair but who would have thought that picking just the right style can make just about any room look the much more fabulous!
10. art &fashion prints // I love love love these! Adding art and fashion prints is a great way to add character to your living room. For the glam look, I'd opt more towards different types of fashion-oriented pieces. For example ,in my space ,I have a lot of sketches from my dear friend Josefina Fernandez Illustrations that feature lovely ladies in adorable outfits! Especially tulle skirts because you must know how I love those!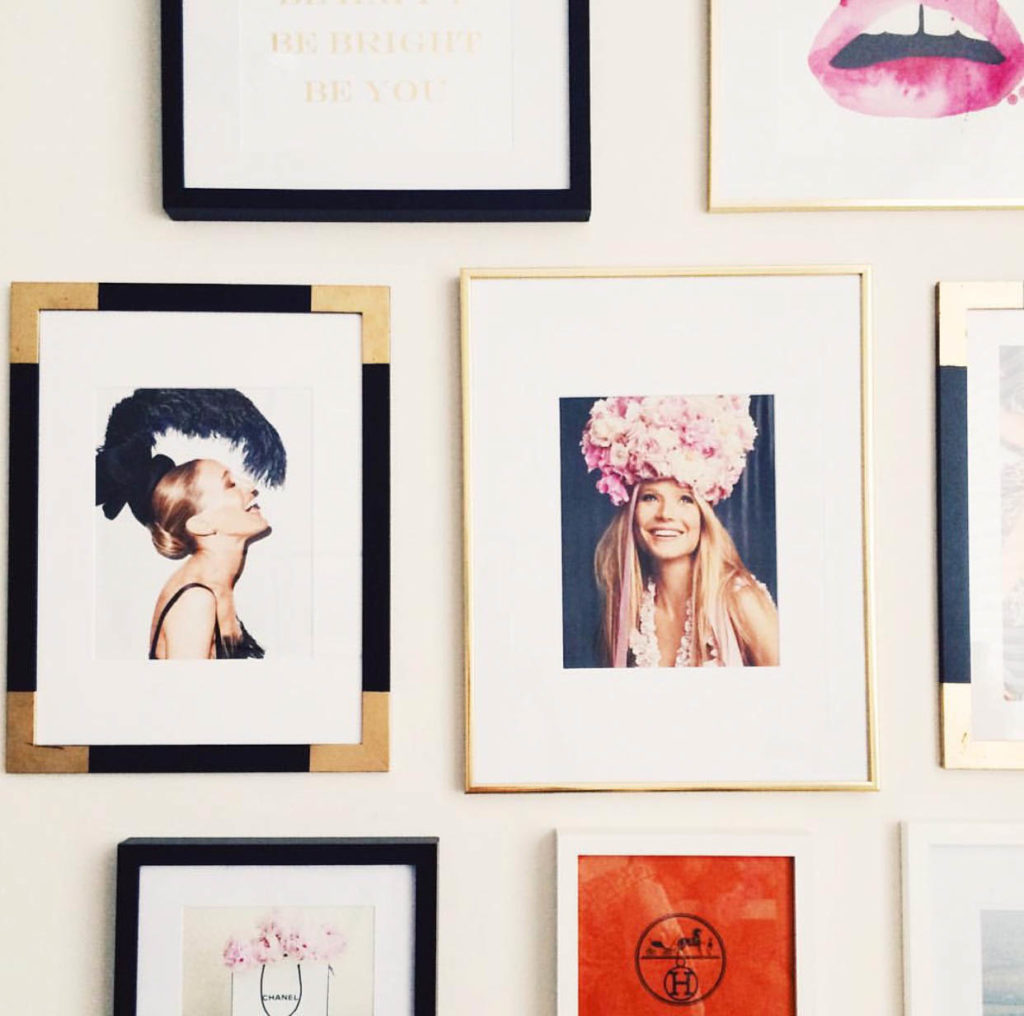 Photo & decor designs by the fabulous Ceres, Click here to see more prettiness from her.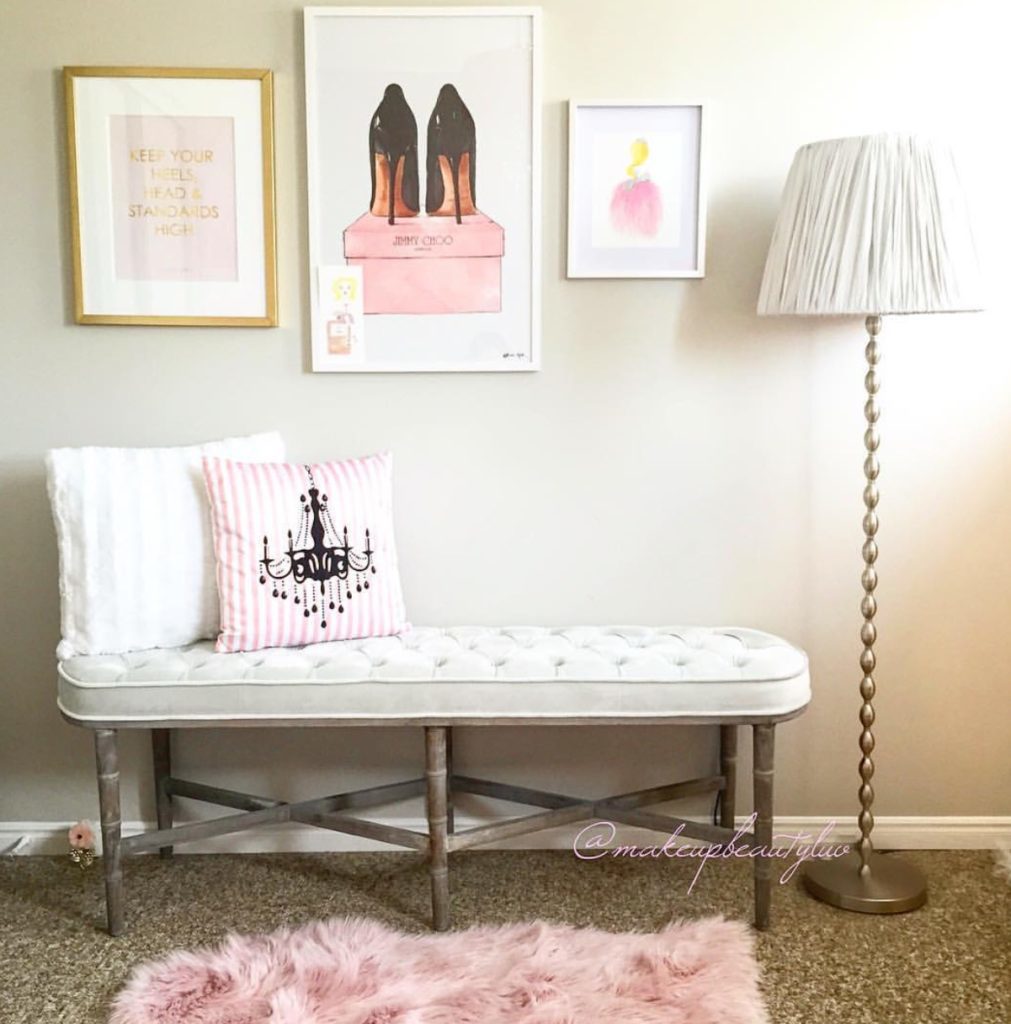 Photo & Decor by Dana from Inspire.Home Decor, For more fabulousness from her just simply click here.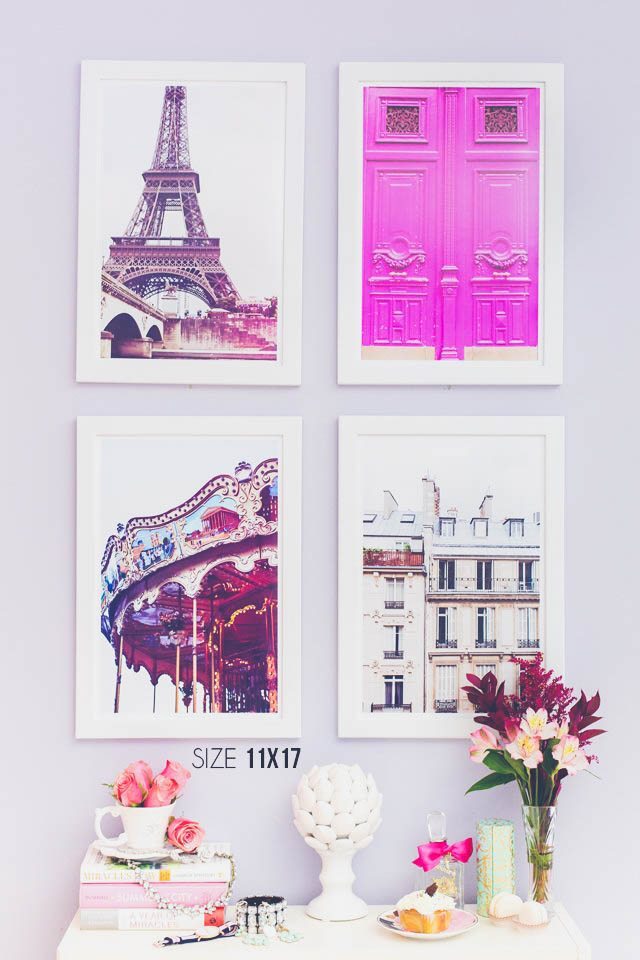 Photo by the darling Anna With Love Shop, Click here to see more from her.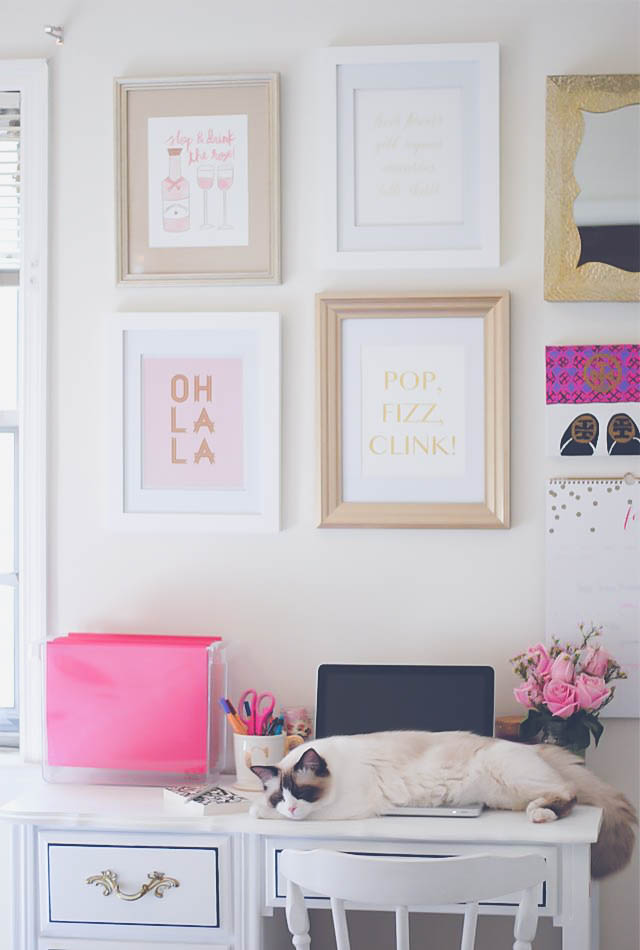 xo.