Yuna Yang NYFW 17 Fall & Winter Wear
The next stop on my New York Fashion Week adventure was the Yuna Yang show for her 2017 Fall & winter wear collection.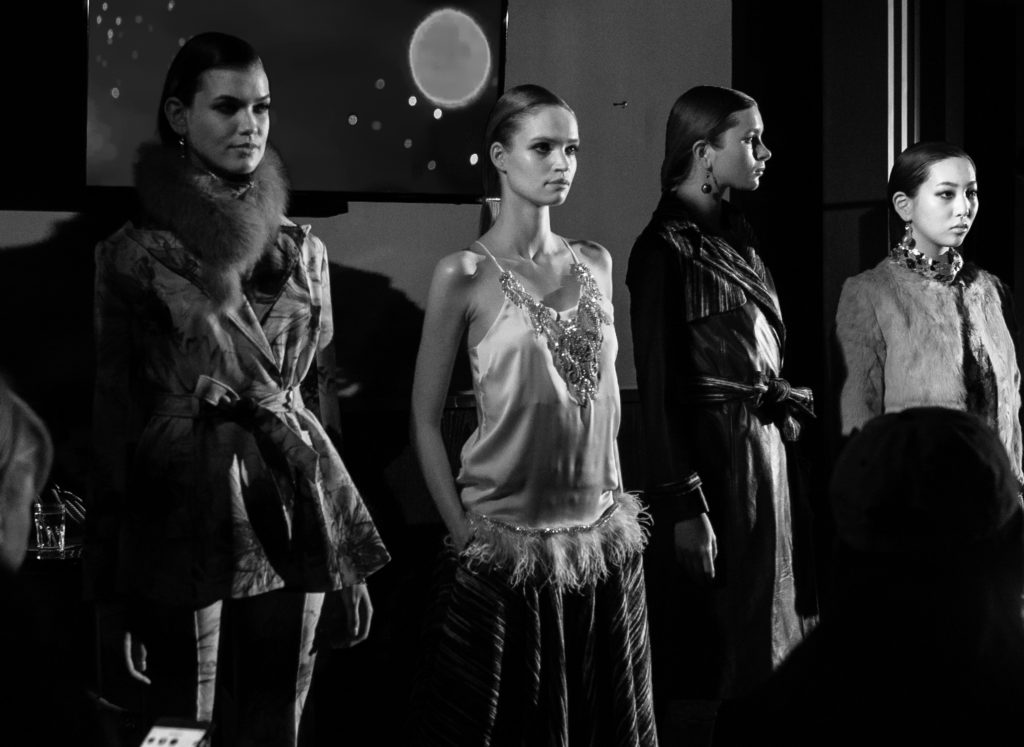 The location was set at the Gotham Comedy Club which was neat to see how they could transform the venue to work for a fashion show.
Arrival
As we arrived there were already plenty of people taking their places in front of the doors waiting for their chance to get inside and be free from the cold of New York.
One of my most favorite parts of this day was meeting a fellow follower named, Carol.
As I stood outside of the doors of the Gotham Comedy Club, I heard, "Lexie!" and looked over to her beautiful & smiling face. She told me that she follows my blog & Instagram and was also so surprised to see me. But I was so surprised to see her!
It may sound silly but when I write my posts and share my photos, a lot of the time I kind of subconsciously think that there's really no one out there following along.
I never would have thought that in New york of all places someone would actually recognize me from my blog. The fact that she did felt great & the fact that she was such a wonderful person felt even better.
What I Wore
My look of the day revolved around another Chi Chi London dress… I know.. I know.. I have quite the addiction with these dresses here but I truly believe you can't go wrong with them.
Every single time I leave my house someone notices my dress and instantly I find myself a new friend. They're such a conversation starter and they make you look fabulous at the same time.
Could it get any better?
The dress I chose was a peachy-pink tulle dress with rose gold sequined florals.
It's incredibly beautiful & a show-stopper ;).
I paired it again with my faux fur ivory coat from Eliza J, black velvet ankle-strapped shoes, and a rose gold crowned headband.
For my hair, I went with a part down the center to pay homage to the 70's style ( that's about as far as I'll go lol) and chose to go with loose curly waves.
My partner-in-crime, the Kate Spade New York Small Harmony, was by my side yet again because she never fails me.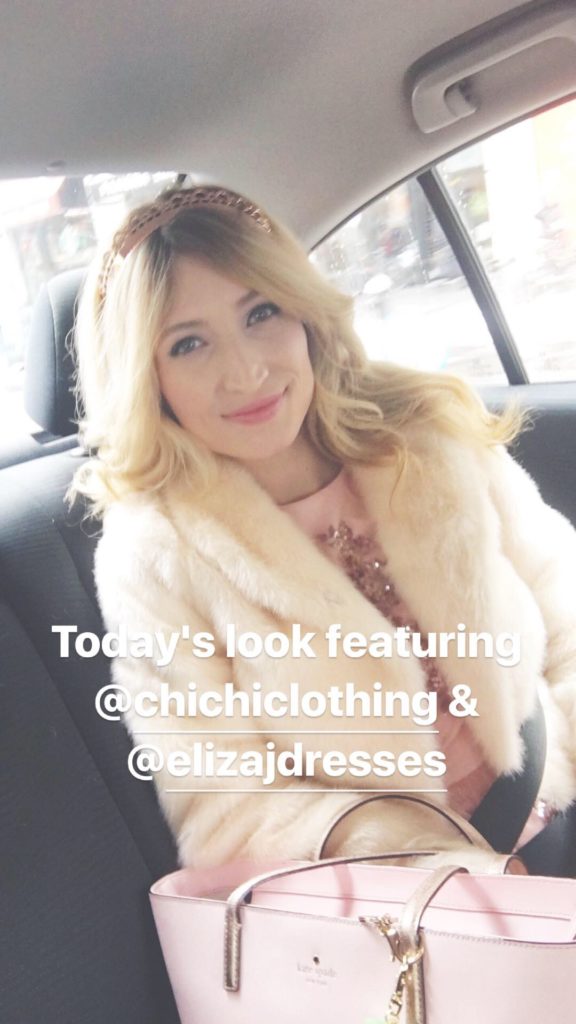 The Show
The doors finally opened and we made our way in.
I was the second person to enter the room, the line must have been held up because it was just only me, one other person and those that were running the show.
This was one of those times that I found myself to be lucky because I was able to grab a seat at a little table with ease.
On the table was a darling shopping bag, provided by Yuna Yang and inside had to be the best smelling room fragrance I had ever smelled.
The room was  soon flooded with people, music played and everyone waited anxiously for the show to begin.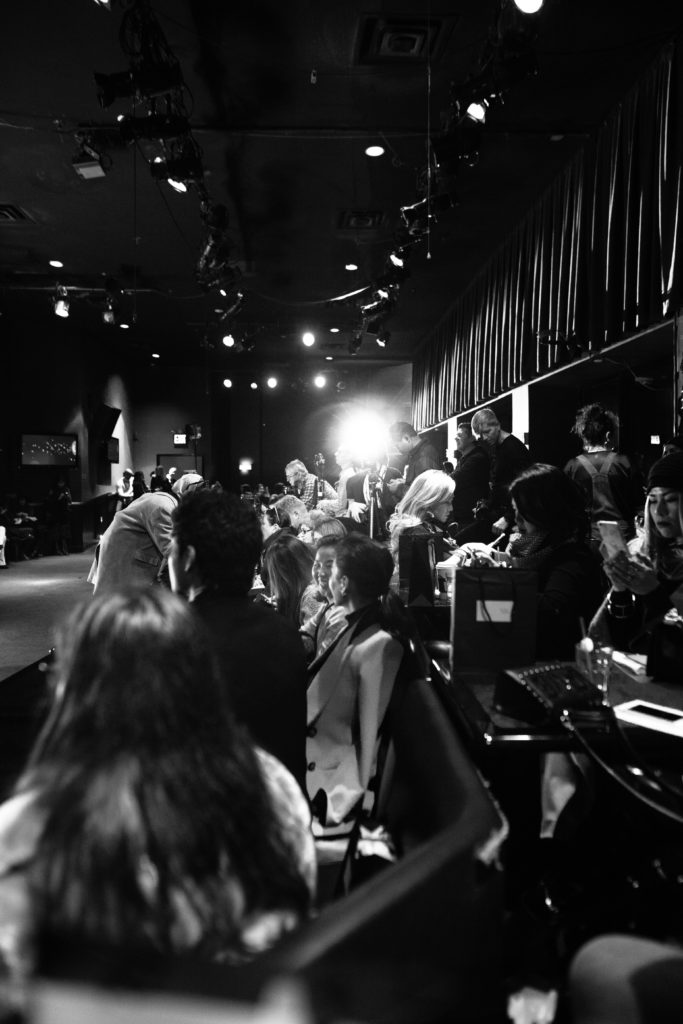 Once again, we knew the show was ready to begin when the music suddenly changed and the lighting shifted.
The room was dark, but there were blue and white lights with dreamy music as the models began to make their way across the floor.
These ladies literally floated across the floor along with their dresses.
What I Loved
Yuna Yang's collection consisted of sheer fabric, lace, sparkle, dark velvet, fur & feathers. All of which I of course loved!
[huge_it_video_player id="4″]
Her designs were so feminine while also mixed with a modern approach.
The Theme
If you caught my previous NYFW post, I mentioned that these fashion shows all have a certain theme that also mixes with current events.
[huge_it_video_player id="3″]
Yuna Yang's theme was inspired by the women that protested the streets of South Korea and the Women's March that took place here in the U.S.
This collection was created to show that light shines brighter in the dark & to also help women's voices be heard.
[huge_it_video_player id="5″]
I find it so incredibly inspiring how she channeled these very important issues through her feminine designs.
Yuna
The number one lesson that I learned from Fashion Week, was that if you have the time it totally pays to stay after the show.
At each show, the majority of the attendees would get up and leave as fast as possible. I understood that they most likely had shows to go to right afterward.
For my short visit to New York for NYFW, I intentionally tried not to book too many shows for myself. I know this may sound a bit crazy but I didn't want to overwhelm my self during my first NYFW.
I wanted to experience New York Fashion Week at my pace and I am glad I chose to do so my first time around.
By making this decision I was able to take my time at the shows and meet people which is what I love to do!
That being said once the Yuna Yang show came to a finish I waited around and luckily was able to introduce my self to Yuna Yang and get a photo with her.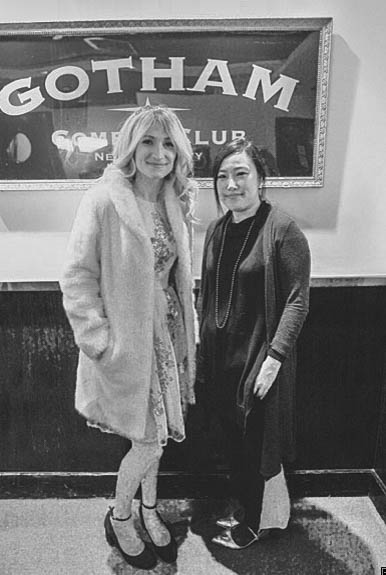 She was so incredibly sweet and told me that I looked very "Summery" lol.
You know me, the bright colors and pink exsist all year round in my wardrobe.
The show was wonderful & a delightful experience to add to my memories of NYFW.
I can't wait for you to follow along my adventures during New York Fashion Week in my next post!