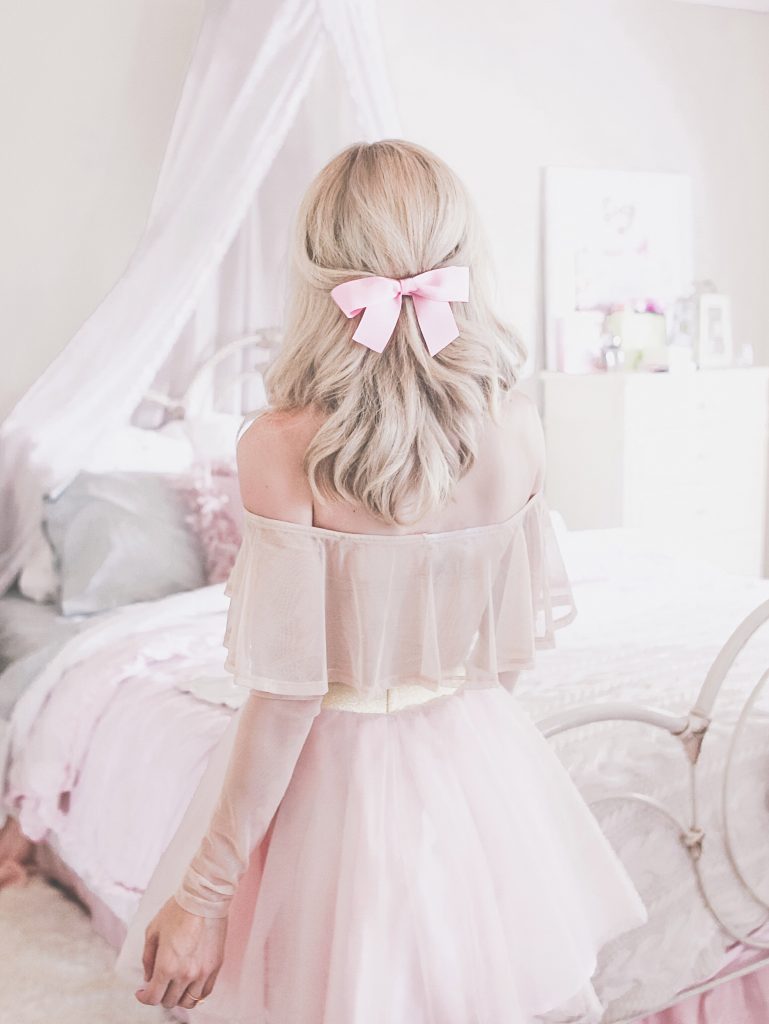 I feel like it's been forever since I've done an outfit post, so today I'm bringing you just that!
If you follow a long my Instagram you probably have already seen these outfits, but I'm going to share with you exactly what I love about them right here.
Some of these pieces, over time, were gifted to me & and I was in no way obligated to share them. However, I am sharing them because I truly adore them. When I am gifted clothing, I only choose pieces that 100% align with my style & never would share something with you that I wouldn't naturally get for myself or recommend to my friends. So just so you know, if you choose to click some of the links on this post & make a purchase I may receive a small percentage as commission which in turn helps me keep JLC going.
A love a good tulle skirt. It's feminine, light and airy and fun. This blush pink one is no exception! Because of its length, it's more practical for the summer heat. I paired it with this lovely off the shoulder bodysuit from Forever 21 that's available at an amazing price.
The bodysuit is sheer so I suggest wearing a nude top under it which is exactly what I've done here.
This look is so feminine, soft and romantic and definitely on my favorites list.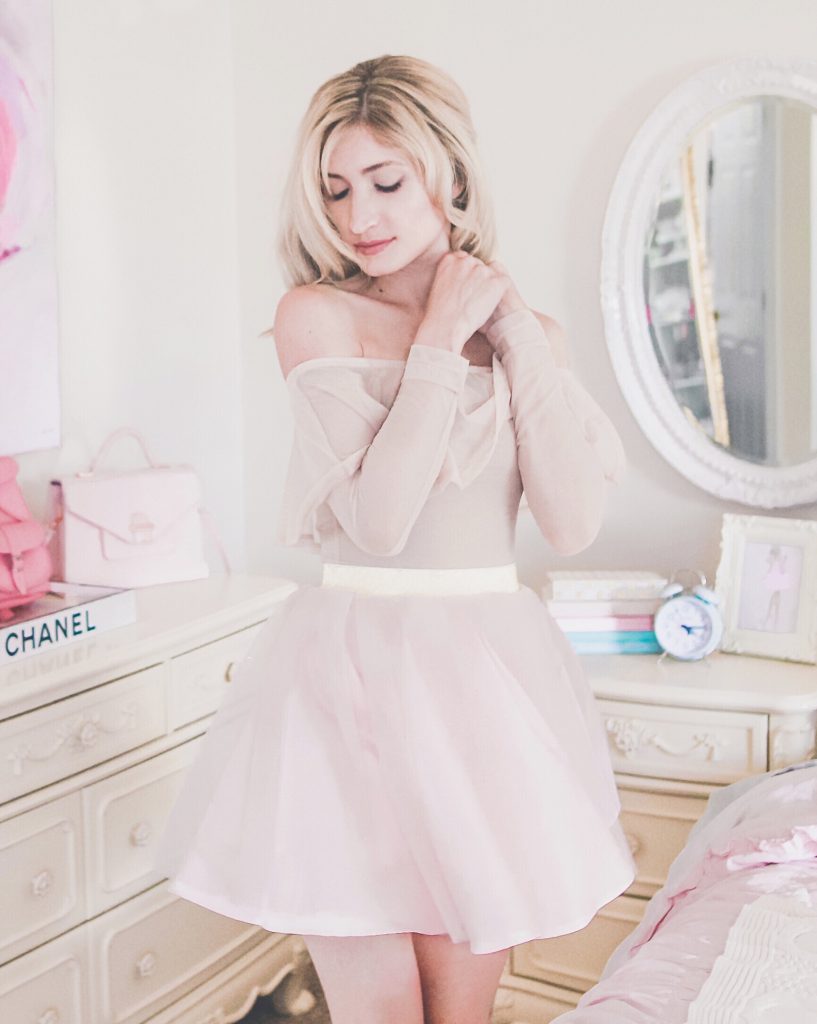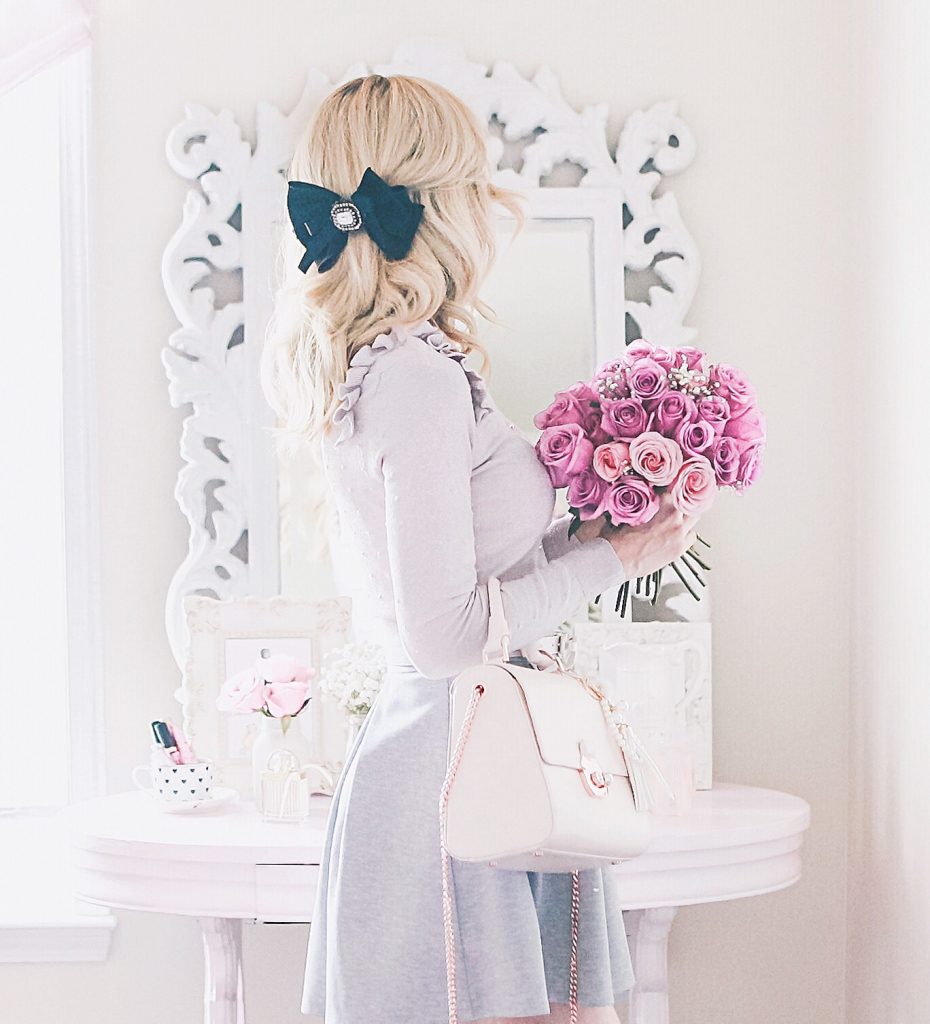 This gorgeous cardigan is from Review Australia which just so happens to be a favorite shop of mine. I feel like they offer a style that's so vintage and unique that it's hard to find anything else like it. I know there are other stores that offer a vintage style and while I've tried many none seem to match the quality that I've found at Review.
This cardigan is called the True Love Cardigan and I simply cannot get enough of it. It features darling feminine ruffle details along with pretty pink pearls for buttons. The color, I think, will be perfect for my full looks and will also work all year round.
The skirt I picked up, months ago, from Lord & Taylor. It pairs well with just about any top I have which makes it a total keeper and favorite of mine.
The bow barrette I recently got from the Nordstrom Anniversary Sale. Because of its black color, I was a bit reluctant to get it at first since I tend to only add things that are light in color to my wardrobe. However, I think it gives a nice contrast to my looks and the quality of this barrette is unlike any bow barrette I've ever had before.
Unfortunately, the barrette sold out pretty quickly but I have found some alternatives for you below.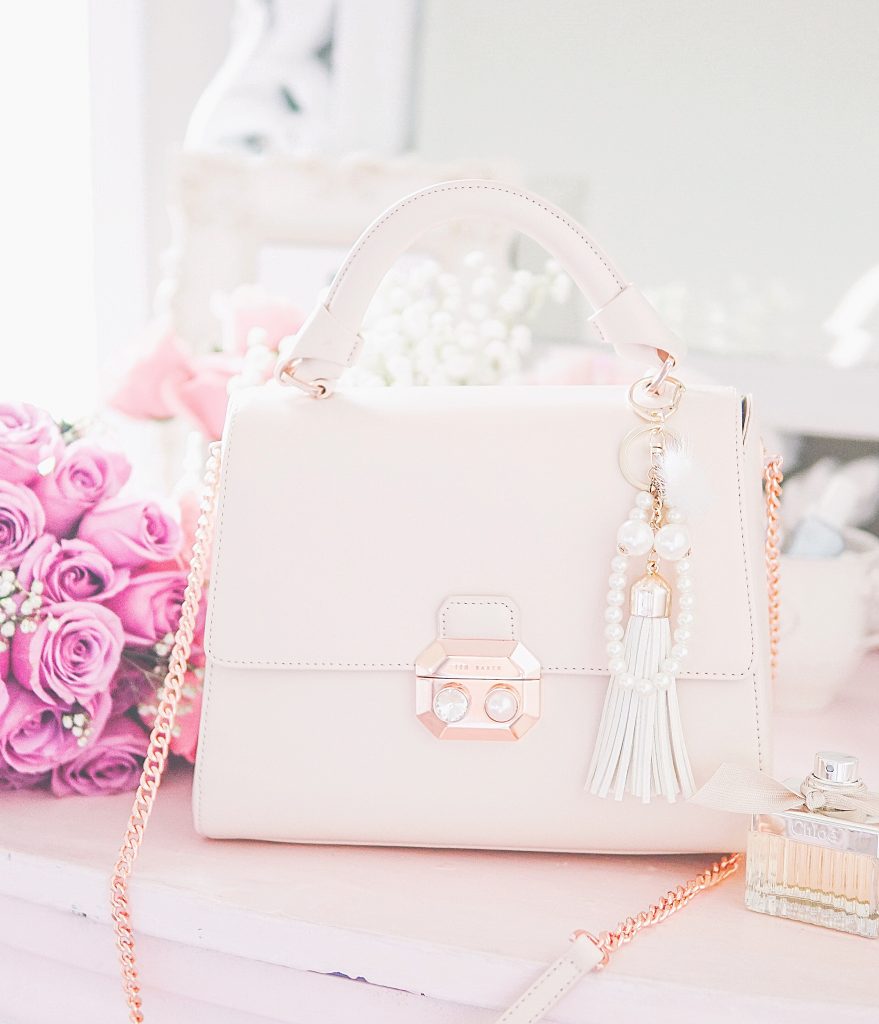 During the Nordstrom Sale I also picked up this timeless bag. As I write to you right now I'm really at a loss for words and even though I've taken a pretty photo for you that nor my words will ever do this bag justice.
You're going to have to just come over and see it!! I would love a visit by the way! Hehe
The leather of the bag is so soft that I'm afraid to touch it with my hands. My hands feel unworthy compared to the angel-like texture of this bag. I just can't…
Oh and yes it gets better!
The clasp for the bag features pearls and throughout the bag detailing is a beautiful shade of rose gold.
Honestly when I debated and debated over adding this bag to my cart, I never for a second would have imagined it would have been this beautiful in real-life.
Their photos and description in no way prepare you for this. And yes I'm a little crazy when it comes to bags but I'm telling you even if you're not a bag lady, I bet if you'd just touch this once you'd be like ok, Lexie I get it.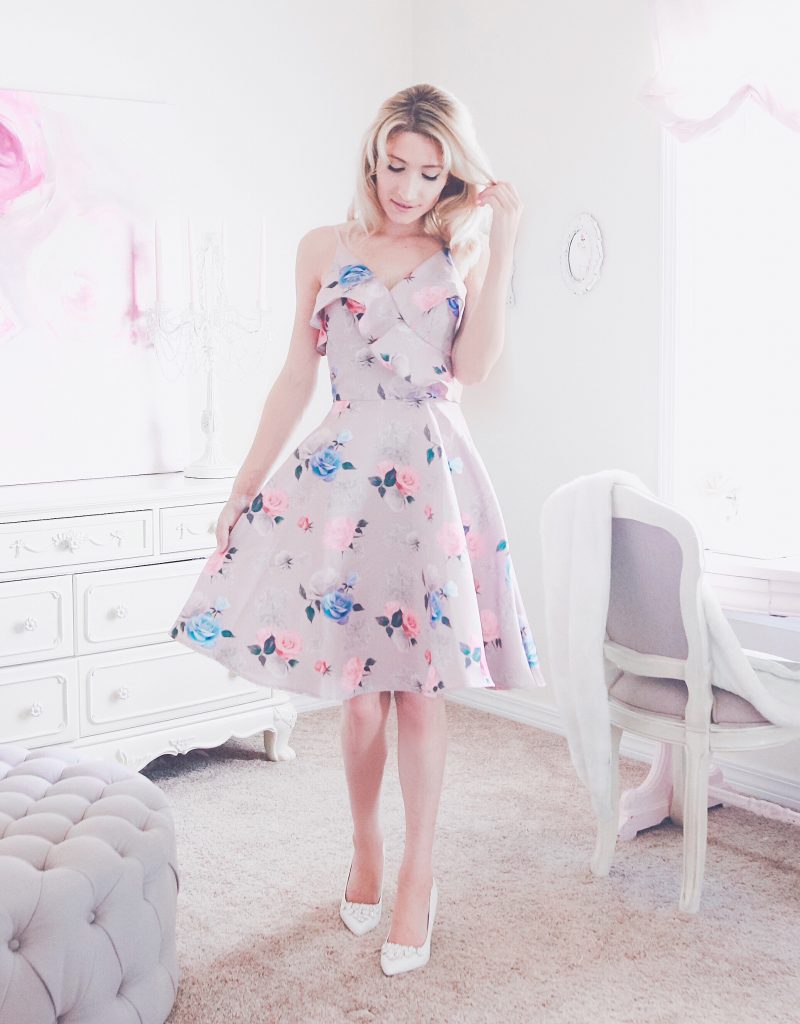 If you've followed along my social and blog for the few years I've been sharing, then you know I am crazy about Chi Chi London. That brings me to this next look featuring a darling summery dress from Chi Chi London. I love the details of the ruffles and the pops of color with the florals. It's perfect for going on a stroll through a pretty park. It couldn't be any more perfect for summer.
I paired the dress with these darling floral-appliquéd heels from the LC Lauren Conrad line.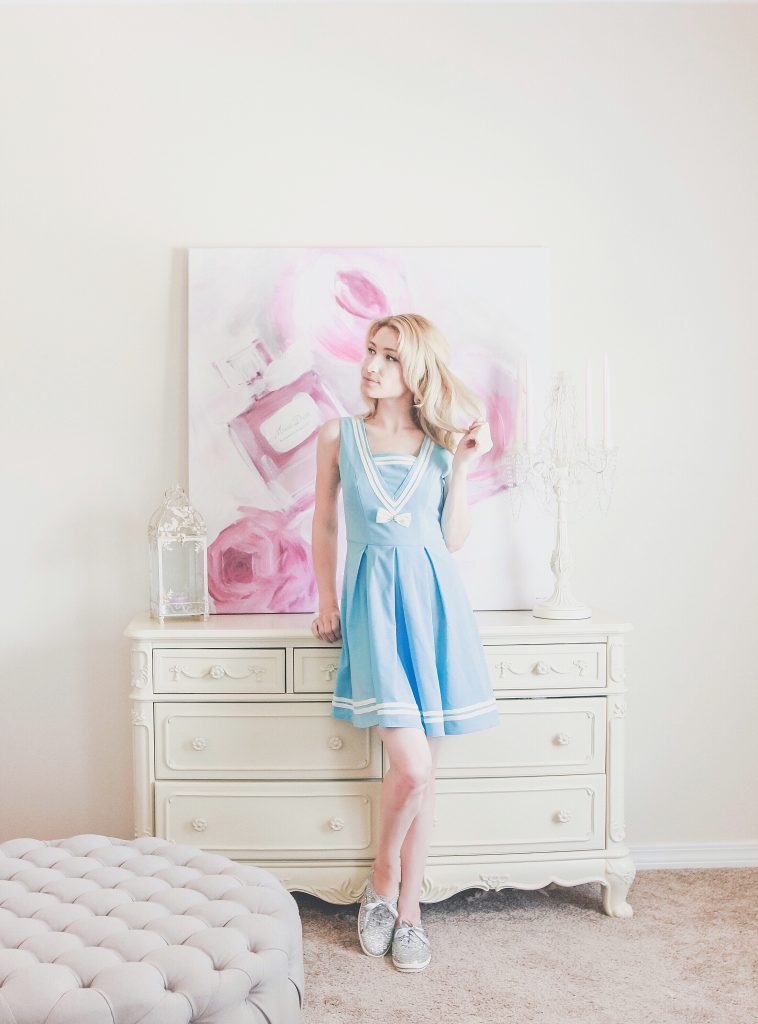 This next dress is oh-so-cute and from Boutique 1861. This is yet another favorite shop of mine when it comes to unique and beautiful clothing.
What I adore about this dress is how casual & cute it is. It's also comfy and I cant get over the sweet little detail of the bow and the pop of blue.
I, of course, had to pair with some Kate Spade glitter Keds.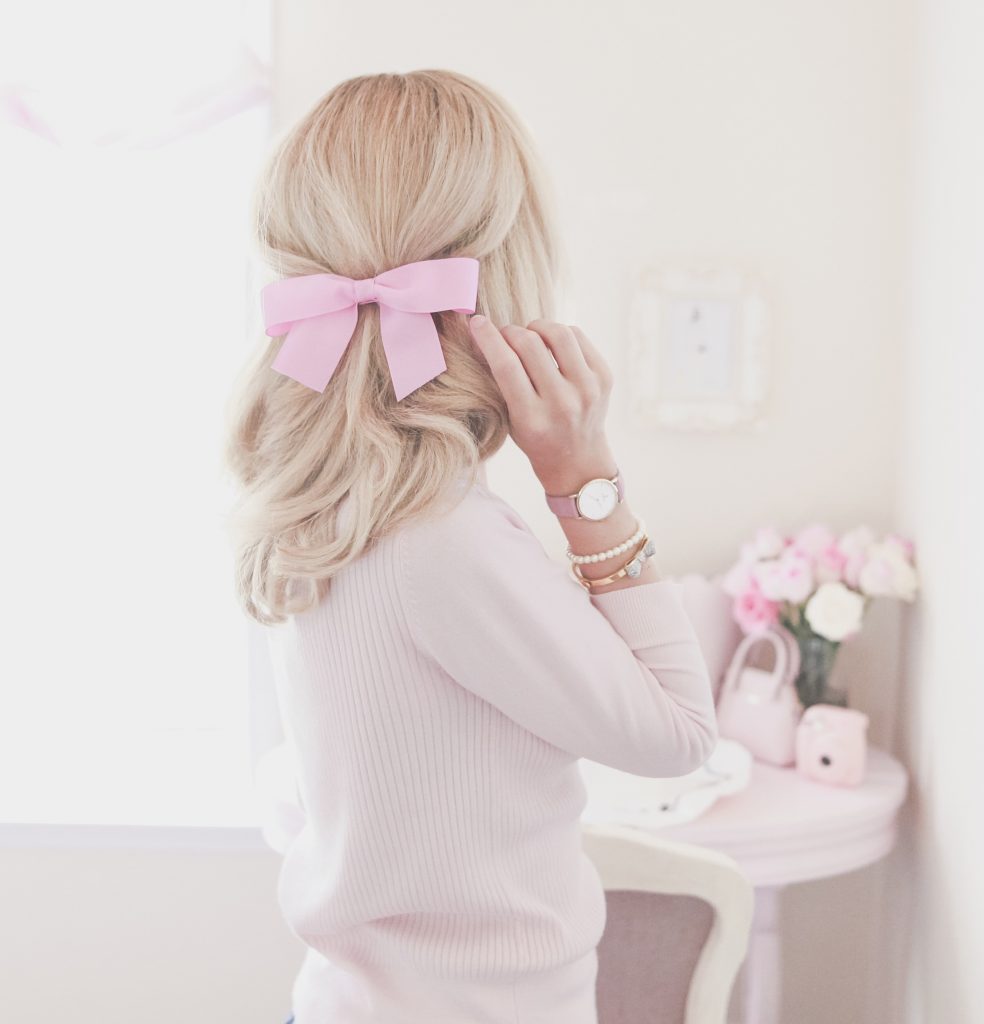 My go-to accessories for summer without a doubt have been hair bows. I LOVE THEM! And because I have such a hard time finding new ones I've started making them for myself like the one above.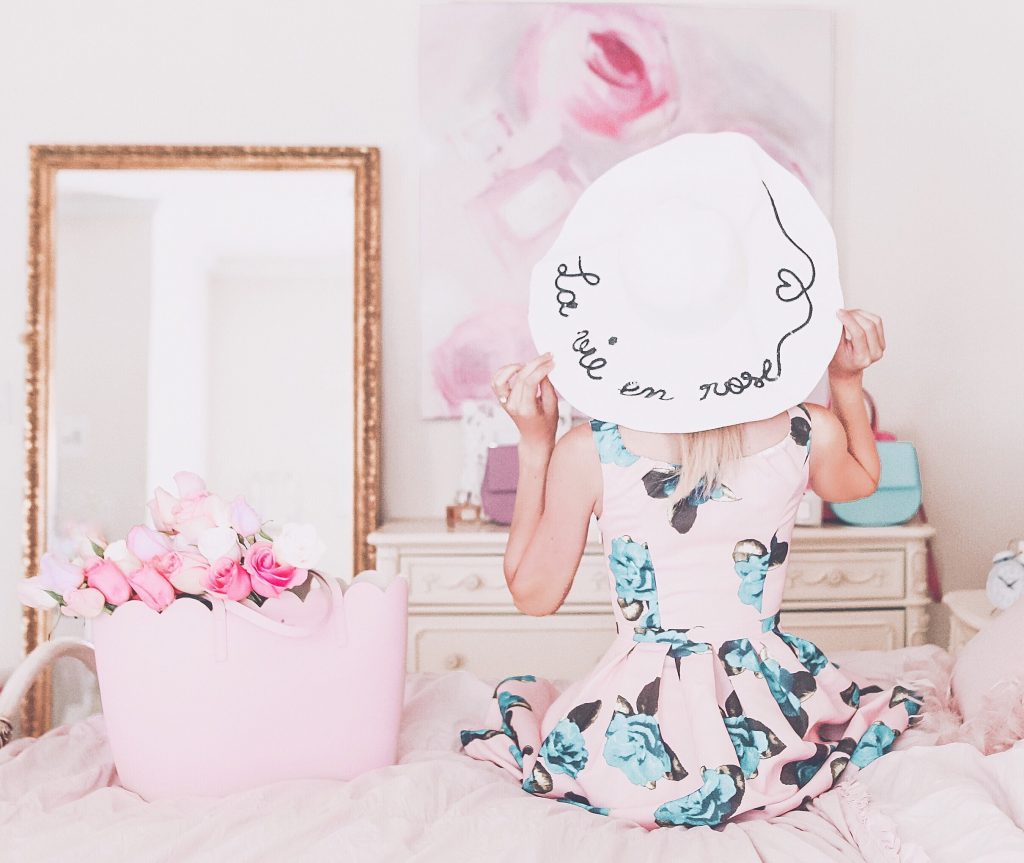 This looks features another Chi Chi London dress. The amount of floral dresses they offer is just amazing.
One thing that keeps me going back to Chi Chi is not just the color and range of dresses they offer, it's the fit of them. You can't see too well here but this dress compliments my silhouette so very well and that makes me only want to get more and more.
It gives me an extra boost of confidence in myself and I'll pick that any day.
Did you notice the hat? How cute is it?!
I got it custom made for me by @bitsandpiecestogo on Instagram. They don't have a direct website but you can view all of the examples of their work and order one yourself by directly messaging them.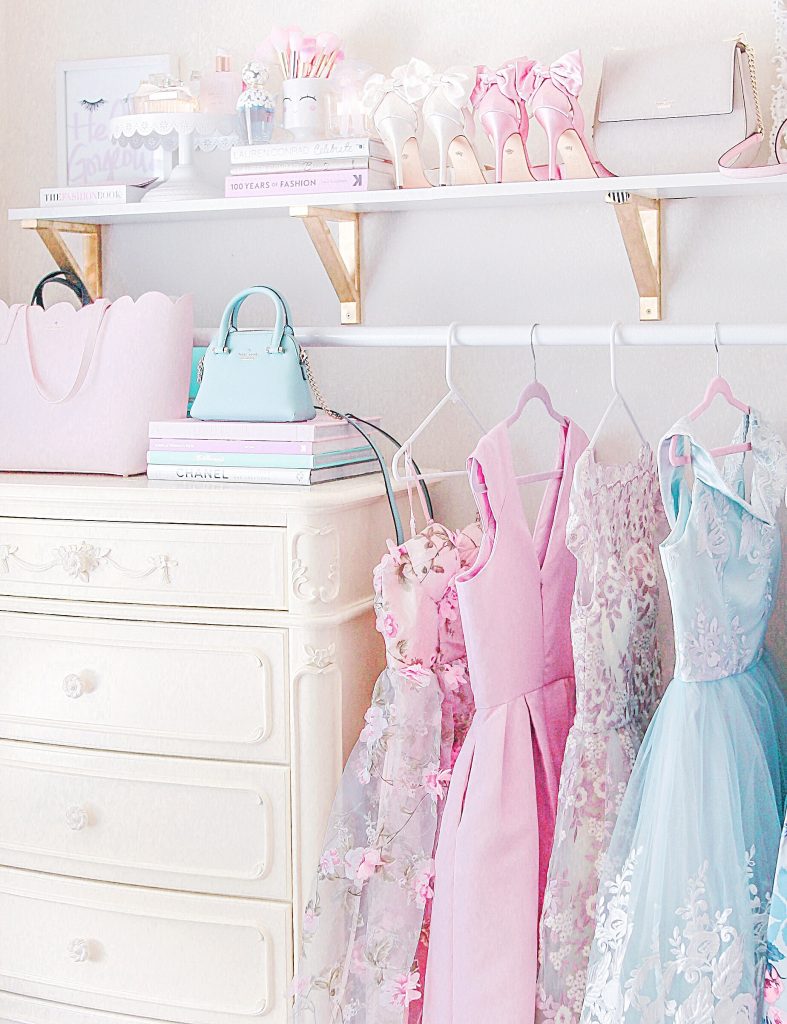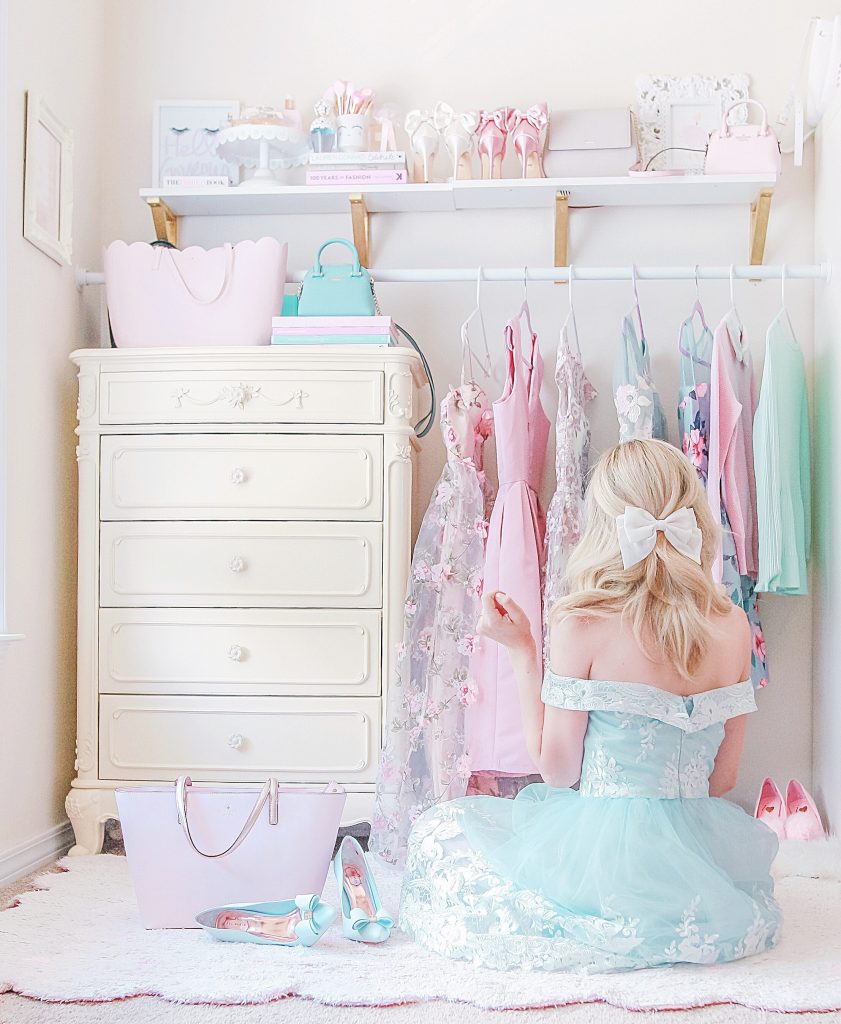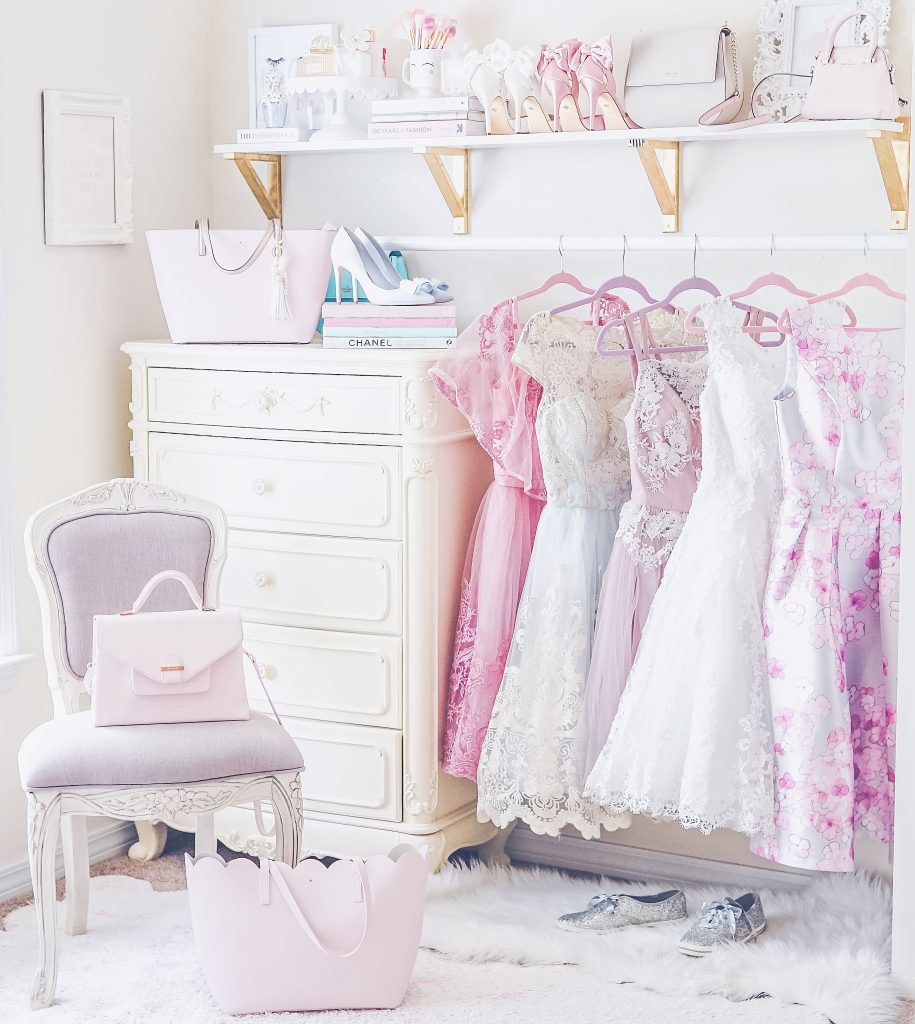 Throughout the summer I've been updating, reorganizing and prettifying my external closet space. I get a lot of questions on Instagram as to whether this is my actual closet and the answer is absolutely not. lol My real closet is overflowing and too much of embarrassment to show you! So I like to update this pretty little space with dresses I'll be wearing next.
Speaking of my overflowing closet, I'm working on a new project that I'll be sharing with you here on the blog oh so very soon and it's pretty interesting so I can't wait for you to read about it.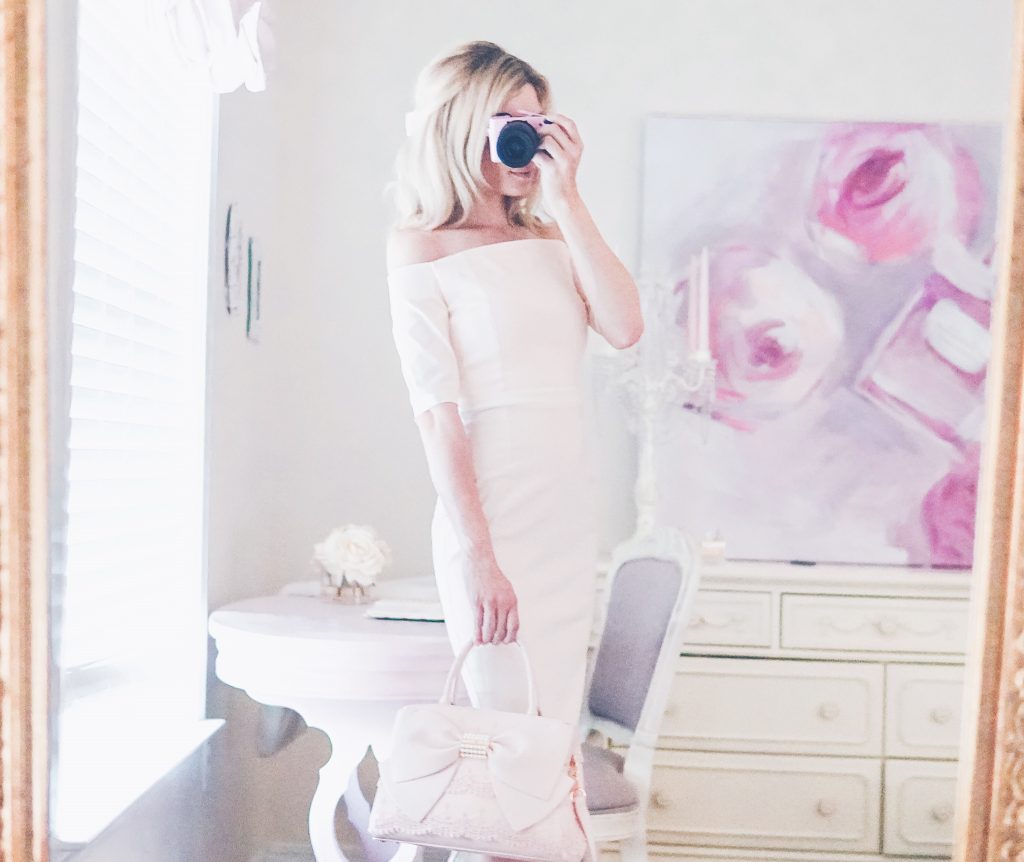 I don't normally go for tight fitting dresses such as the one above but decided to give it a try. And my goodness the fit and look of this dress is so beyond chic I've been converted! It's from Vesper 247 and they offer a range of different dresses just like it with some including big bows on the front!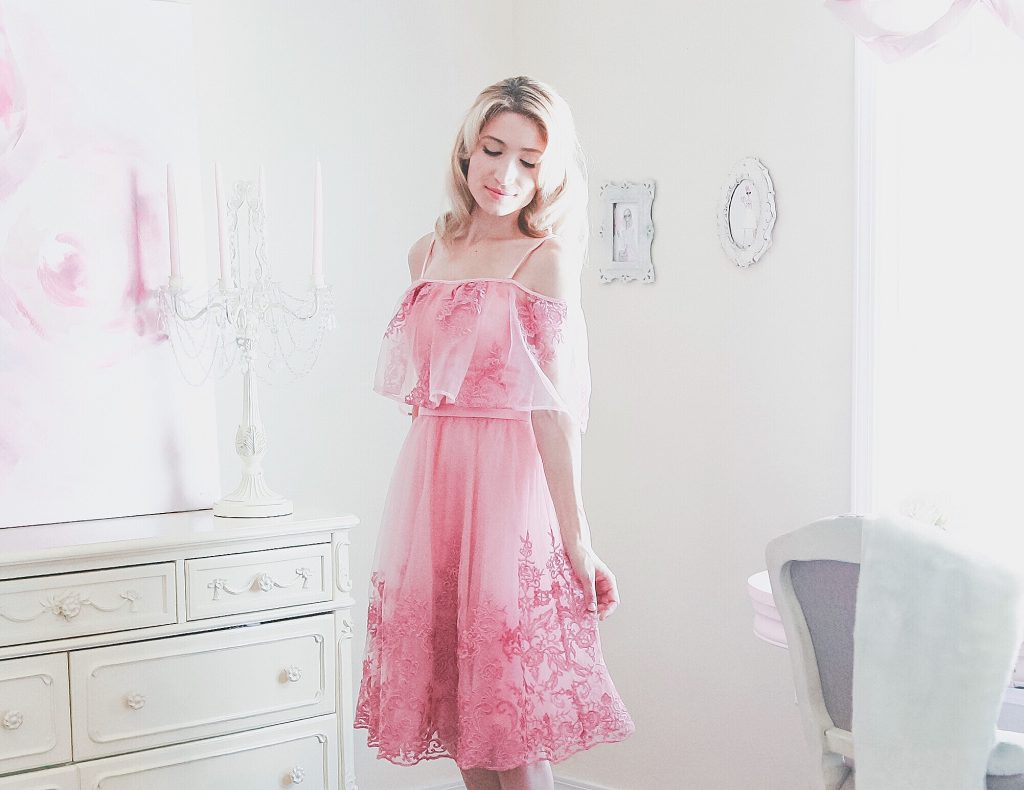 Above is yet another beautiful dress from Chi Chi London. It features lovely lace detailing and an off the shoulder look that takes my breath away every time. My husband says that it looks like a señorita dress when I wear it lol.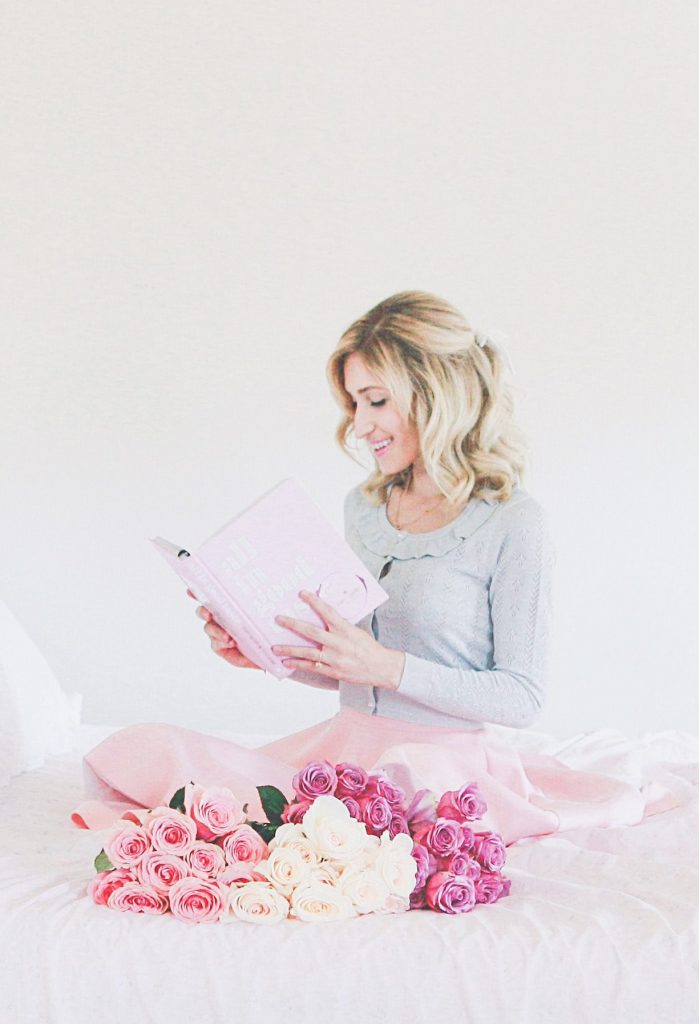 The cardigan "Our Little Secret" above is yet another from Review Australia. The reason I love cardigans so much is because of how versatile they are. I can create a look as simple as this or add the cardigan to different dresses and skirts. The possibilities are endless!
I have so many new looks coming up in the next few weeks featuring more beautiful pieces from Review & can't wait for you to see them.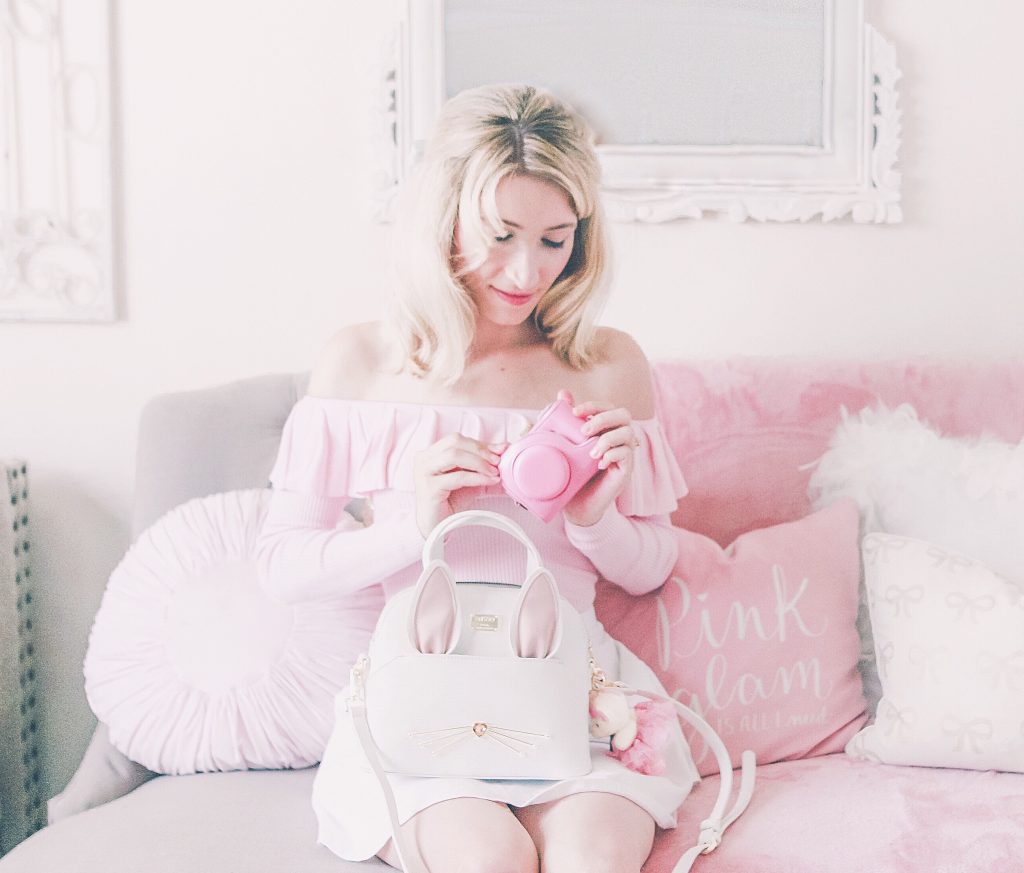 This off the shoulder top has been another one that I can't stop recycling for my looks. First of all it's PINK! Huge win for me. Second of all, the feminine details make every look I put together with it, that much prettier. And it's insanely cozy!


I know some of these favorites are a tad "warm" for summer but indoors it's always freezing! So I like to put together looks that won't make me too cold.
I hope that you enjoyed this post loves & I have so many things coming for fall that I am beyond words excited to share with you. For the past few years i've put so much effort into my Instagram and not enough here on the blog. From now on that's changing & I really am so happy about this change.
xo.