Feminine Style & Current Trends with LC Lauren Conrad
I have loved the LC Lauren Conrad clothing line for years!! There's something about her and everything she does that speaks to my soul. It's like she the Midas touch but instead of turning everything gold, she has a way of making anything and everything she comes in to contact with, that much lovelier.
Years ago, when I first started to notice her line at Kohls I couldn't be more excited. She had fit and flare dresses that we're a girls dream. She even came out with a Disney line ( and still designs new collections) that exudes the feminine style and a love for Disney in a very chic way.
With ease, you could find bow accented sweaters and blouses and plenty of florals and blush shades within her collection.
All of this made me so happy because such pieces have always been a challenge to find especially all together in one designer's collection.
New Pieces with The LC Line
As of lately it's been a challenge for me to find the same pieces offered from the LC Lauren Conrad collection. Without a doubt I still love her and this line. LC is still keeping it feminine with some pastel-like shades, florals, dresses & beyond adorable accessories!
My dream was always to collaborate with this collection in some way and that dream has finally happened for me.
The LC Lauren Conrad collection lovingly offered me some pieces from their latest collection to try & I was so beyond words excited.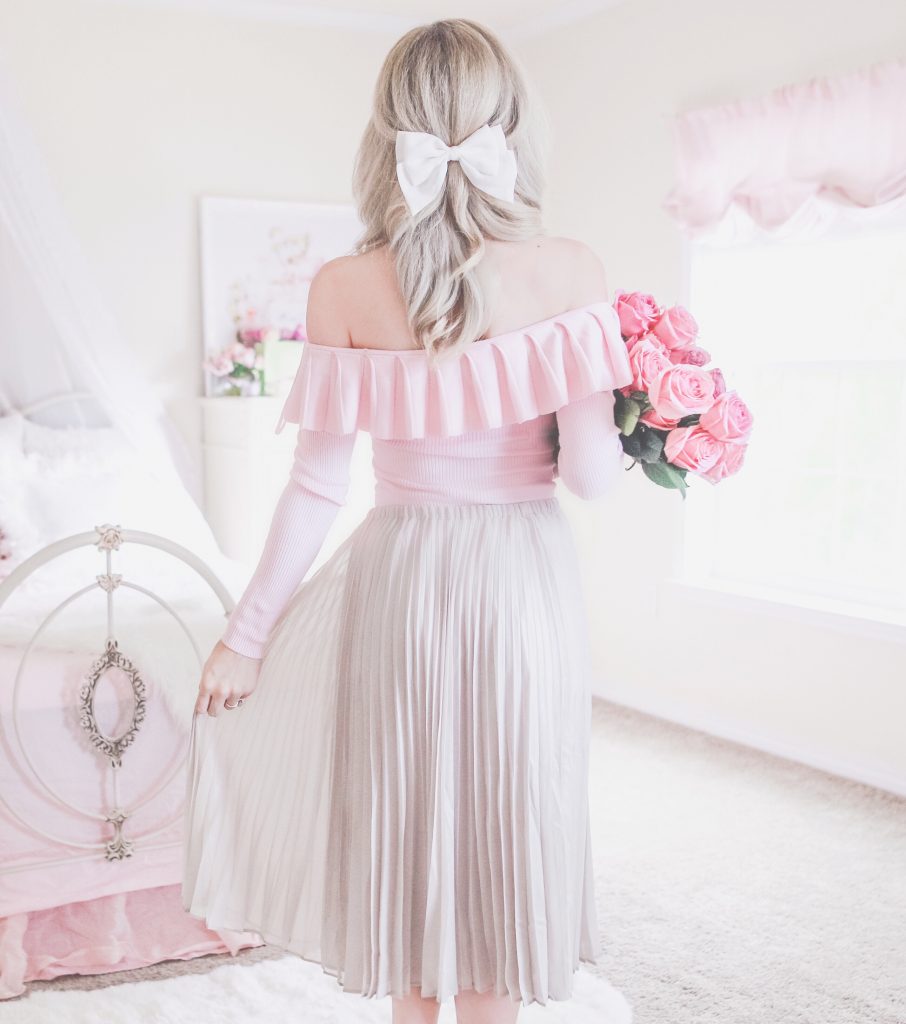 So the challenge here was for me to pick pieces from LC Lauren Conrad's collection that were the newest of new yet still very true to my personal style.
With the latest trends being heavily shown throughout the new collection, I was a tad concerned that I'd have trouble finding a look or two that was truly me.
There are two sections you could search under the LC Lauren Conrad section online. One is pretty much all of LC's new arrivals and then there's a more niche section which is LC's dressy shop.
Once I clicked on that the dressy shop, I knew I would be good to go!
Lovely Blouses
I found this beautiful Cinderella-like blue off the shoulder top. There are so many different kinds of skirts I could see myself pairing this with. I feel like it definitely is meant to be a dressy blouse but can also be Work casually with a simple skirt like this one I paired it with.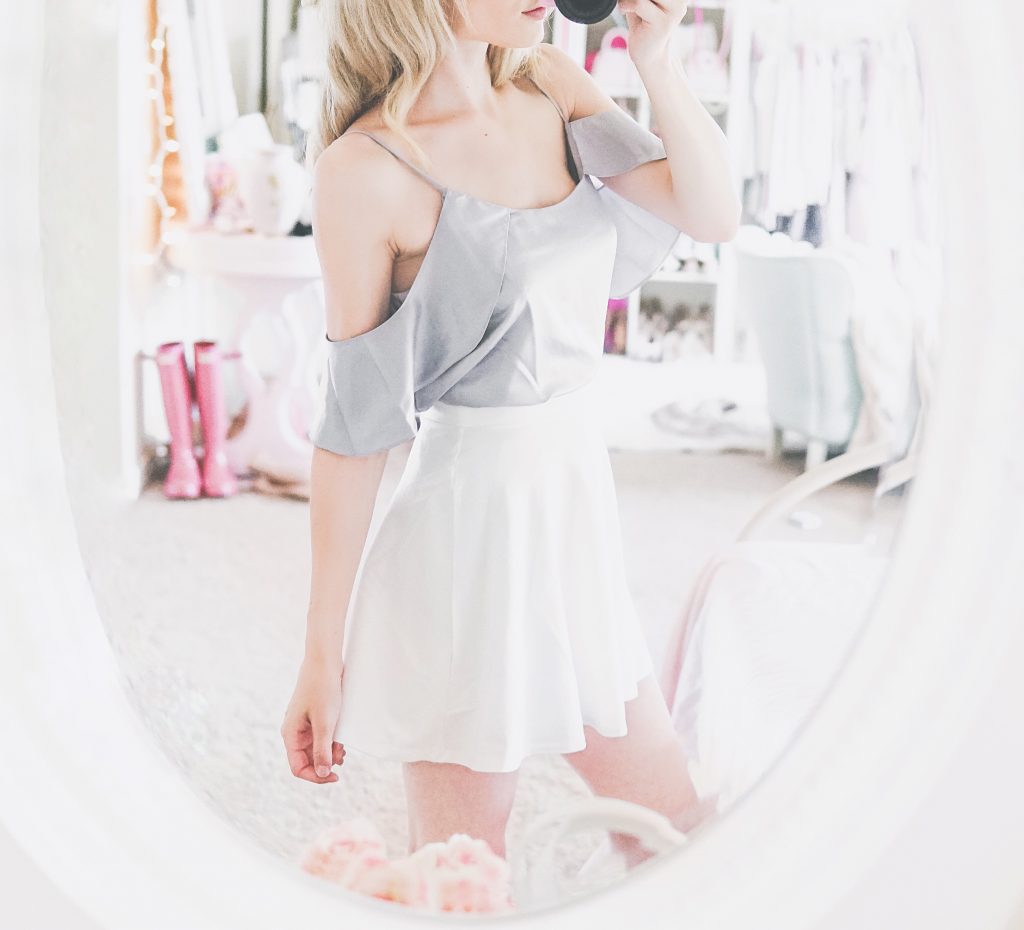 Another adorable top I'm so glad I didn't miss was this minty blue, sequin flower top. It's so springy and the photos of it on Lauren were so cute I just had to have it!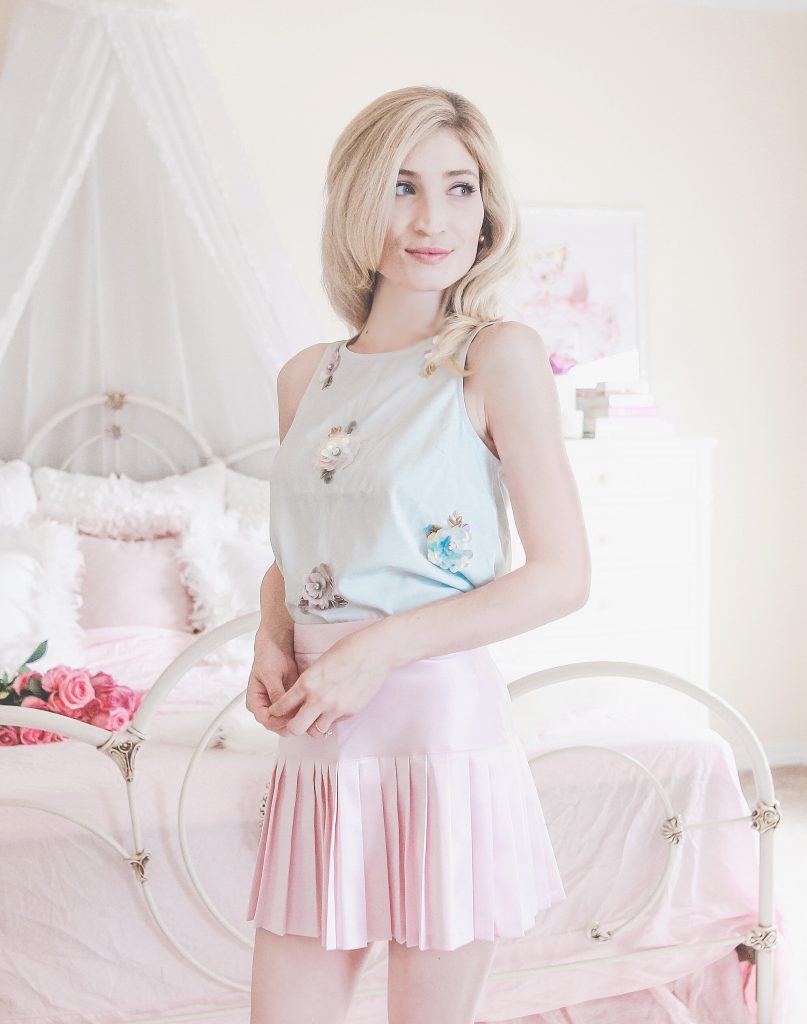 She paired it beautifully with their soft and elegant pleated skirt. I tried the combination myself and I couldn't get it to look quite right so I separated the pieces and paired them with other items from my wardrobe.
The skirt, I styled with this ruffle off the shoulder top. This top is so feminine and surprisingly it's really in style right now!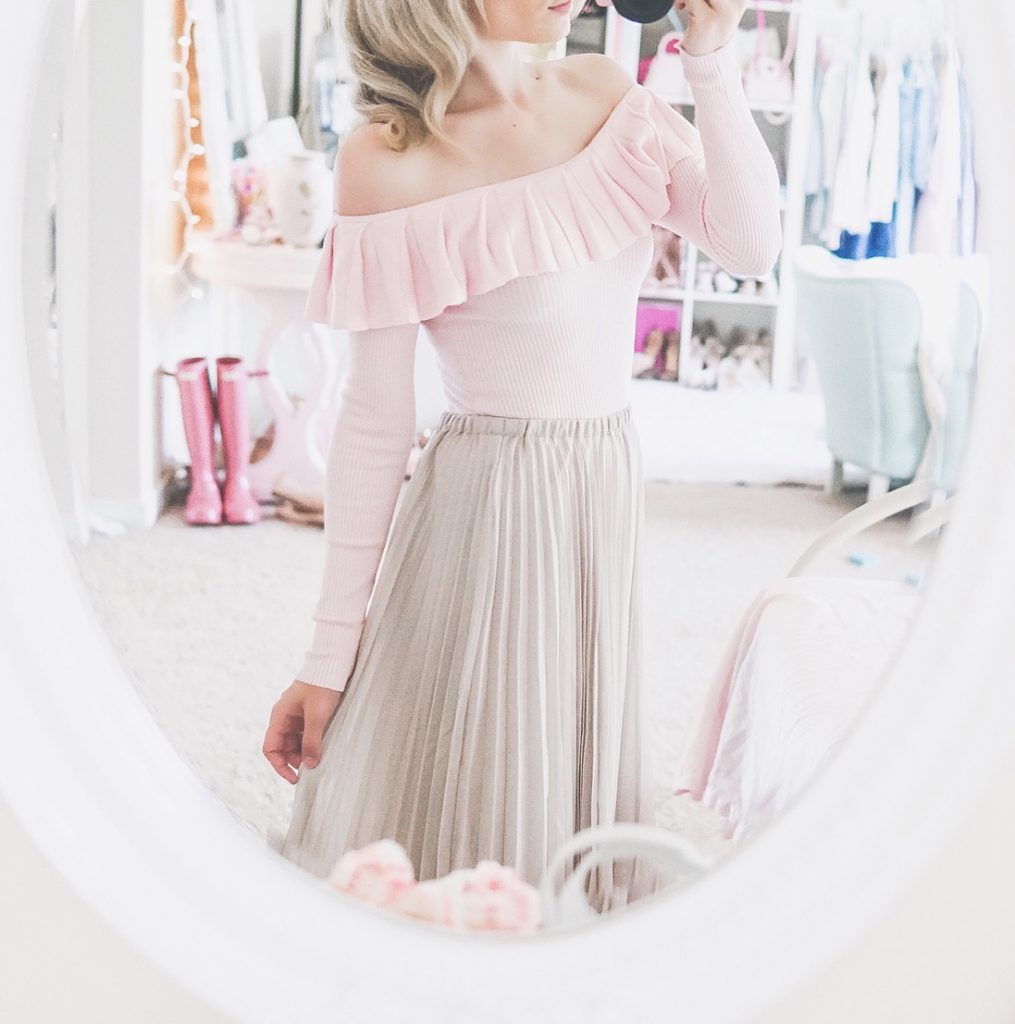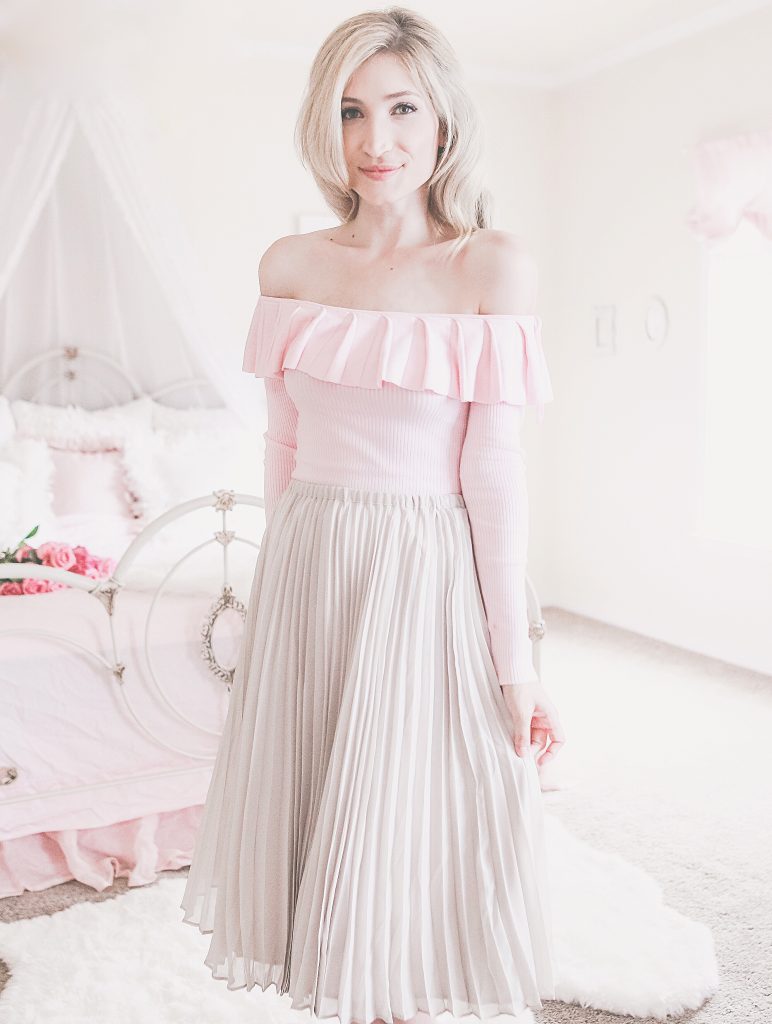 A Darling Dress
I also picked up this dress from LC too. It's another very soft choice with floral notes and blue hues. I tried adding a teeny little belt to give it more of a silhouette. One thing that turns me off the most with the current trends is the complete lack of a silhouette. Accessories can fortunately fix this problem.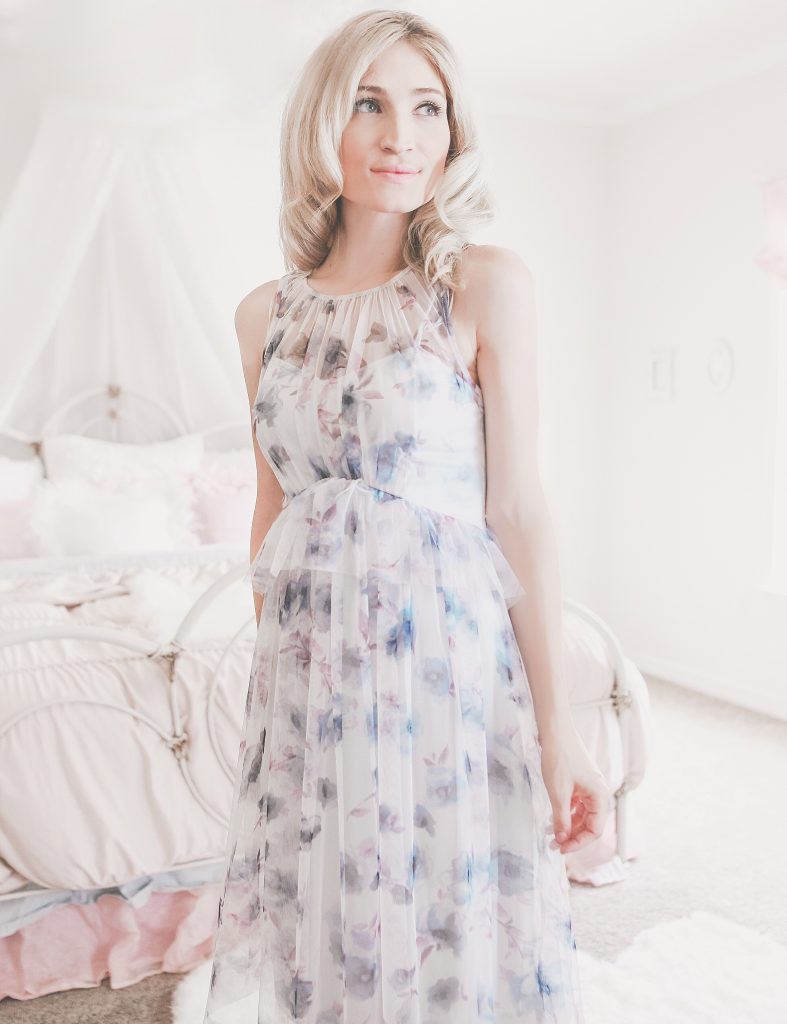 Accessories
Now for accessories, my goodness LC got it so right these lovely floral pumps.
They scream femininity and I must say they'd pair well with so many of my dresses.
The details couldn't be any Lovelier.
I really do love the new pieces from LC Lauren Conrad. A lot of what they currently have is what's also currently trending, but at the same time, there are certain things you can do to make what's popular right now work for the feminine style.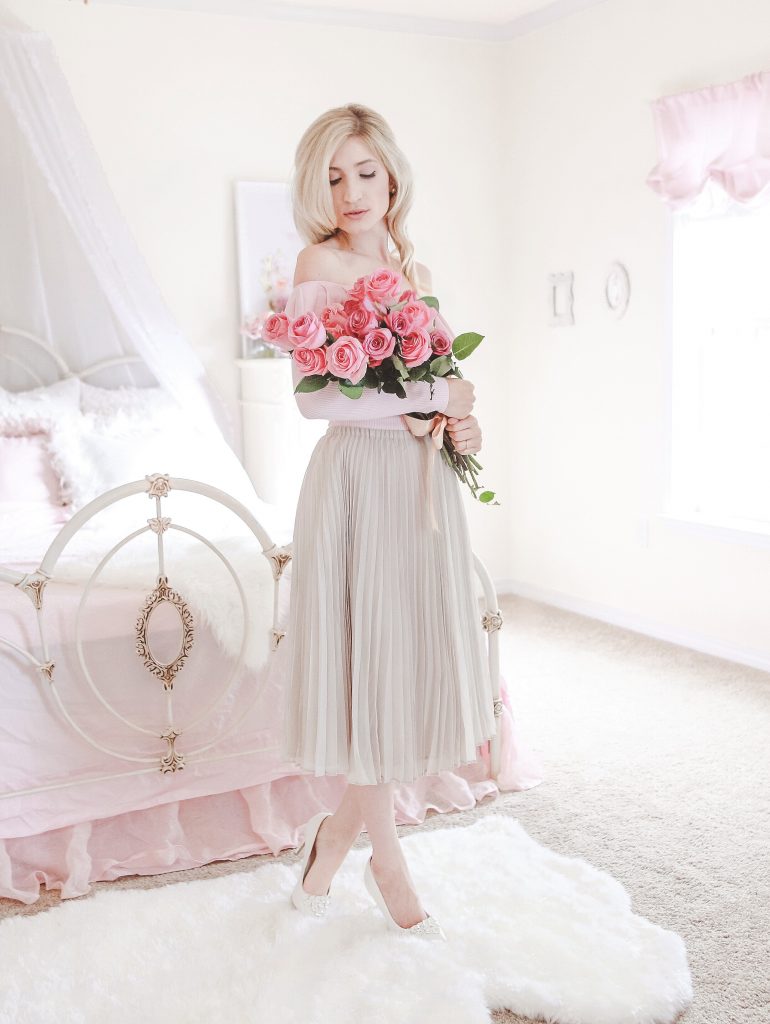 Shop The Outfits
Until next time my sweets!
xo.
LC Lauren Conrad gifted me clothing for this post but as always all opinions are 100% my very own.
SaveSave