Skincare Products I'm Adding To My Must-Have list
I've put together yet another beauty-related post for you covering some items I deem essentials.
I have very dry skin and going through the winter months is excruciating for me without having a really good body lotion and hand cream to combat the dryness.
I recently tried a new Coconut & Papaya scented Body Lotion and Hand Cream from a brand called Nubian Heritage and wanted to share the results with you.
The scent truly is amazing. There's something about the scent of coconut, regardless of the time of the year, that always fills me with bliss.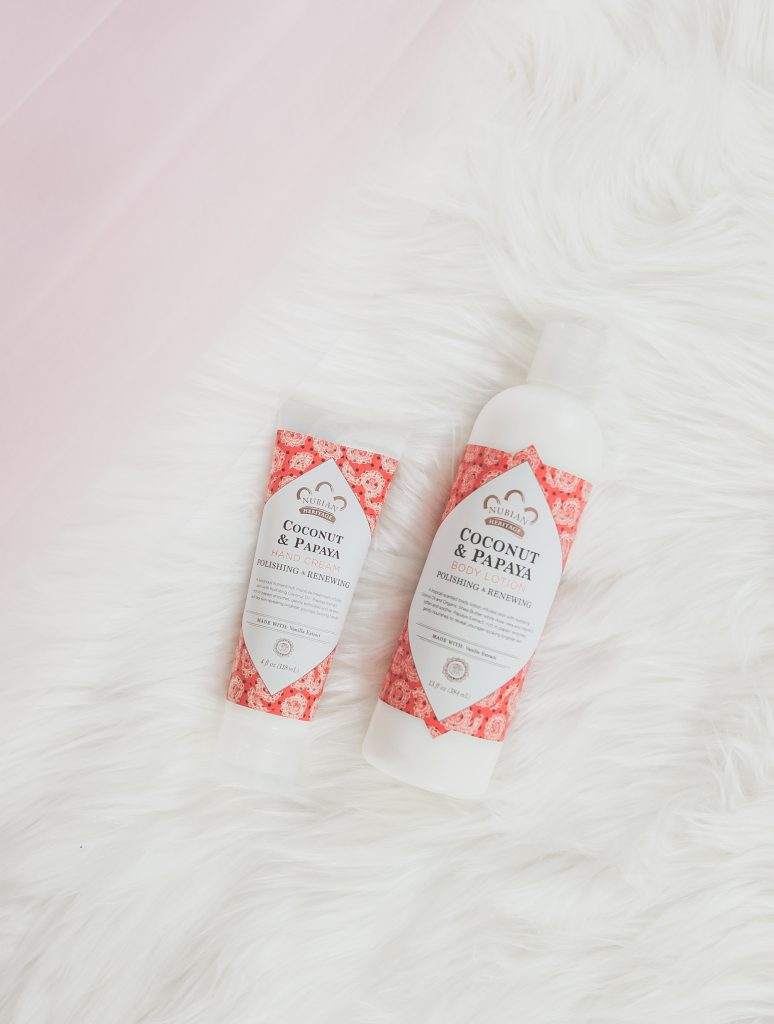 It reminds me of warm weather and happy memories. I love having this scent in a lotion because it's an instant mood booster for me!
The coconut mixed with papaya has a very fruity & sweet aroma, which I also love.
It's a very refreshing scent but it's not overpowering.
Aside from the lovely tropical smell, the lotion and hand cream really work wonders.
Coconut oil by itself does wonders for the skin.
 When combined with papaya, which is well known for skin rejuvenation, these two make for the perfect duo for the skin.
Why did I need it?
As I mentioned before, I have really dry skin and winter doesn't help with that, at all.
This is actually one of my biggest pet peeves!
For some reason, it really freaks me out when my hands are really dry. I'm kind of picky about it actually. That is why a good hand cream is an absolute essential for me.
I like to keep it with me at all times and also have one for safe-keeping in my handbag.
A major reason why I've been looking for something new to try is because I've run into a lot of greasy lotions and hand creams.
I cannot stand greasy lotions! The residue gets on my phone, keyboard, on everything! It drives me nuts and my skin doesn't absorb it at all either.
So I am always looking for skincare products that are non-greasy.
 And what's also funny is that I've tried products recommended to me by friends and others that they tell me themselves isn't greasy but it turns out to be really greasy.
That makes me wonder if it's just me that has this problem or not?
Regardless of that, this body lotion and hand cream from Nubian Heritage are not greasy at all.
That, of course, makes me very happy.
What I love about it and what it's helpful with
The fact that neither of these products aren 't greasy and they smell so wonderful makes me immediately want to place them on my favorites list.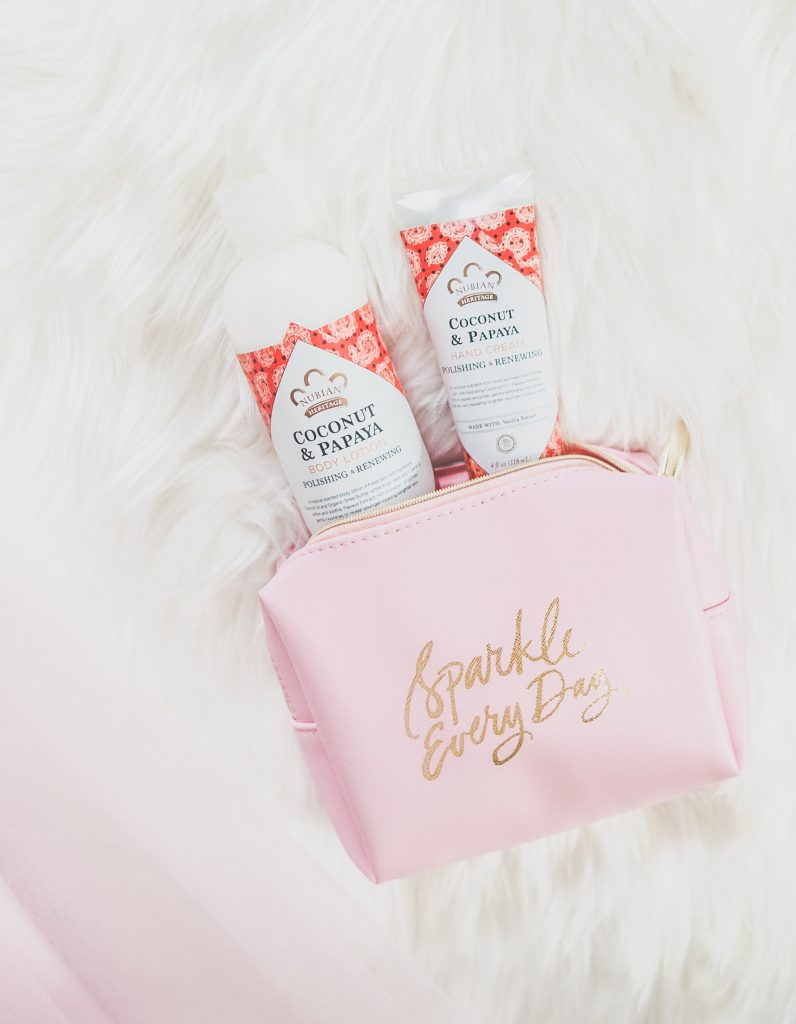 They both are incredibly moisturizing and when I'm having a dry skin pandemic, I put a little bit on and instantly feel relieved.
Another great thing about both of these is that a little bit actually goes a long way.
The hand cream glides on smoothly and instantly hydrates my dry skin.
The lotion is just as lovely as well. It's actually one of the best lotions I've used in a long time, and I can't see a reason as to why someone wouldn't love it.
They have plenty of other products that I really want to try as well, including body butters, bath products and hair products as well.
When I use other skincare products, I can't help but question if the products are actually helping my skin, and I feel like with this brand I don't have to be concerned about that one bit.
Where you can find it
To get both of the lovely products you can head to your local Ulta beauty store or shop at Ulta.com. To learn more about Nubian Heritage click here.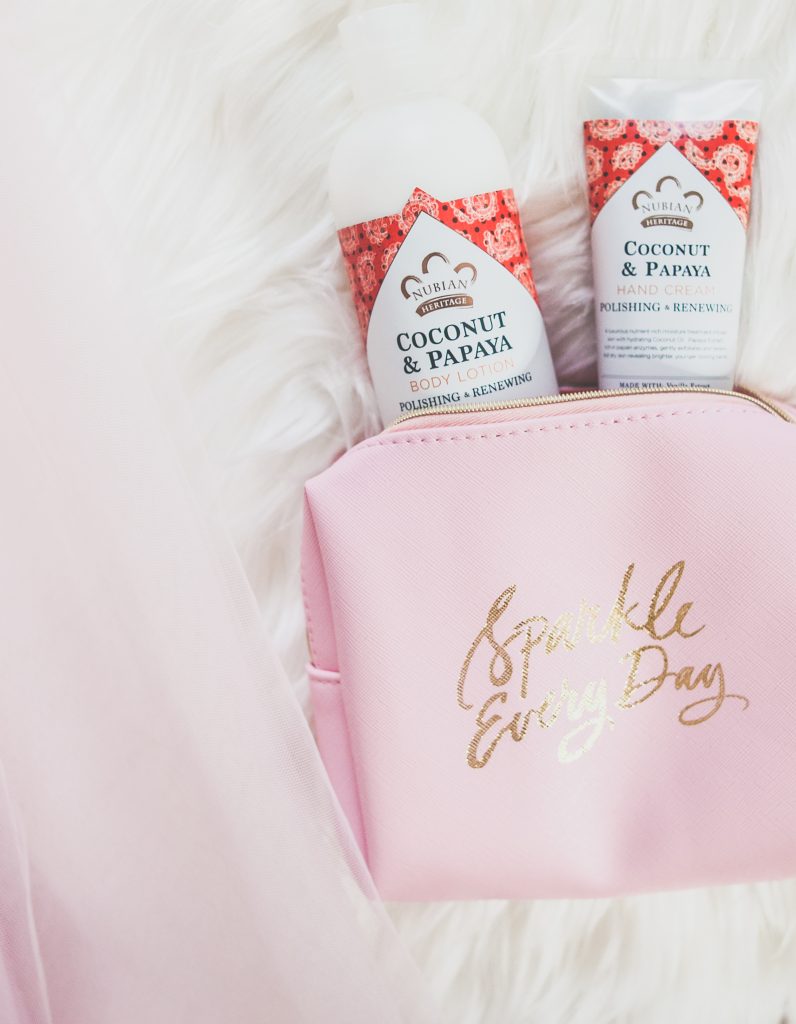 Check out these great offers on Ibotta before you shop!
$1 Off Any Bar Soap
$2 Off Any Product (Excludes Bar Soaps and Travel Size Items)
$3 Off Bath Bombs and Infused Butters
If you do give these a try let me know below your thoughts as well!
Join the conversation on social media by using #NHBalancedBeauty and@NubianHeritage.
https://www.youtube.com/watch?v=SrD6DXssr98&feature=youtu.be
This is a sponsored post written by me on behalf of Nubian Heritage. All opinions are entirely my own.