The Girliest Shopping Haul with Glitter Heels
Today, I have my very first shopping haul lined up for you & it's definitely one of The Girliest Shopping Haul  there is!
Pretty much that just means I'm sharing with you all the details on my latest purchases and finds! O
f course there will be some excitement involved because who doesn't love receiving pretty new things?!! But also I have to be honest about what I find too, and it's not always going to be a happy experience.
I do most of my shopping online, almost entirely. As one can imagine this can be frustrating because a lot of what I buy, I have to actually wait to see the quality of until after the items arrive.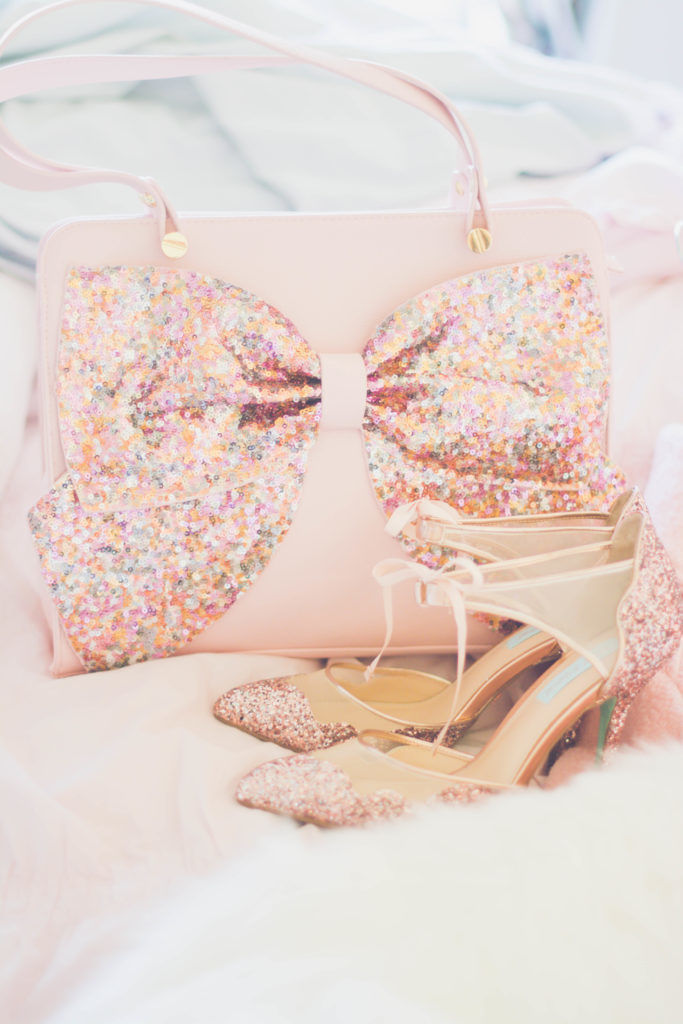 Que to my latest shopping haul where frustration has been brought on from not being able to see things in person… From my recent purchases somethings I am totally loving and some  not so much.
Let's start with the pieces from  Betsey Johnson that I felt I had to have.
Her style is cute and quirky and really reminds me of Kate Spade.
It's also about half the price, depending on what your buying, and of course this can be a good thing. However, when the items I bought from her recently arrived I quickly could see why I stick mostly to Kate Spade for the quirky and cute things.
If you've taken a quick glance at all of the details from my blog you just might get the hint that I like glitter, well I love it actually!
 Betsey Johnson grabbed my attention with her glittery and sparkly items. I found a darling larger glitter bow tote that I wanted to try because it's pink and glittery! I also had to grab some pink-glittered heels as well  for after pregnancy celebrations!
I anxiously anticipated their arrival from Macy's and when they finally arrived I ripped open the box and although it shimmered in prettiness I was slightly disappointed.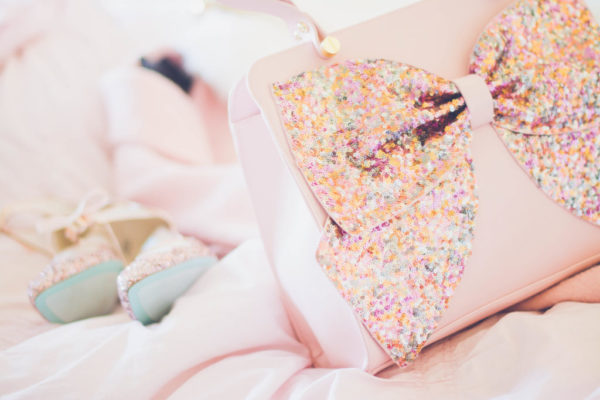 Let's start with the bow tote-bag. The large bow detail of course still wins my heart over but the quality of the bag was right-away so noticeably cheap!
Now I totally understand Kate Spade bags are pricey and getting a Betsey Johnson, financially may be a better option for most.
 Betsey Johnson isn't that much cheaper and it's really disappointing to still shell out $118 for a bag that looks and feels like it's worth $20 and came from Forever21.
That's just too much to pay for something like that.
It came with black marks already on it too and looks as though it'll get scuffed up fairly easily.
The straps also seem cheap enough to the point that I could see them breaking after a few uses.
Honestly the bag looks so so cute but is it something that's going to last? Absolutely not!
So overall if you're wanting something that's gorgeous, good quality and durable this bag isn't for you.
If you don't mind spending over $100 for something that looks cute but isn't well made than I'd give you the A ok to purchase this.
Next are the shoes….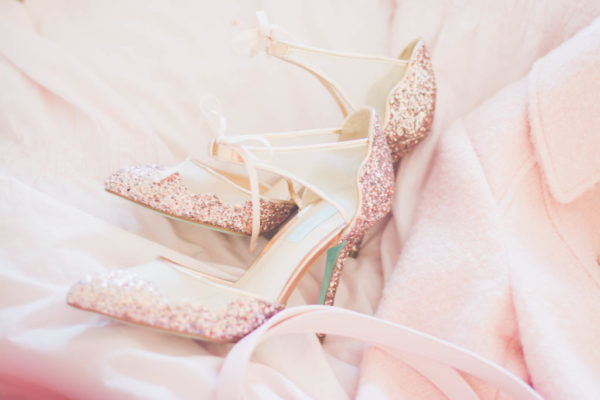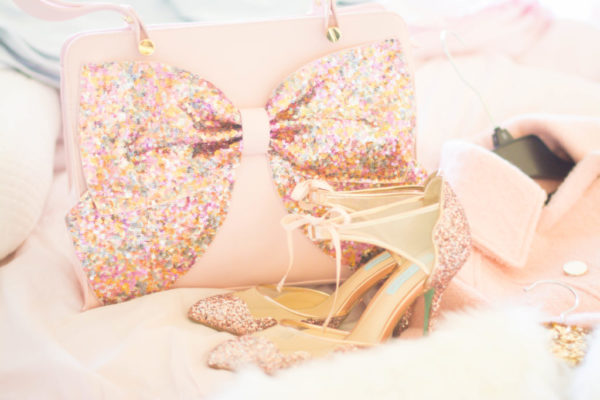 The shoes are a gorgeous rose gold and oh so sparkly which totally takes my breath away and they are also a Betsey Johnson item as well.
If your into really high heels, these are for you.
They actually make me calves kind of ache just standing in them for a few seconds, not being used to such a height.
They truly are beautiful shoes and I absolutely cannot wait to pair them with a gorgeous tulle skirt of course. The only negative thing I would ay is that the quality definitely lacks with the tying bow detail in the front. Mine came with the end of the ribbon already fraying away and as soon as I went to try them them on it completely came out of the loops as well and it took a lot of effort to get the ribbon back in. So these are just some things that I thought were worth noting.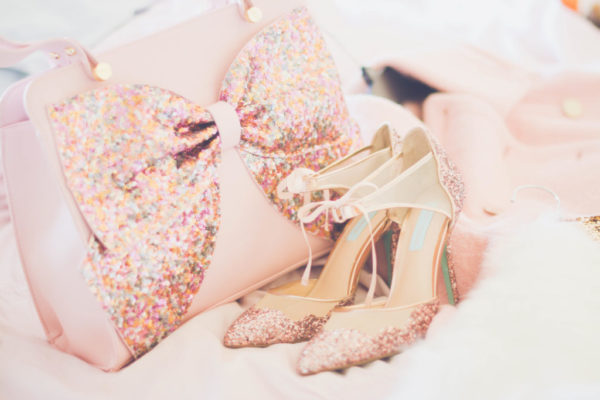 Aside from the Betsey Johnson pieces, I also got this adorable BCBG fur shrug!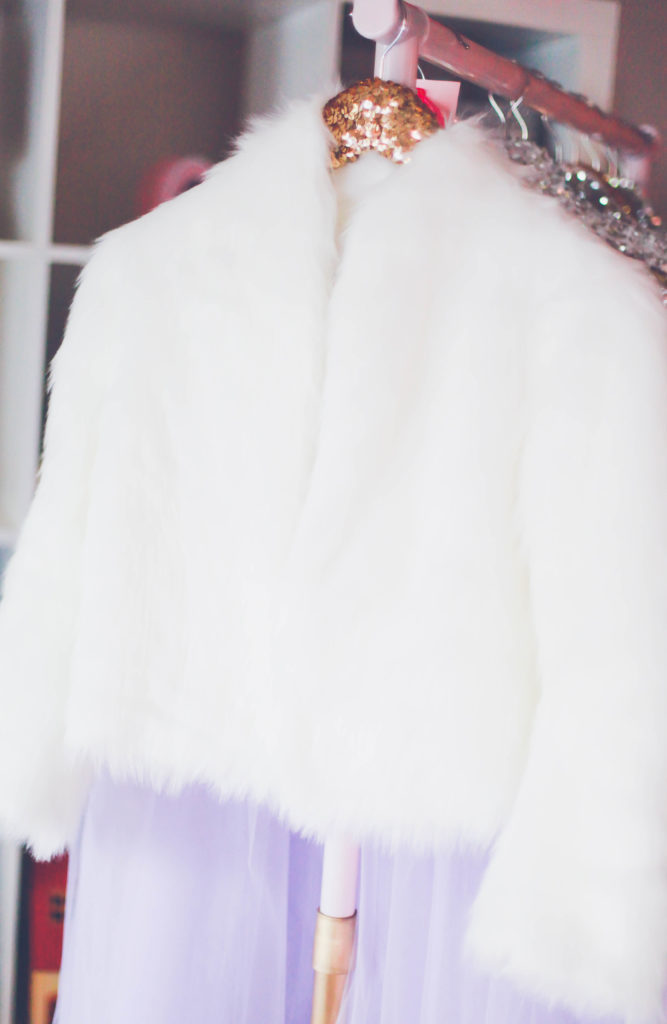 I picked up this darling beauty from Bloomingdales but it is a BCBG piece. It was on sale! And that always makes things so much better doesn't it?!
It's so well put together and I know it will last me for quite sometime. It's such an adorable piece that I've actually already styled with one of my simple black ASOS maternity dresses. I can't wait to pair it with some skinny jeans, and some tulle skirts as well. It's fabulous and versatile and it makes me oh so happy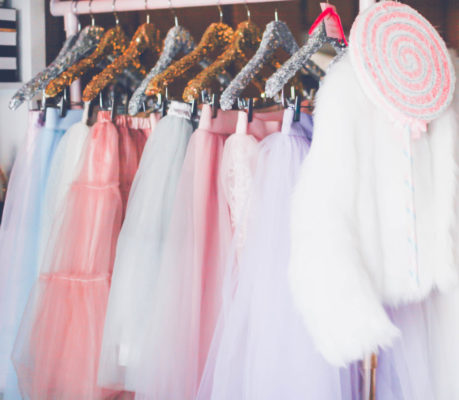 I had to throw in this adorable cupcake decor to show you just how adorable it's looking in mine and Chloe's special workspace! We found some lollipops too!!
I cannot wait to share some special photos coming to the blog, oh so very soon of my sweet little man but until then I hope you enjoy some of the posts I have lined up for you and also enjoy the rest of your week darling ladies!