Thank you to HiMirror for sponsoring this post!
This mirror is quite possibly one of the coolest things I've had my hands on this year. It's everything I've wished for when it comes to my skincare routine. This beauty can do so much it's just hard to believe!
What initially drew me to this mirror were its capabilities for tracking my skin day by day. It does this while proving if the beauty products you're using are working for you or against you.
Ladies, I kid you not, this mirror is a mirror of the future! There's no way that you'll find anything else quite like it.
There are 3 different to choose from at this time and the one I feature here is the HiMirror Plus+ with Amazon Alexa.
The HiMirror is incredibly exciting to experience and to also talk about. There are so many things about it that I find fascinating that I'm not even sure where to begin.
But I believe the best place to begin is with the reason as to why HiMirror was invented in the first place.
HiMirror was founded and invented by Simon Shen, who actually created the mirror to "wow" his wife. His desire was to share a part of his knowledge & expertise with the electronic industry with her.
When I read that my heart just totally & completely melted. I mean how sweet is that?! I can only imagine how happy she was that he made this out of inspiration from her.
The magic of HiMirror
HiMirror is the first mirror in the world that allows you to analyze your skin and keep track of your skincare products to see if they're truly working in your favor.
That right there alone is ingenious.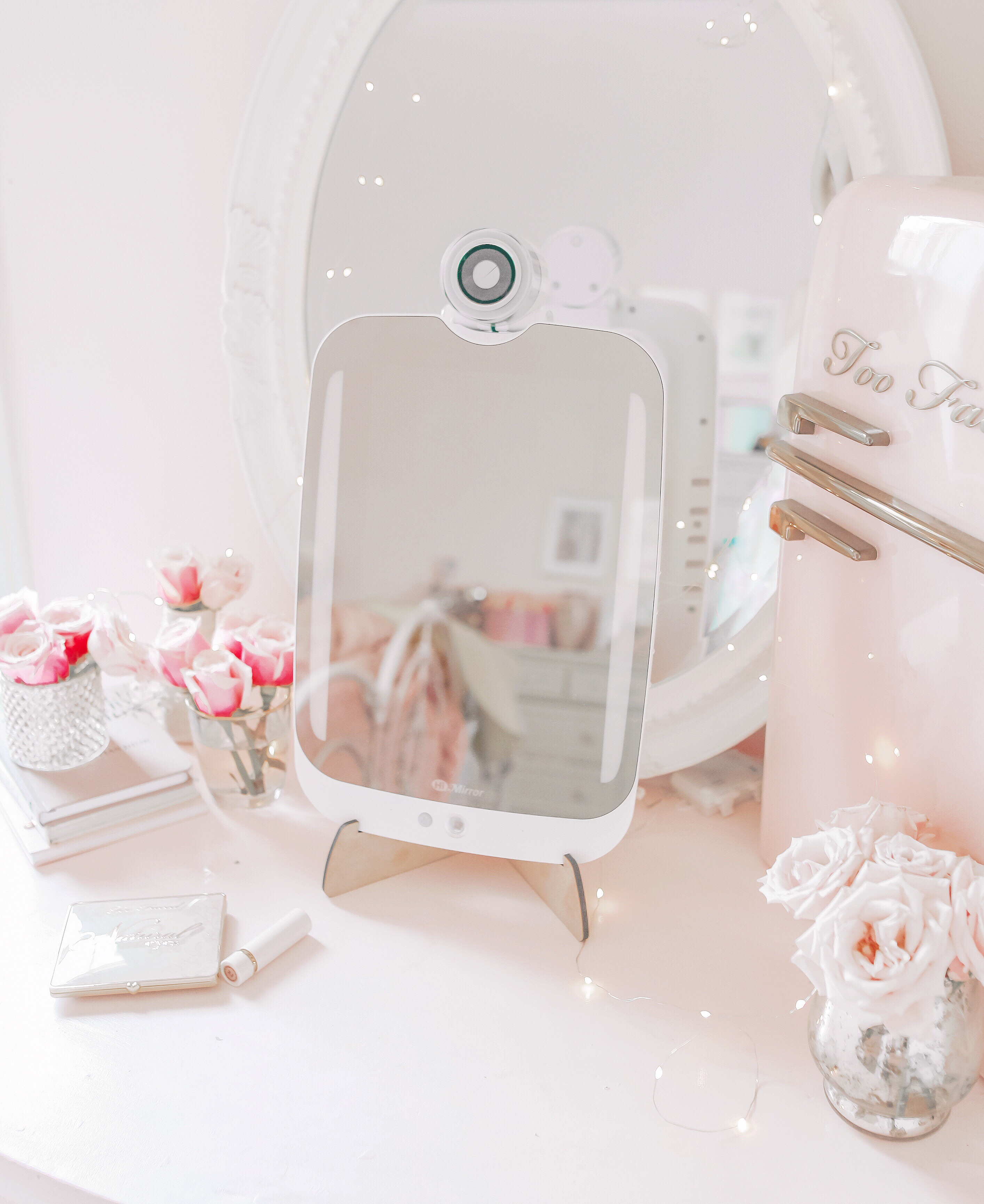 Skin analysis capabilities
Just think, if you could go through all of your skincare products and know what's really working for you or not, you would save so much money and also fast-track the changes you're wanting in the overall health of your skin.
For me, that was the biggest selling point because honestly I really don't know out of ALL of the skincare products that I own and use, what is actually helping me the most.
Now the way in which this works is you would need to take a photo using the HiMirror. From there the mirror will use 8 different categories to then show you the current condition of your skin. Measuring skin clarity, wrinkles and pores are just a few of the categories.
Let's say you just bought a cream for under eye circles and to help reduce any wrinkles. You start applying it on day 1 and take a photo with HiMirror at the same time.
Repeat these steps each day (or as often as you wish, but I love using it every day to see even the subtle changes in my skin) and while you do, HiMirror will literally be able to show you by percentage whether the appearance of your undereye circles is diminishing, staying the same or getting worse.
After getting the HiMirror I couldn't wait to test out this feature on a toner that I've been using recently.
It 's known to reduce dark circles and increase overall skin brightness. The HiMirror showed me that there were actual positive changes in both of these areas when it comes to my skin. I was so happy to know it wasn't just a placebo effect!
The beauty box
On top of that, anything that helps me to be more organized is always a plus. I have so many skincare products and it's sometimes hard to keep track of what I'm using and for what purpose.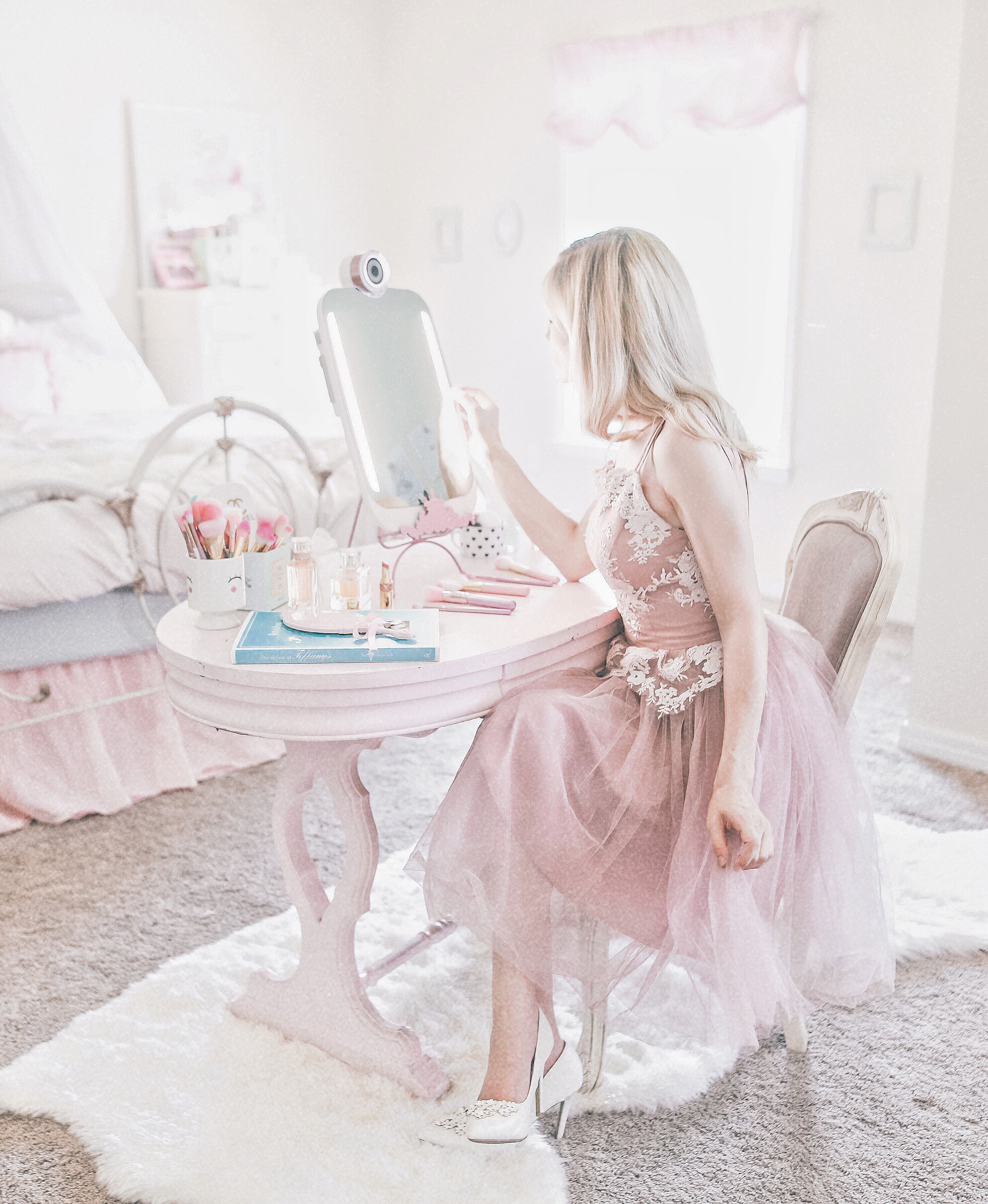 But by using the camera attached to the HiMirror, you can scan the barcodes of the beauty products that you own to add them to your little database known as "My Beauty Box."
And when you're running out, through use of Amazon Alexa, which is built into this beauty of a mirror, you can let her know it's time for a refill.
Just soak that in for a moment… is that not really cool or what??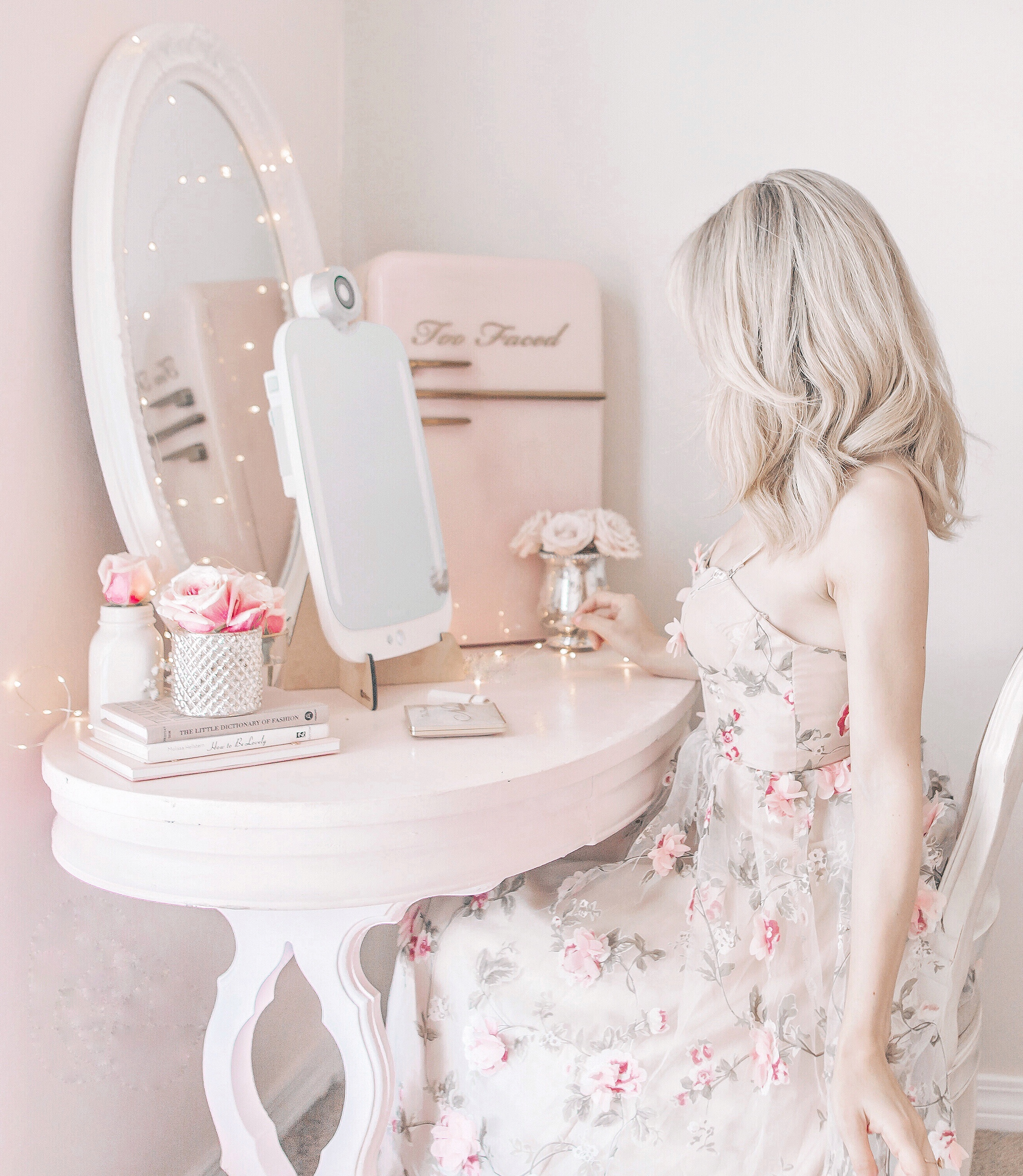 Ladies, the list only goes on from here. The HiMirror can do much more than this!!
Lighting options
Another awesome feature is the lighting built in.
You know how sometimes you'll do your makeup in a bathroom that doesn't have the best lighting and you think you just look so great!
You then proceed to go outside and you see yourself and you are just like, "Oh my goodness my face!" lol.
Has that ever happened to you?? It has happened to me, MANY times.
That right there is why it's important to apply your makeup in lighting that best matches lighting conditions that you'll be in.
If you do your makeup in dark lighting or orange lighting but you'll be out in bright daylight, your makeup may look a bit off.
The HiMirror features Smart-Ambient makeup light, available in 5 different settings.
These settings include Sunset view, Restaurant/party venue, Shopping mall/ Supermarket, Bright-lit office & Outdoor/ sunny days. **This has really made a big difference for me, especially using the Outdoor setting since it's warming up & I'm spending more time outdoors. I hate how the bright sunlight can magnify the littlest of things that you wouldn't have noticed otherwise.
For example, sometimes I think my makeup looks great and believe that I plucked ALL of the eyebrow hairs that needed plucking. Then once I'm outside it looks more like I have too much makeup and I missed a few hairs!
This is another reason why I can't stop raving about the HiMirror. I'm finding that I am much more pleased with how my makeup looks inside & outside and other people have been complimenting me more on makeup too!
Pretty nifty, am I right?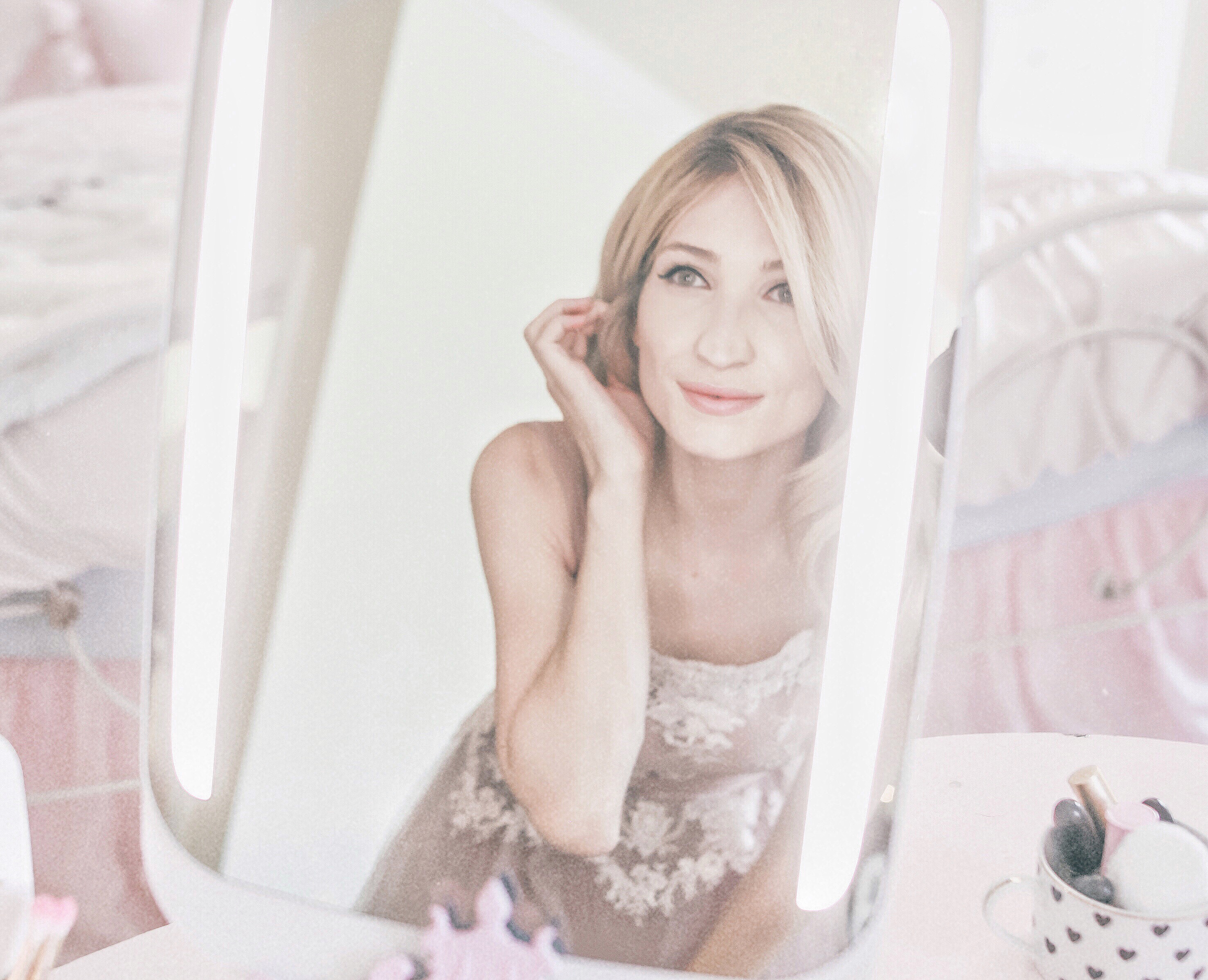 What else can it do?
Let's say you're wanting to share with your sister, roommate, daughter or friend. Well, that's totally possible.
The HiMirror allows you to store up to 6 users so you and your girls can enjoy better makeup days and skin together! Beauty nights in with friends can be even more fun now that we can all analyze our skin after our face masks.
You can also listen to Spotify on it via the HiMirror app (who doesn't love listening to music while they do their makeup?), check the news or weather, and even cast your favorite YouTube beauty tutorials with the HiMirror app. How fun is it to watch your favorite beauty guru do her makeup while you follow along!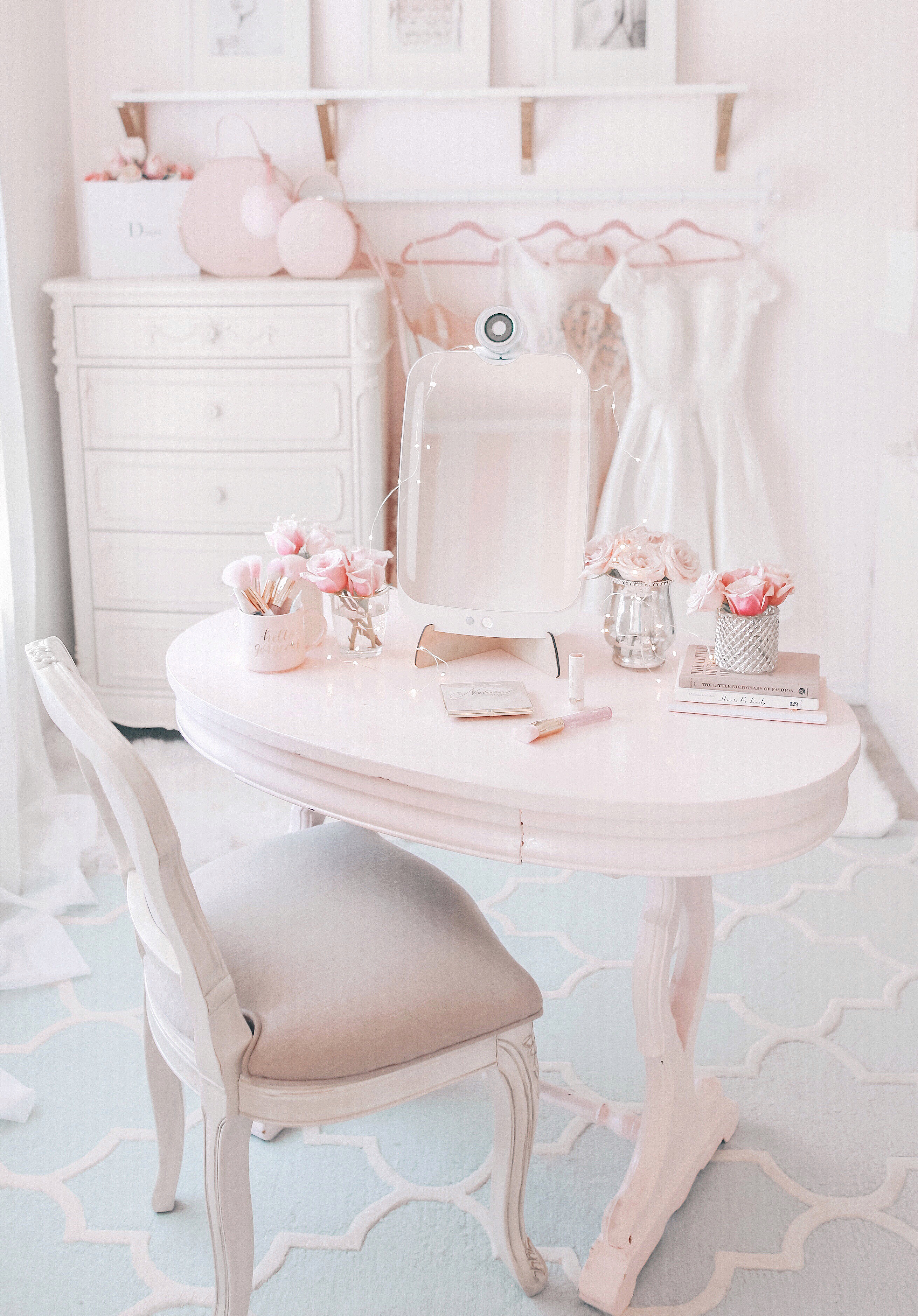 There are 3 ways to control the HiMirror Plus+. You can use voice gesture, a handy-dandy remote or hand gestures as well.
Customize your HiMirror
Another neat feature is that you can customize the theme of your mirror & change the wallpaper that shows too.
I like to change my wallpaper pretty frequently and always choose pictures from Pinterest that I find to be really inspiring at the moment. I just think that it's so neat to be able to see that on my mirror!
As seen in my photos, HiMirror also sells little stands (called the HiStand) that can hold the mirror which is really great. Another way to use the mirror is by hanging on the wall and it comes with hardware for that.
You can also try on makeup virtually to see what shades will best suit you and even enjoy makeup tutorials all without moving away from your mirror!
My personal favorite to try on is the Summer Shimmer Look.
This mirror seriously has EVERYTHING! And there's far more to learn about the Himirror which you can go ahead and do so by clicking.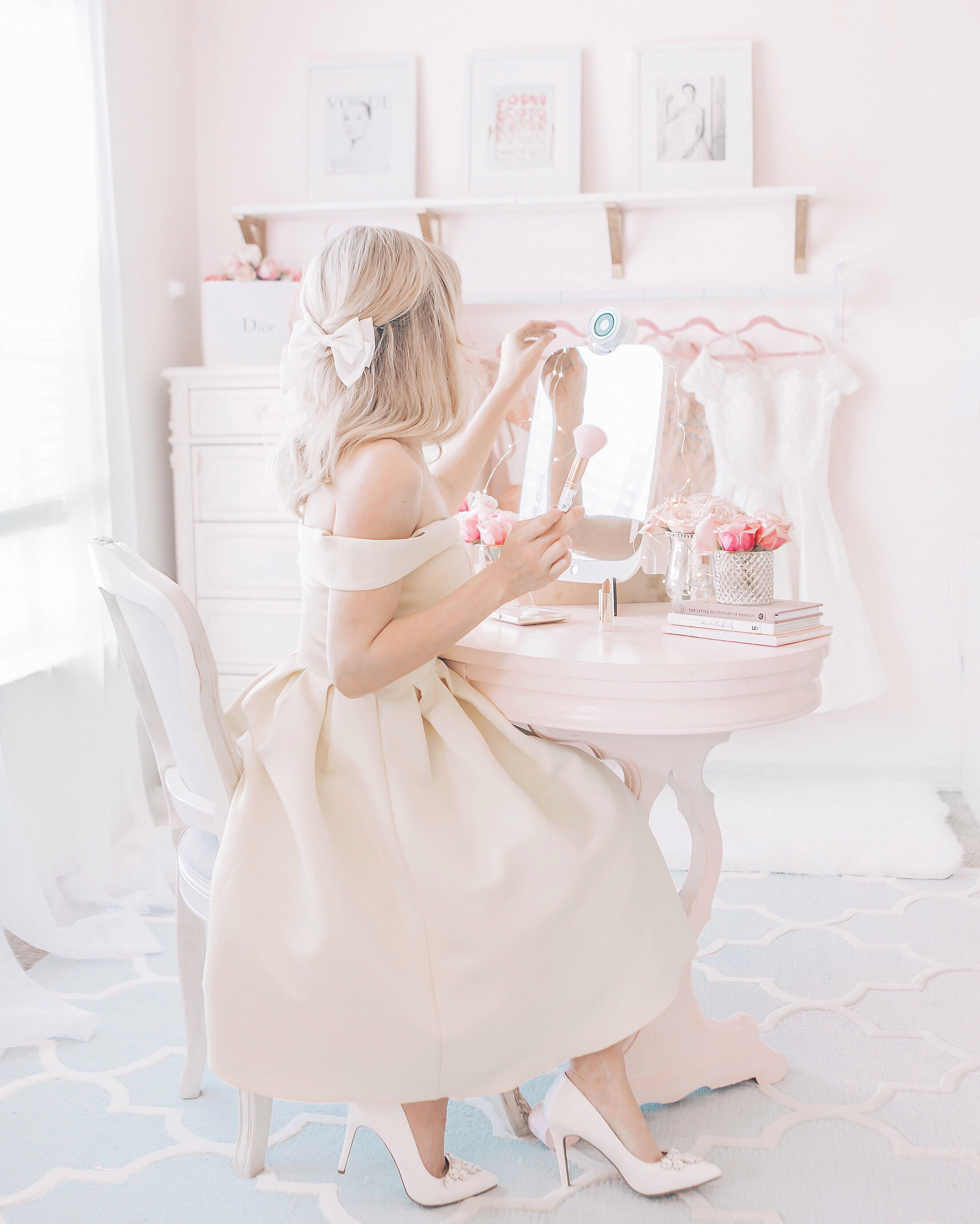 Where to get it?
Like I mentioned before there are 3 separate HiMirrors available at this time and you can purchase all of them and their accessories from HiMirror's eShop or on Amazon.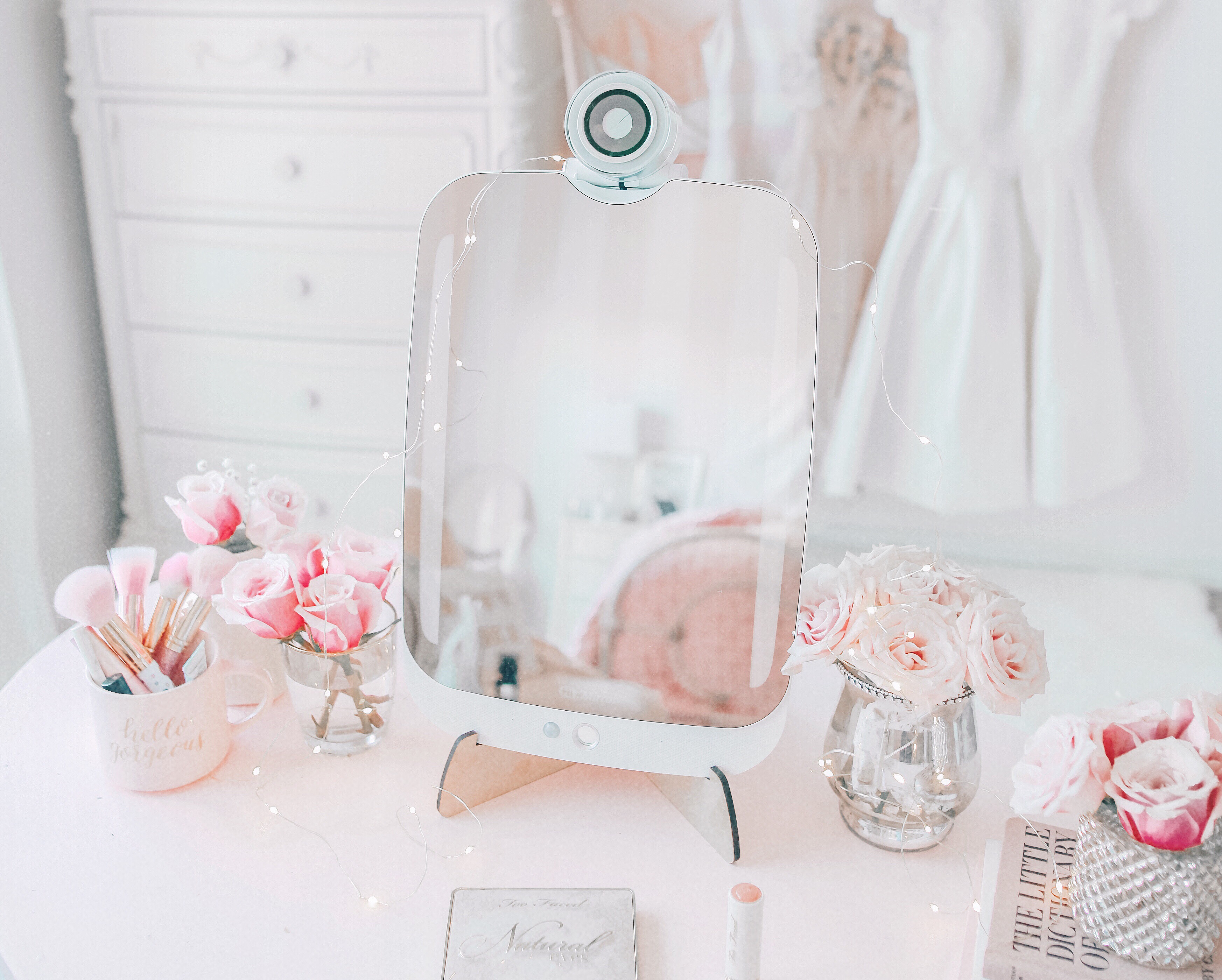 I don't think I could recommend this more to you. It truly is an incredible mirror and I think is one of those items that you get and the novelty just doesn't wear off. It's really a helpful tool to incorporate into your everyday beauty routine.
Which feature is most compelling to you? Tell me below!
xo.