Pretty Essentials For A Lovely Bedroom With Hayneedle
I love freshening up my bedroom and giving it a pretty decor update don't you?
I've done just exactly that recently and put together this pretty little post to share with you. In this post you'll see exactly what I've changed and all of the lovely things that I've added to my bedroom from Hayneedle.
A few months ago, I was laying in bed & not feeling so well. As I was spending more time in my bedroom than I desired, I noticed that there were some things I wished I could change.  I felt like my room lacked a cozy atmosphere and those homey feelings that we all love so much. I hadn't lived in my current home for that long and it still didn't feel quite like home at this point.
In my mind the perfect way for turning this around was to add things to the room that would make it feel more like home. So I started a list of different things that I felt would make my room that much better and here's exactly what I  added.
The Bedding
I felt like my previous bedding was very lacking. It was time to switch it up a bit and go for more of a luxurious look and feel. I have been desiring a bed that would be extremely cozy and pretty at the same time. I wanted my bed to truly feel like a bed that I'd have to fight myself to get out of every morning.
Down Comforter
This time I chose to make a switch from a standard comforter to a feather down comforter and I couldn't love it more. I actually used to have a feather down comforter. I can't even remebember why I replaced it because it was heaven. It's like sleeping in side of clouds. I just love it!
Duvet Set
When you have this kind of comforter you need a duvet set to go along with it. Of course I wanted pink but that's so incredibly hard to find. However, I found this beautiful taupe colored duvet set that sometimes looks a bit like a dusty blush which is just as lovely.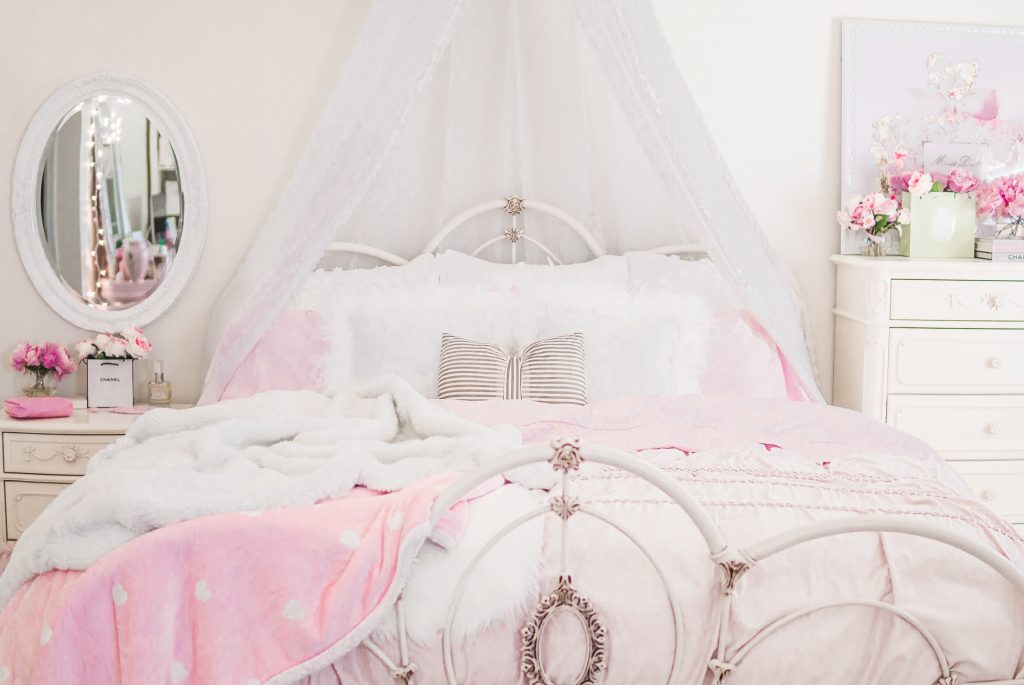 The combination of the new duvet paired with the feather down bed is incredibly luxurious and exactly what I was going for.
I also added new sheets in the prettiest shade of pink. The mix pink sheets with the duvet and white accents are so beautiful and such an upgrade compared to my previous bedding.
Throw Pillows
I wanted to add even more to the look of my bed & did this by adding darling feather pillows and euro pillows.
The feather pillows came in a pretty pinkish color and white. They so worked their magic by making my bedding have a soft and chic look.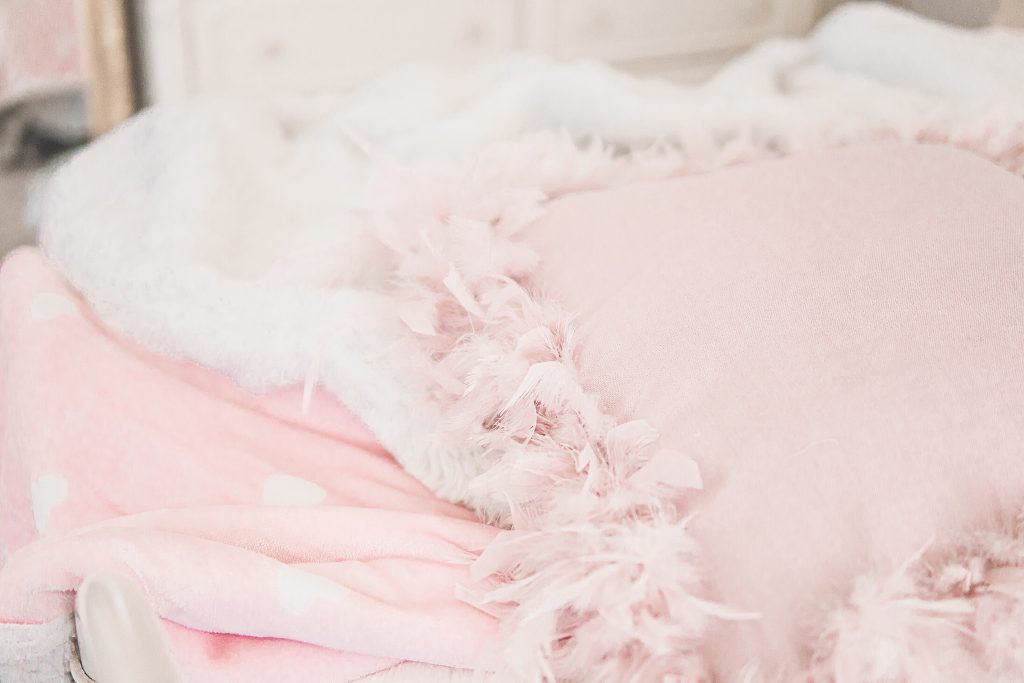 The euro pillows that I also chose feature lovely petal accents. It's not overpoweringly girly but is still very feminine.
I may not get that much use out of these pillows but what I love about them is how full they make the bed look. I feel like it's a much more complete look when they're tied in with everything else on the bed.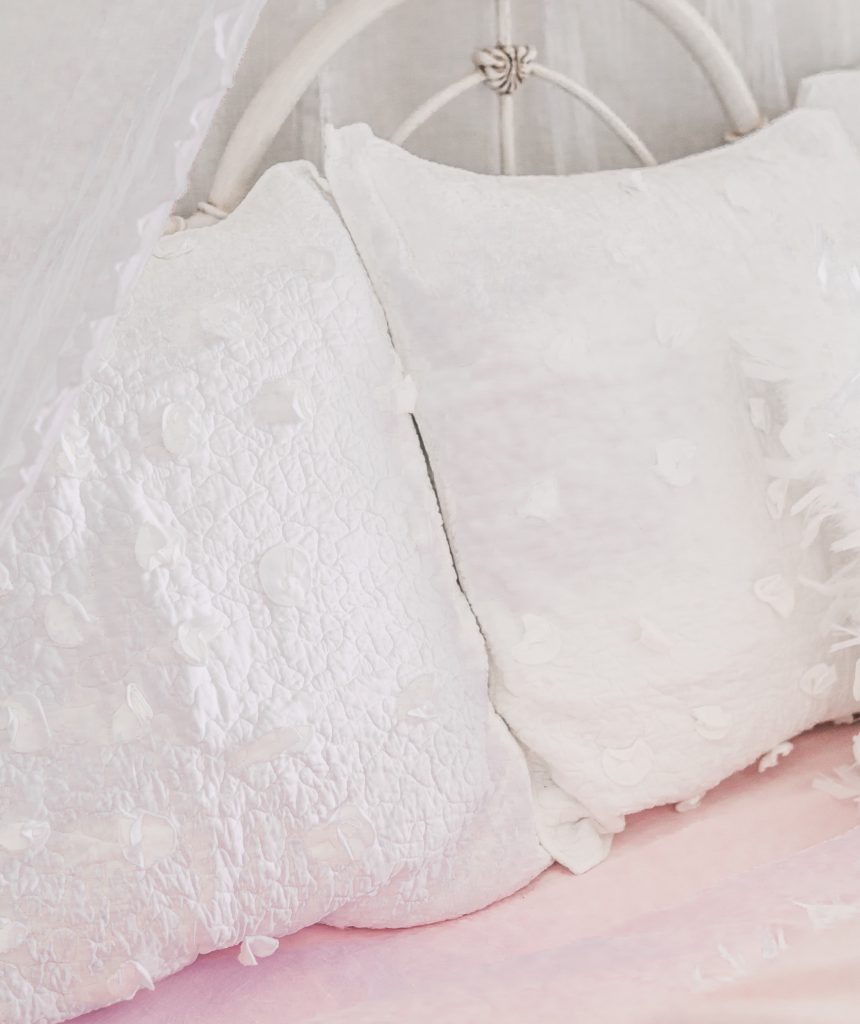 Throw Blankets
I also added in some throw blanket for ultimate comfort! Who doesn't love to grab a cozy throw blanket, snuggle up and watch Netflix?!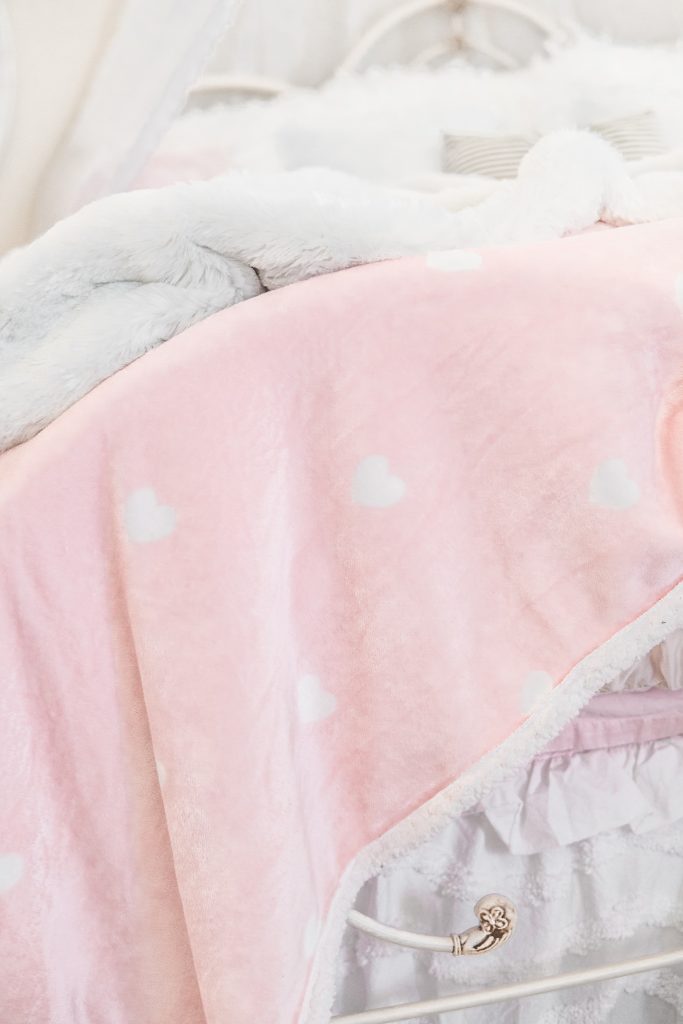 I couldn't be more in love with my new choices. These included a lovely white faux fur throw and my new most favorite blanket ever that's pink and covered in hearts! My littles ones are constantly stealing it from me, and I can't blame them one bit.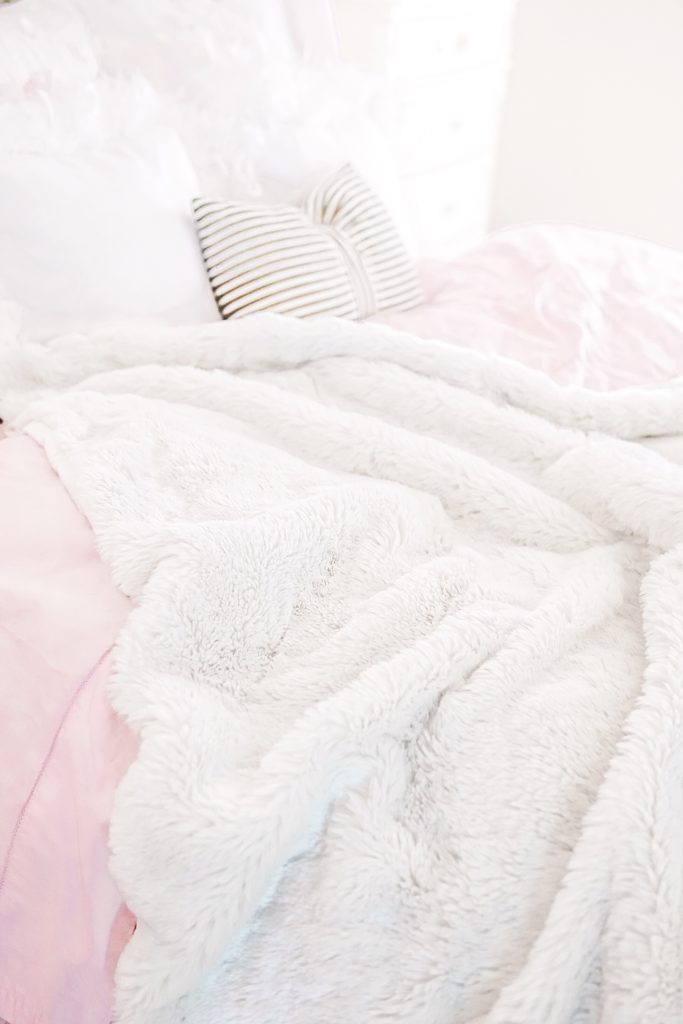 Mirror Mirror On The Wall
If there's a piece with a fairytale charm to it , it's essential that I get it and add it to my room. I found a darling mirror while shopping at Hayneedle, and I just knew it was the one. So I added this lovely fairytale like mirror right above my nightstand, which is also from Hayneedle.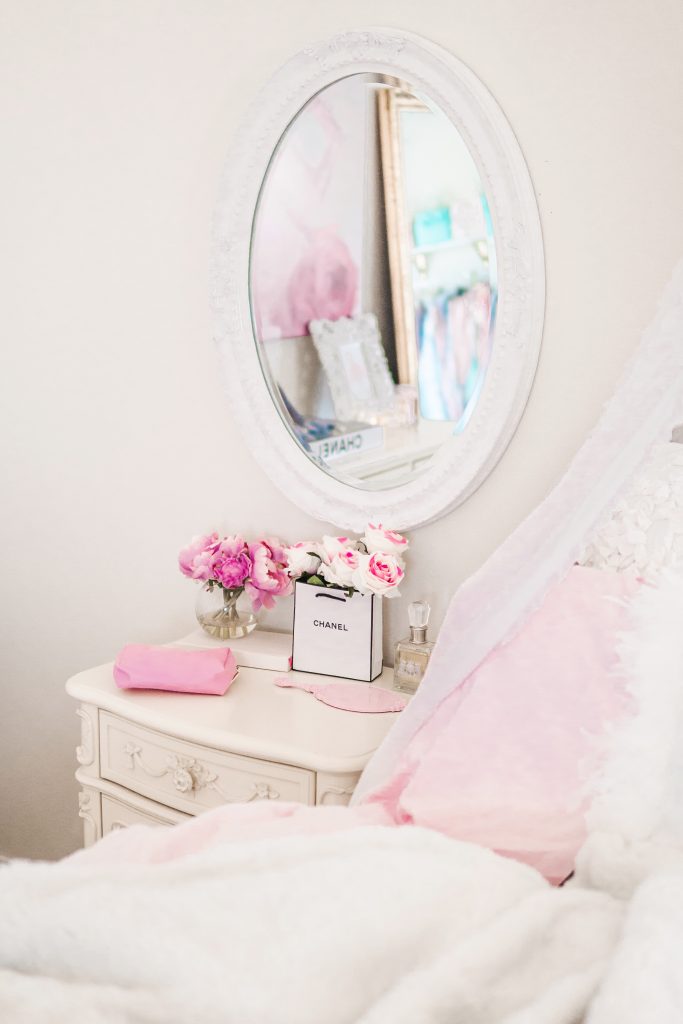 Initially, I thought this mirror would be great for applying & checking my makeup. Since getting it I found it's great for taking outfit photos too. So dreamy!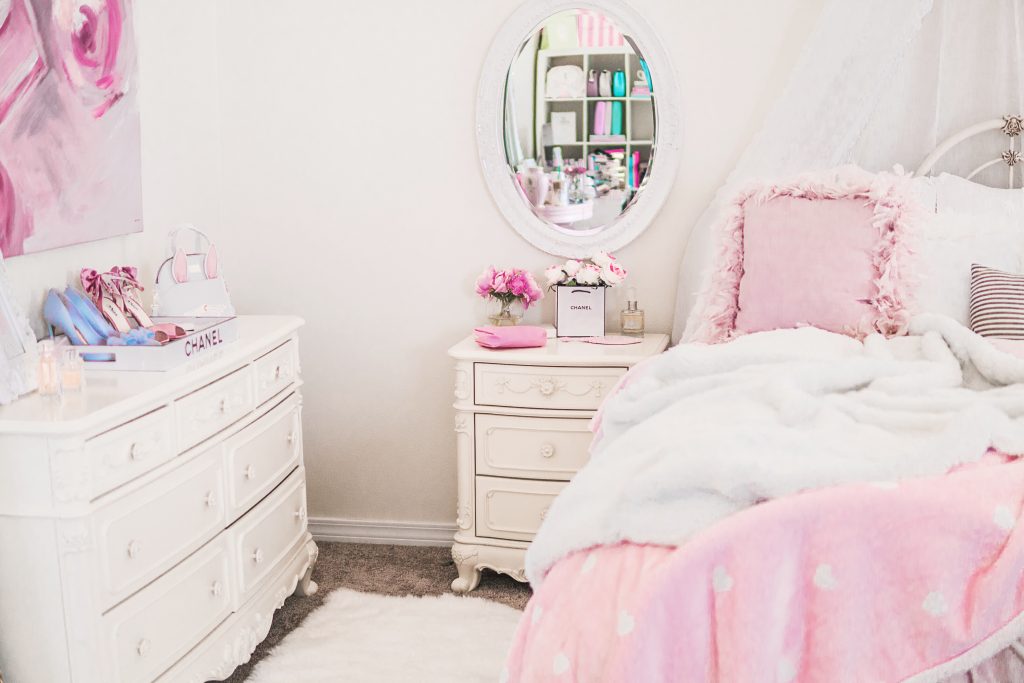 Darling Details To Bring It All Together
The details truly are everything when it comes to a lovely & cozy room. The cozy aspect was covered by Hayneedle but to make it even more lovely I needed to add personal touches to my rooms decor.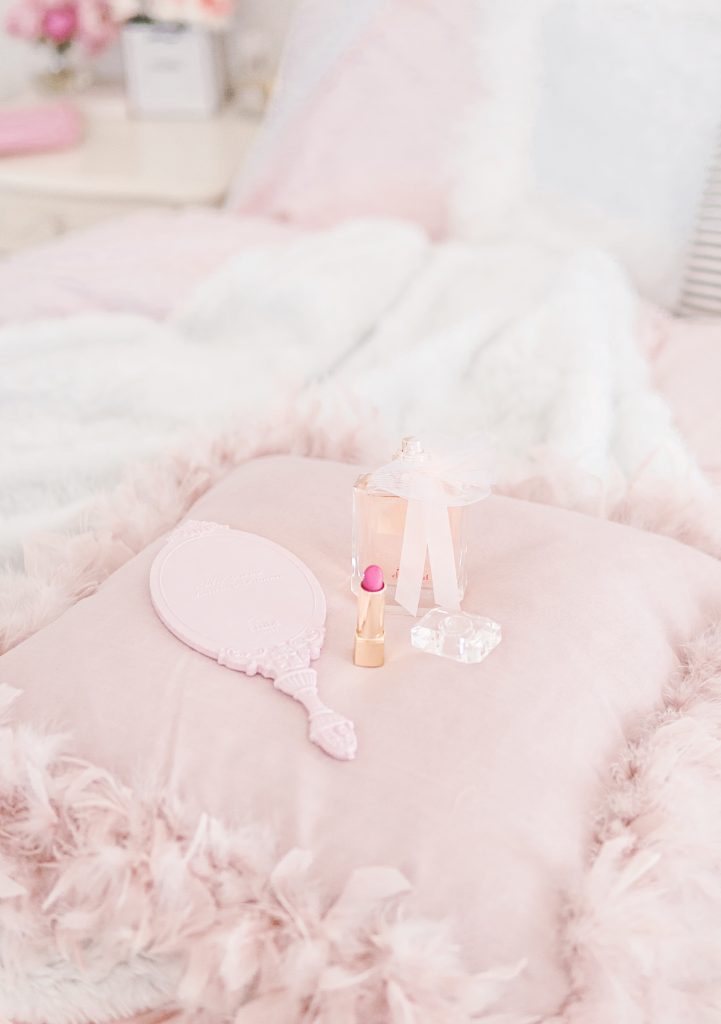 You know I love my purses and pretty little shoes. This truth inspired me to include them into my decor. I displayed my current favorites on my dresser, along with my go to perfumes, favorite illustration by Josafina Fernandez, and gorgeous artwork by Oliver Gal.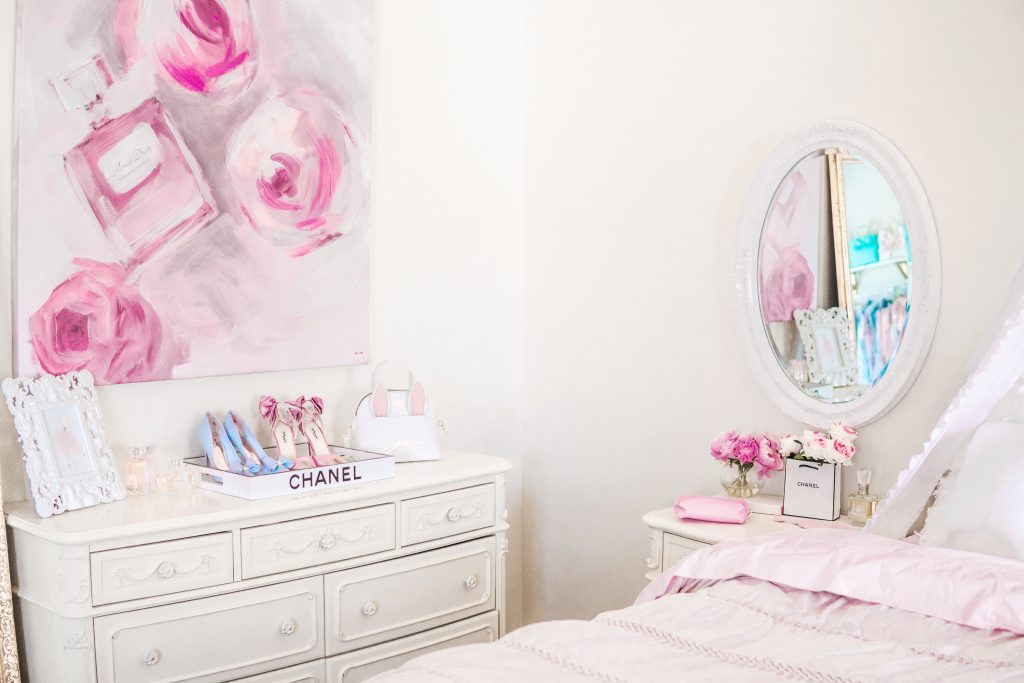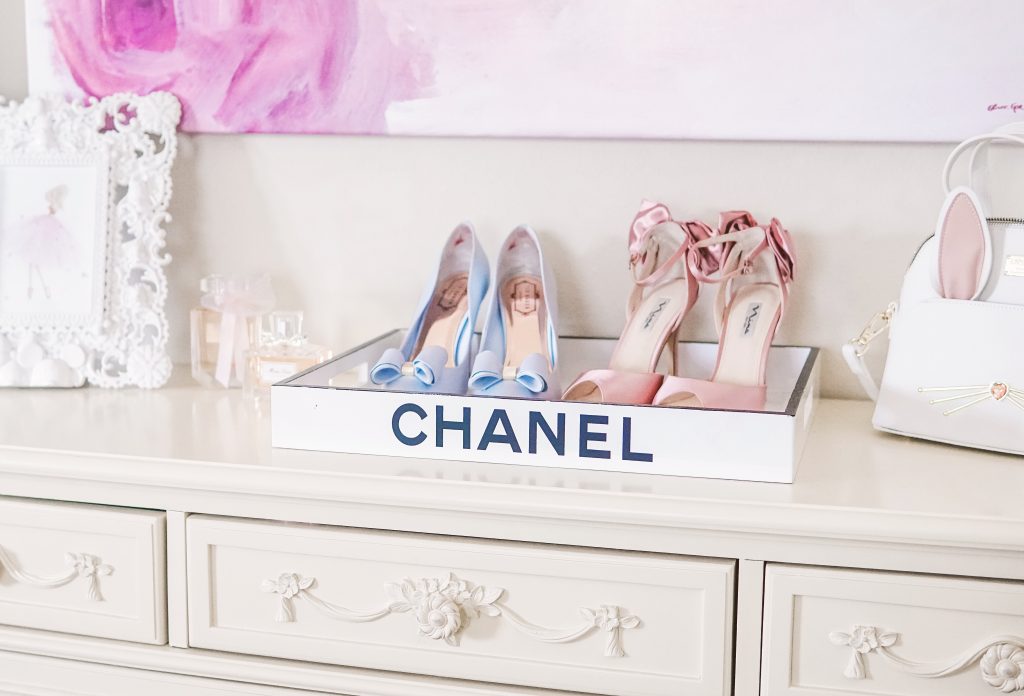 Another favorite addition of mine is this faux fur rug.
I just love waking up in the morning, getting out of bed and letting my feet embrace the plush softness of this rug. It couldn't be any cozier. This was such a win for me and yet another great find from Hayneedle.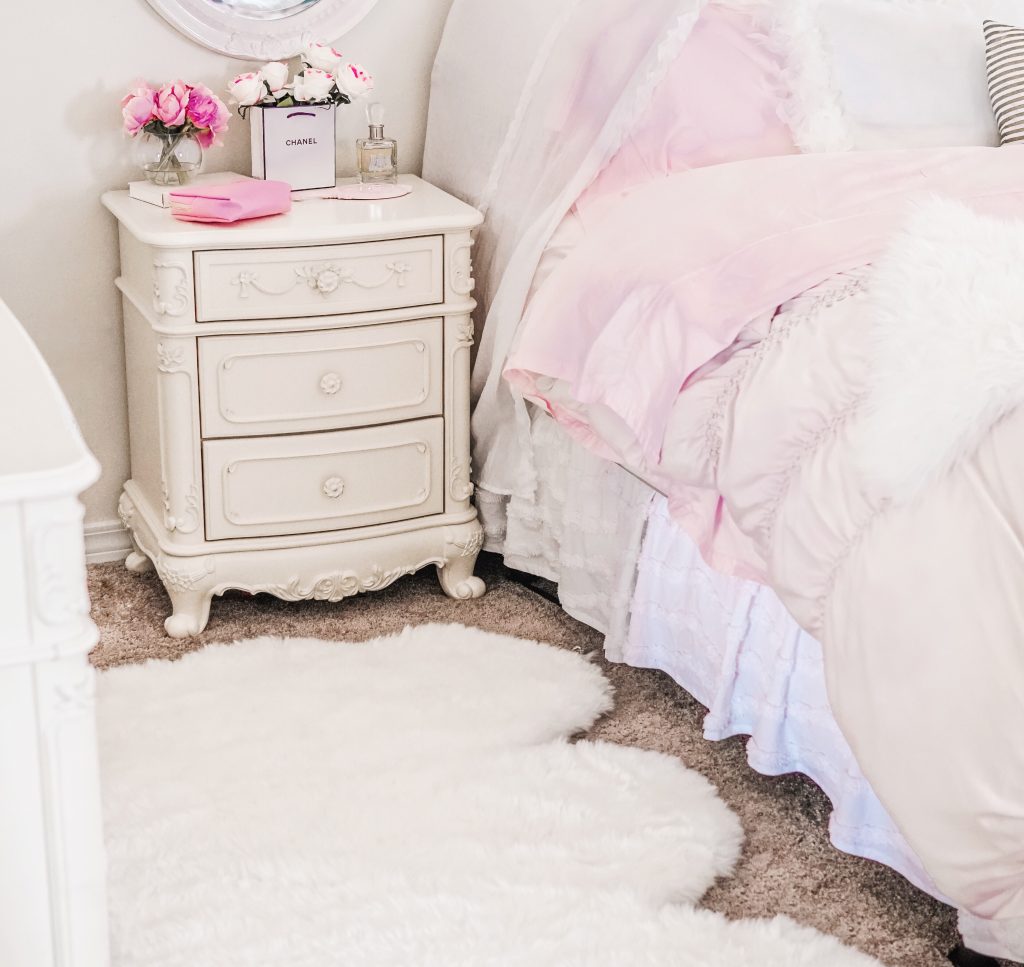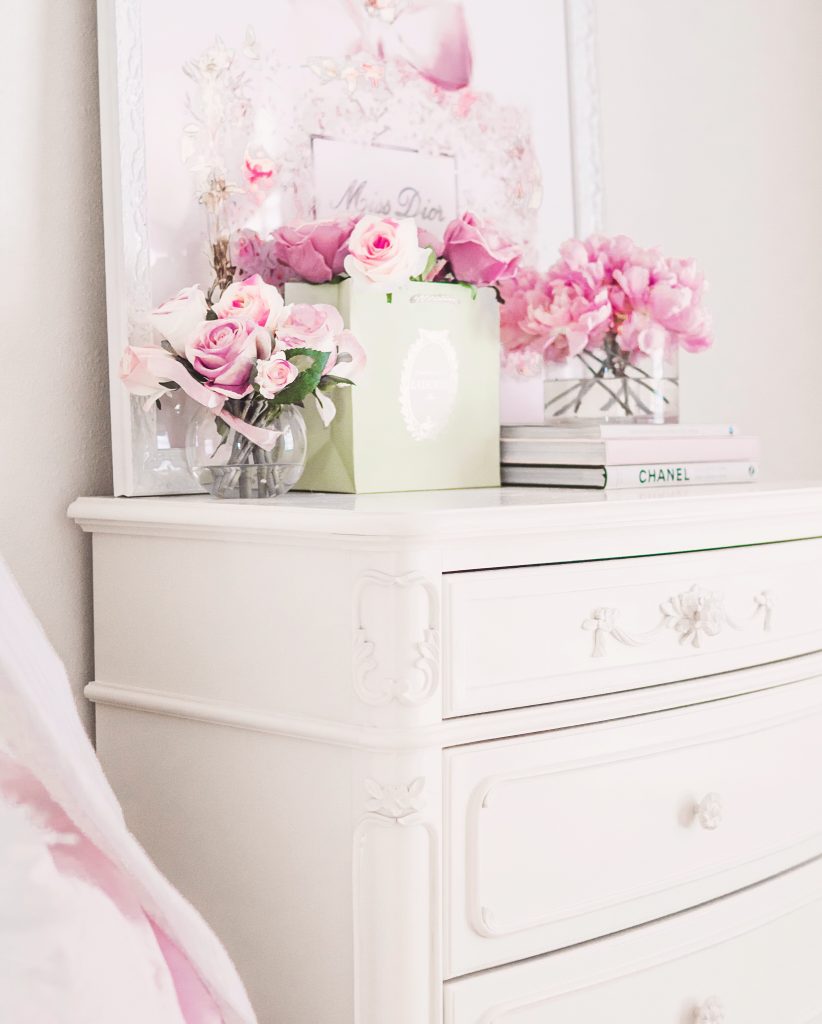 My room is well on it's way to being the comfy fairy-tale haven of my dreams. There are always things that I'll want to change, that's just the way I am, but I am pretty happy with this new update.
Like I mentioned before, my room desperately needed more of a homey feel to it & I have found just that.
Shop The Details
Round White Ornate Mirror (similar)
Love something I shared about? Click below to shop it directly and make it yours! If you don't see a link you'd like leave a comment and I'll get it to you!
Until next time love,
xo.