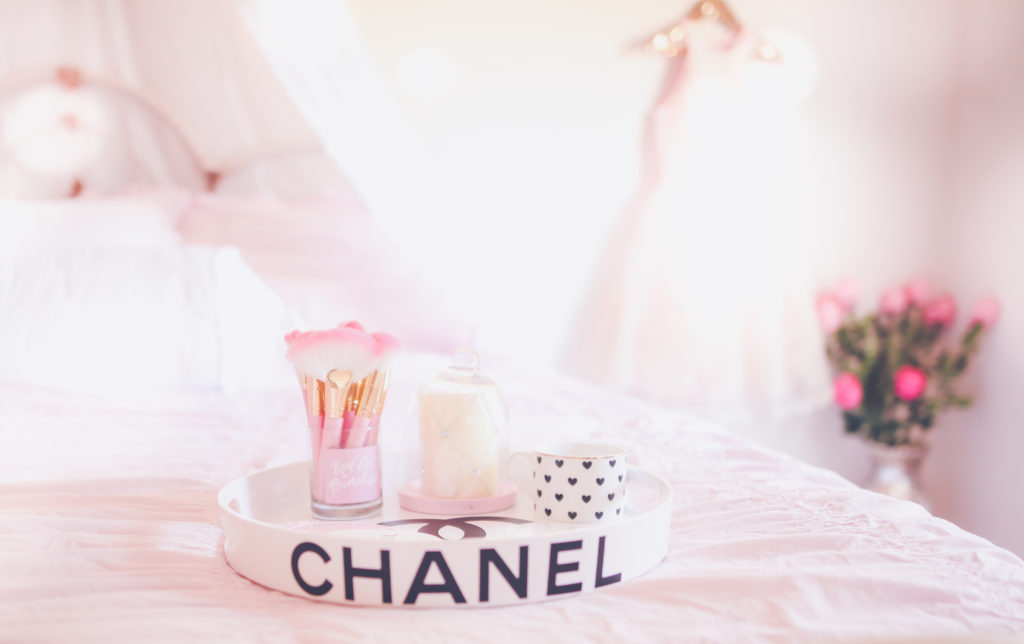 5 Must-Haves For A Beautiful & Feminine Bedroom
If you know me you clearly know that I'm obsessed with the feminine style. I especially love this style all through out my home! When I decorated my bedroom after our recent move my goal was to make it even BETTER than the last home. Here are 5 Must-Haves For A Beautiful & Feminine Bedroom that helped me style my room & will work for you as well.
It's not yet exactly how I'd like it to be but it's definitely getting closer and closer to my dream bedroom. One thing that I for sure can say about it is that it is quite feminine and pretty.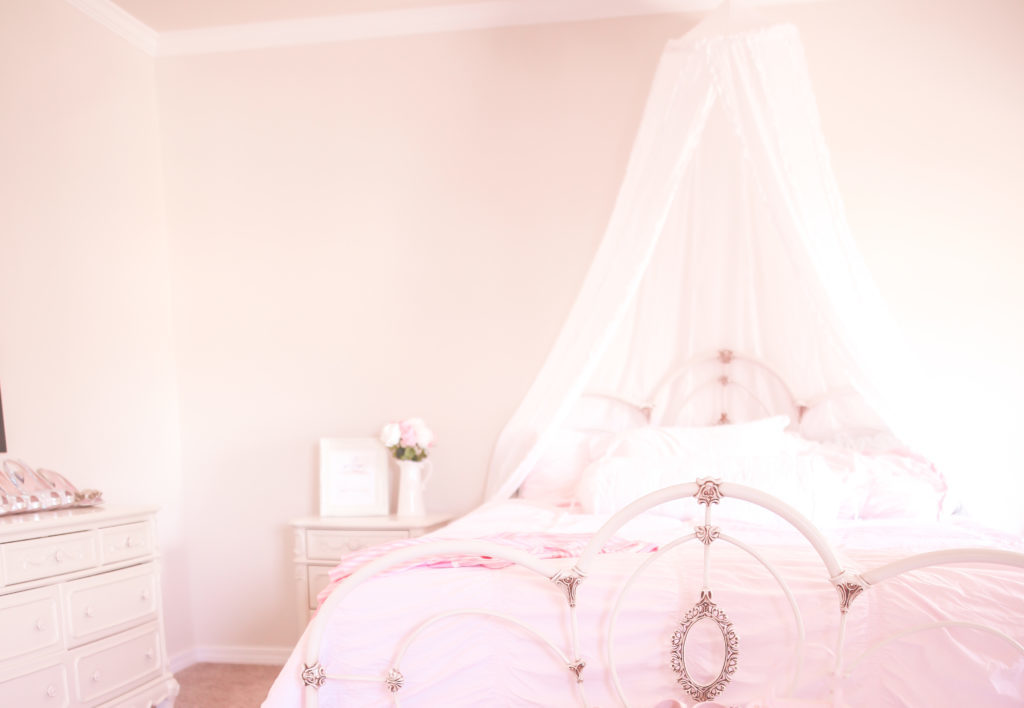 Make it Pink
Pink being incorporated into the room is a definite must have! It adds a softness to the room and makes it feel that much more inviting.
If you're too afraid to go full-blown pink with your room & decor try just adding the shade in small ways with the decor. For example you could simply add some pink pillows or even artwork with pink details.
You could also do some pink bedding whether it be by adding a comforter or pink sheets and a white comforter for a more subtler look.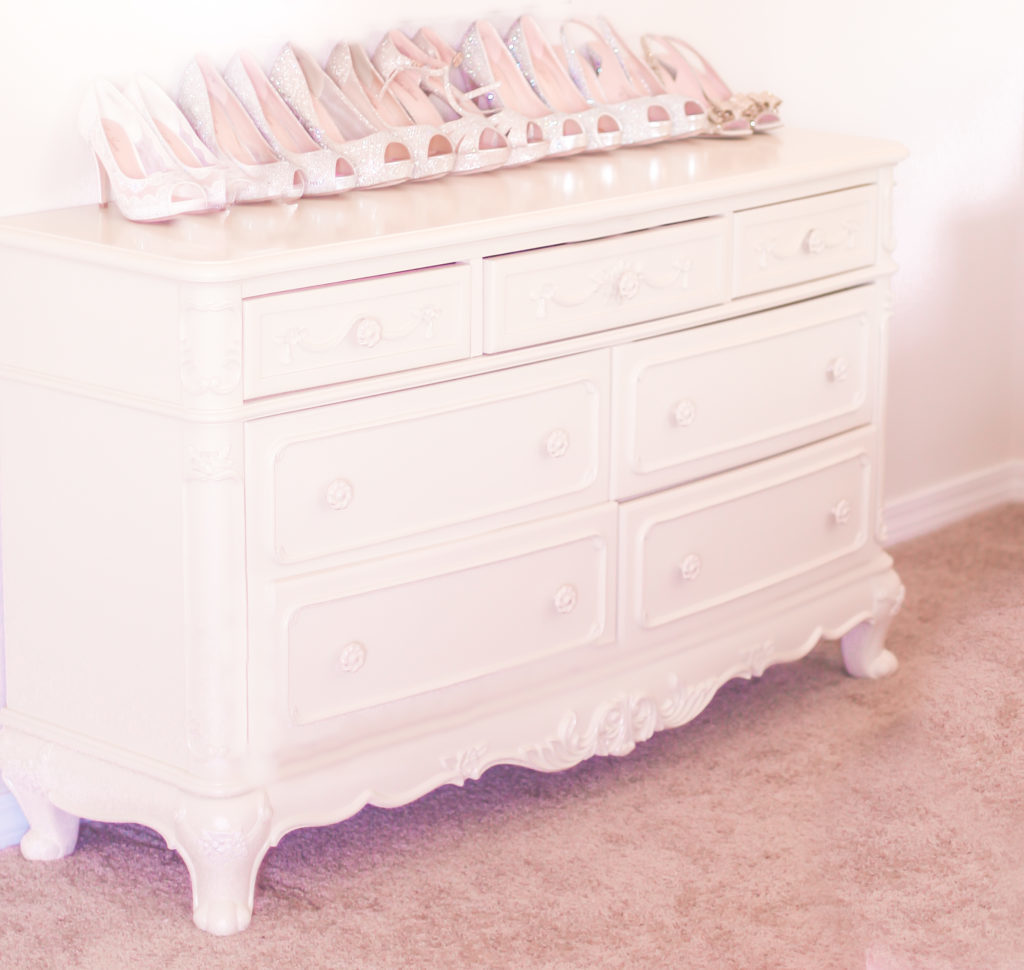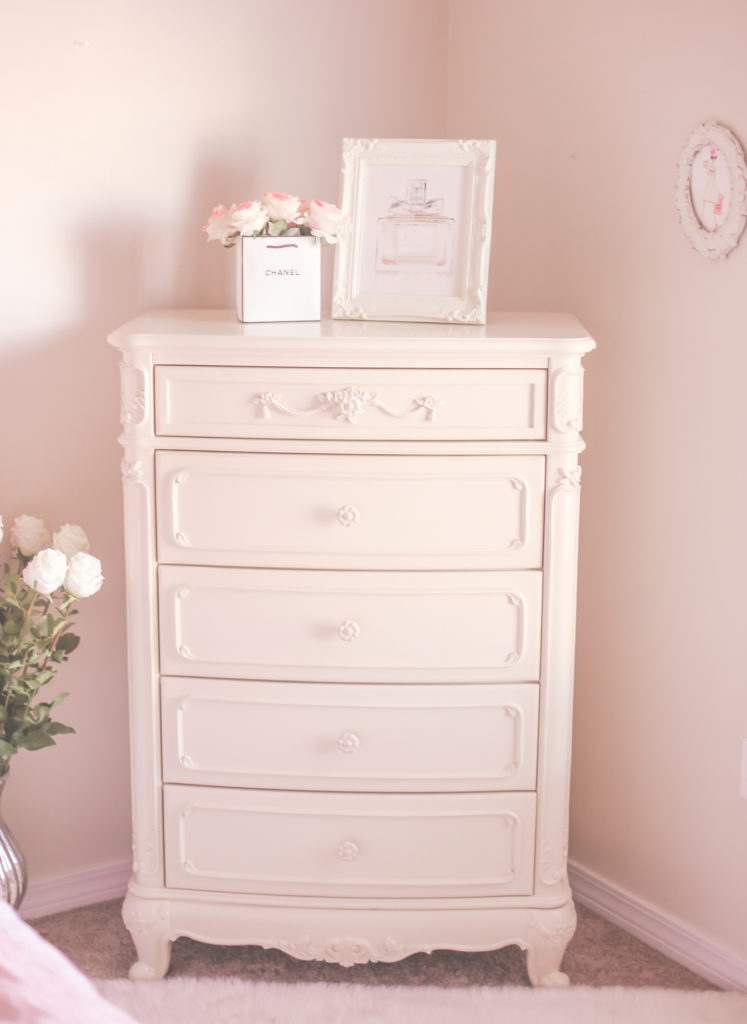 Furniture with a feminine touch
The next must have for a beautiful and feminine room is having the right kind of furniture. I adore furniture with ornate designs and believe that this kind of style is truly a must have for a feminine room. It truly can elevate any room to the beautiful status and I couldn't be happier with my collection!
Before I moved I added a few new pieces to my space from Hayneedle and since I've moved I added a few more.
Previously I added a gorgeous side table to my room that truly looks as though it came out of a fairytale.
For my new space I wanted to add even more from the collection to achieve the ultimate feminine look.
 I added the dresser and chest which go beautifully with the bed that I got from Hayneedle as well. These pieces also pair so well with pink and that truly was a must on my bedroom checklist! Aside from being oh so pretty, these pieces are made well unlike a lot of the furniture i've acquired over the years.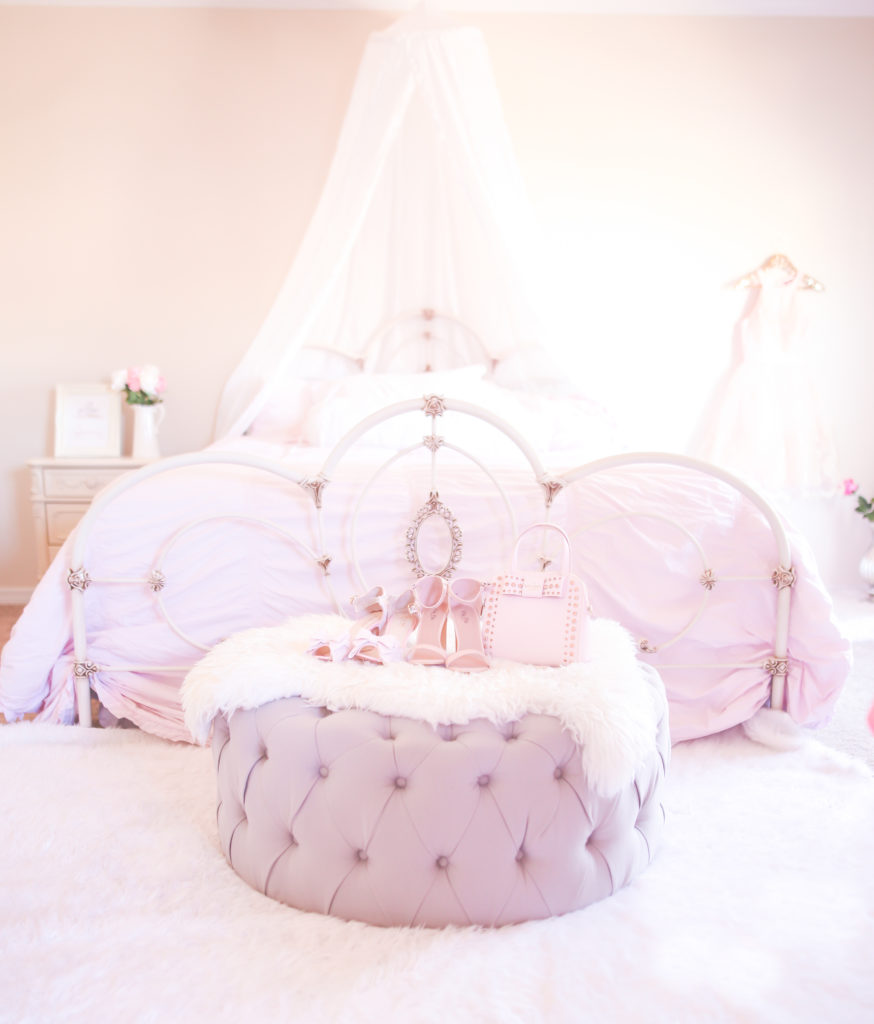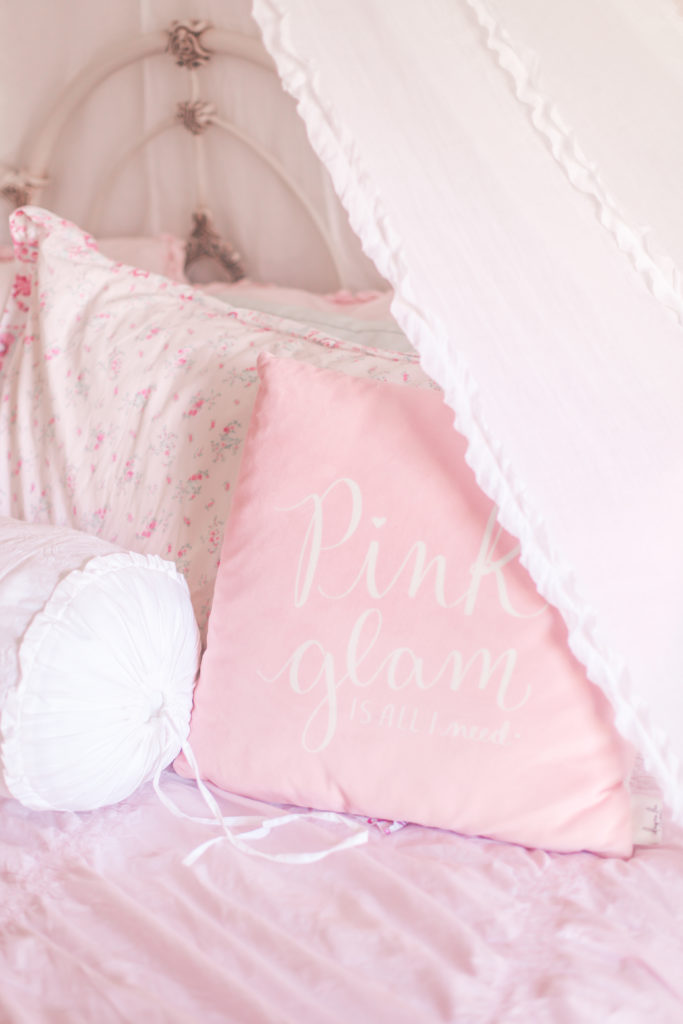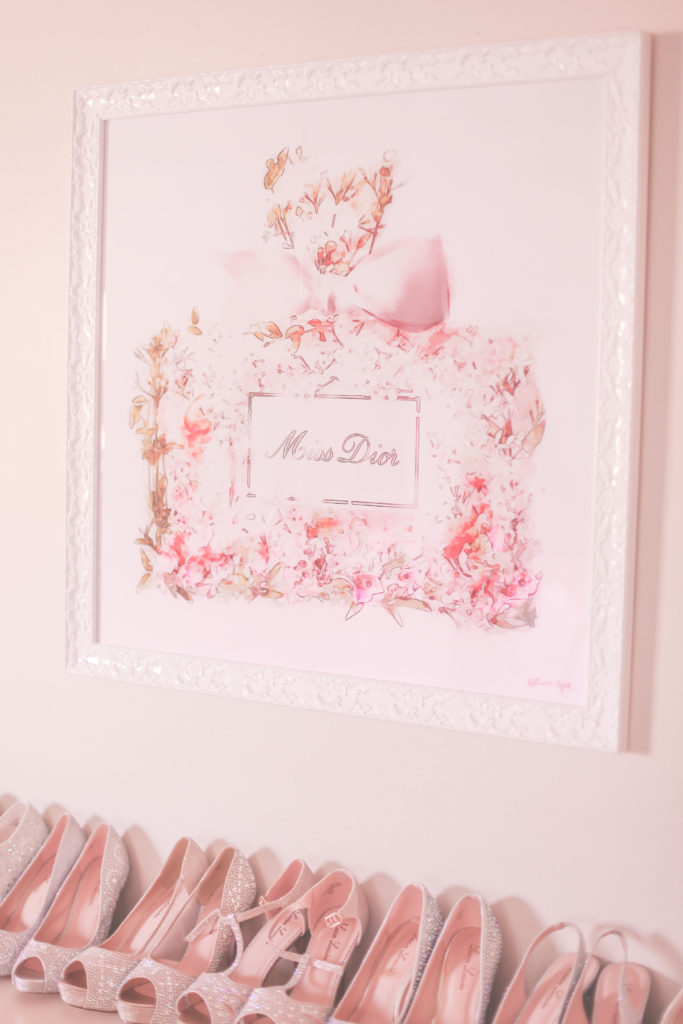 Artwork
Utilizing the right pieces art is another must have for a femininely styled room.
I especially love adding pieces to my space that are fashion inspired and my favorite artist for these types of work is Oliver Gal. I have a few pieces from him and I absolutely adore them! Here you can see one of the pieces which is Miss Dior.
The print's florals, color, and overall design is so feminine and really gives this bedroom the look I wanted to achieve.
You can also find many different designer and fashion inspired pieces from Oliver Gal available in different colors to match whatever look you're going for.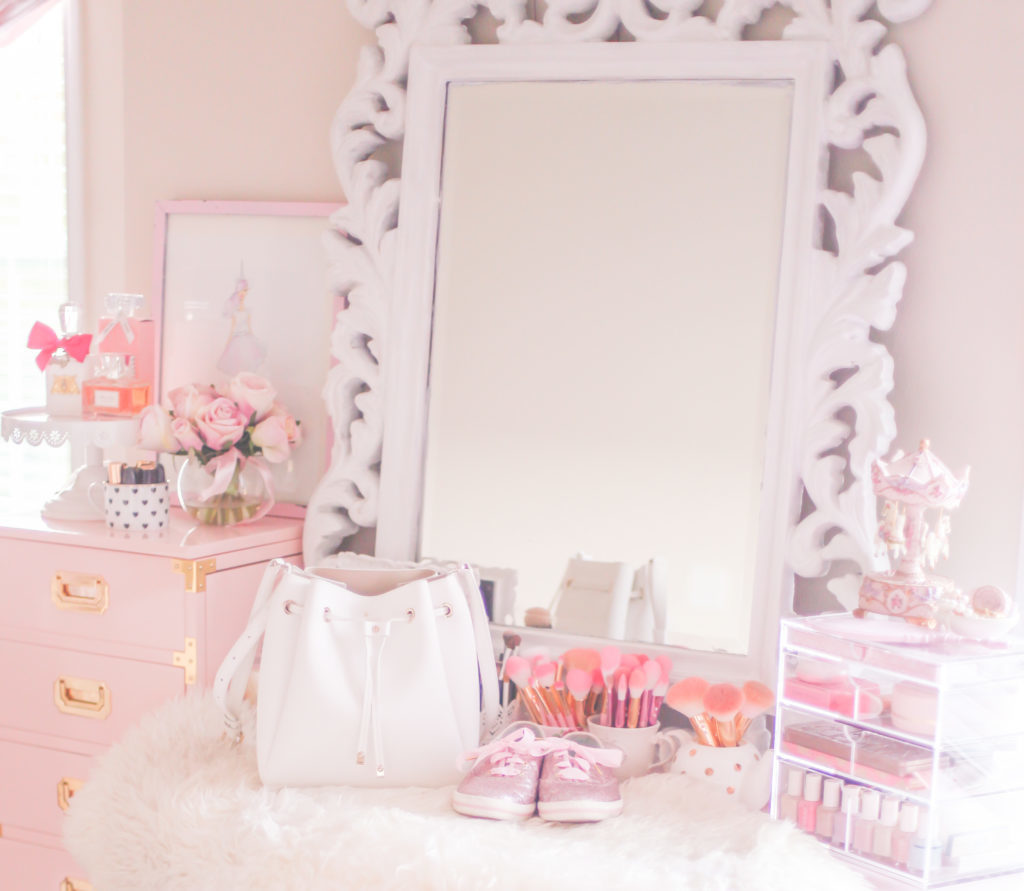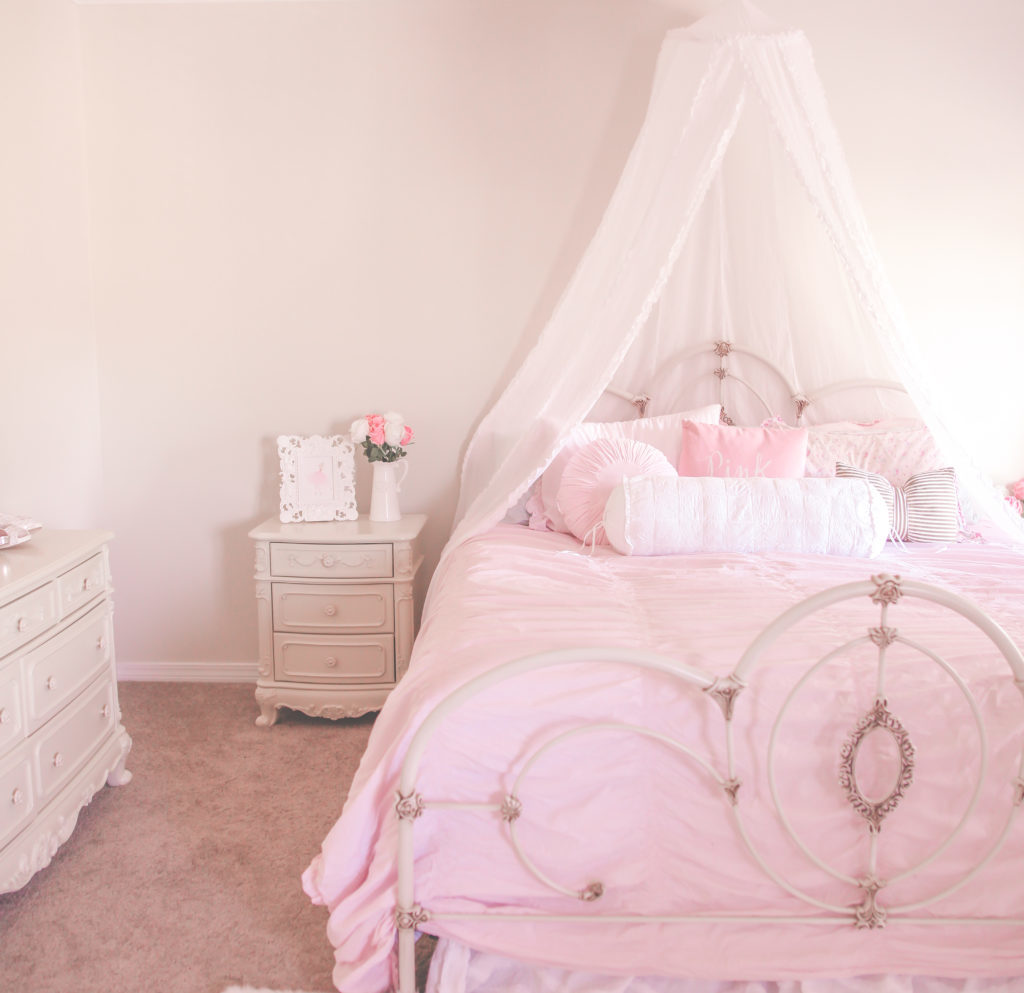 It's all in the details..
The details of the room are everything! I can't stress that enough!
You can achieve the feminine and beautiful status for your room by simply adding pink, having the right kind of furniture and artwork pieces but to make it even more perfect you have to look to your decor as well.
For example, add in some lovely little candles with a feminine style and shade. My currently favorite candles are from Bijou Candles. These candles not only smell divine but look adorable too.
The candles come in pastel pink, purple and white all in a flower shape as well.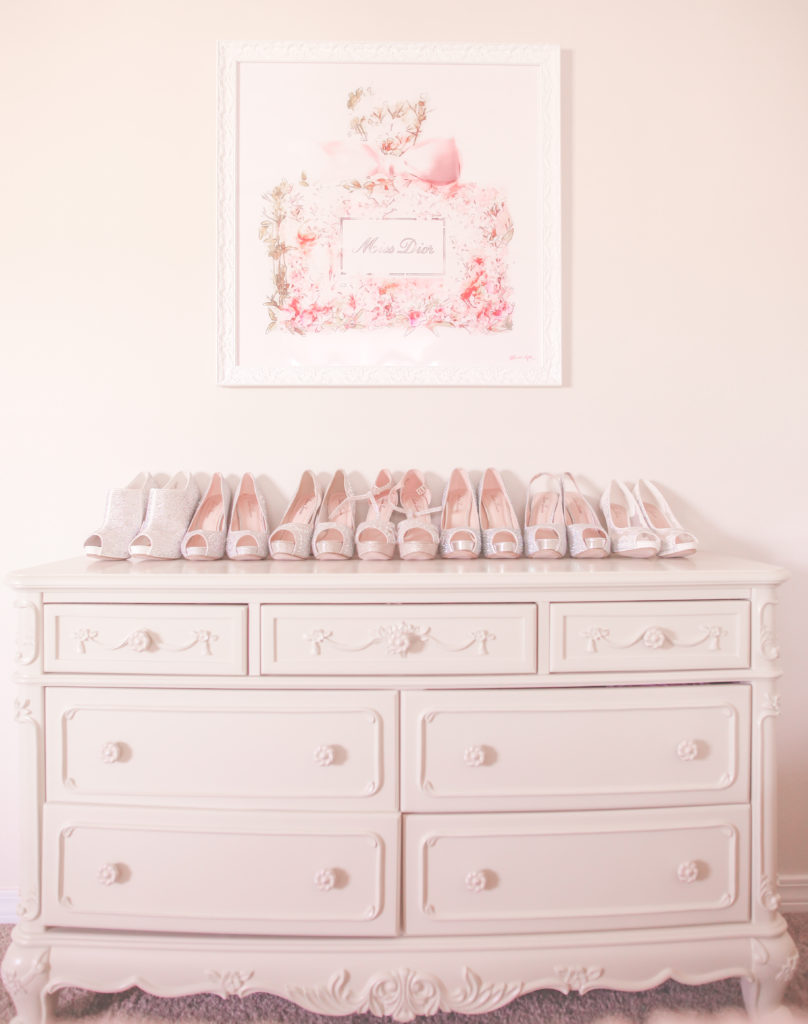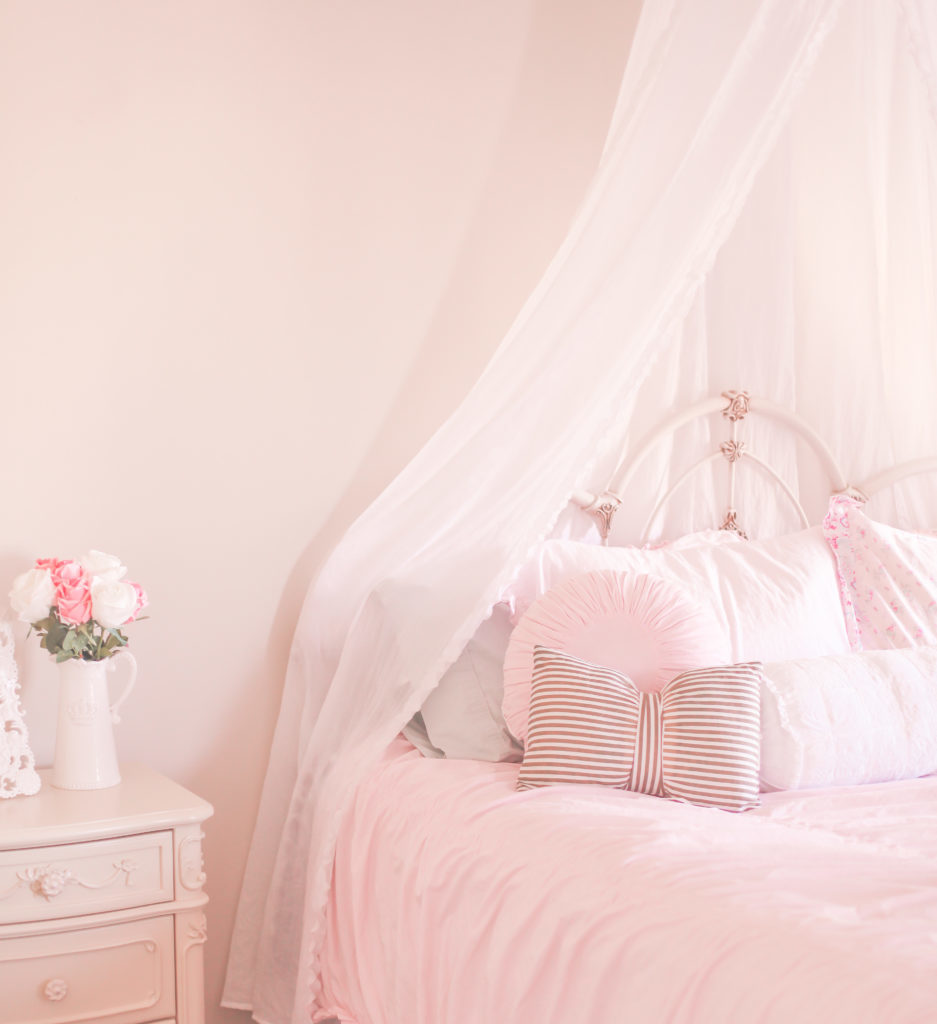 Also, feminine style picture frames are a fabulous choice.
I love going for frames that have ornate designs and pairing them with fashion sketches or prints featuring little macarons.
Choose curtains that compliment the overall feminine theme as well.
My go to is from the Shabby Chic line at Target.
The pink they have for their curtains is truly the perfect shade of pink. If you're not feeling the pink the white will do as well.
For my room, I chose their balloon shades in pink and I love how it adds a bit of a shabby chic feel to the room without overdoing it.
I also added a canopy over my bed from the same line as well. And I am so so happy with how it turned out over bed.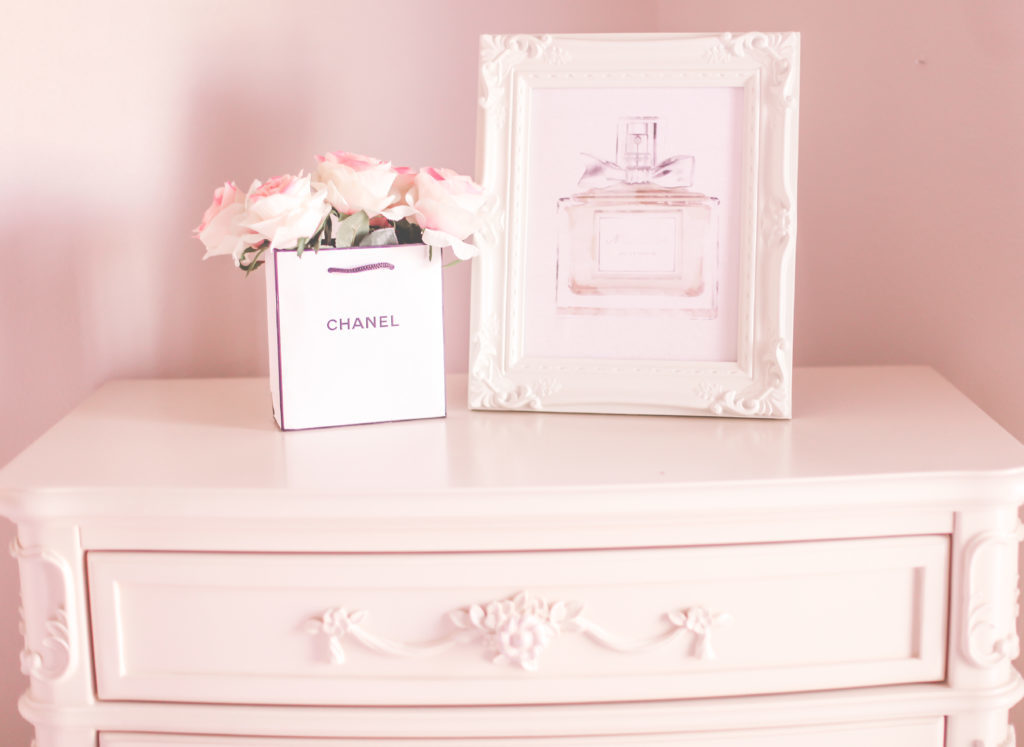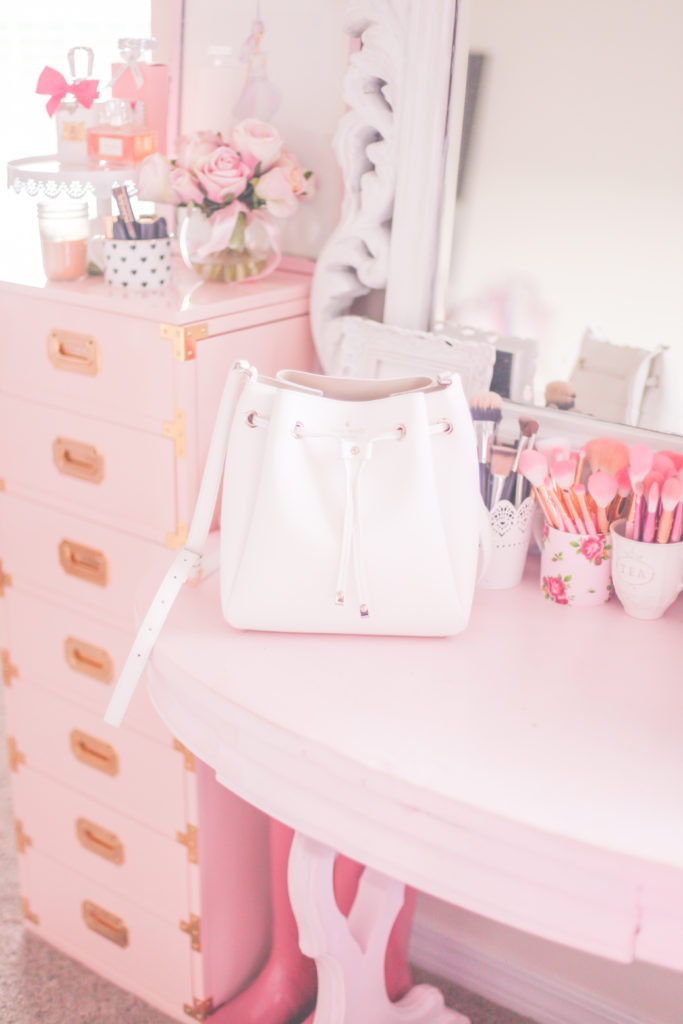 Add a beauty space..
 If you have enough room in your bedroom, adding a special area designated for all things beauty is another must have!
I love having a space solely for getting dolled up & it also adds to the prettiness of my overall bedroom.
You can have your gorgeous makeup brushes on display and if you happen to have an acrylic makeup box you can display your makeup as well.
It may sound silly but I am obsessed with all makeup from Toofaced. Not only are these items effective but the packaging is too pretty to pass up!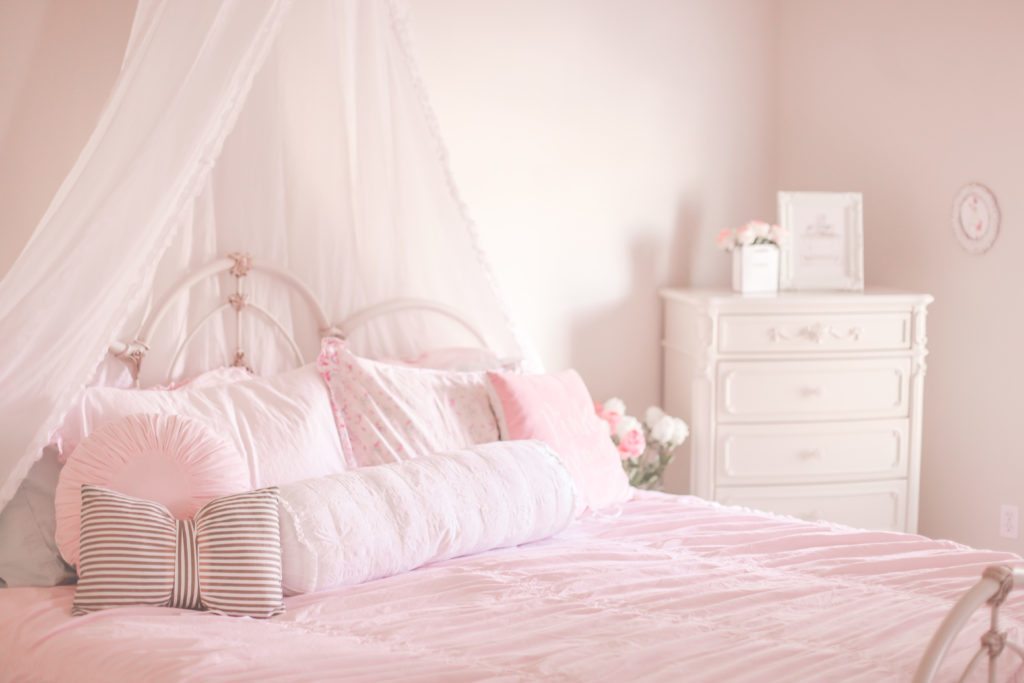 Achieving a feminine look for your bedroom may sound overwhelming at first but it doesn't have to be!
You don't have to go out and buy all of this stuff all at once. Just start small, and you'll have the room of your dreams before you know it!