How To Dress Feminine Casual
 I have always gotten a lot of questions about how I dress casually. Some of you may know I don't like to wear shorts or pants and mostly stick to wearing dresses and skirts.
I know that a lot of the dresses I wear are very feminine but are also considered a bit too dressy for most. If you think so too, but crave to look feminine with a more casual look instead here's a different kind of feminine style to try.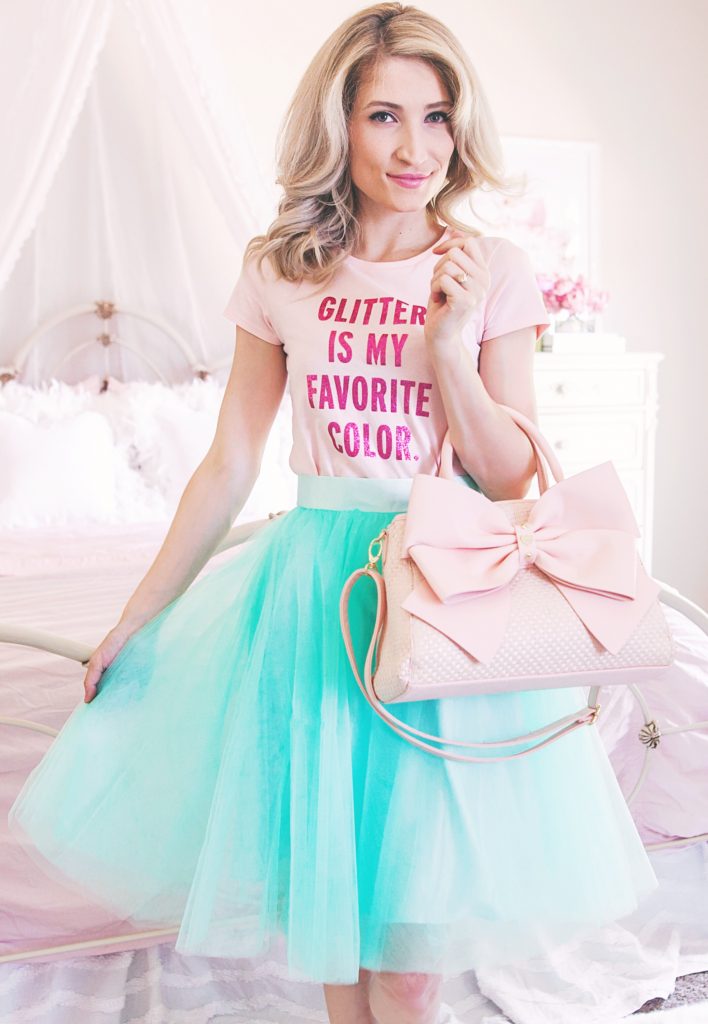 My casual wear may still be considered to some too dressy. I'm totally OK with that my opinion has always been that life is short and if you love something embrace it as much as possible.
 I love wearing dresses & skirts so I decided to embrace that every single day.
The Feminine Casual Style
 I'm going to share with you here today my version of casual.
I call this style my feminine casual.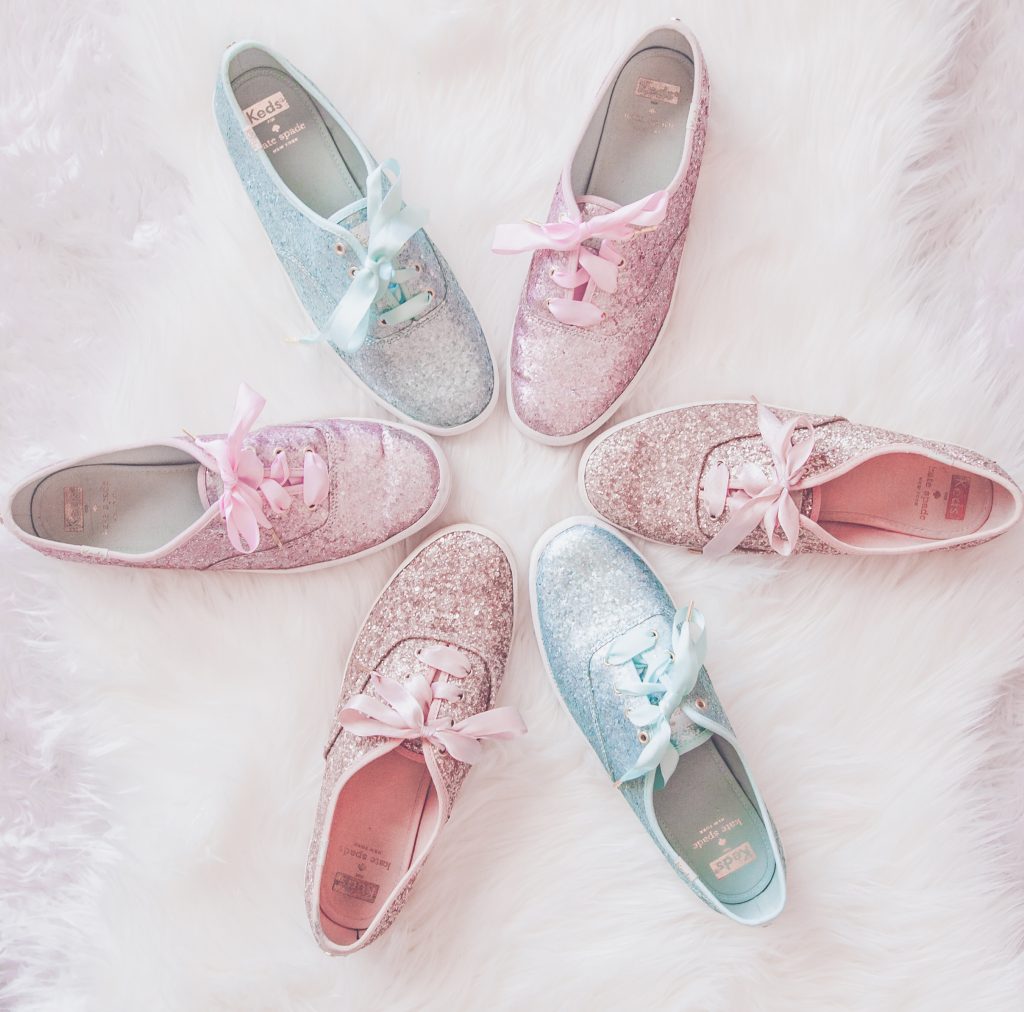 For my feminine-casual looks, I love to combine tops and skirts.
It's a look that you can put together with ease.
 Now for my style this is casual but it's still very feminine very girly and colorful and happy.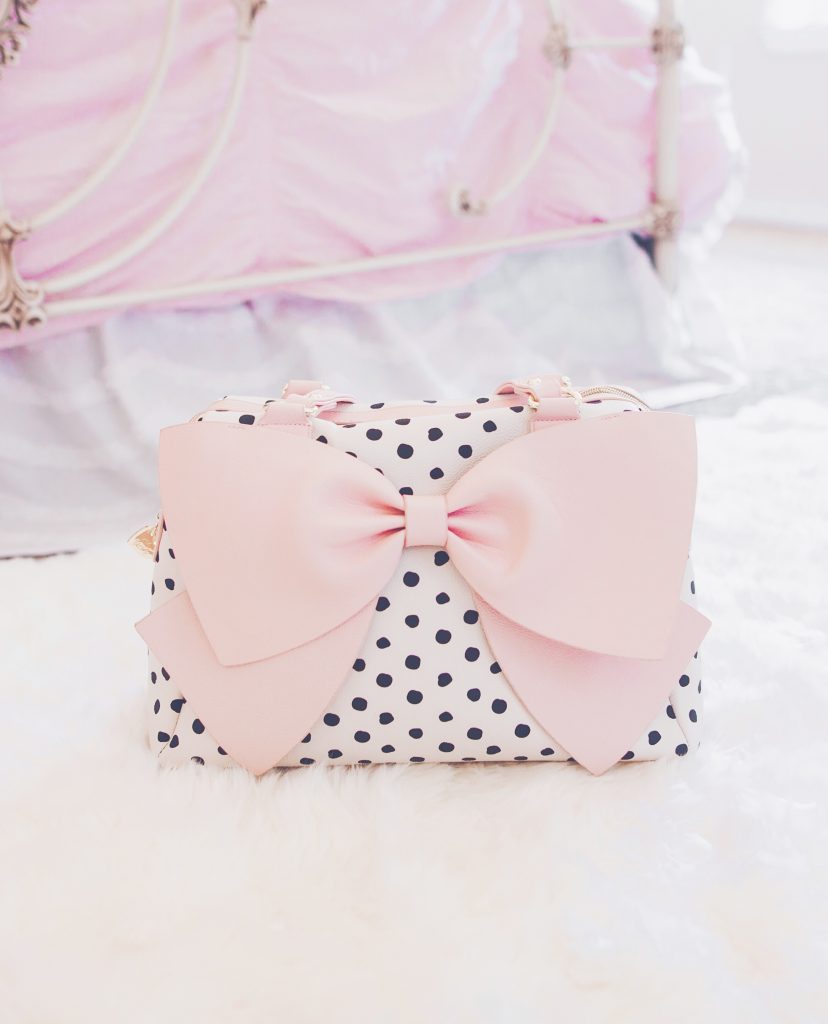 I'm not really sure why some people consider skirts and dresses to not be fitting for casual wear. They're actually quite comfortable, depending on what you choose, and can slide right on with ease.
The Looks
So now, let's get to the looks I've rounded up for you.
These are some of my favorite tops that I consider more casual and have styled them with two darling tulle skirts too show you more casual yet feminine looks.
Tulle skirts may not seem casual to most either but you can totally make them work casually.
If you're not quite ready to embrace my feminine casual style of wearing tulle skirts, there are plenty of other fabulous options you could go with. I'll make a shopping slide of some suggestions I have for you right below.

For the skirts you can go mini, midi or maxi, but typically for my girly casual I go with midi. I find them most comfortable and also much easier for getting around in when compared to maxis.
I know that when it comes to dressing femininely sometimes it can take quite a bit of work. For some this can be discouraging for dressing femininely, altogether.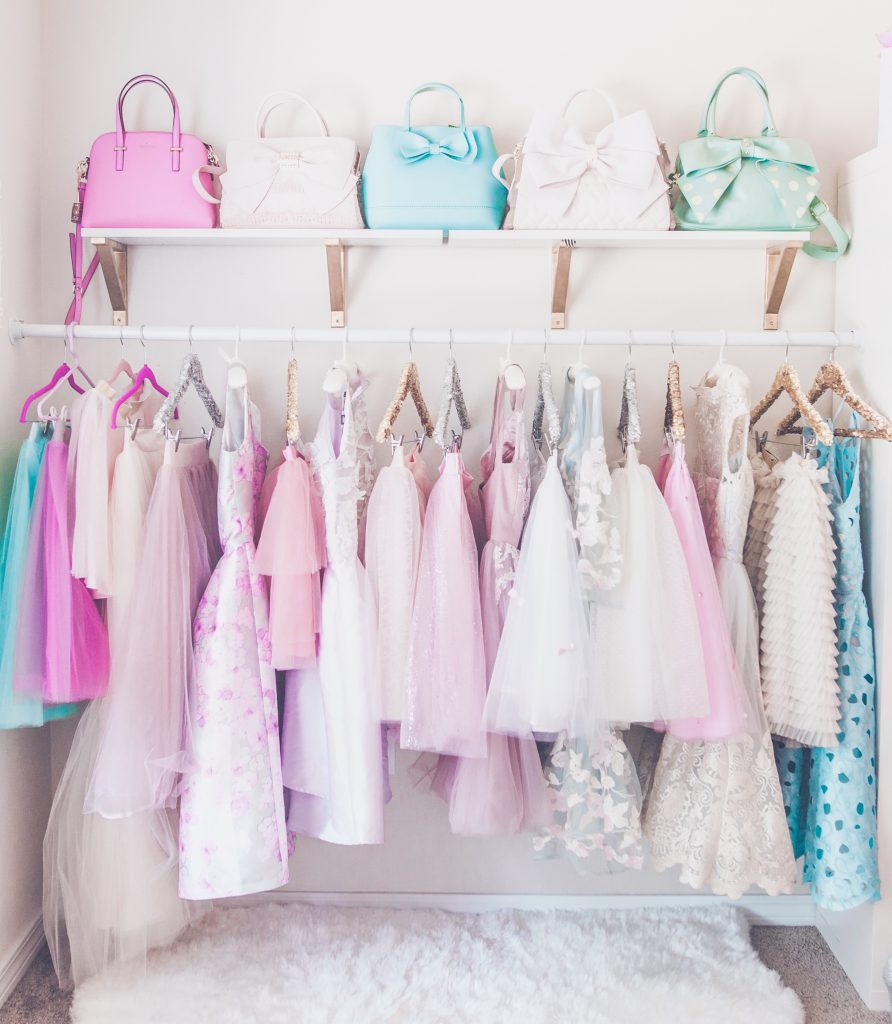 Dressing feminine doesn't mean you have to be super dressed up or uncomfortable. I have plenty of tops, skirts and dresses that are comfort then wearing t-shirts and jeans. And look 100 times better on!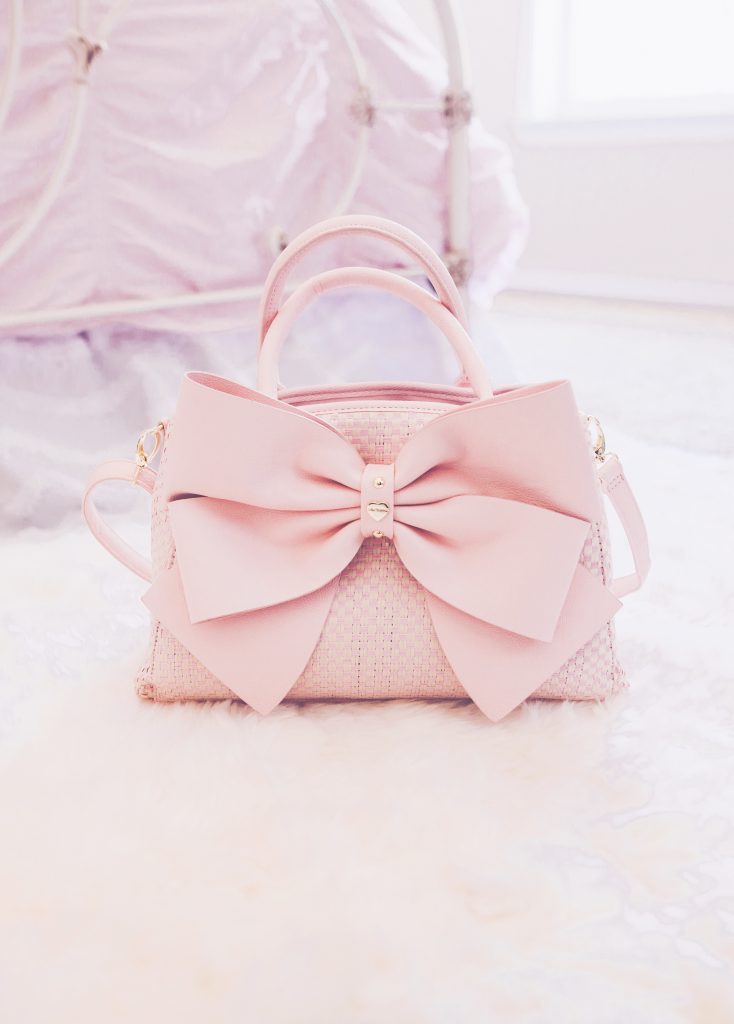 And that's exactly why I love looks such as these. They're so simple to put together while still looking very put together as well!
Make It Simple With Sweaters
Ok so sweaters are casual right?  I wouldn't really consider them to be dressy. And when you style them with tulle skirts you end up with a look that's super cute, not over the top and wearable to practically anywhere.
Here are a few of my favorite ways to style sweaters with skirts.
This Lauren Conrad sweater with bow details is among my favorite of sweaters. It's pretty blue shade pairs perfectly with the rose color of this tulle skirt.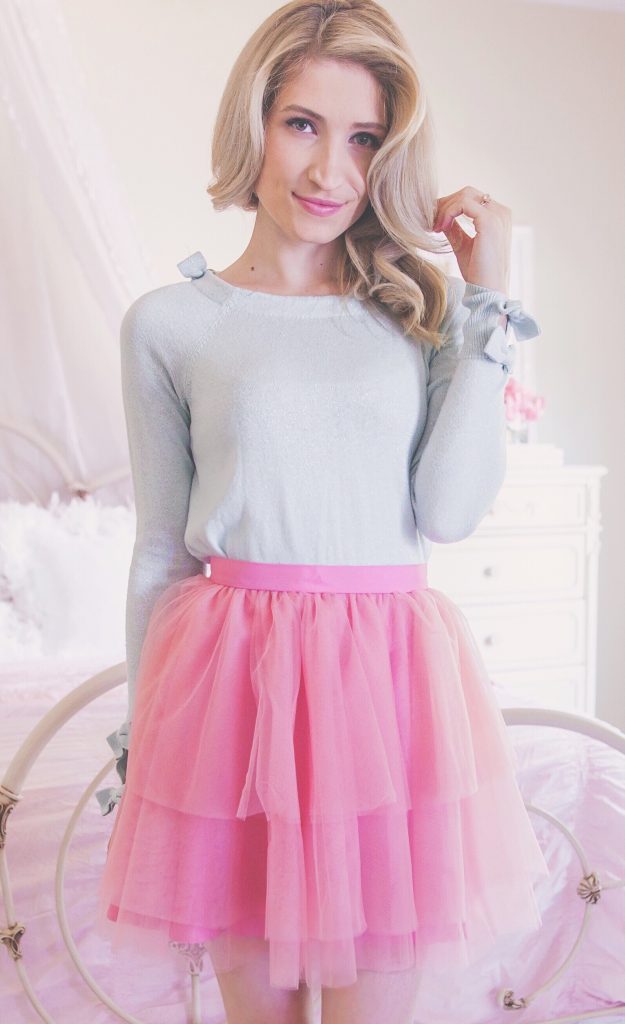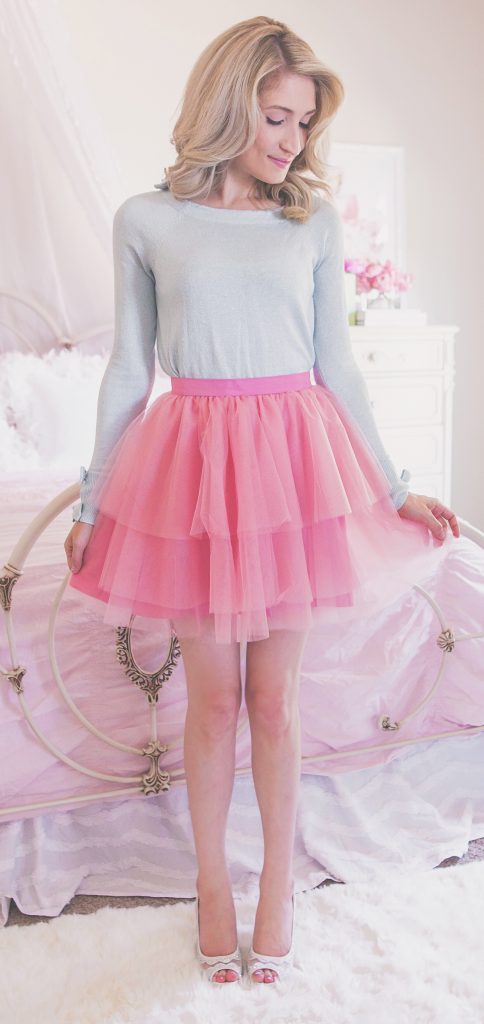 Another winner from the Lauren Conrad line, is this darling sweater with fairytale like floral details.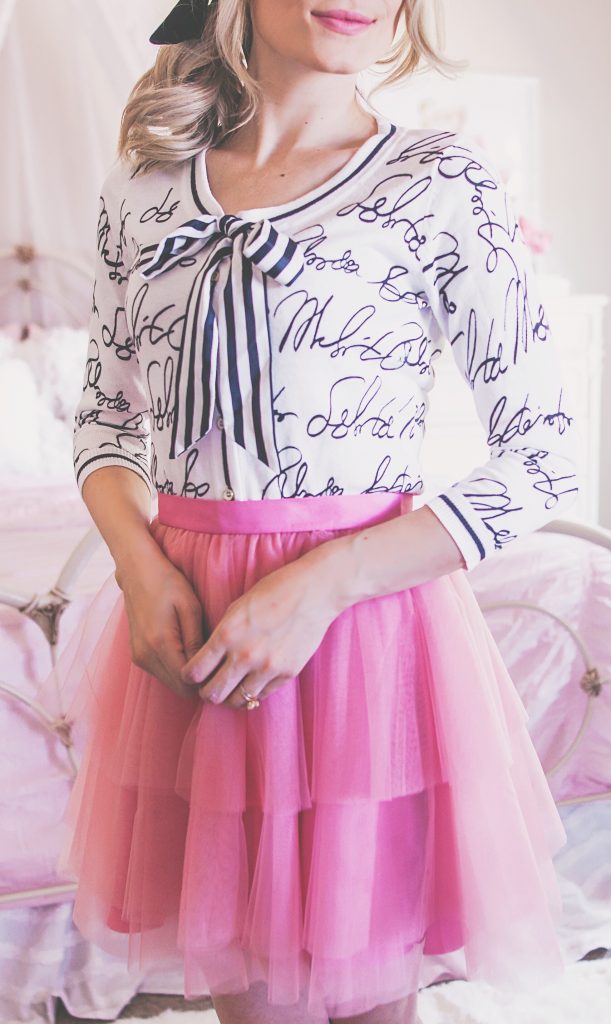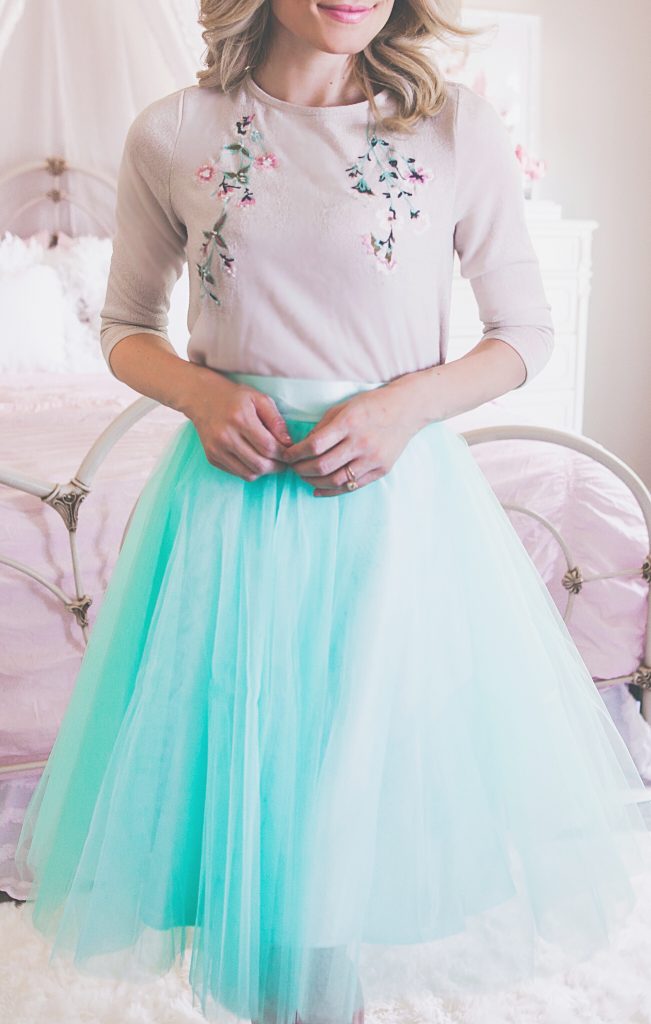 Give Cardigans A Try
Cardigans are lighter than sweaters, great for spring & fall weather when it's not as hot but not too cold. They're not super dressy either and pair very simply with a skirt.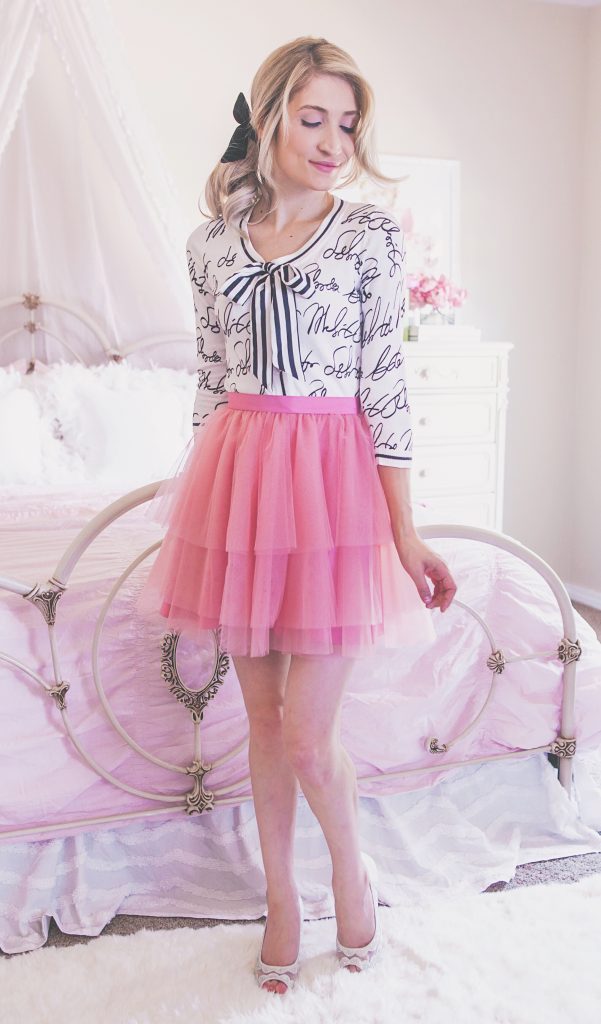 How adorable is this cardigan from New York & Company? I love the cursive font and the bow detail on the front.
T-Shirts & Tops
I'm not all that into t-shirts but the ones I do actually like are fashion themed or have something undeniably cute about them.
If you're wanting a casual yet feminine look this could be a really good option for you.
J.crew actually makes t-shirts & casual tops that I like too. Just like this darling purple striped top here.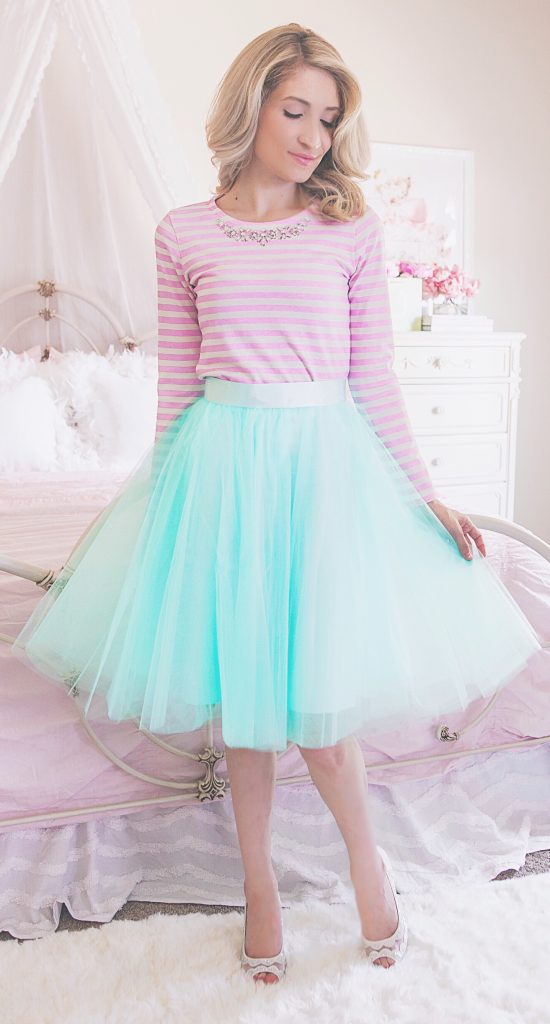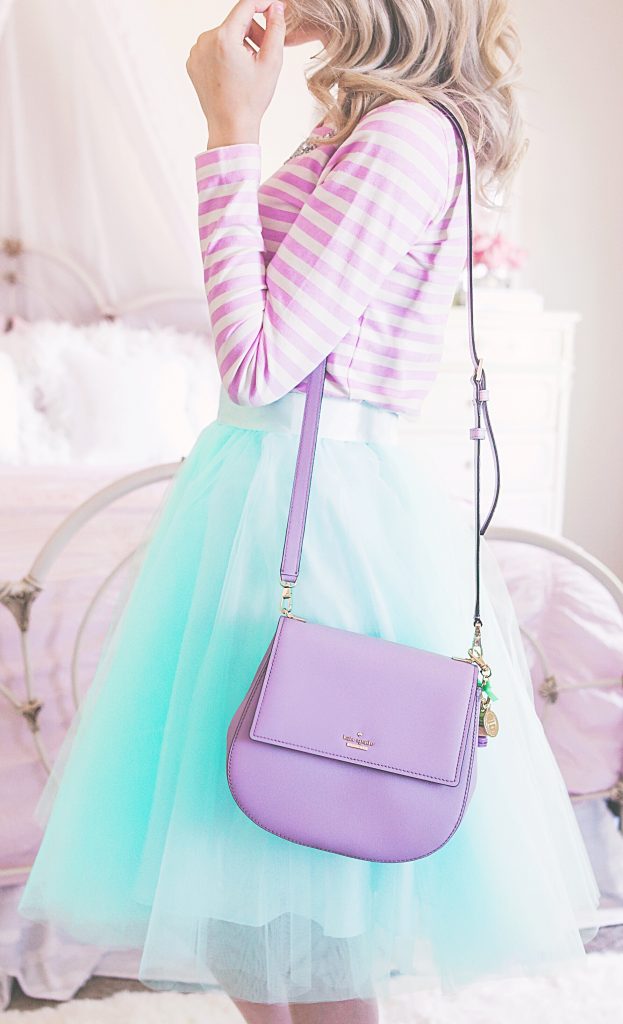 I don't have a picture right now of my other favorite top from Jcrew but it's so cute! It consists of t-shirt material & features a big black bow at the collar. It's also extremely comfy and a great way to go casual.
Two other favorites of mine, are this Kate Spade glitter top
& this gold glitter lip print top.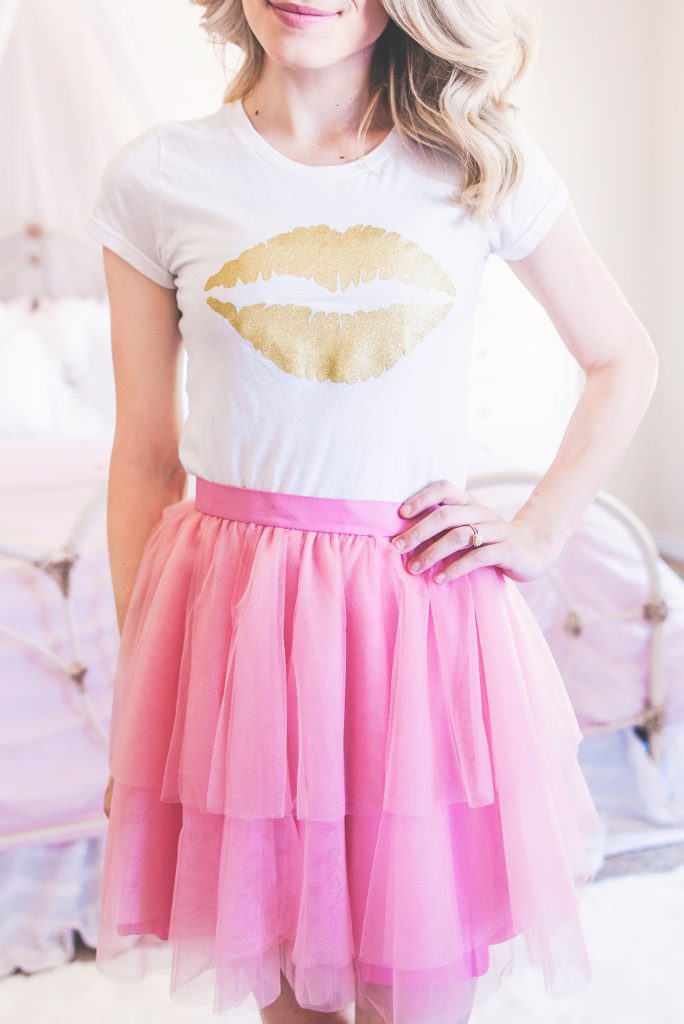 Both are very casual but have a feminine touch to them. When combined with tulle skirts they make for a great feminine casual look.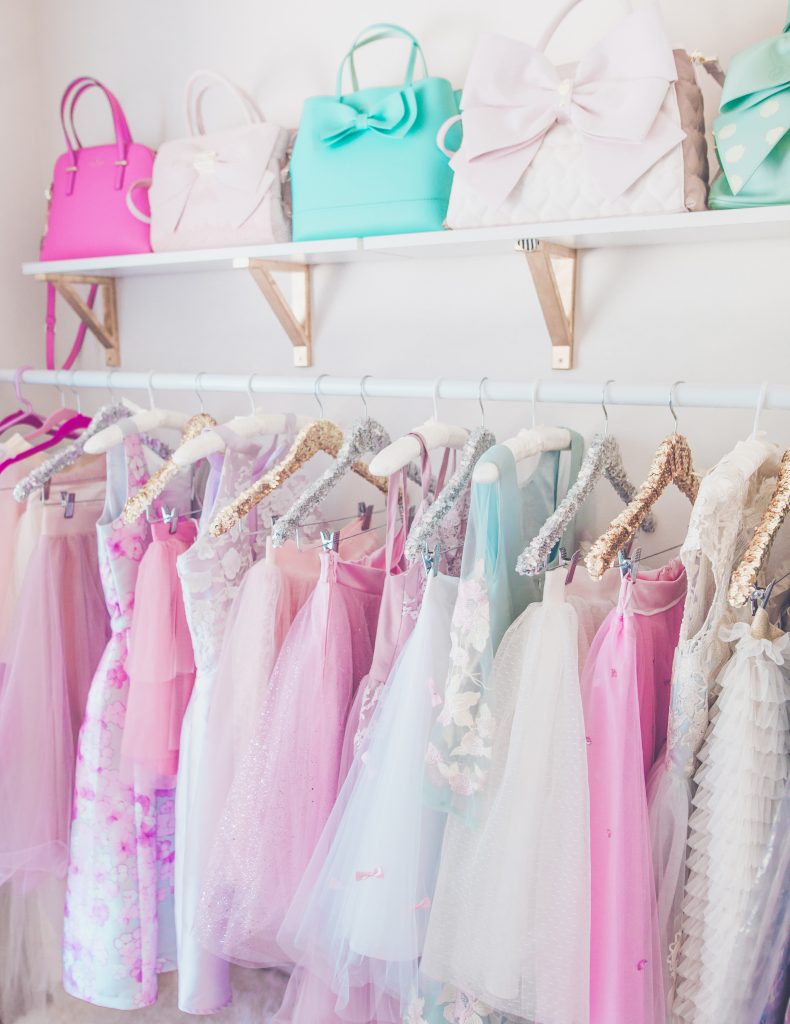 This is another look that can be described as feminine casual and the details of this top have me swooning! I love this top's unique lace material complimented by the collar.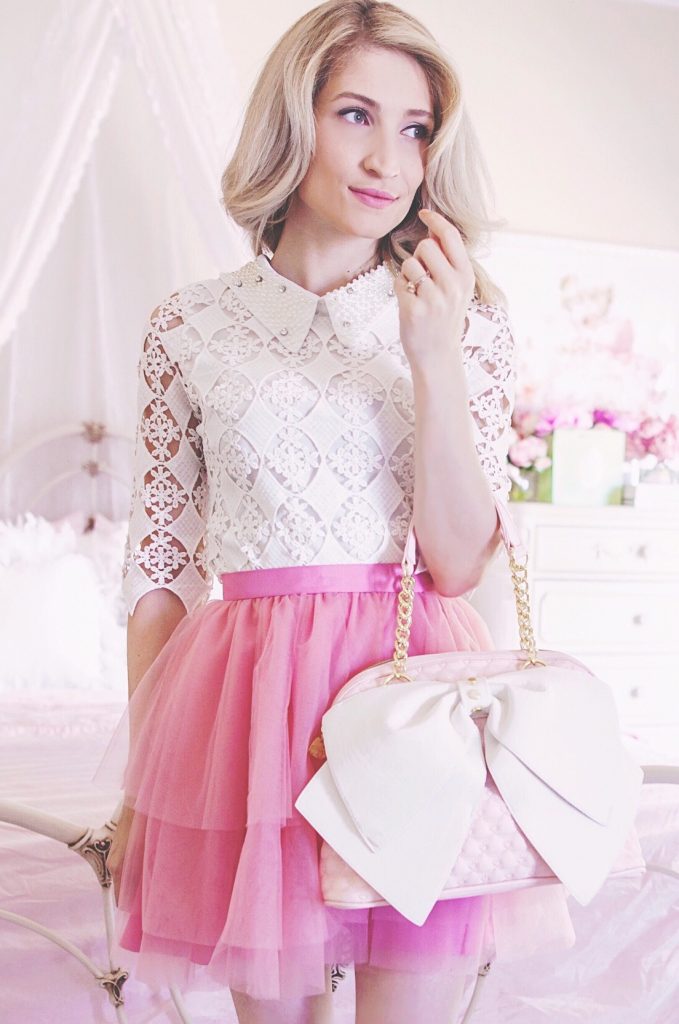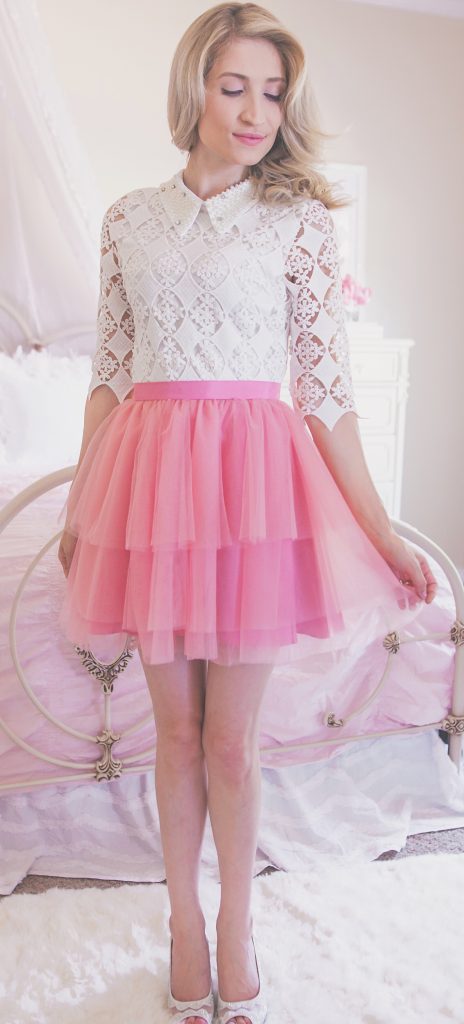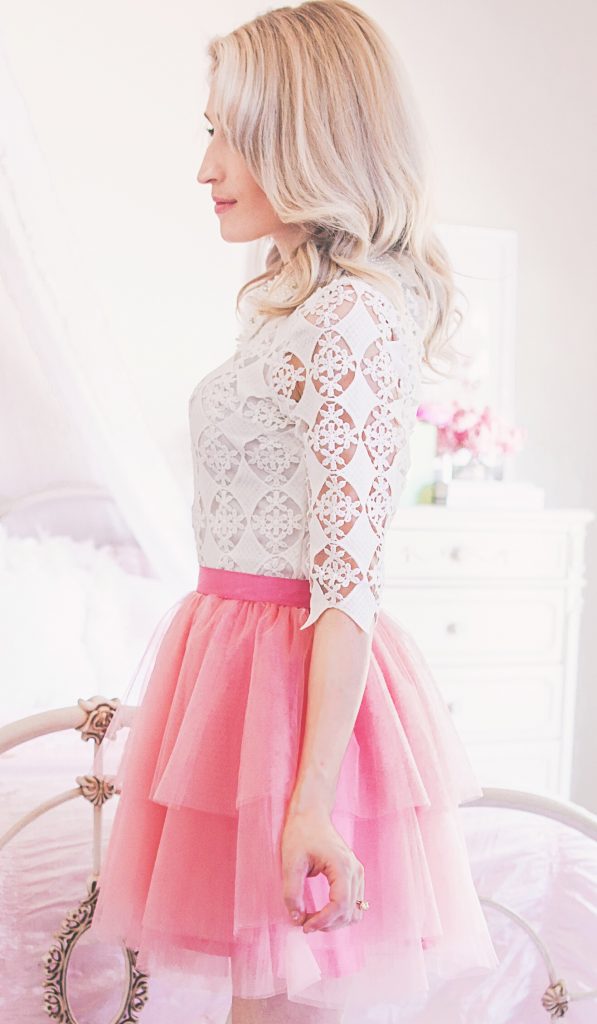 The Outfit Details
I've linked for you what I can as some items aren't currently available.
Blue Sweater ( similar ) + Rose Pink Tulle Skirt + Polka Dot Bag
Floral Sweater + Mint Tulle Skirt
Glitter Is My Favorite T-shirt
The feminine-casual style can be done in so many different ways and this style really doesn't have to be that challenging either.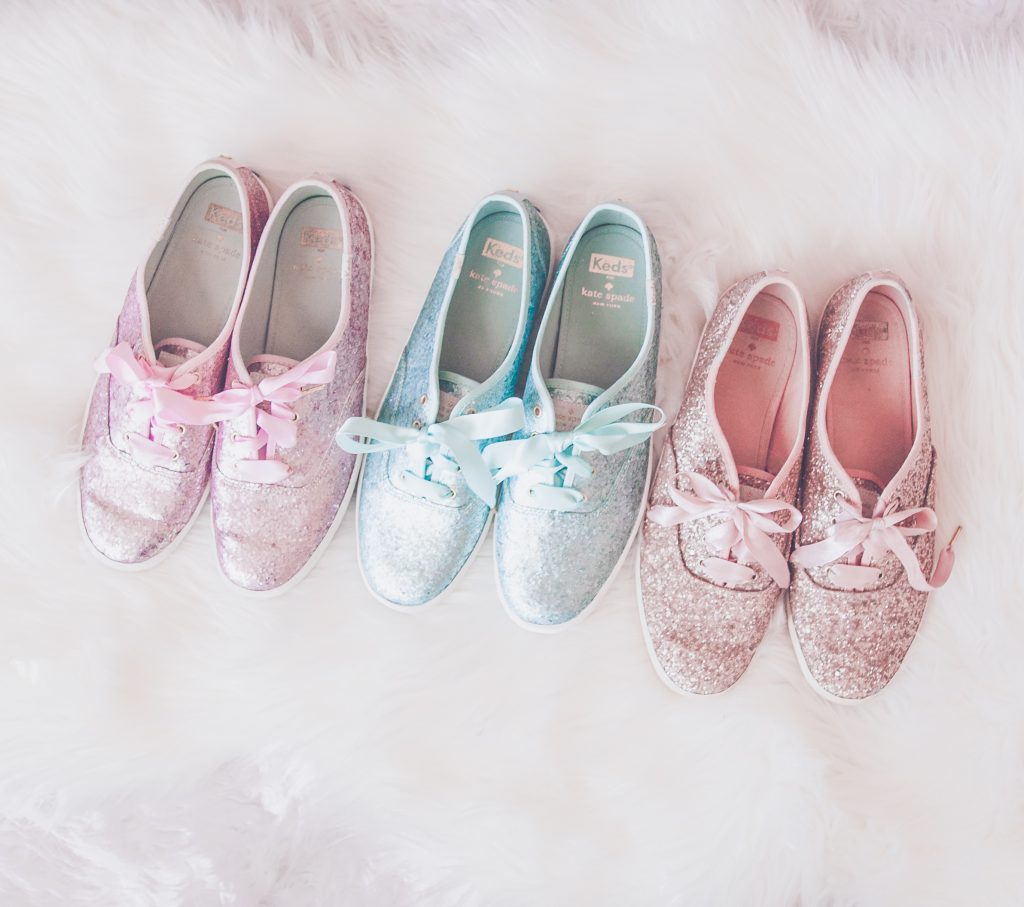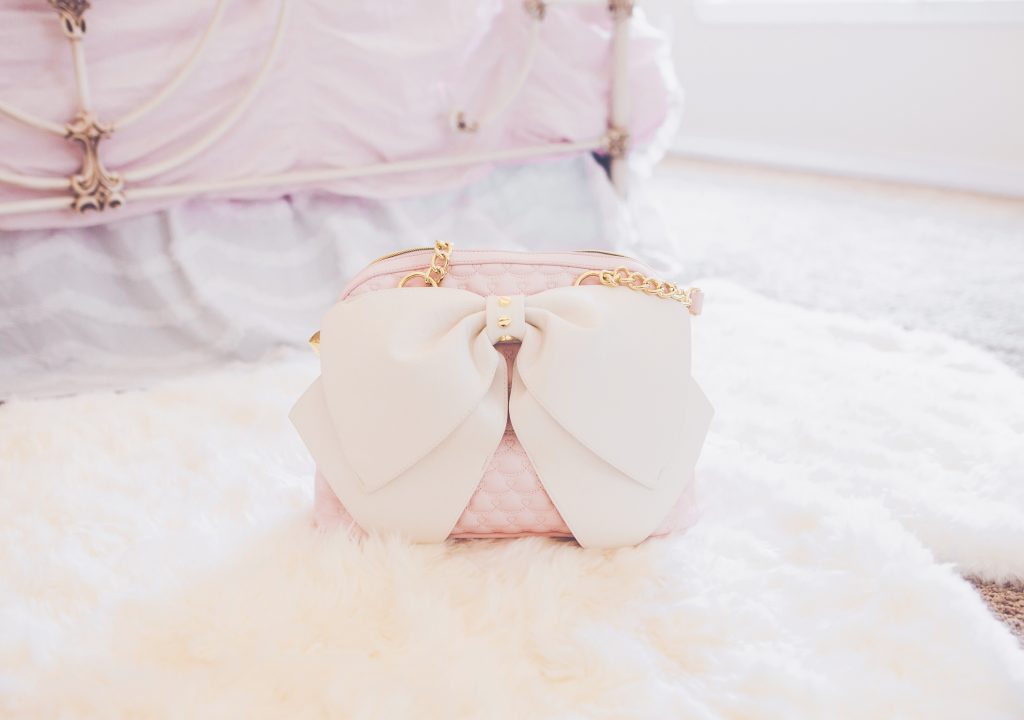 And as always I am here to help so don't hesitate to leave a comment or shoot me an email if you have questions!
Love you!