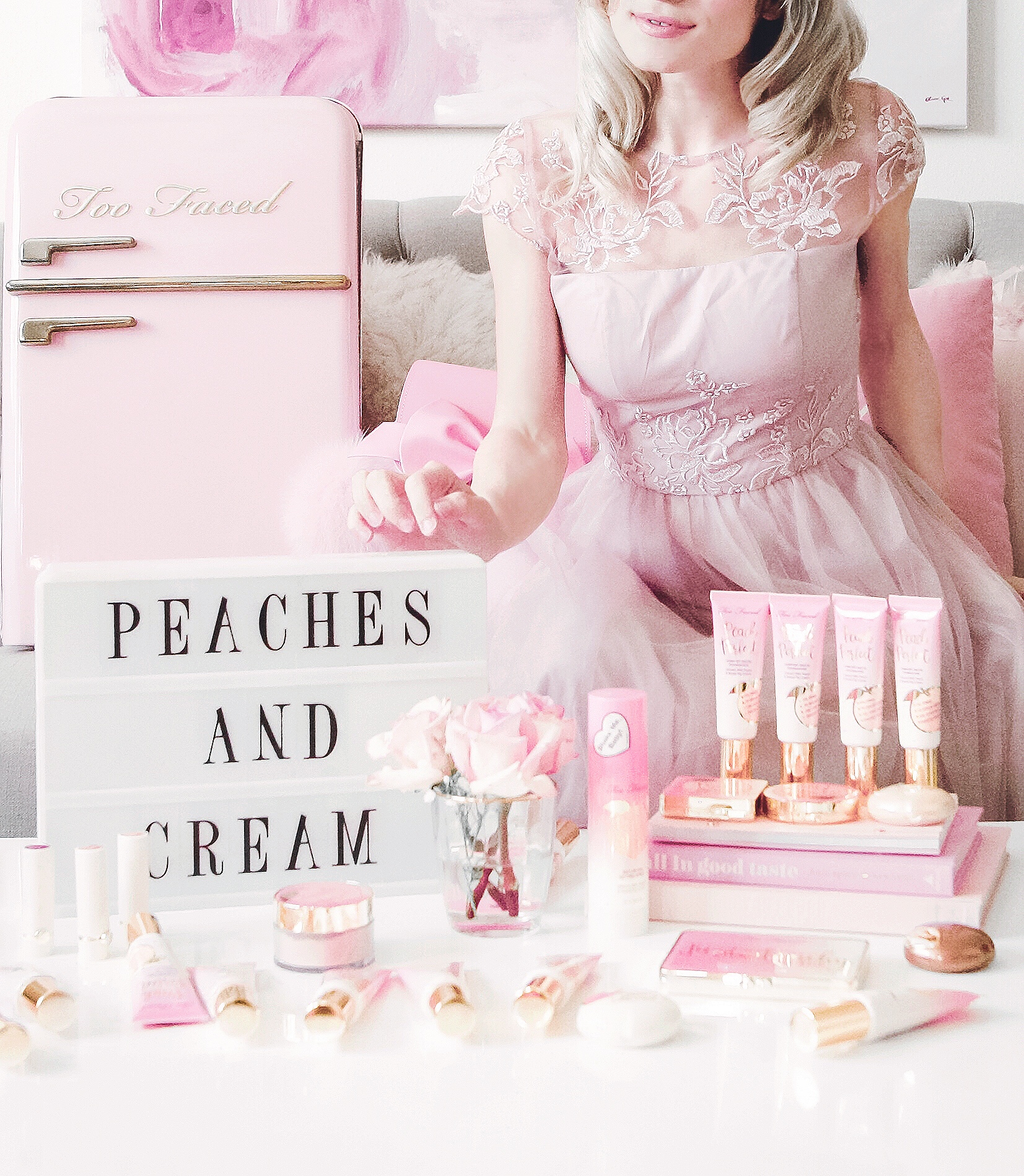 In this ever so juicy Too Faced Beauty Haul, I'm dishing to you all of the details from Too Faced's latest collections, Peaches & Cream & I want Kandee.
Both of these darling collections have made my heart skip so many beats!
Let's Get Started With The I Heart Kandee Collection
This lovely collection was delivered to my doorstep by Too Faced unexpectedly.
I was just like a kid in a candy shop when I opened the box and what was inside had revealed itself to me! It was a HUGE lollipop!!!
The little girl inside me was jumping up and down with excitement.
My love for Too Faced goes wayyyyy back to when I was 11 years old walking around in the makeup section at Nordstrom.
Too Faced's beautiful display immediately caught my attention and the makeup had me fall even more on love.
Mind you, at 11 I was not wearing makeup but I still loved the pretty packaging and all of the glitter that the Too Faced products had to offer.
Back To The Candy Collection
This collection features a beautiful eye shadow palette, an eyeliner perfect for the cat-eye look, a photo-shopped-finish powder, a pretty & pink luminizer, and 4 darling matte lip glosses.
Out of these it's hard to pick favorites but I'll tell you what I'm loving the most.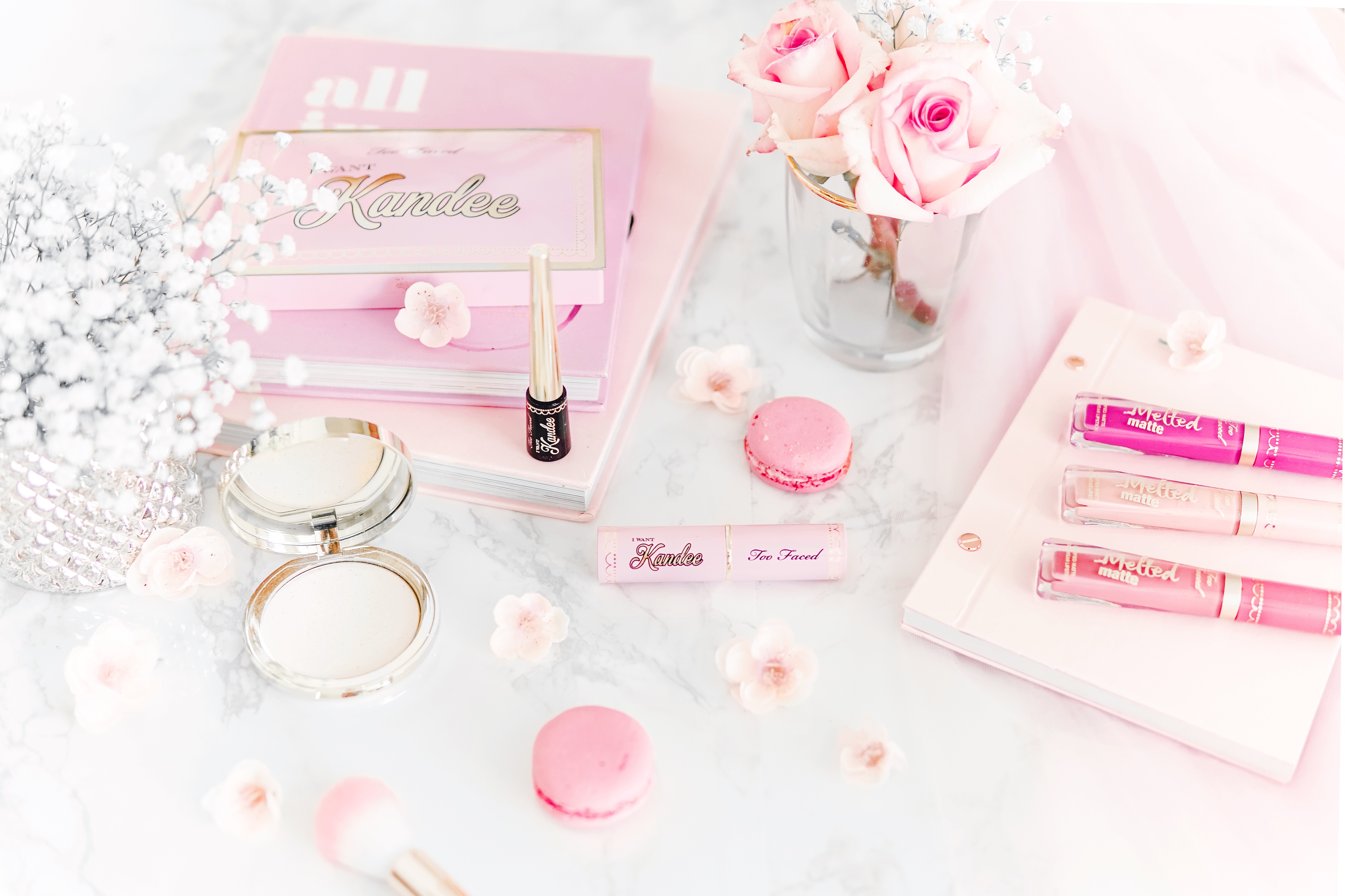 First would be the Heart Eyes shadow palette.
My go to shadows for a simple and natural every day look always involve an eyeshadow palette from Too Faced. They have yet to fail me and always give me a finished look that I love.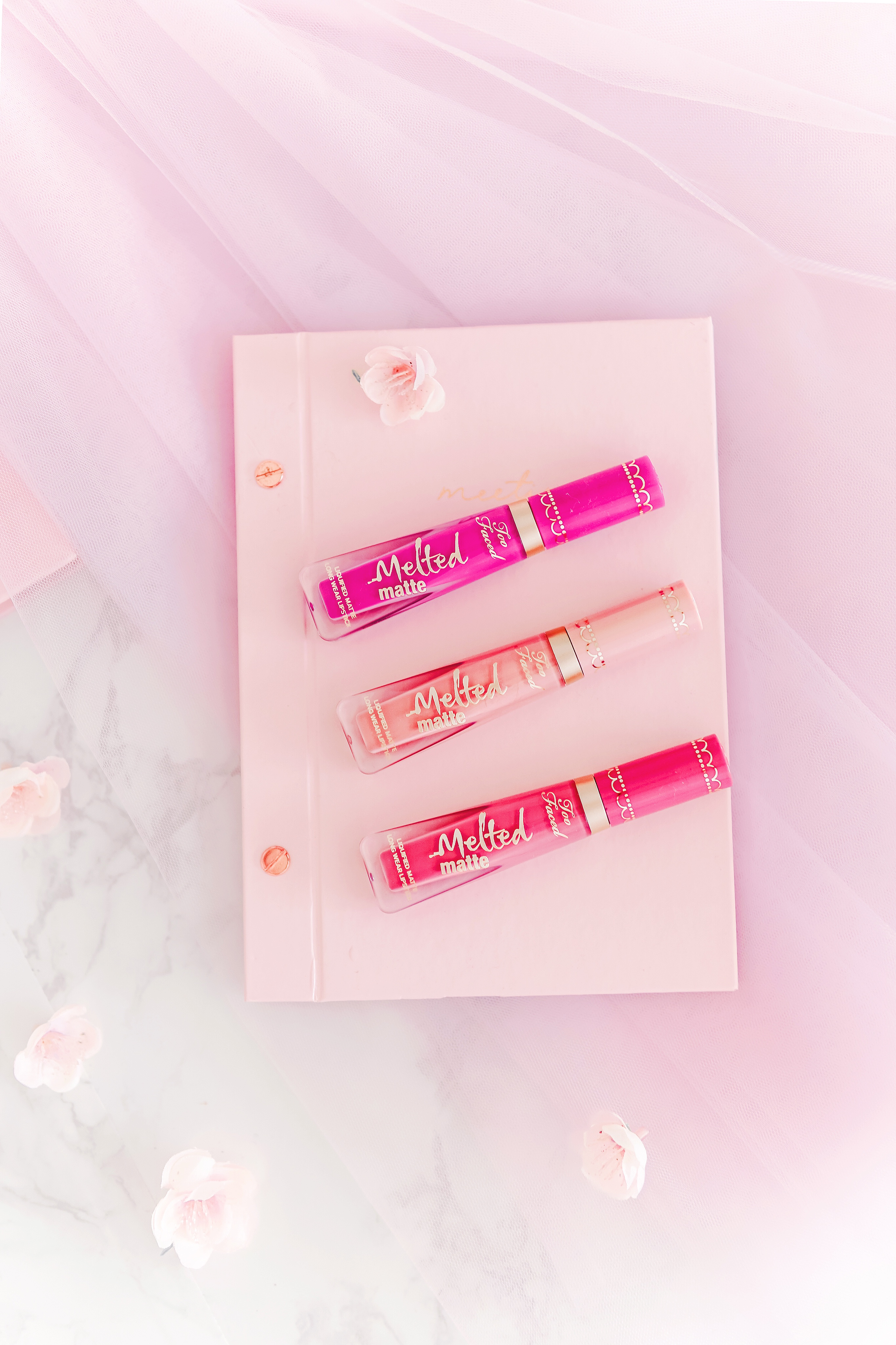 So you better believe when there's a new palette available, I'm going to be all about it.
Now, some of the shades from the Kandee palette are a bit dark for me, however there are a few shades that I know I'm not going to be able to live with out.
These shades are Ice cream, Whipped Cream, Cream Puff, Sparkling Cider & Frosted Pink.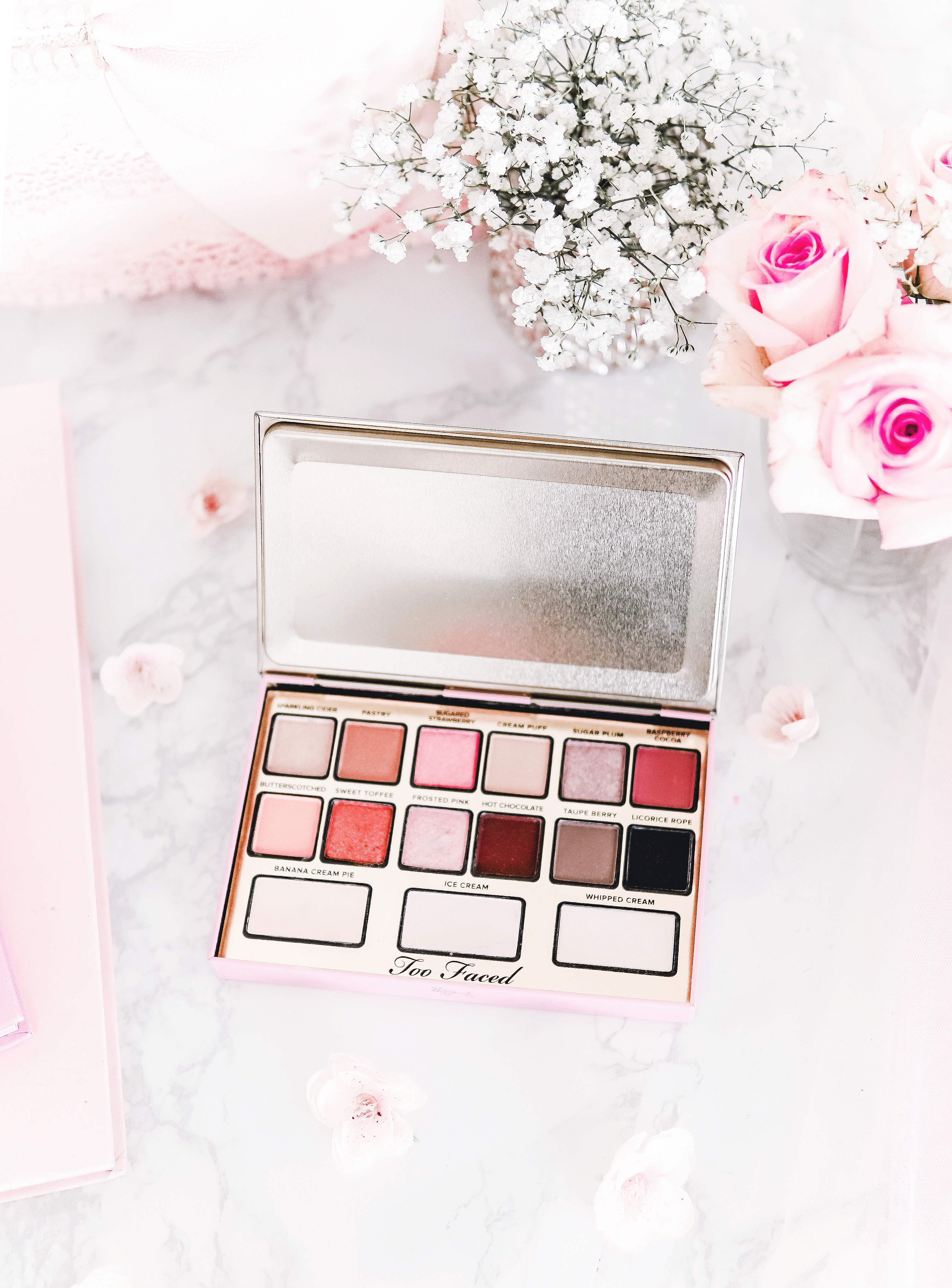 And the packaging on this palette, is everything!
This palette is just like a real chocolate tin full of goodies inside & the fact that it's pink makes it even better. On the underside of the palette, displays a little chocolate map just like a real chocolate box, listing the different shades inside instead of actual chocolates.
The next piece I can't stop grabbing from this collection, is the Licorice Liner.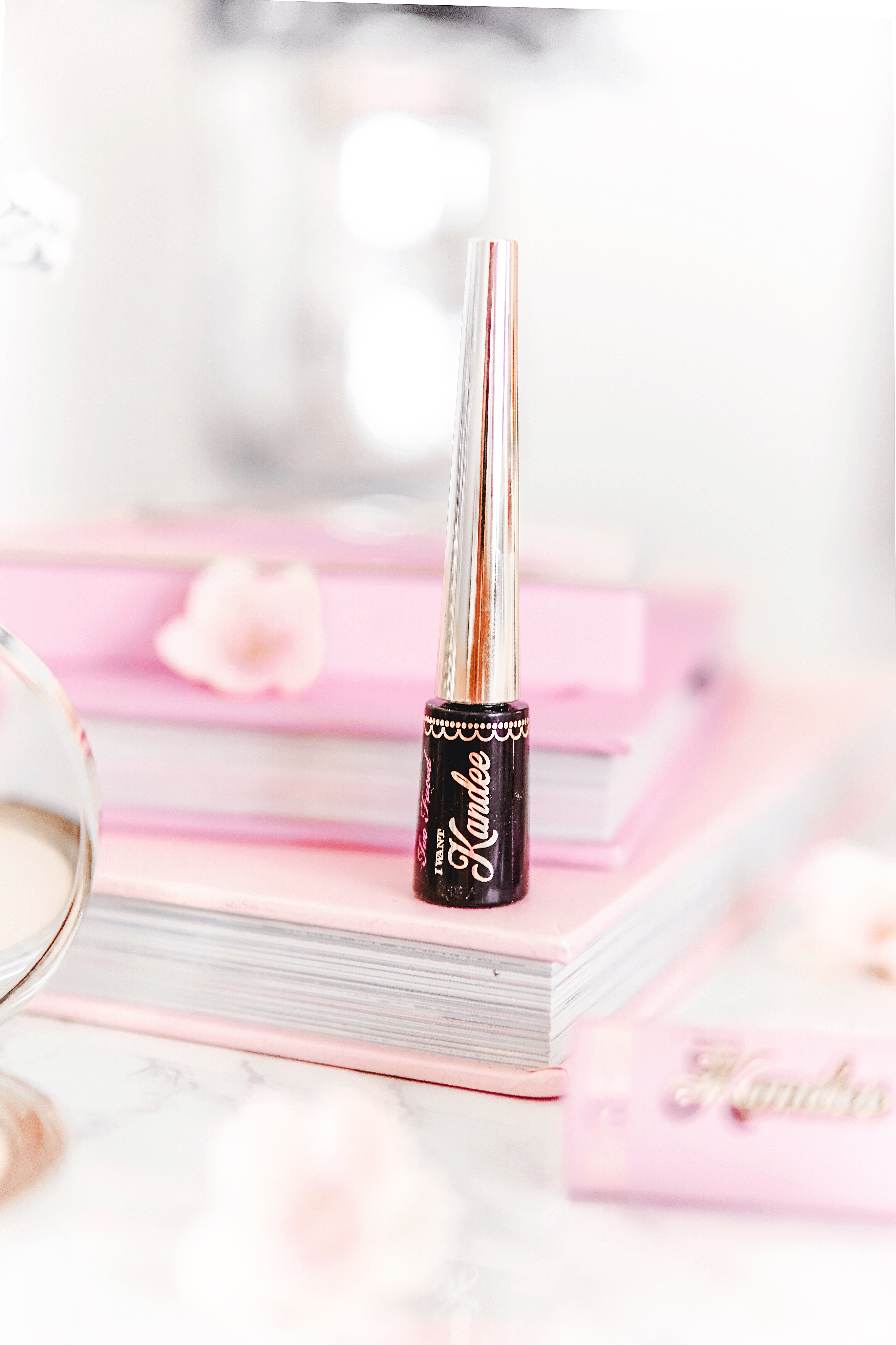 To be specific it is called the I Want Kandee Licorice Liner. This beauty features an angled tip making it ideal for those that love the cat-eye look, like me.

This Collection Is Truly Candy & I Couldn't Love It Any More
Moving on to the next collection in this Too Faced beauty haul, Peaches & Cream.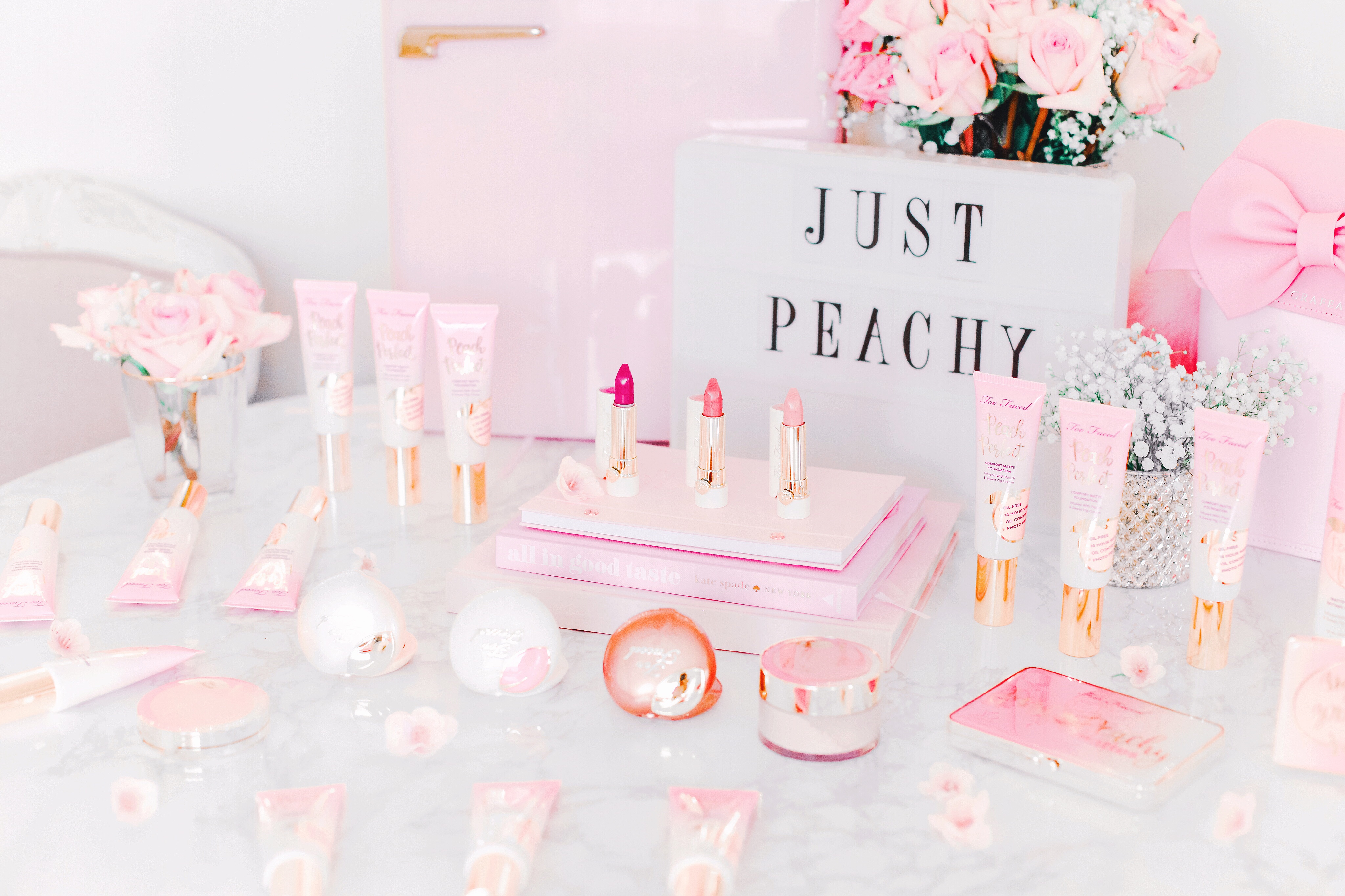 Now this baby arrived on my doorstep in a mini faux Too Faced Pink Fridge!
My heart just about exploded and that's before I actually opened the fridge seeing what was inside.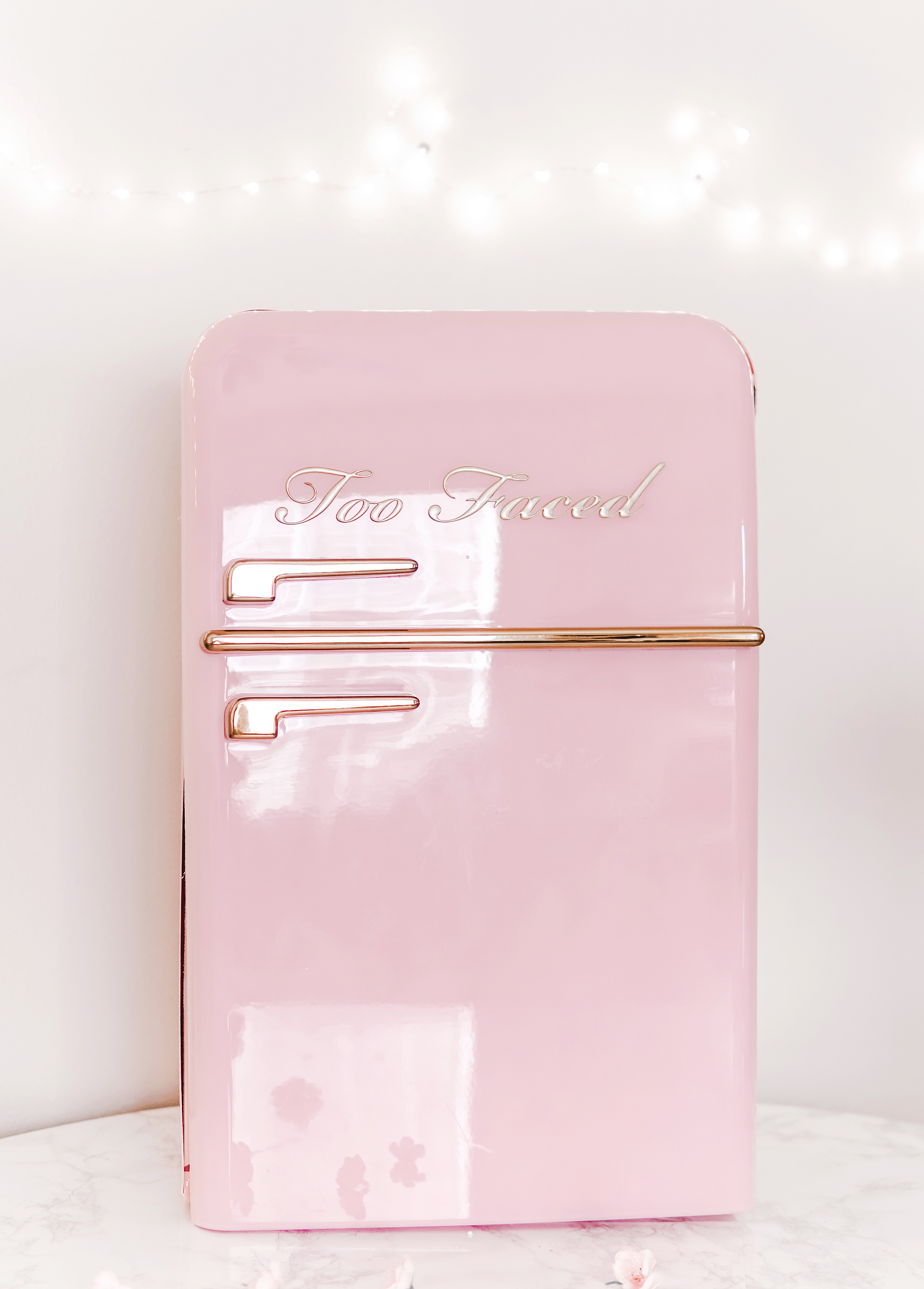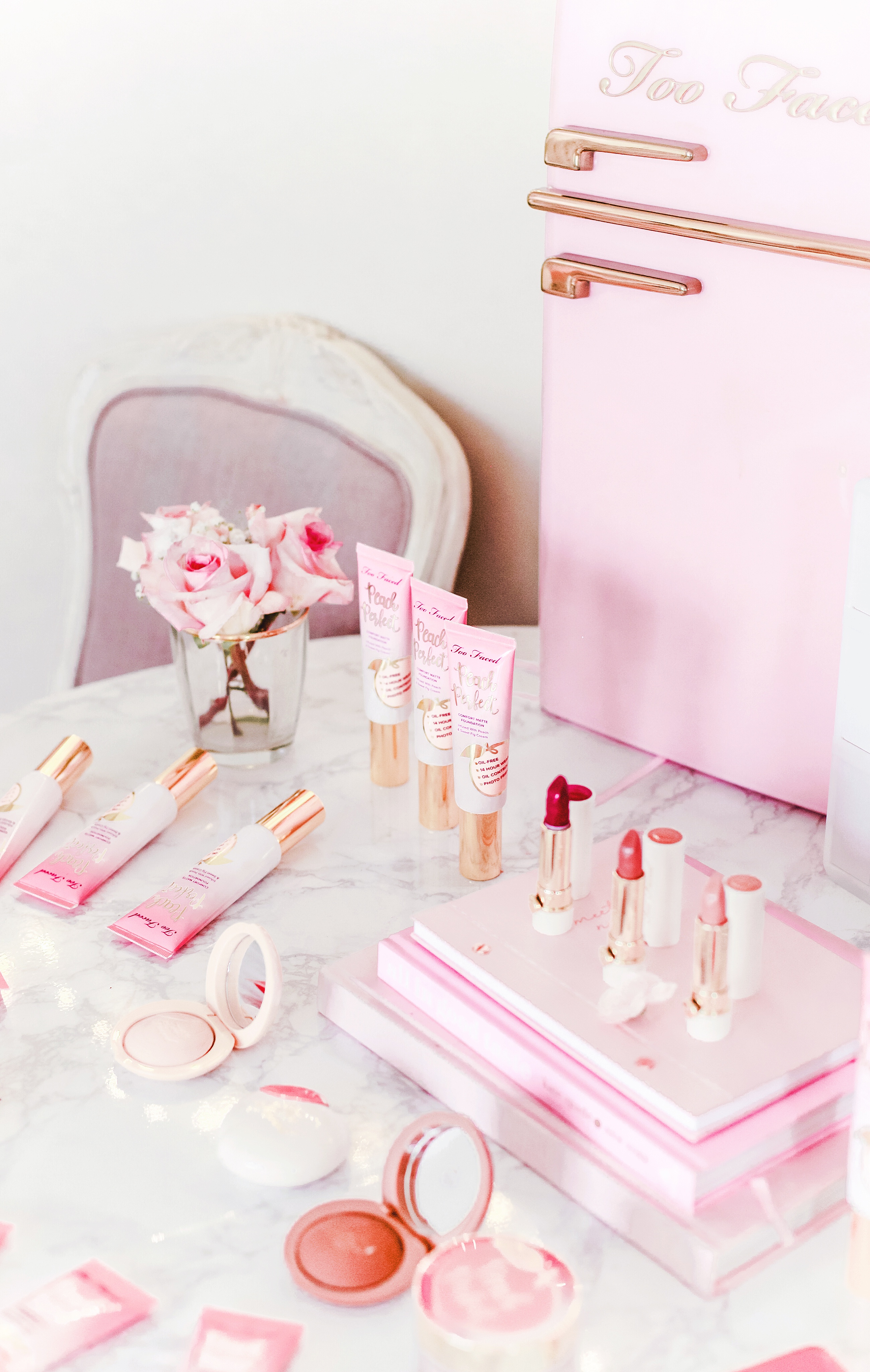 The Too Faced Marketing team is just brilliant. Seriously, everything they create is just gold in my opinion and if I ever had the chance to collaborate on a collection or actually work for them, that would be a dream come true in my book!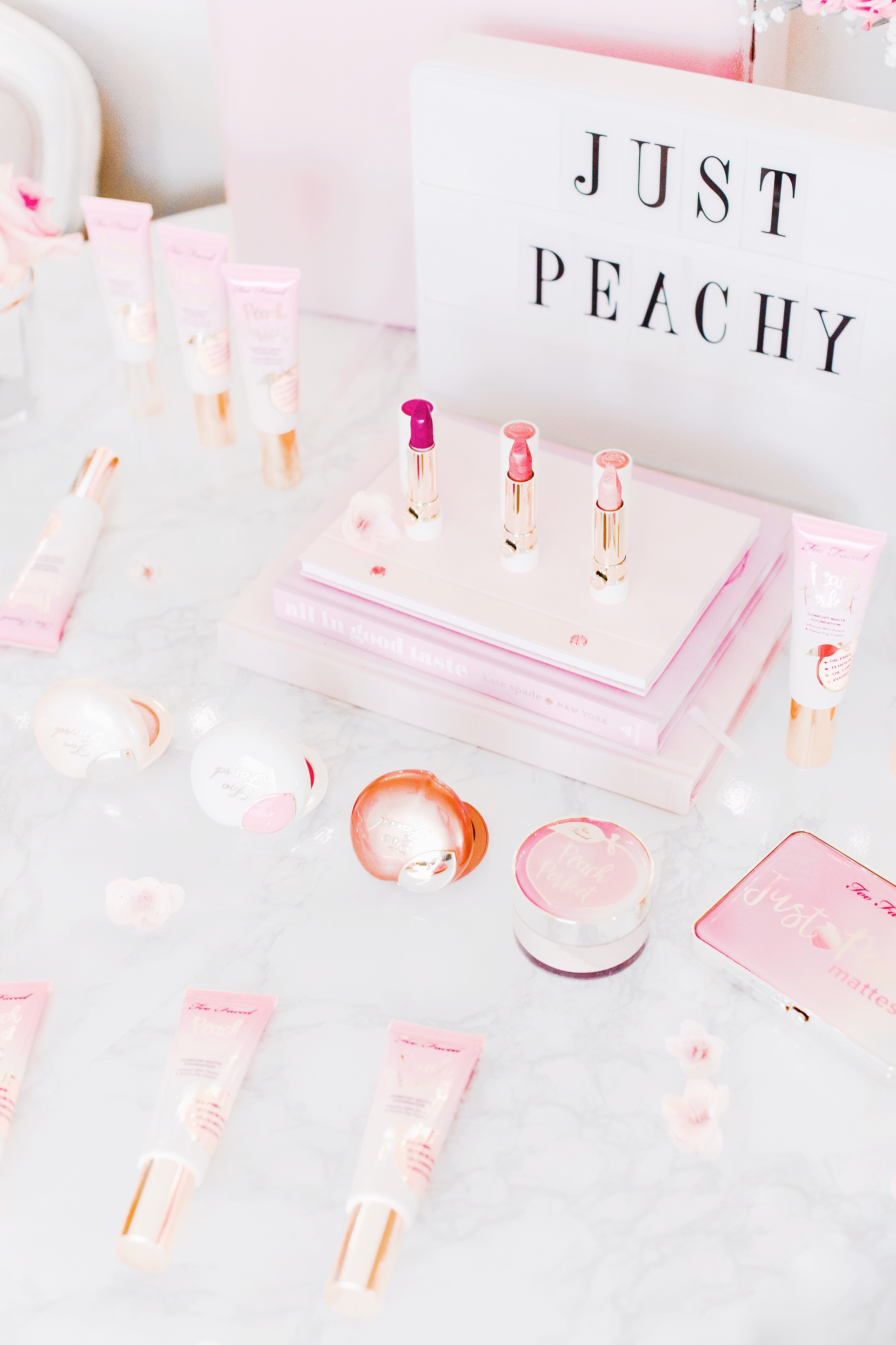 So inside this sweet little fridge, was every single piece offered in the Peaches & Cream Collection.
This collection is truly the sweetest thing. And once again, Too Faced didn't hold back when it came to the packaging and details. Both collections, the I want Kandee Collection & Peaches & Cream feature scents of candy and peaches, upon application.
The Peaches & Cream collection features a sweetie pie bronzer, a bronzed peach shade, various shades of peach kiss lipsticks, various shades of peach blush, a peach frosted highlighter, a peachy matte eyeshadow palette, a peach mist setting spray, a peach perfect foundation, a peach blur finishing powder, a primed and peachy primer & a peach perfect magnifying & setting powder.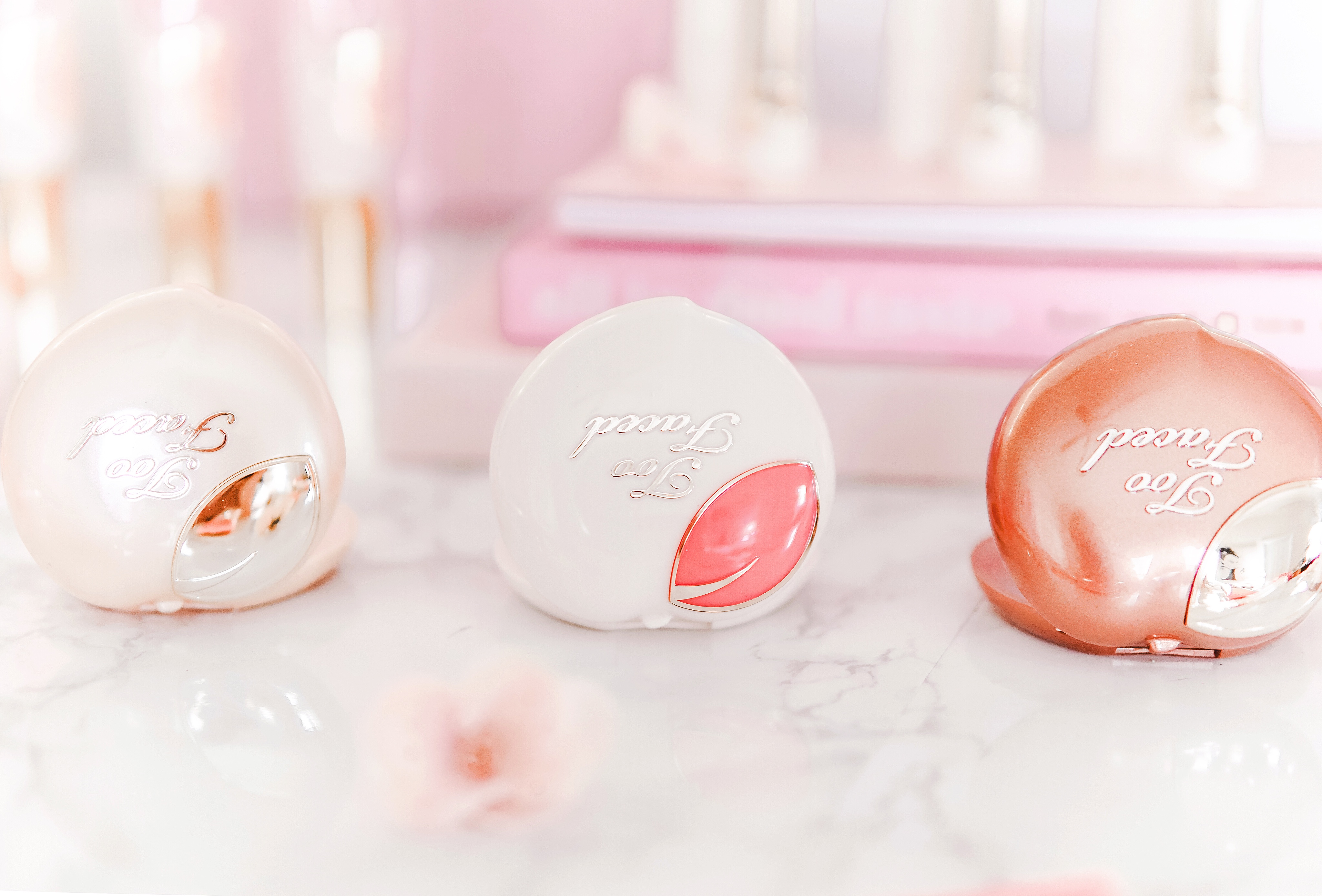 What Am I Obsessing Over The Most Here?
That would be the peach kiss lipsticks. The packaging of these darling little lippies is just too cute for words! I love the range of shades offered with these lipsticks. They're wonderful for this Fall season as well.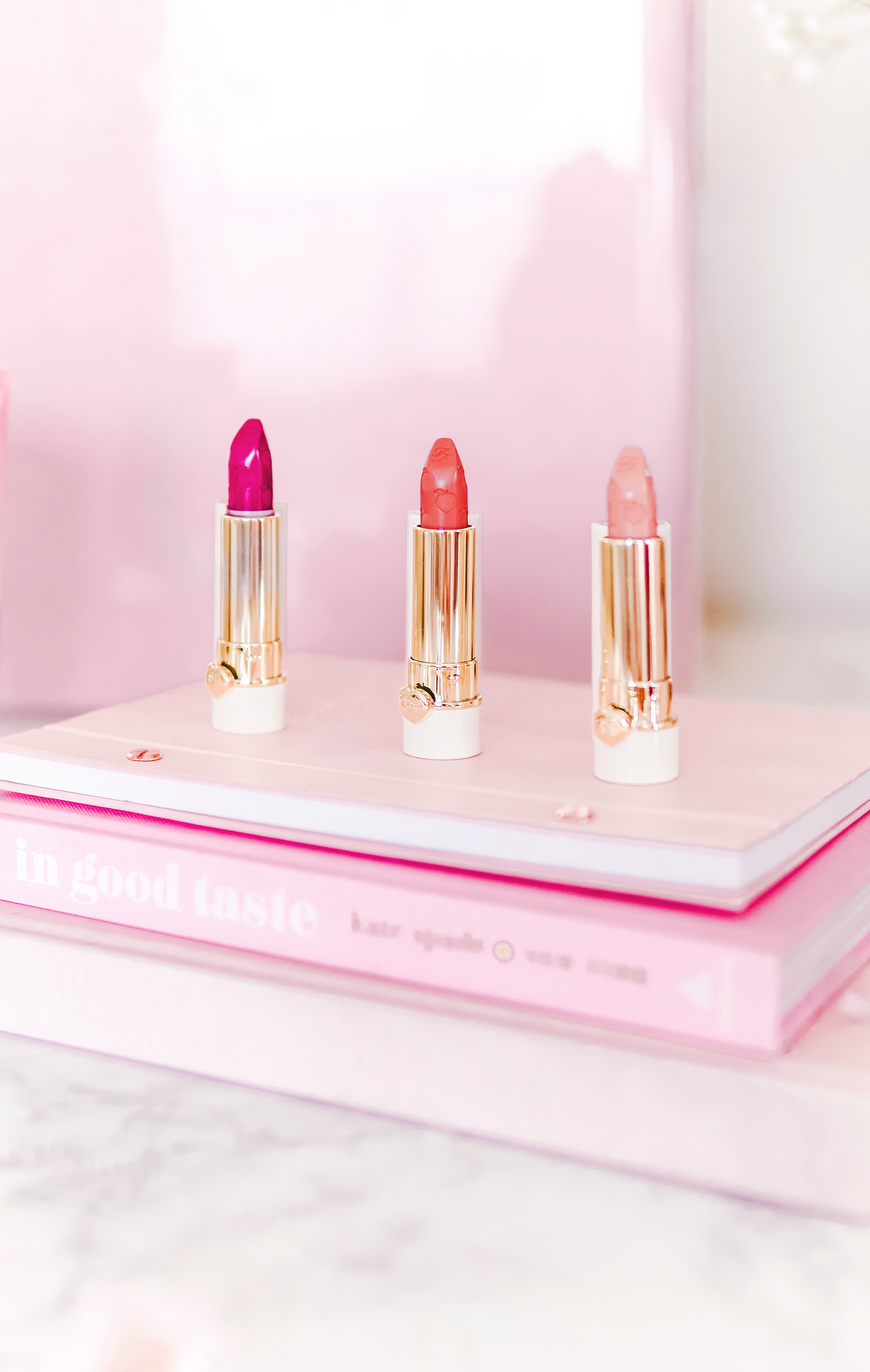 I can easily see every one of these products becoming apart of my every day makeup routine.
What I also love most about Too Faced's foundations is that they offer shades that best match my skin. When usually shopping for foundations amongst other brands, I really struggle to find shades that are light enough and that also look natural for me.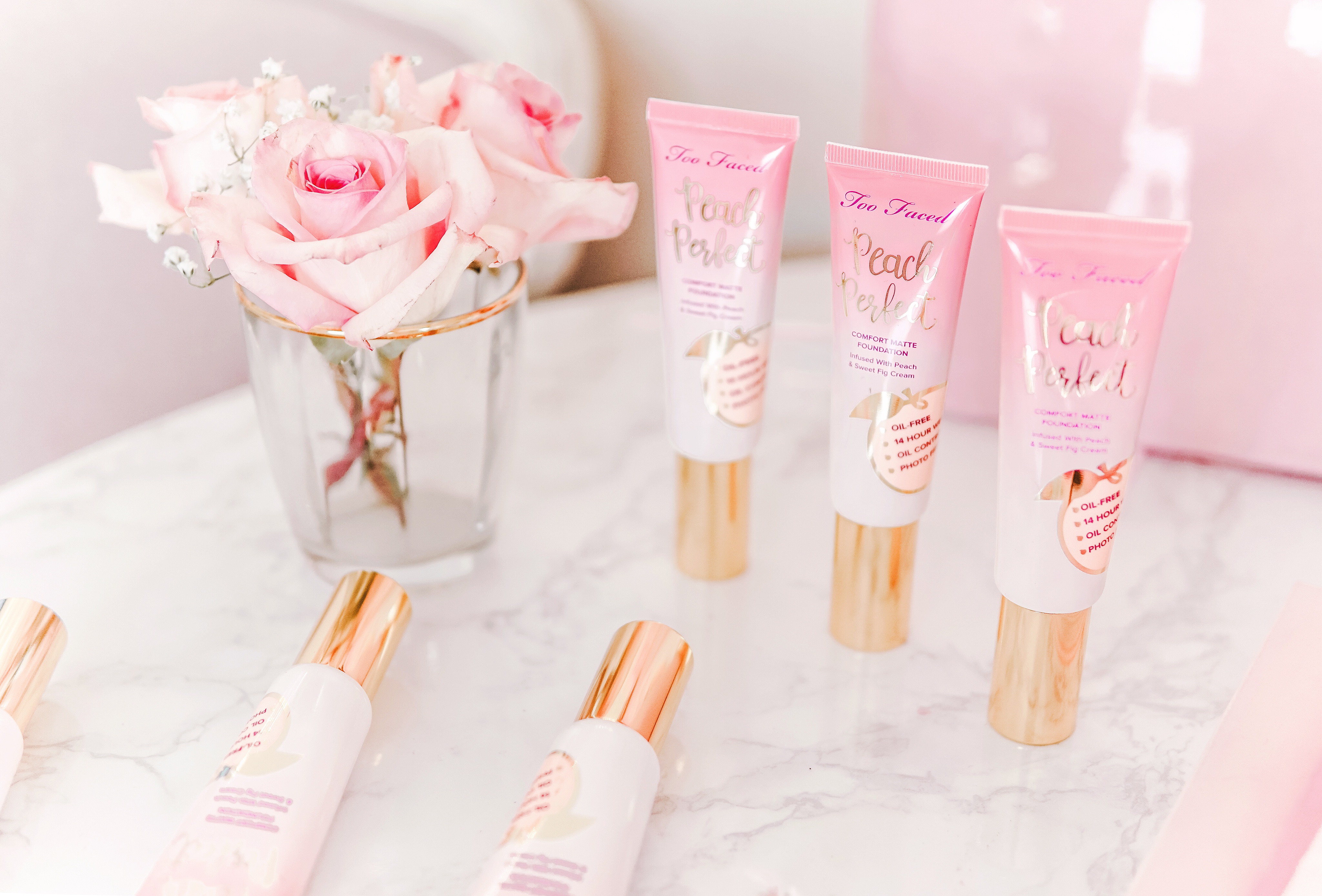 Too Faced's foundations provides enough coverage for my skin without having to use too much product.
Too Faced, in my opinion, always goes above and beyond to deliver makeup that satisfies all of my needs and surpasses my expectations. I am a crazy fan of them and I won't deny it one bit!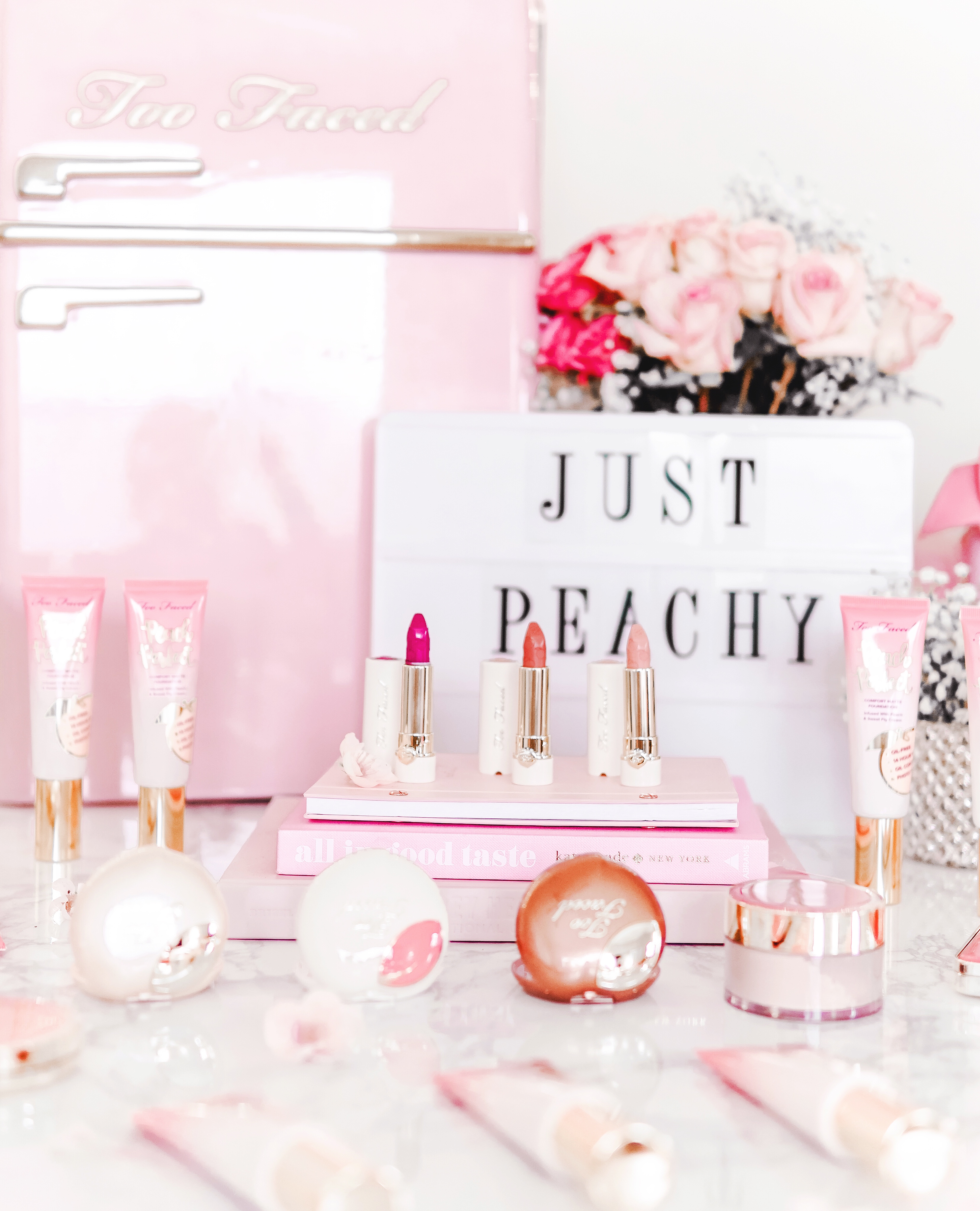 I hope that you enjoyed this haul featuring the collections and what I love most about them. I'm really looking forward to Too Faced's Christmas collection and hopefully I'll be back very soon to share with you what I love about that as well!
Which Collection Is Your Favorite?
SaveSave