You must know that I simply adore the feminine style. In everything I share on this world wide web, that fact couldn't be any more evident.
However, up until this year I had yet to take on one of my favorite seasons, and give it my personal touch of pretty.
This was a goal of mine for this Autumn, and I am happy to report that I'm finally making it happen!
Don't get me wrong, I love the natural beauty of fall but personally I'd like to make it a bit more pink. And that's exactly what I've done.
Fall Decor
When it comes to my fall decor, I do want it to differ compared to the color palettes that I tend to use for other seasons. For autumn this year, I've been very drawn to a color palette consisting of blush pink, pink quartz, mauve pink, & various shades of purple & white. Some of these colors look like muted versions of the pretty shades I normally share and I think thats quite fitting for a feminine styled fall.
Now when it comes to finding decorations that match the vision in my head, I'm not going to lie, it's been quite challenging. This is because I don't think anyone else has cared to bring such a vision to store shelves.
A Trip To Michaels
The first place that came to my mind for fall shopping was Michaels Craft Store. This is truly one of my most favorite places and I could spend hours here just dreaming of all the things I could create.
The day I chose to go to the store I found all of their pumpkins to be 60% off, thankfully, and I picked white pumpkins that filled my heart with delight.
Leaving all of them entirely white, wasn't going to work so I journeyed over a few aisles to find paint in a pretty shade of pink. I also picked up a few sponge brushes because I find those to be my favorite when it comes to painting little things.
While at Michael's, I also picked up a wreath for my porch that had hints of purple and mauve colored roses which I thought would be the most romantic & fall-like decor for my front porch. I'm still working on the porch but am SO excited to show you when it's all put together.
I picked up a few other things to add a bit of a sparkle to my decor and then made the journey home.
I was so filled with anticipation to paint my pumpkins pink & you better believe that's just about the first thing that I did when I finally arrived home. And let me tell you, it was so simple!
Pretty Pumpkins
Pumpkins are a staple when it comes to my vision of a feminine style fall. So, the fact that I had them and that they were also painted pink make me feel like my feminine-fall mission was already off to a grand start.
Other things I'm collecting for this particular look are fairy lights, led candles, lanterns, and gold accents. I really want an over all pretty & romantic look for my fall decor and it's well on it's way to being just that!
Once the pumpkins were ready to be put on display, Chloe and I wanted to have a little fall tea party.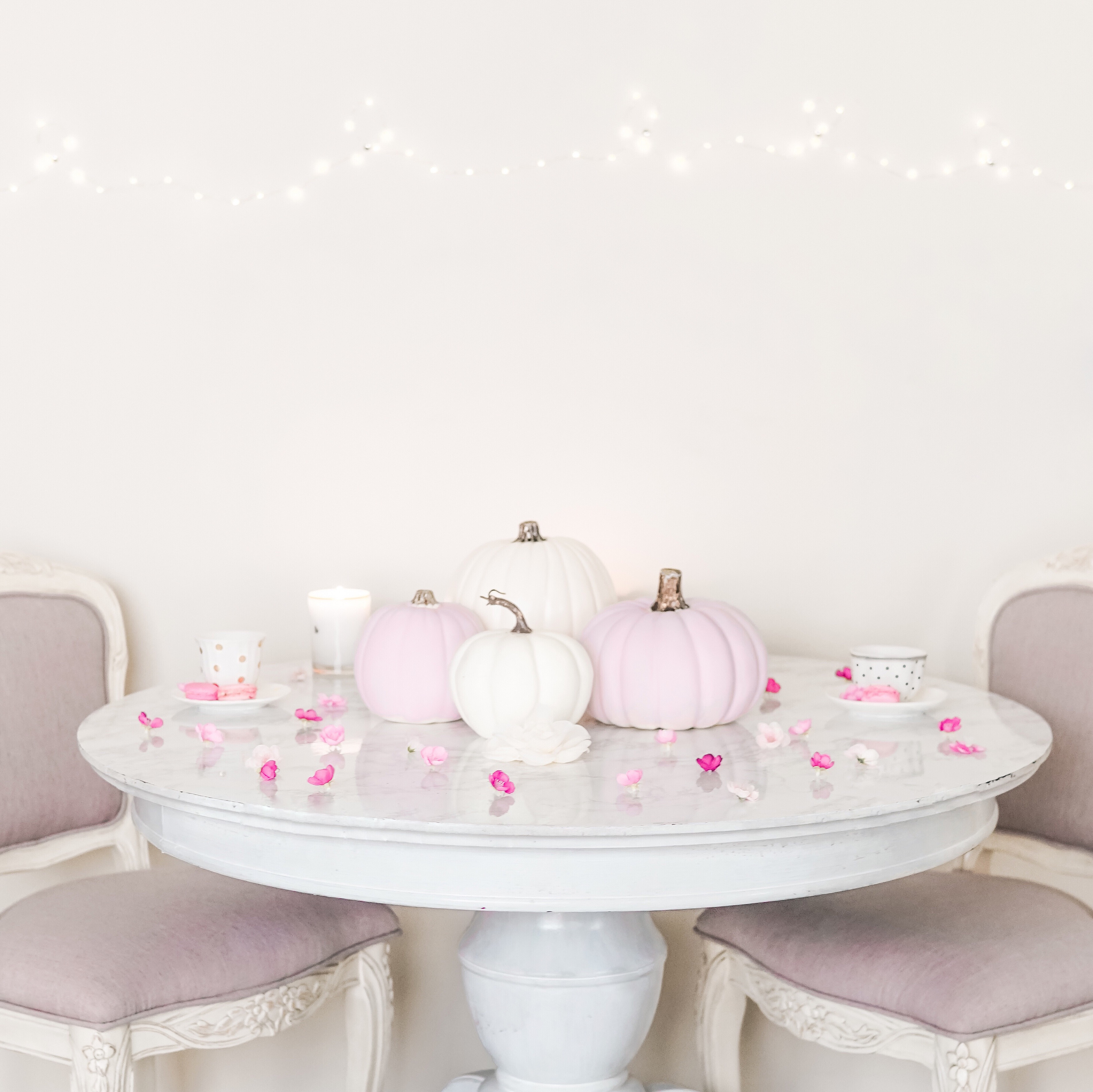 It's one of the things on our Fall Bucket List, but the funny thing is we decided to do it a bit differently.
Instead of tea, we made strawberry milk which went perfectly with our pink pumpkins & macarons. We also added pretty florals consisting of the pink and purple shades that we are loving for fall and fairy lights.
It was so cute and the setting overall made our special little treat-time that much lovelier.
If you're at all curious about what's on our fall bucket list, here's what we have lined up so far!
Feminine Fall Bucket List
1. Decorate our home with pretty fall decor
2. Drink our first pumpkin spice drinks of the season
3. Have a Fall Tea Party ( or strawberry milk party lol )
3. Pick up our favorite pumpkin candles from Bath & Body Works.
3. Find & adventure to a fall festival.
4. Pick pumpkins.
5. Have a fall movie night ( And yes Hocus Pocus is a must! )
6. Bake some fall goodies.
7. Watch at least one football game just for the fun of it ( we're not big in to sports lol )
8. Take at least one snapshot of every memory and add it to a super cute fall album.
Final Notes
We're still coming up with new things we want to do & try. We don't want to let fall pass us by and regret not finding ways to enjoy it to the fullest and that's why making a list was so essential for us.
Every day I'm making efforts to make something very special happen instead of sitting back and wishing that something magical would happen on its own.
All of this, I want to capture and to share with you in hopes of showing you just how simple it can be to make a little magic in your every day life.
I want to know, what do you look forward to most during the fall season & what's on your bucket list?
[hercules-gallery ids="12186,12181,12185,12183,12171,12189″ rowheight="300″ lastrow="justify" visibleitems="0″ thumbwidth="220″ thumbheight="800″ margins="2″ captions="false" pinit="true" randomize="false" opengallerylink="false" opengallerytext="OPEN GALLERY" backtostory="Back to story"]