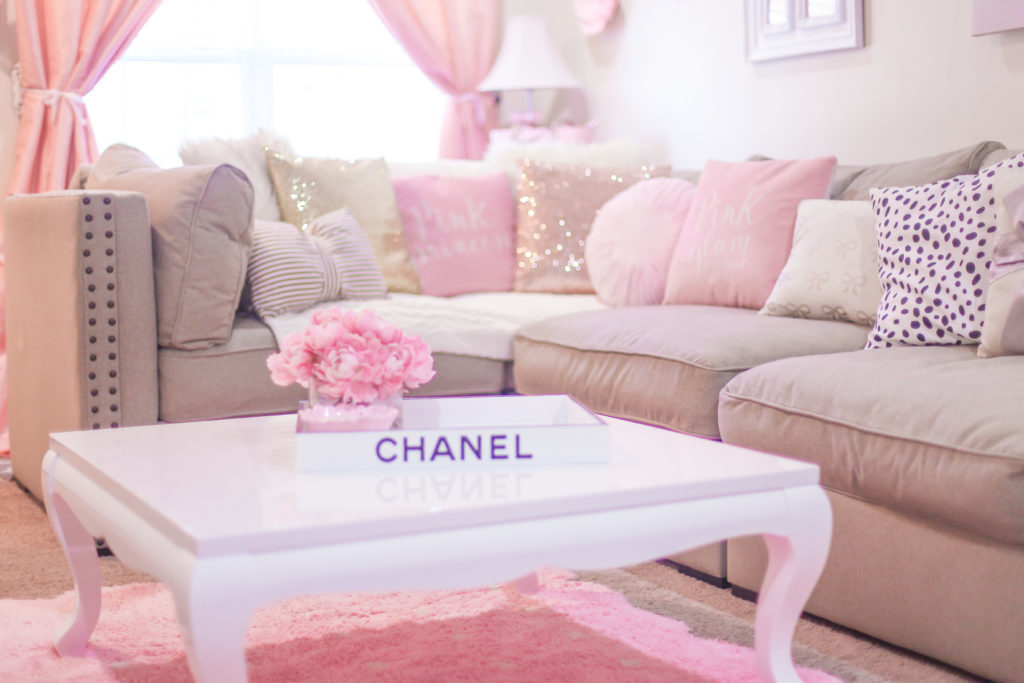 The Most Girly & Pink Decor For A Feminine Home
Recently my life has been turned upside down and oh my goodness I could write a whole post just about the stress of moving but don't worry I won't do that to you! The most exciting part that came from moving was the chance to decorate all over again. In this post  I'll show you the changes I've made that includes the most girly & pink decor.
So yes, it definitely has been trying with moving all of my pretty little things and my little family over such a far distance but one thing that I have enjoyed so much is the opportunity to redecorate and style my things all over again.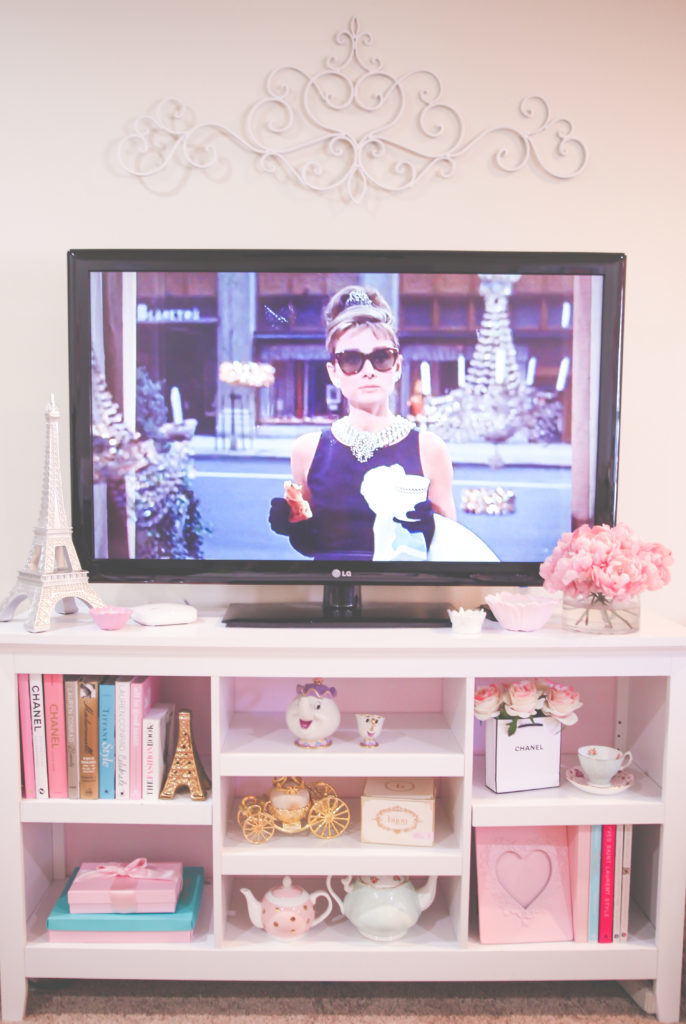 That kind of stuff is truly what I LOVE doing! I feel so in my element when I am decorating and styling so it's definitely what I needed to overcome all of the stress that just naturally comes with moving.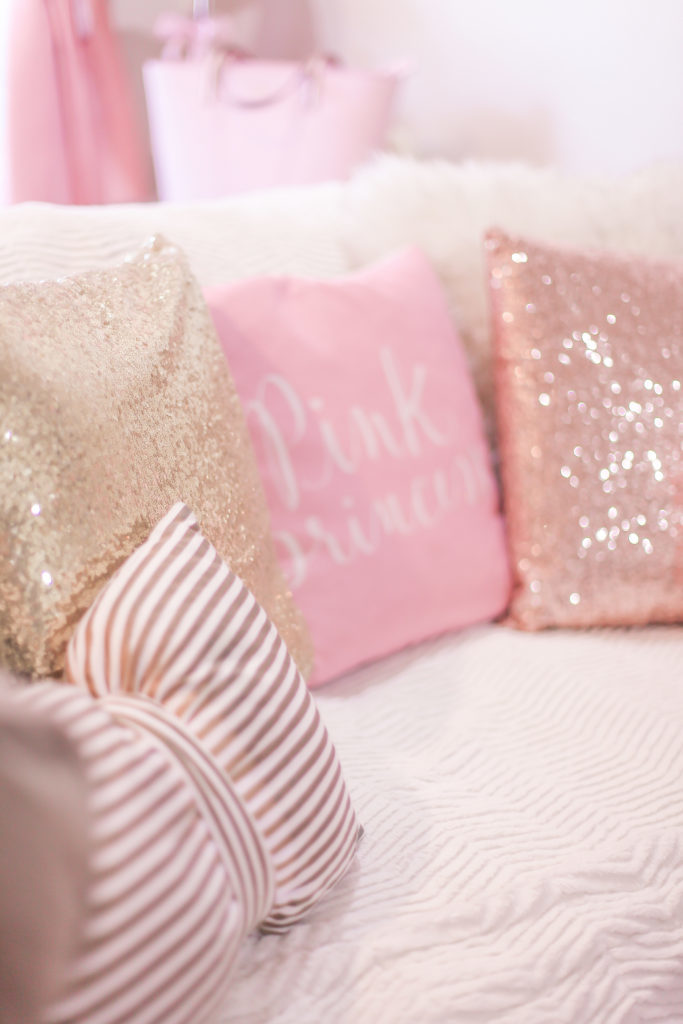 I have been SO excited to be able to show you the progress that I've made so far along with the new place!
I am not going to reveal every room in this post because I want to show you one by one (room by room) how it's coming along so far.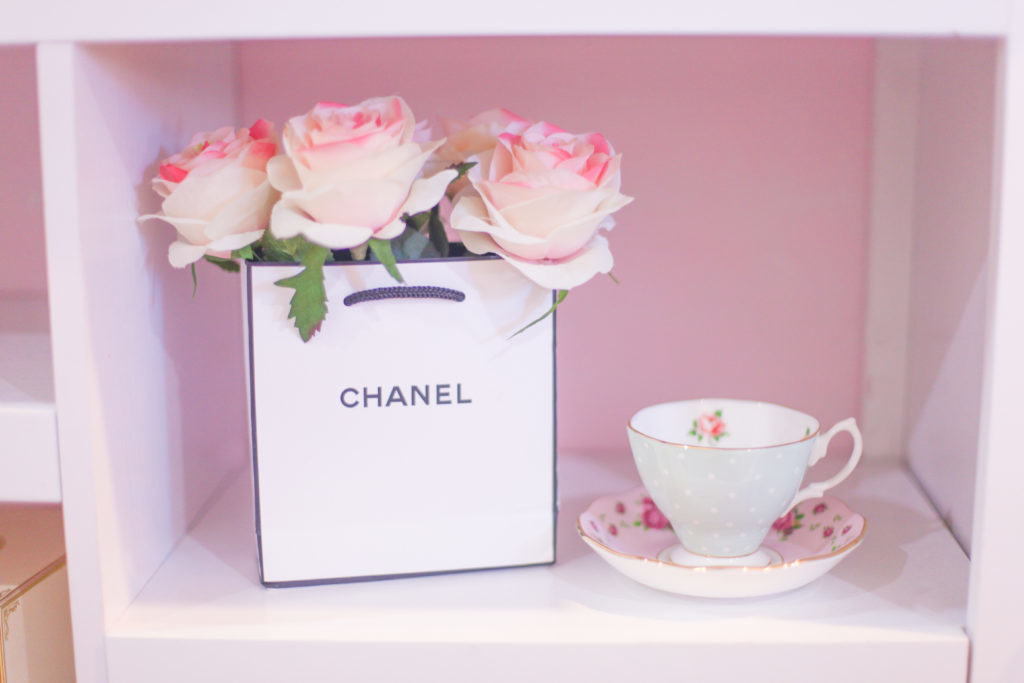 Honestly the new setup of the living room had me a bit stressed because it's quite different from my last home and my sectional is HUMONGOUS!
Luckily the sectional is made to come apart piece by piece and it also can be rearranged into different looks so I found a way to make it work in my new space.
It's still not exactly the way id like it but I can learn to love it.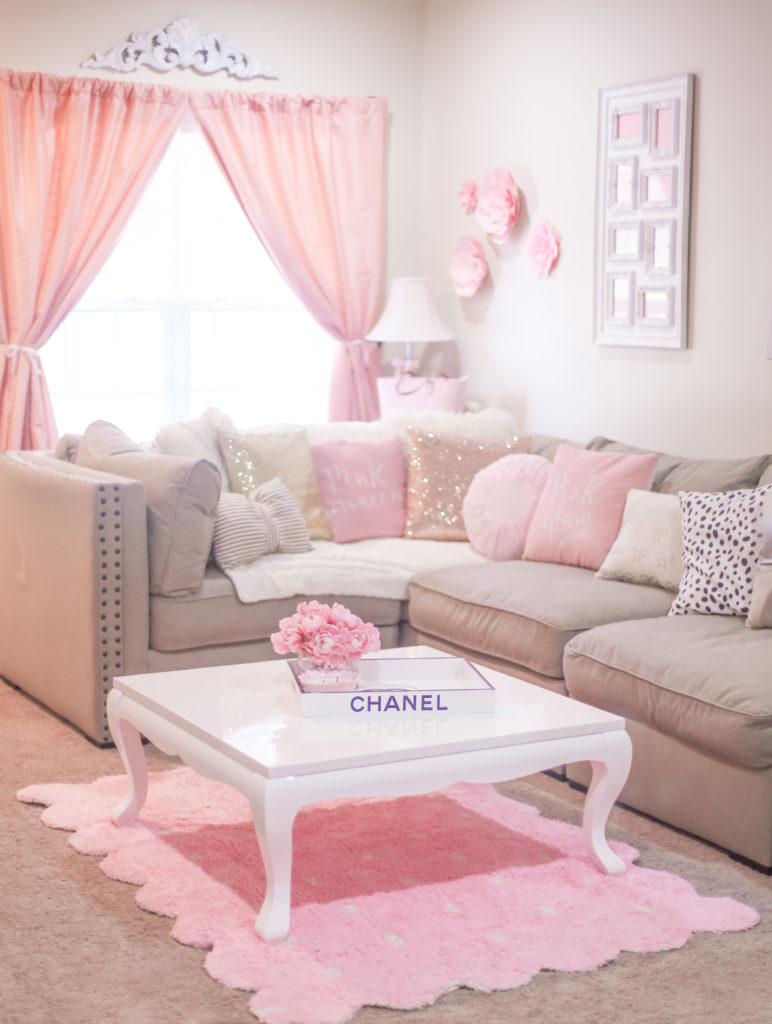 One thing that I loved so much about my last living room was the natural lighting that came through and the way I was able to style the living room couch up against the window.
I LOVED this because the couch was right next to the curtains I have and I just loved the way the pretty shade of pink from the curtains looked when paired next to the color of the couch. The more pink the better!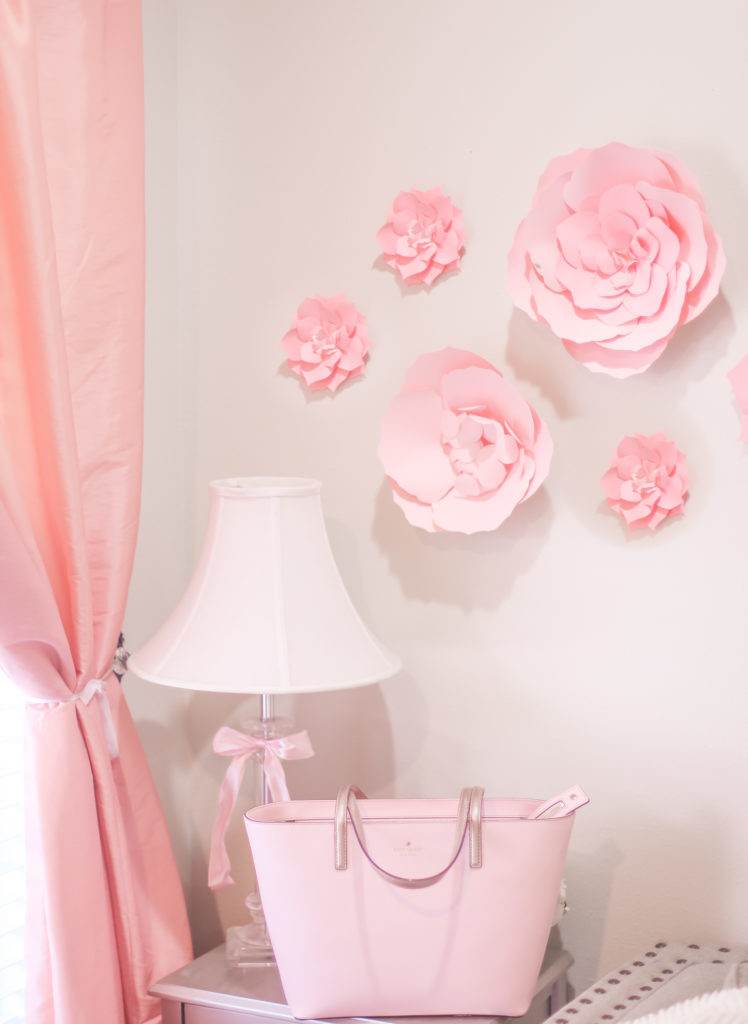 In the new living room the curtains I have can't be styled with the couch in the same way because of the new setup.
So basically with that I felt like the room was going to lack the pink that I previously had.
This was too depressing of a thought so right away I tried to think of how I could bring more color back into the room and to also make it still feel more like me.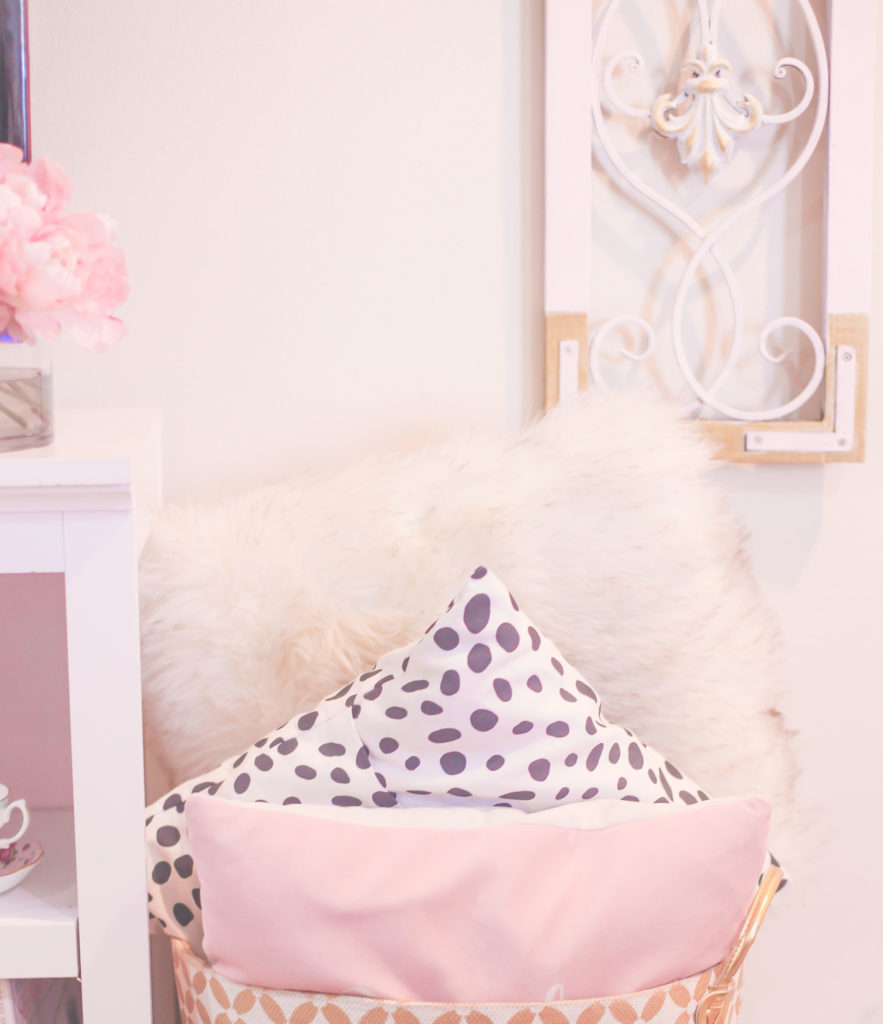 My first step to fix this was by adding an area rug with that pop of color that I felt was missing. I also wanted more than just color from the rug.
I wanted the rug to really stand out and bring the character into the room that I desired so I went with a rug that had cute little scalloped edges.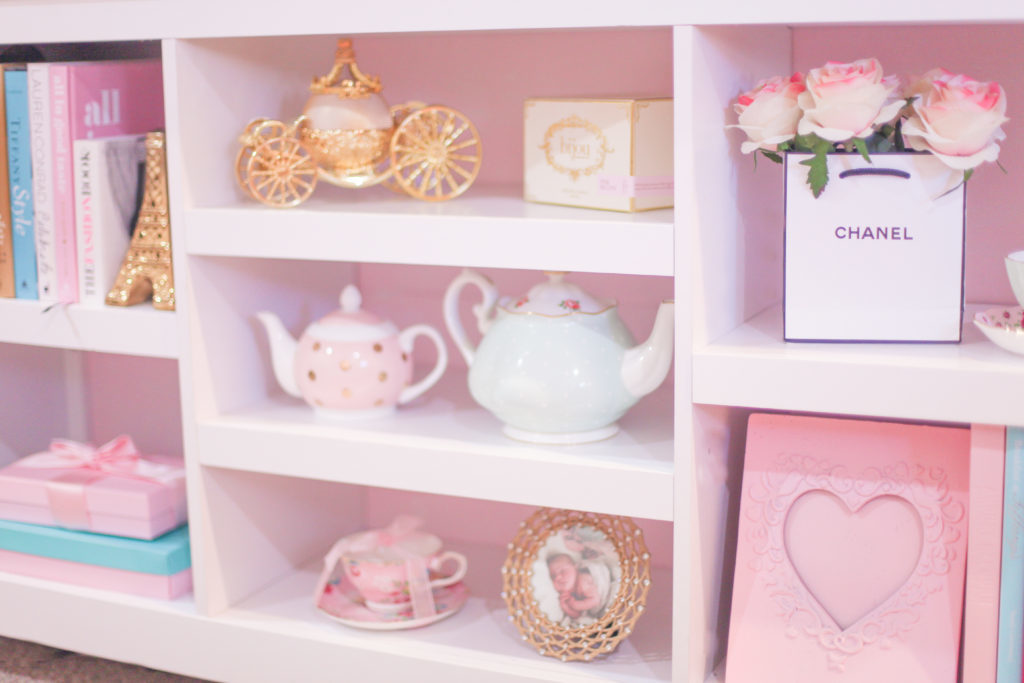 I really loved this decision because it really does give the room that feminine flare, more so than just by simply adding a pink rug.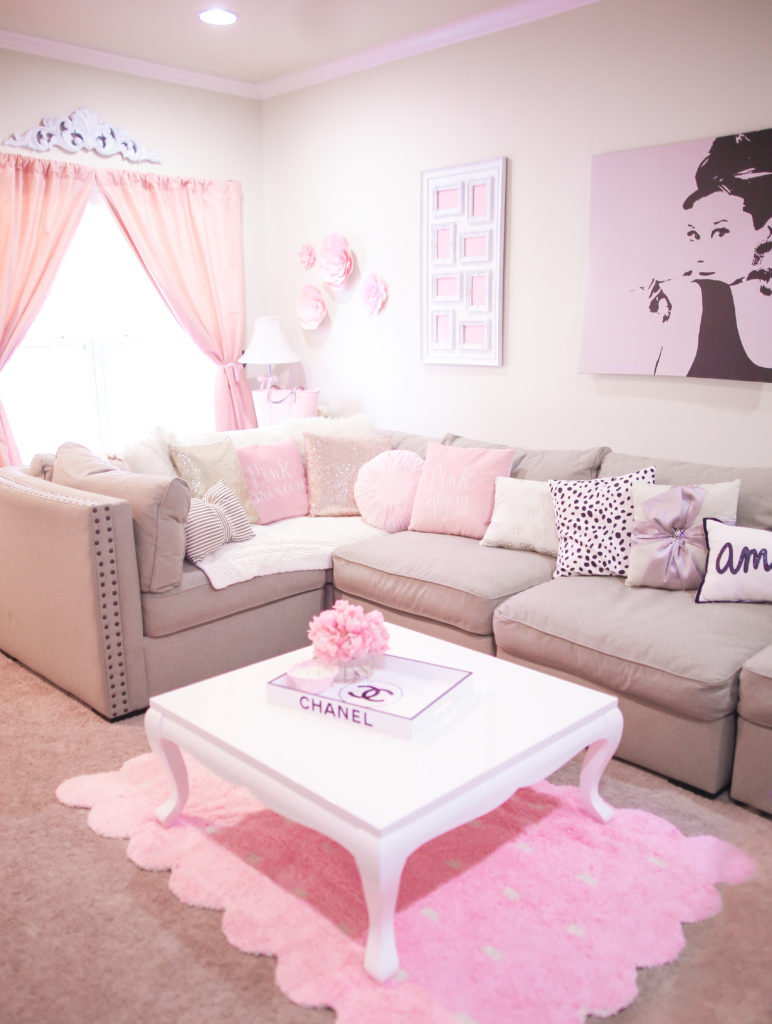 The best thing about this rug is that it's reversible so when I get a little bored ( which I tend to do with decor) I can just flip it over and find a lovely cream shade on the other side with pink polka dots on top as well.
The rug is also washable (thank goodness) and it just pops right into the washer with ease and definitely helps my goal of having the most girly & pink decor.
You can find one of these little gems here.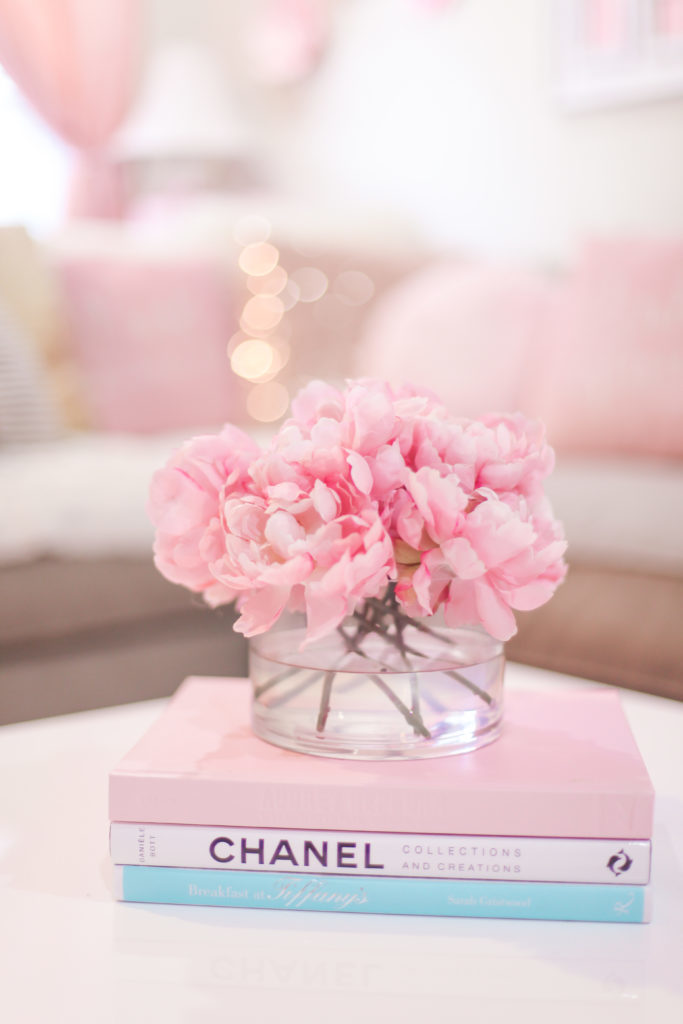 I also brought my pink paper wall flowers back into the living room for more pink and added in little pink objects such as frames, florals and teapots to get more the girly feel.
On top of those details I added an adorable designer inspired tray from creme de la creme home decor and I can't even begin to tell you how much I adore it!
The tray is so incredibly chic and goes so well with all of the pink in my living room. It's very well made too which of course makes me happy because i'll be getting plenty of use out of it.
It adds to my most girly & pink decor very nicely.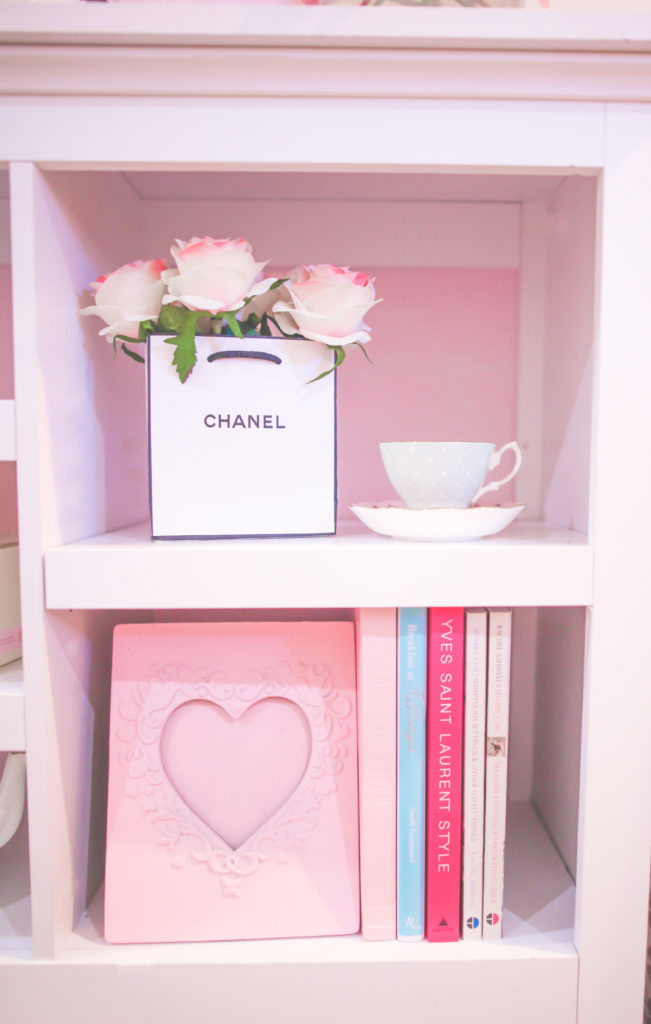 All in all there are more changes i'd like to make to the living room to get it where i'd ideally like it to be but I LOVE how it's coming together so far.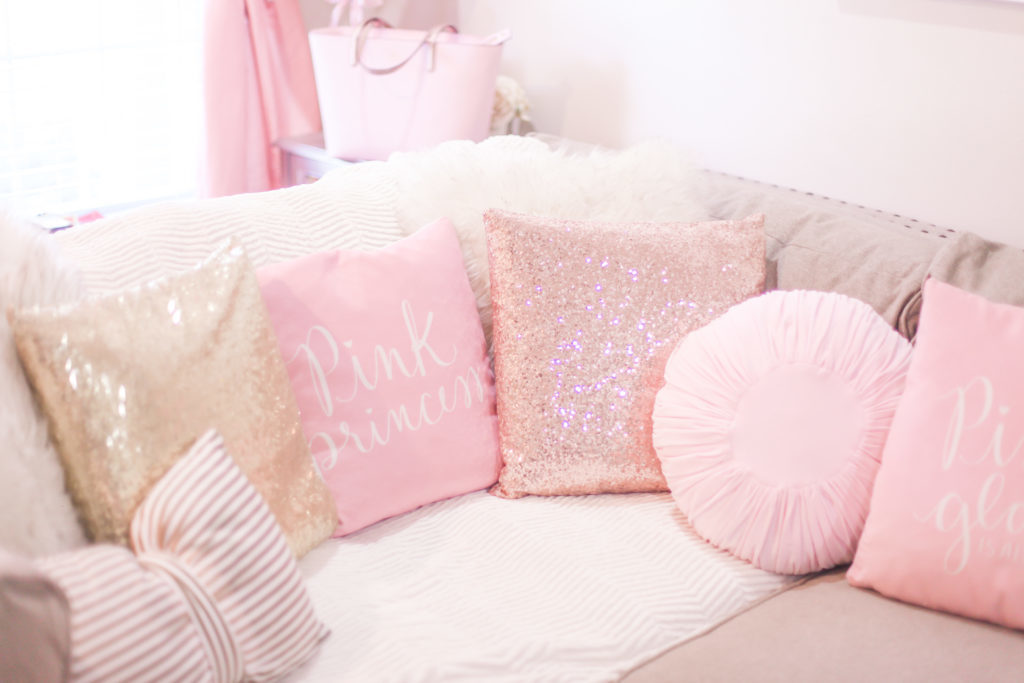 Another HUGE concern for me when I was moving was the Internet.
Truly this is a huge deal for me because aside from my blogging and keeping up with social media, EVERYTHING we do in this home relies on the Internet and I was hoping that with us moving we would have an even better wi-fi connection than what we had in the last home.
Our first few days here proved that necessarily wasn't going to be the case because the ceilings here are much taller and the home overall is larger which made the wi-fi signal not so great. The home has dead zones in the most important places, including my girly workspace!
I really didn't want this to be something we were just going to have to deal with so I started looking to see if there could be a solution for this. Eventually I found a wi-fi system known as Eero.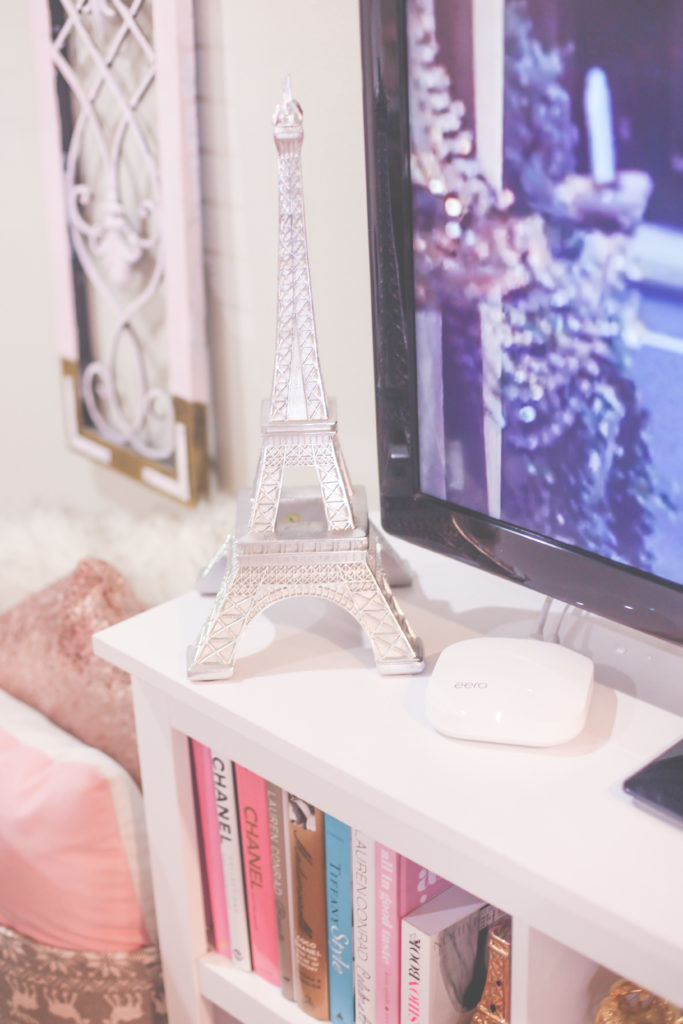 It works like a router but it makes your speed wayyyy faster. On the router that we moved in here with, we weren't even getting close to 1/5 of the internet speed we were paying for. Seriously sad! Once we got Eero were almost at 100%, like seriously so so close! And you have the option having more than one, which I highly recommend getting more than one because by choosing to do so dead zones are now non-existent in our home.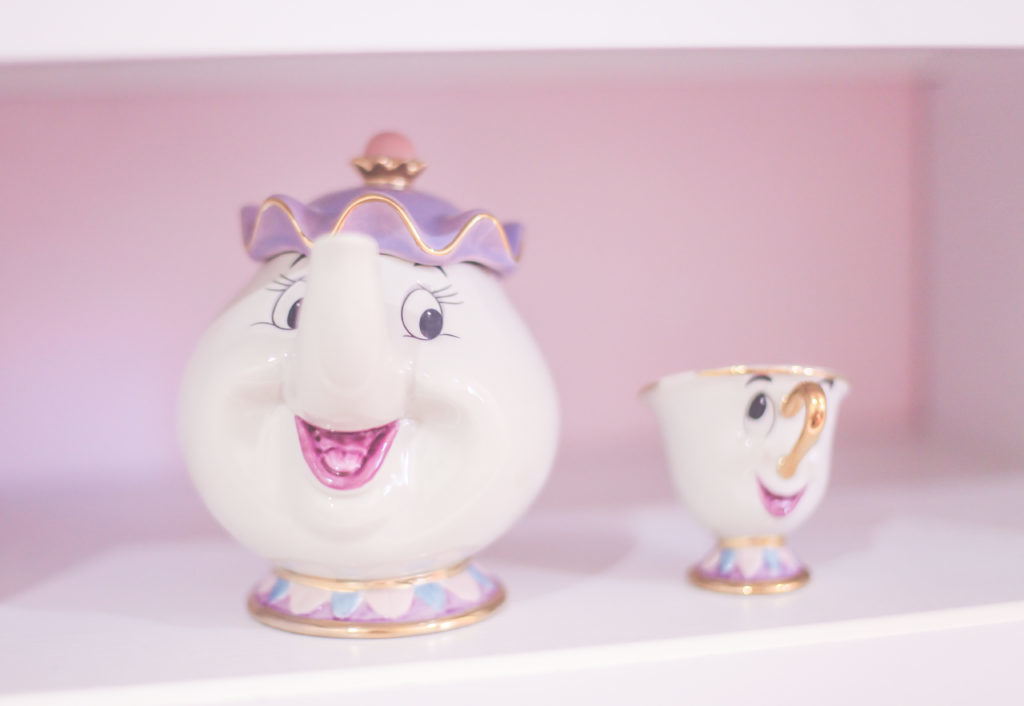 Every room has become just as fast, including the front porch! And I wanted to mention it here because I actually have been able to style the Eeros with ease into my decor and that's another reason that I am so happy with them!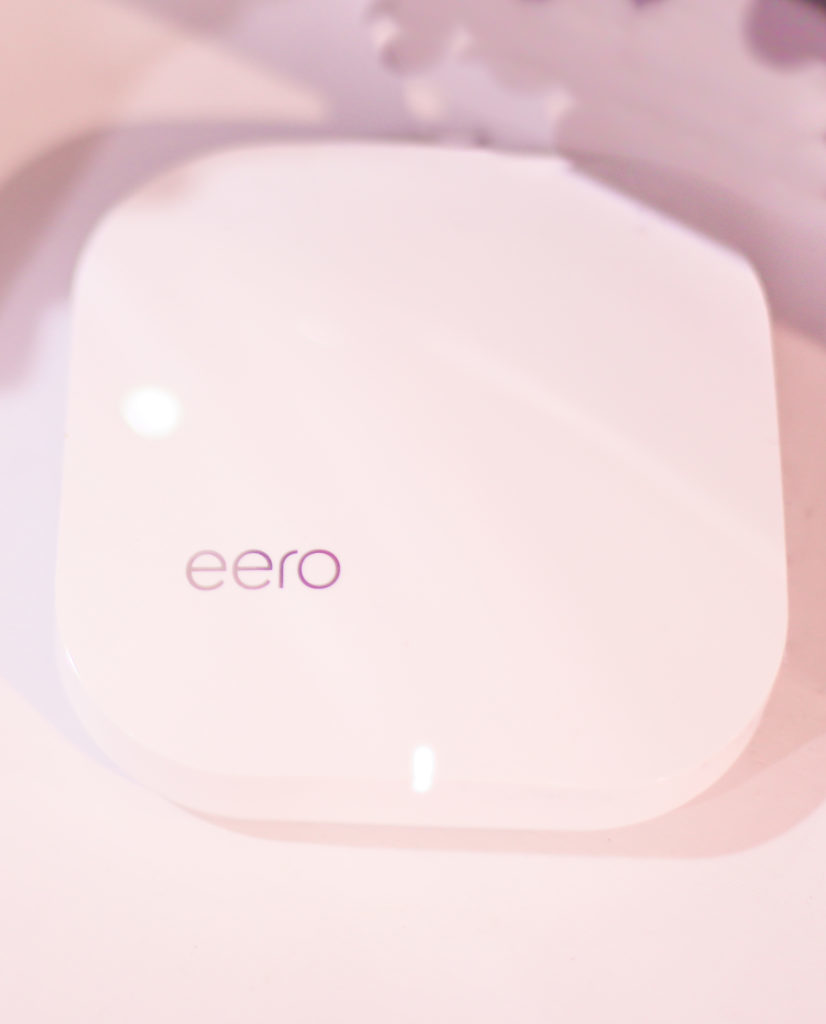 The Eeros are sleek, white and rather cute allowing them to blend right in with my feminine decor. I no longer have to deal with the hideous ordeal of a bunch of cords sticking out in plain sight which allows the look of my home to be so much better.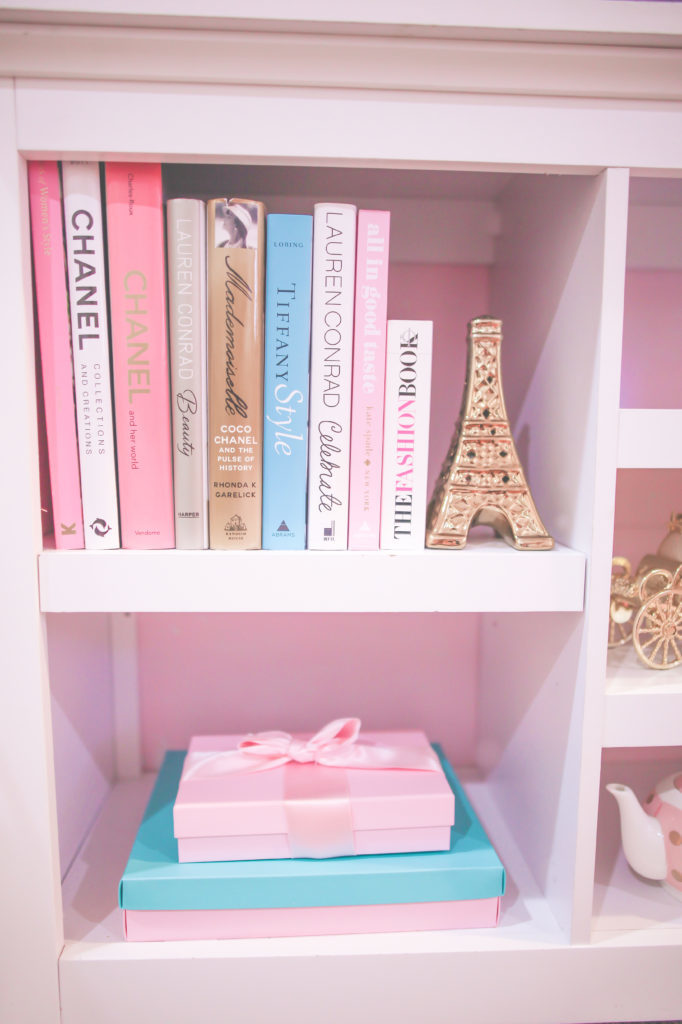 Setting the system up was incredibly simple but I did have a few questions regarding setting up the second and third Eero and I was so amazed at how helpful and reliable Eero was when I came to them for help.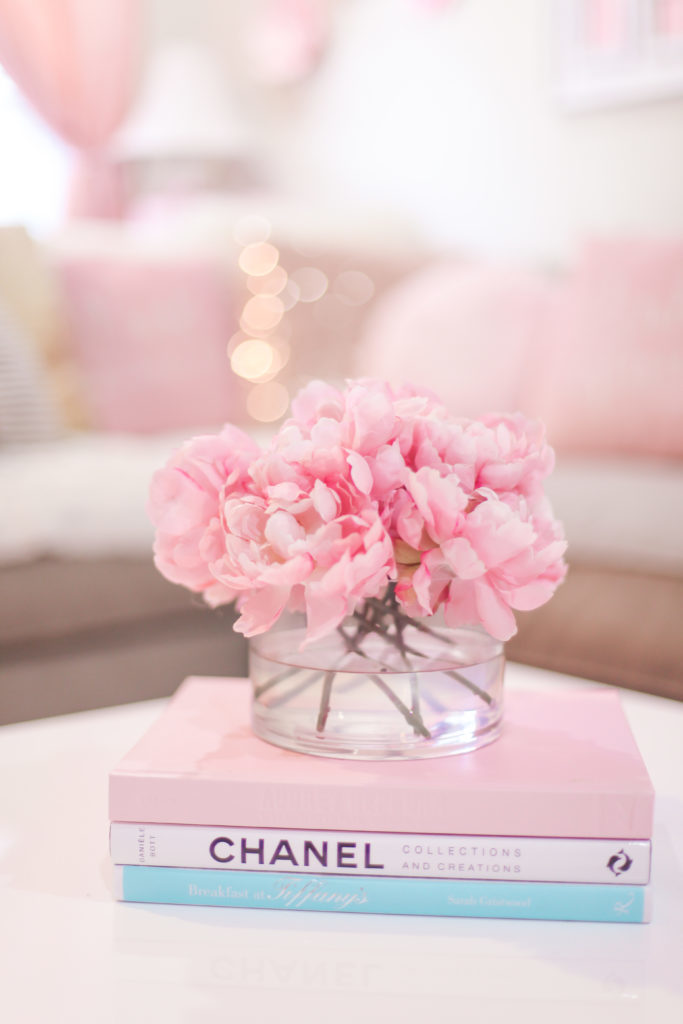 All-in-all I would highly recommend them and I have already been doing that since the day I've been using them. If you'd like to get a set for yourself you can buy them directly at here , but you can also buy them from Amazon and Best Buy ( in person & online) as well!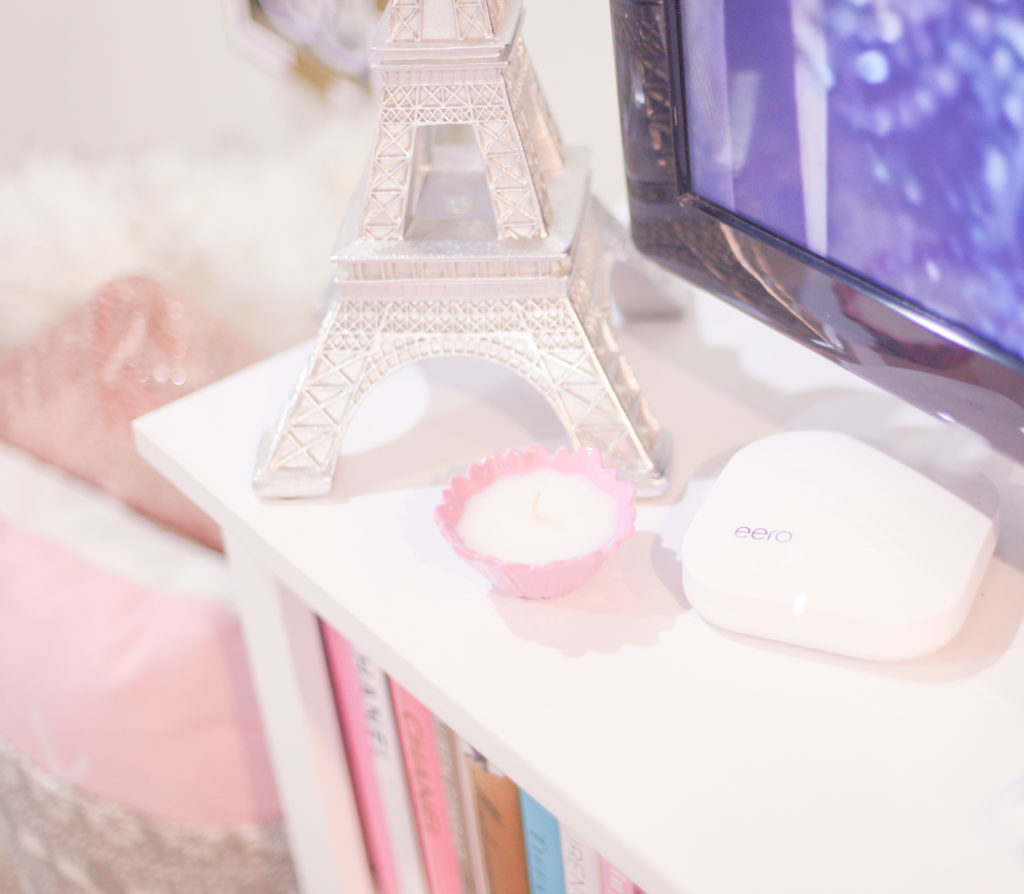 If you choose to purchase from Eero directly, I have a special little gift code for you so you can enjoy free shipping. Just check out with JADOREWIFI.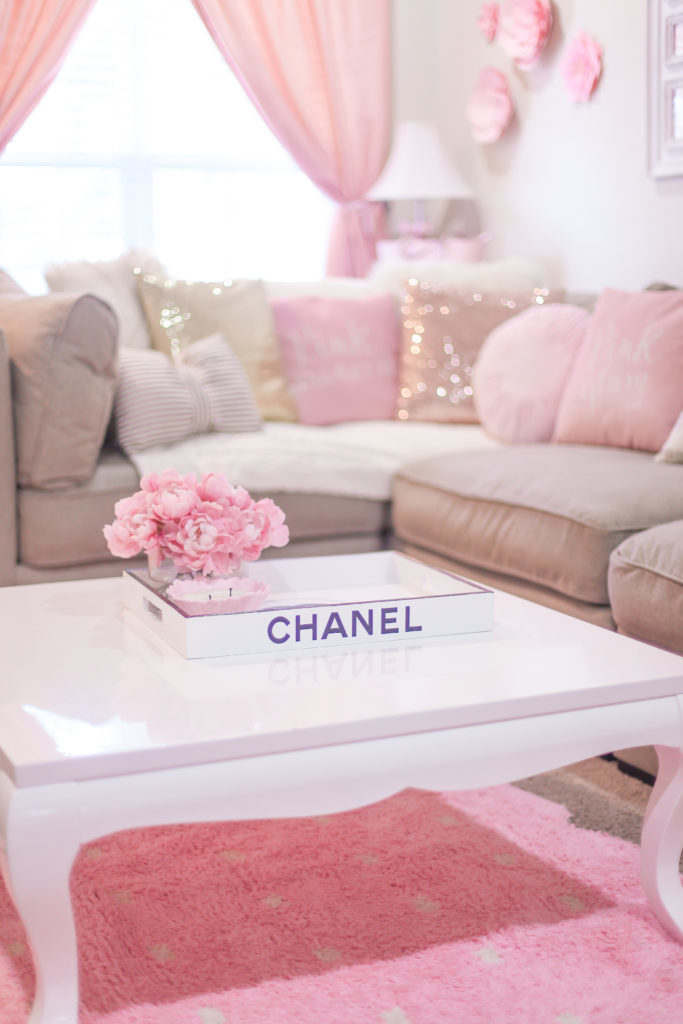 candles // Bijou Candles ( buy one get one free with Promo Code FALLFRENZY )
So this was just an update, like I mentioned but I have SO MUCH MORE to share with you as to how the other rooms are coming along, so make sure you're signed up for my newsletter to be one of the first to see more of the most girly & pink decor.