Spring Wardrobe Ready With These New Feminine Pieces
We are on the verge of spring once & I'm prepping to have my Spring wardrobe ready with these new feminine pieces I've picked up from Wolf & Whistle.
When thinking of Spring, images of gorgeous skirts and dresses immediately come to my mind.
Along with soft pastel colors & adorable handbags to match.
These are all staples that are essential to a spring wardrobe.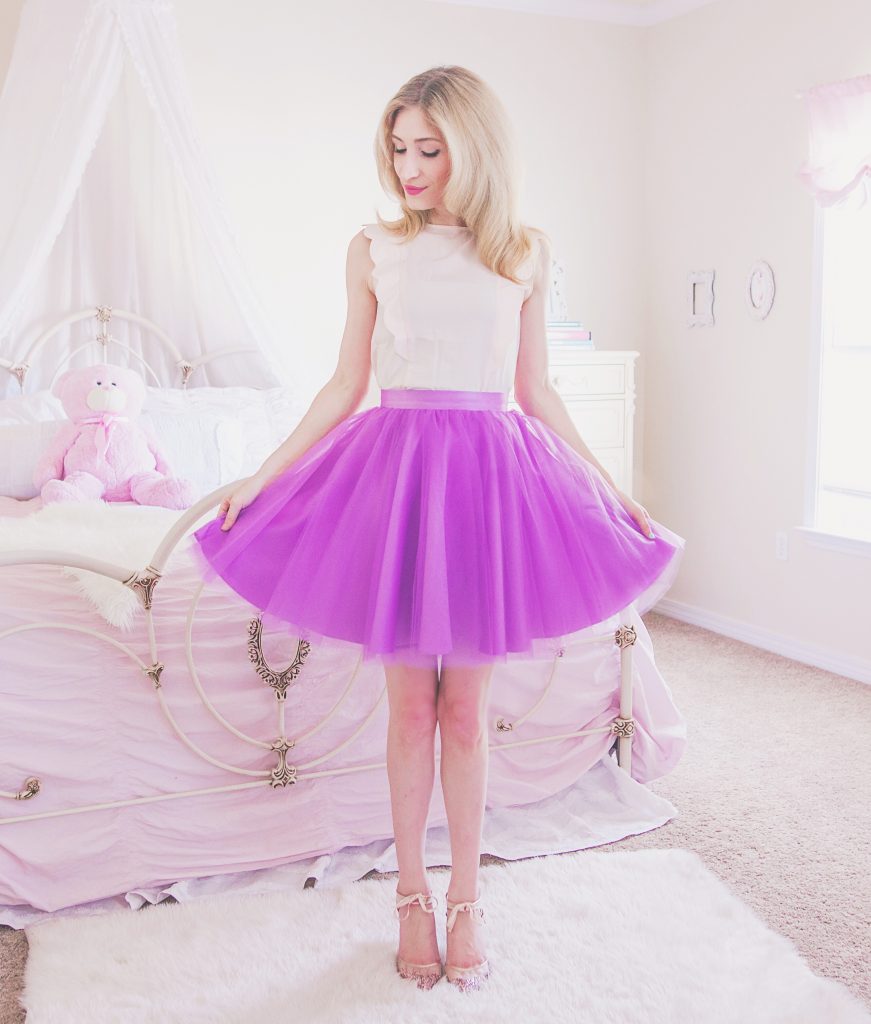 For this post, I added a few tops and a skirt to my Spring wardrobe that I also wanted to share with you.
I also have tips for what you should add to your Spring wardrobe as well.
The Skirt
Skirts are absolutely essential for your spring wardrobe.
There truly is so much to love about skirts.
They can be incredibly versatile which allows you to create many looks with simply just one skirt.
Who doesn't love that?
The new skirt that I've added is this charming floral skirt.
I love the combination of colors with the skirt and it pairs perfectly with different blouses like this pink top and this peach top.
Both are from Wolf & Whistle and have such lovely details.
For your Spring wardrobe, I would suggest having at least 3-4 skirts on hand.
Half in solid colors ( think pastels ) and the other half in florals or prints.
Then all you'll need are some fabulous blouses, like these, to switch back and forth between with the skirts.
This will give you so many different look combinations for your spring wardrobe.
Blouses
These beauties are such essentials when it comes to your Spring wardrobe.
 I recommend having an assortment of solid colors, embellished details, and printed ( think polka dots) blouses.
This kind of variation will once again leave you with many looks to choose from.
The 3 different blouses I chose for this post are great examples of what you should have in your wardrobe for Spring as well.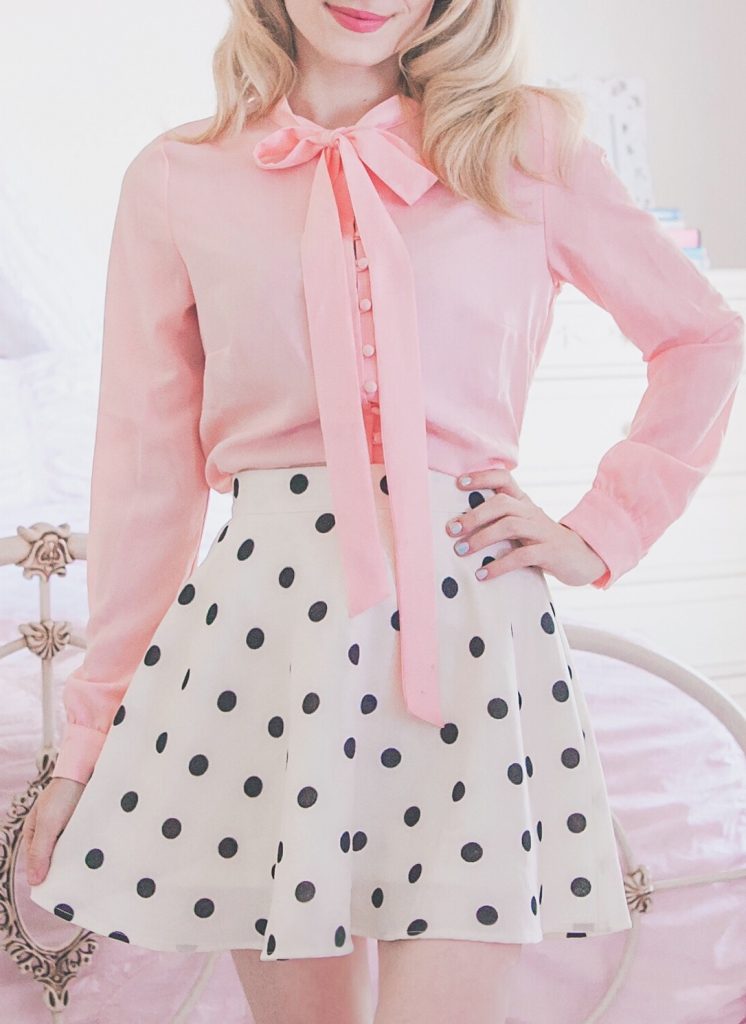 The pastel blue and peach colored top both feature feminine scalloped detailing and are solid colors that are sure to pair well with a range of different skirts.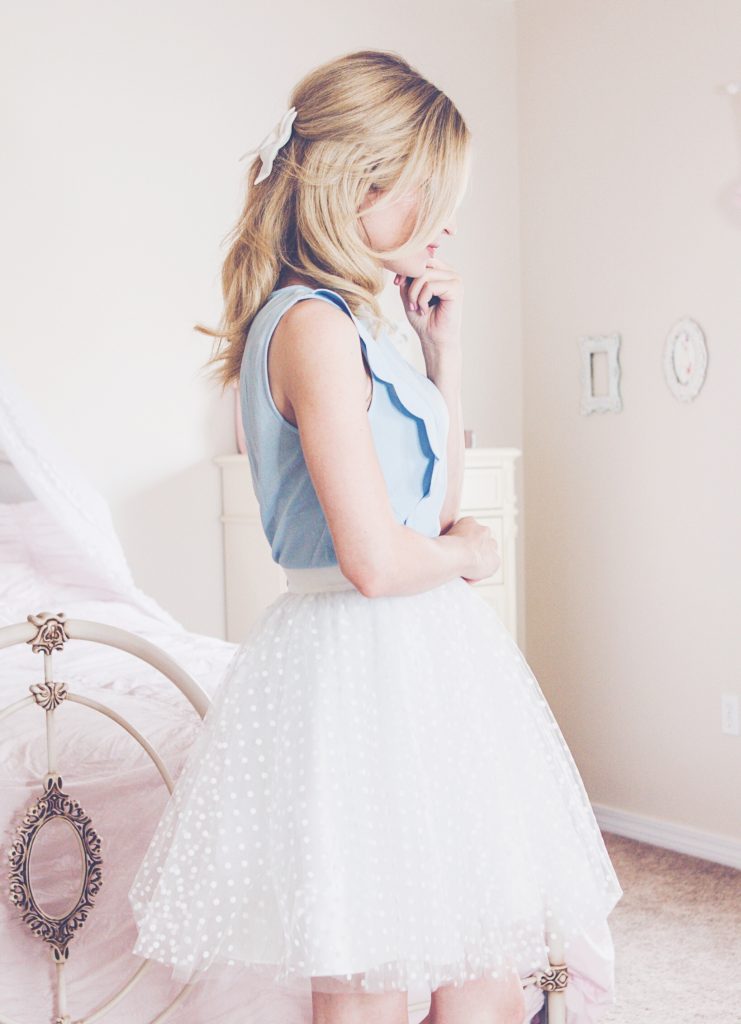 The pink blouse is another great option because of the femininity, color, and ability to pair well with different skirts as well.
Handbags
Adorable handbags that you can interchange with all of your Spring wardrobe looks are another must.
I am a total Kate Spade advocate when it comes to purses.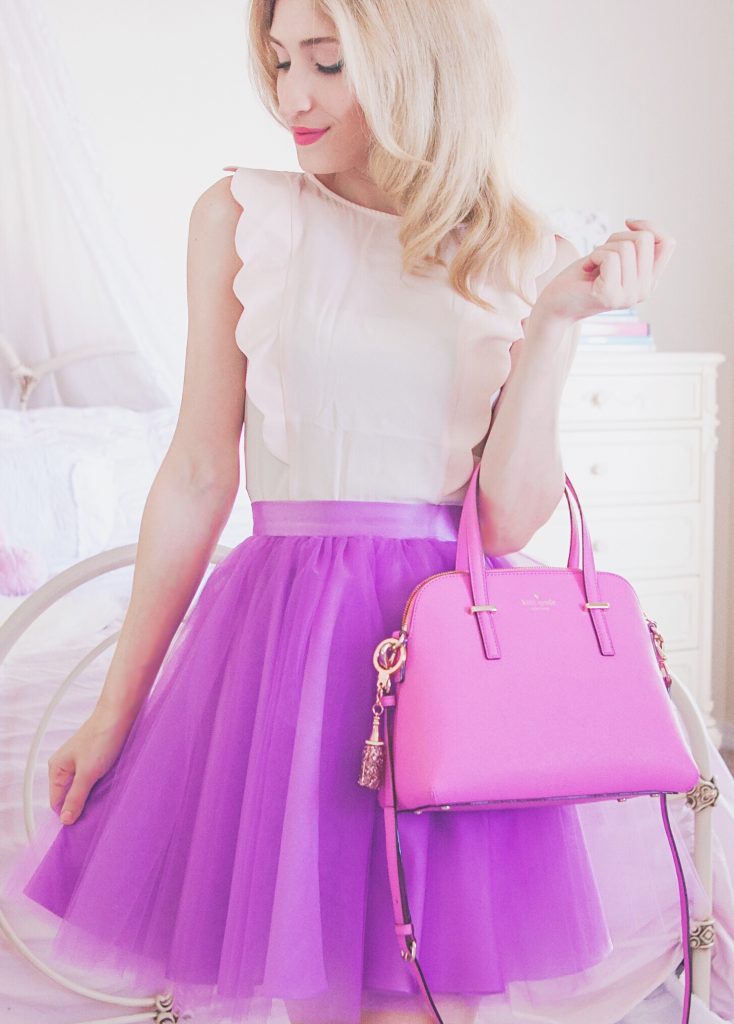 There's so much character & cuteness within the Kate Spade Bag collections.
I just can't get enough!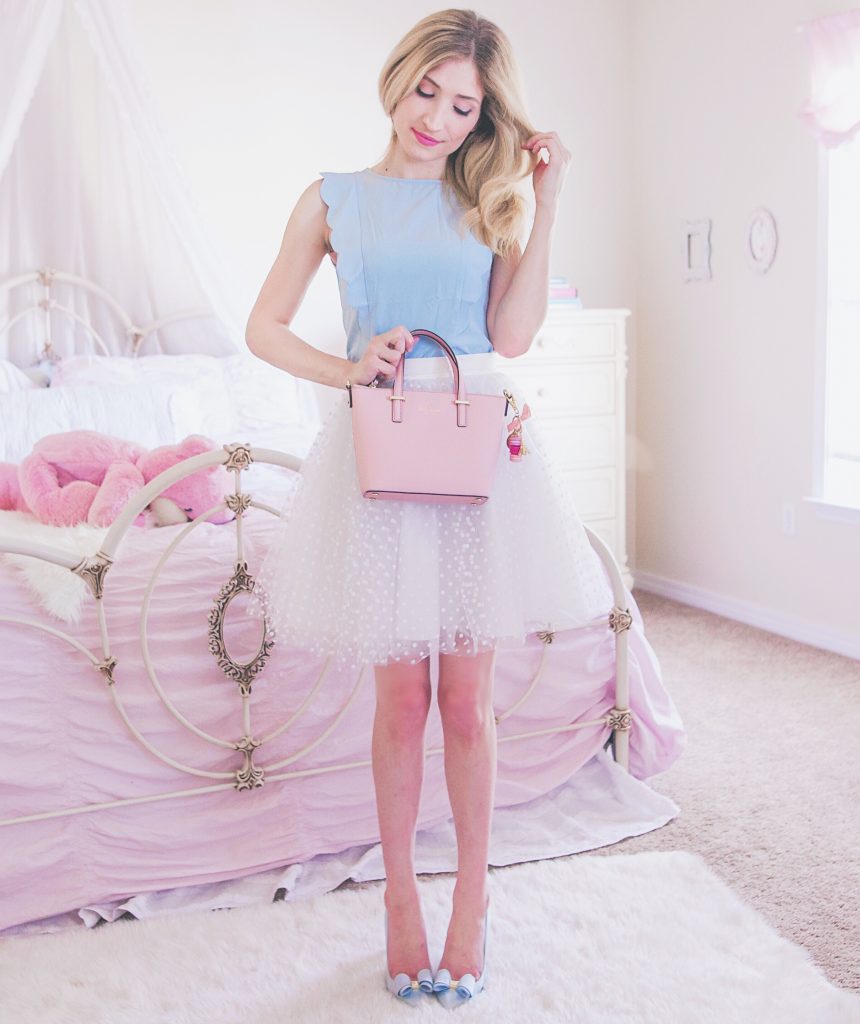 For these Spring looks that I've put together, I paired them with some of my favorite Kate Spade bags at the moment.
Shoes
Opt for shoes that are light color.
Whether you're looking at getting some heels to match your new spring wardrobe or flats.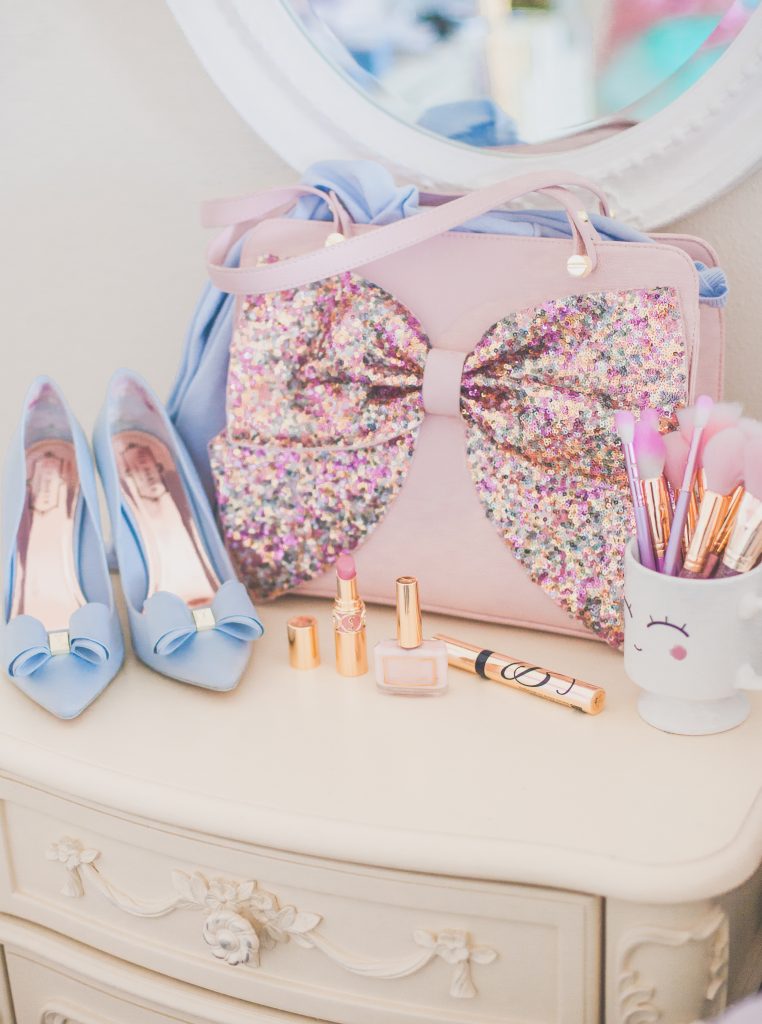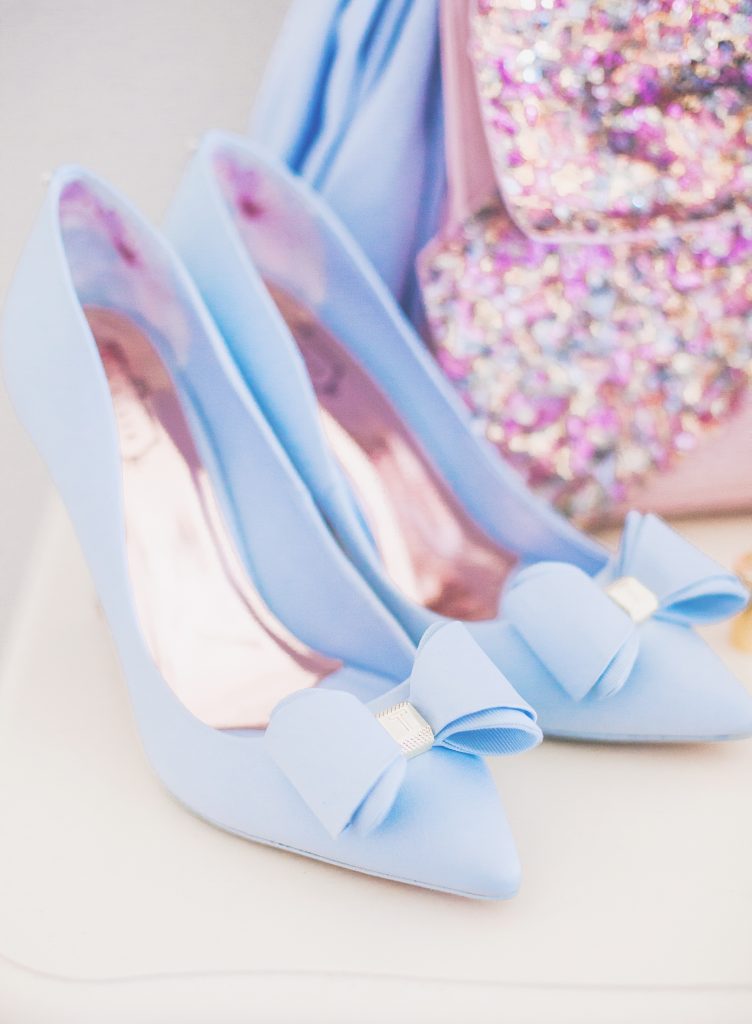 My favorite go-to's are almost always pastels, pinks and nudes when possible.
You can mix these colors up to no end with your fabulous Spring looks!
Shop The Outfit Details
If you like these outfits I put together here are links for them directly or similar pieces.
Blue Top + White Tulle Skirt + Hair Bow + Blue Heels + Light Pink Bag
Peach Top + Purple Tulle Skirt + Pink Bag + Glitter Heels
Pink Bow Blouse + Polka Dot Skirt
Floral Skirt + Mini Hot Pink Bag
How are you prepping your wardrobe for spring?