This post was sponsored by Playtex® Simply Gentle Glide™. All thoughts and opinions are my own.
I think we ALL can agree that our particular 'time of the month' isn't something we tend to look forward to. That is why I've created a simple little routine consisting of an essential list to make this time more enjoyable.
Here's exactly what's included in this list & what I recommend as well!
1. Reliable feminine products.
– This is the most important of them all!
Have you ever stood in the feminine product aisle and felt completely and totally lost?
The number of options is just overwhelming! What has always guided me when it comes to making the right decision, is the simplicity of the product's ability to do exactly what I need, along with the fact of whether it's safe for my body, & the cost.
If something checks that list off, then it's a winner for me. I don't need all of the extra bells & whistles. That only confuses things more for me, honestly.
This particular essential list has led me to be a loyal fan of Playtex® Simply Gentle Glide™ Tampons.
I have used Playtex® products ever since I can remember and even though I tend to avoid topics that get too personal I am proud to partner & share with you a brand that I have always trusted.
Playtex® Simply Gentle Glide™ Tampons are a product that I feel good about using. That couldn't be more of a selling point for me.
A few things that make Playtex® Simply Gentle Glide™ so wonderful…
–  The purified fibers found in Playtex® Simply Gentle Glide™ Tampons are washed up to five times and weaved together to form an absorbent core. The comfort shape applicator is free of colors, dyes, and BPA. 360 Protection™ shapes to your body for a protective barrier against leaks.
Playtex® Simply Gentle Glide™ rigorously tests every ingredient used so that you will feel safe using this product as instructed and be certain that it will work reliably.
If you're interested in trying Playtex® Simply Gentle Glide™ Tampons you can find them at one of the following retailers: (Walmart, Kroger, Target, Walgreens, Safeway, or Meijer). You can also click here for savings on your own box at Walmart!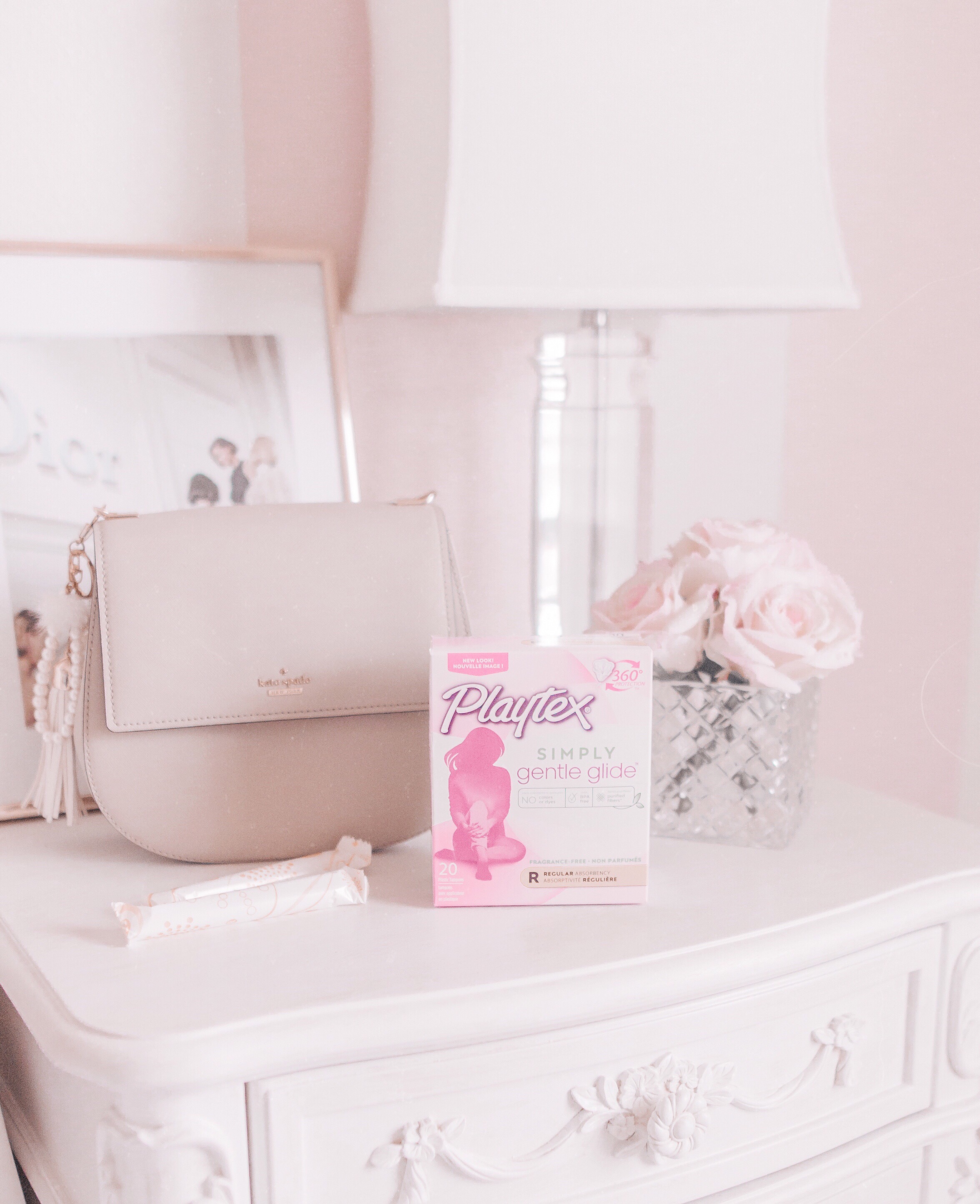 2
. Beauty products.
Here's why these are essential!
–  These make the top of the list not only because they can give a little boost of confidence when we're not feeling our best but also because I find that at this time of the month, it's good to take things a little slower & be easier on yourself.
Why not try some new palettes, switch up your makeup routine, & give yourself a manicure at the same time?
On a regular basis, it can be challenging to find the time to try new makeup looks, test out new products & pamper yourself. I find my time of the month to be the perfect time to treat myself.
3
. An inspiring book.
Why is this such an essential?
– I don't know about you, but when it's my time of the month, I do tend to get a bit moody and am not at my happiest. I find that reading something motivating and inspiring helps to alleviate that and keeps me more positive than I'd be without it.
4
. Undeniably delicious sweets.
Why this is such an essential:
– Ok, you already know why this makes the list! I have a pretty big sweet tooth so I'm wanting sweets ALL of the time. But my goodness, at that time of the month this is just an essential that I find I really need in order to stay sweet ;)
My go-to choices on sweets would have to be chocolate croissants and yummy little macarons! They're like a little pick–me–up for my mood and I wouldn't want to go through that time of the month without them.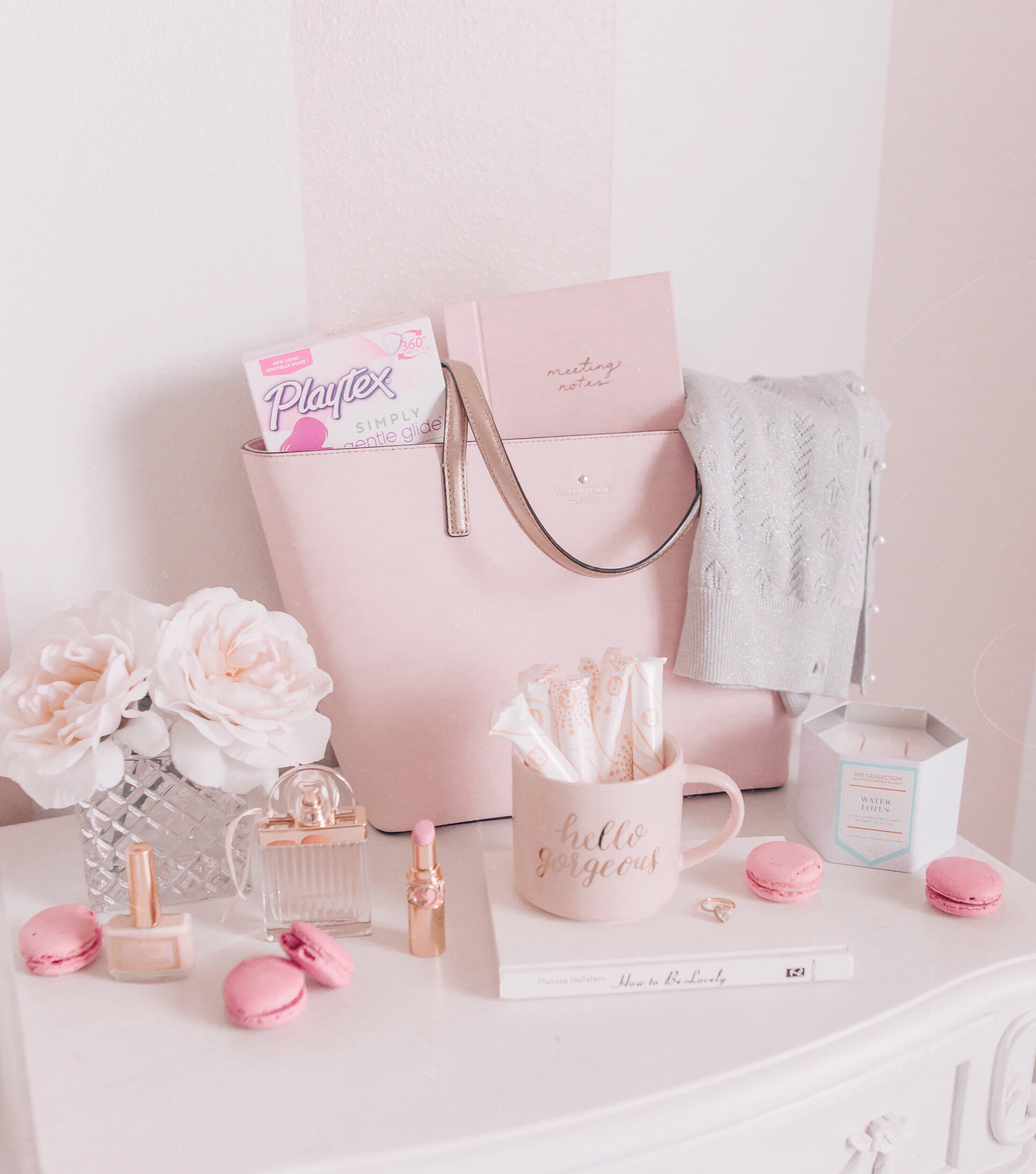 5
. Comfy clothing.
Why this is such an essential:
– Who could resist cuddling up in a big soft blanky while wearing the comfiest, fuzziest & warm clothing? Just the sound of that makes me want to sit and binge Netflix all day!
Comfort, when you're not feeling your best, is such a must. I highly recommend you be as comfortable as you like during this time as well.
Other things that make me feel at home and cozy are lighting candles, watching some of my favorite movies and tv shows as well as planning in my planner. I think these go hand in hand with comfy clothing because all together they will help you to feel in a better mood.
 Make sure to check out this hilarious video by Playtex® Simply Gentle Glide™. Sometimes I can't believe how extra things have become. I'm so thankful I have Playtex® Simply Gentle Glide™ to keep things simple!
Do you have a routine for that time of the month??
xo.