Next up is our kitchen which I call the Kitchenette because it feels a bit small. It initially felt a bit dated for me (will share before photos at the end of this post). However, I felt like the kitchen really had the potential to be cute with some paint, new lighting and new hardware.
Once I was able to begin the project, that's exactly what I did. I was most nervous about the cabinets because I really didn't want to mess them up with my attempt to make them look better.
Eventually I talked myself into it and said worst case I can fix it. What also helped relieve my anxiety with changing the cabinets was finding the right kind of paint. My worst nightmare was to paint the cabinets to only have the paint on them eventually begin to peel and look gummy.
The paint I used for the cabinets is a mineral paint by Heirloom Traditions. This kind of paint can handle areas that can a lot of traffic like kitchen cupboards. I chose a color that was a creamy white since the walls and almost everything in the home is white I wanted to contrast it a bit. However, the color I ordered did come off a bit more yellowy which was not the intended goal and since painting and doing these photos I've balanced out the color a bit by adding a pure white to achieve that true cream look.
I began painting the kitchen in February, it's now May and the cupboards are really holding up well.
Now for the hardware, because that is truly a showstopper in the kitchen. I wanted to show off a few different styles, because I loved them all and liked the idea of having some versatility. Naturally I went with a gold, an unlacquered gold to be exact which changes color over time. How cool is that? There's just something so beautiful about cream and gold hues together. All of the hardware is my Emtek. They truly are a go to for beautiful pieces for your home.
For the kitchen we went with these cup pulls, linked here, gorgeous appliance pulls for a towel under the sink and to open a few cupboard doors in another spot, linking those here, and lasting the adorable egg knob pulls linked here.
They truly are so beautiful combined and I love that we're already seeing the brass change to a darker color.
To add a touch of elegance I added crystal chandeliers and a crystal flush mount. The bar area I wasn't too crazy about having but adding the adorable gold foil stools from Safavieh made it so much better linking those right here.
That's just about sums up my little kitchen makeover. In the future we will most likely do something on a much grander scale but for now this will do just fine.
xox,
Lex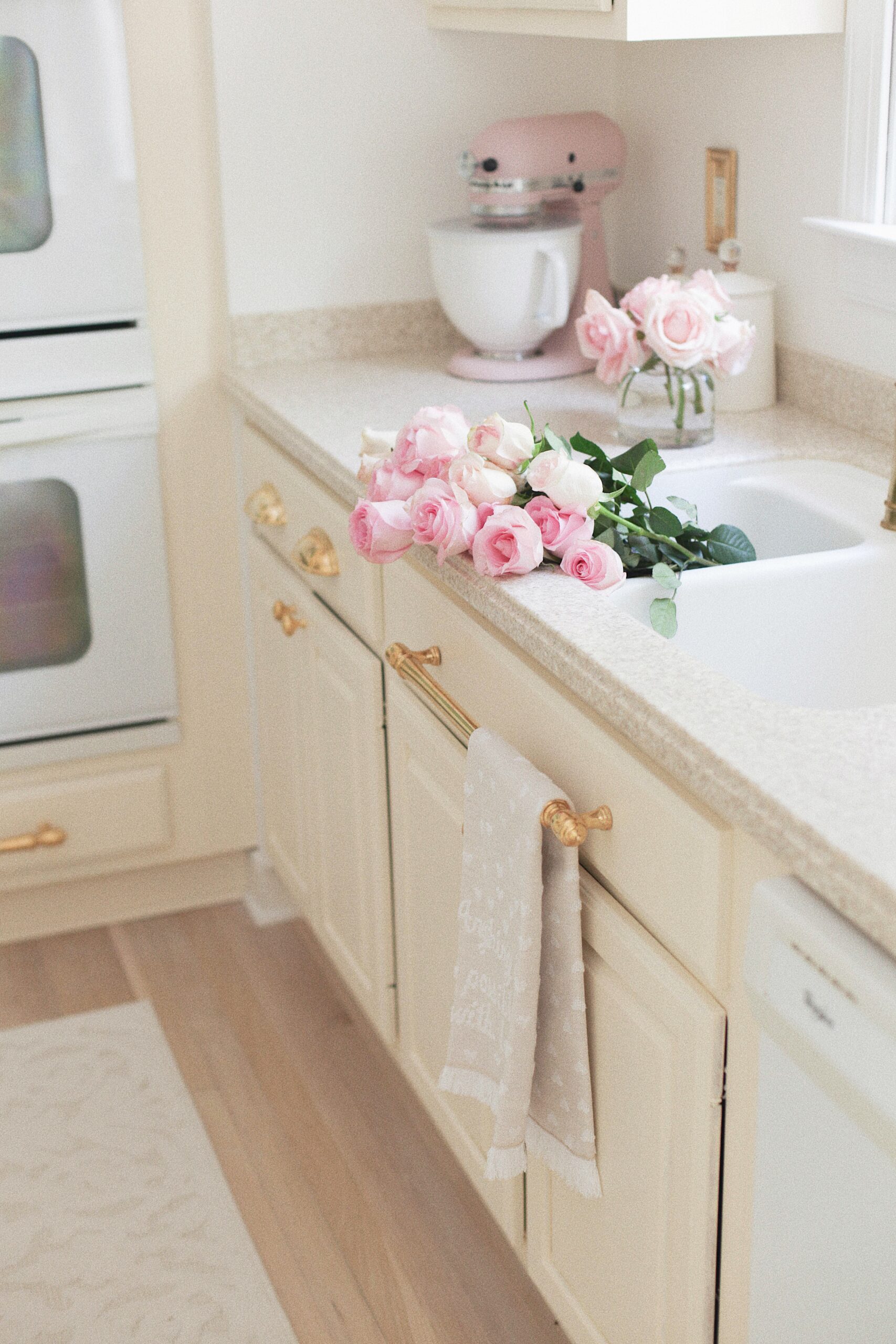 Before I go, here's the before shots!