The Kate Spade New York Small Harmony bags are some of the most popular bags they sell. There's a pretty good reason for this. These bags are very durable, adorable, and can hold quite a lot and for not too much either. Kate Spade New York Small Harmony Pink Bon Bon & Rose Gold is my favorite of all.
What is it?
This review is for the small version of the Kate Spade New York Harmony purse. It's the in-between size of the tiny Harmony and the Medium. It's actually the perfect option of the three because it's not too small and it's not too large like I found the Medium version to be.
I know that can be a bit a bit confusing because you'd expect the medium to be an actually medium-sized bag but it's not. It's pretty large actually and sometimes just too much to carry around.
 Size
The Small Harmony bag can hold a decent amount of your pretty little things. For example, in my bag, I can hold a travel-sized wallet, an A5 sized planner, book, perfume, makeup essentials, pens and other small misc items like your phone.
Quality
The quality of the bag is exceptional. I've had my small harmony tote for about a year now and it's still as fabulous as the day I got it. Keep in mind, aside from my personal belongings I have to throw in diapers, food snacks and other items for my littles.  I try to take the best care of my bag as I can but a lot of times I'm in a rush. This means I don't always handle my bag with the best care but it still holds up great and looks fabulous too.
This bag has a scratch resistant surface which is perfect for its light shade of pink. When it comes to getting bags in such light shades, typically it's a frightening thought. You want the bag to stay that same darling shade of pink but everyday usage could threaten that possibility. Because of the texture of the bag the color remains the same regardless of everyday usage.
That's a total win for me! Out of my whole collection of bags, I can't stop reaching for this one. That's because out of all of my bags this one holds just the right amount and isn't too obnoxious in size.
It's All In The Details
The Kate Spade New York Small Harmony doesn't have any details that pop that I normally love in a bag, like a big bow for instance. That fact doesn't stop it from getting plenty of compliments though, which at first I found pretty surprising.
The bag has lovely little gold details that pair beautifully with the shade of bon-bon pink.The inside of this specific small Harmony bag has white and black polka dot silk-like lining.It's incredibly cute but doesn't hold up as well as the exterior of the bag.
Mine is still in pretty good shape but I'd recommend you be very careful with pens, liquids and anything that could stain.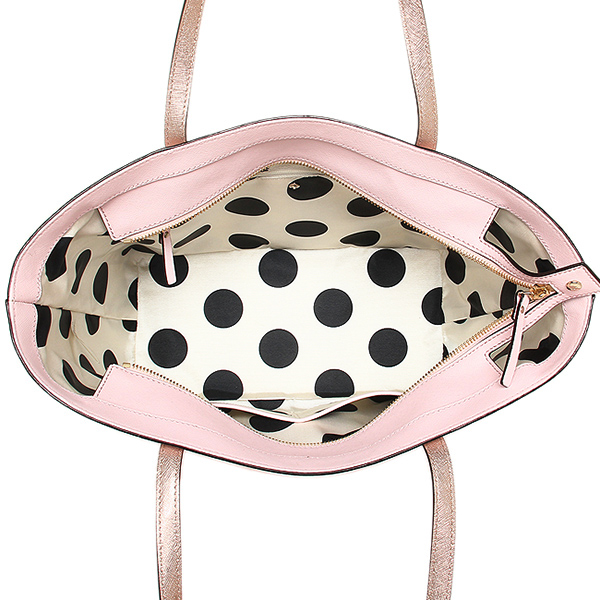 What would be the best uses for it?
This bag makes for a perfect everyday bag. Take it with you to work, school, and running errands. The straps on this bag make it supportive for carrying more items and for everyday use.
The Kate Spade New York Small Harmony is not ideal for going out at night or for any kind of special events but you'll find yourself grabbing this bag for just about everything else like me.
Where can you find it?
You can find this bag at just about any place that sells Kate Spade items. That includes Kate Spades very own website ( I recommend always checking here first because you can find the best deals and get a 15% off coupon). Also check Macy's, Bloomingdales, Lord and Taylor, and Nordstrom.
Since the Kate Spade New York Small Harmony is one of the best-selling bags you'll find it available in several different colors every season. It's also worth looking at every single store to see what your different options are for colors. Some of the department stores have Kate Spade exclusive colors and designs that you won't find anywhere else. Not even at Kate Spade.
Now if you want this specific bag that's going to be a bit more tricky. This bag was a special design sold only last December. It's a darling light shade of pink with rose gold handles and the polka dot interior lining that I previously mentioned.
Don't give up hope though because there are ways that you can still find this exact bag if you really want it.
Look at eBay, Tradesy, & Poshmark.
You'll either find yourself a pretty good deal, that means a selling price below the original cost which I believe was around $250. Or you'll find yourself paying an inflated price. That's common with Kate Spade bags that were available temporarily and completely sold out.
Take, for example, my Kate Spade Kitty Maise handbag, or Kate Spade Cupcake Handbag. These two are now selling at the same price they originally sold for and inflated prices because they're highly desired and hard to find. I also can't wait to share my reviews on those with you too. They're so darn cute!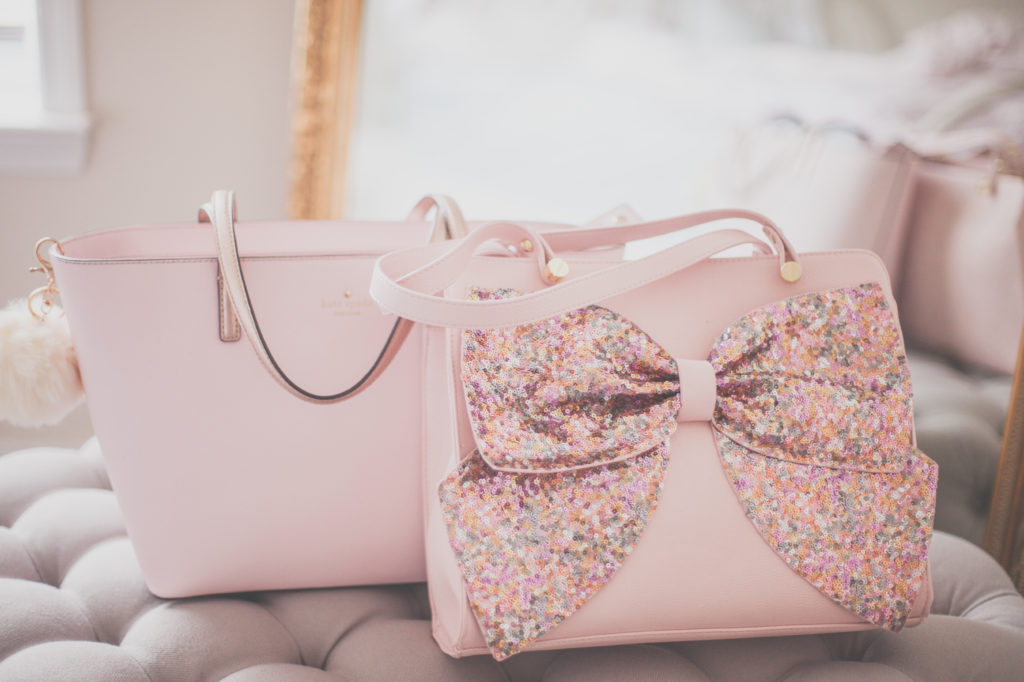 Final thoughts..
If you're right now looking for the perfect bag and you have this on your mind, get it, girl!I couldn't recommend it enough. I really do LOVE this bag and I couldn't be happier that I got it. Like I said it's a bag you're not going to forget about and with all of the bags I have it's an easy thing to do.
I know for some ladies, having one bag is the only option and I totally understand. If that happens to be you go with the Kate Spade New York Small Harmony. You won't regret it. It should meet your needs and wants and girl it's going to make your outfit look that much more fabulous while doing it.
Looking for the review on other bags? Look no further! Just click right here.
What bag can you not stop gushing about? Tell me below!