Thank you HGTV HOME™ by Sherwin-Williams for sponsoring this post. Visit HGTV HOME™ by Sherwin-Williams for the latest in color inspo and get started on your home project today!
I don't know about you but I've had so many ideas as to how I want to begin this year fresh and all of the wonderful things I want to do.
For quite some time now I've wanted to do a little special painting project and to kick this year off to a fabulous fresh start that's exactly what I've done.
In this post, I'm sharing all of the details with you and it's been so hard for me not to share them with you sooner!
For SO long I've been wanting to add some serious pink hues to the walls of my bedroom.
The bland shade of beige that the walls had already been painted has been wearing me down. Silly, I know but I have always been such a fan of adding color to walls.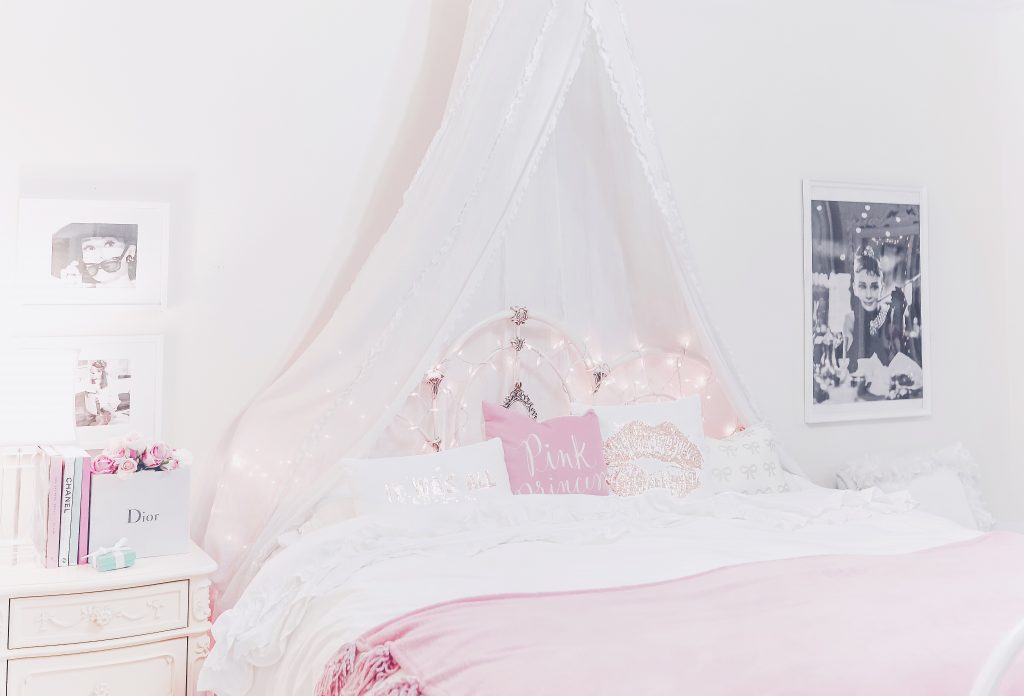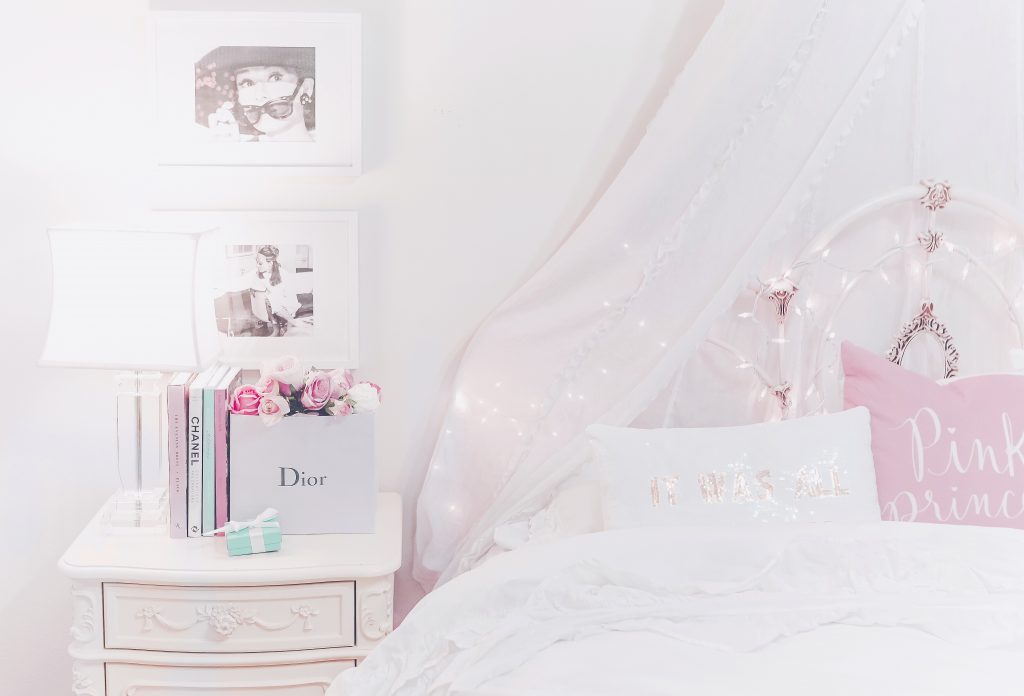 Ever since I was a little girl I would paint my room and help my family by painting other rooms in the house when it was time do so.
There's something so therapeutic about it and that I also find exciting. It's one of the reasons why I have always been so crazy about the HGTV channel. I LOVE to see before & afters.
It just makes me feel so excited to see transformations of spaces that may have been dull and then converted into pretty little havens.
Paint can have such a magical effect, I swear by that.
When it comes to the details of this project I had envisioned for my bedroom, I wasn't desiring just pink plain walls. I wanted something with character and that would really stand out.
My vision was to do a striped accent wall like that of the walls you'd see at maybe one of your favorite lingerie stores or a candy shop parlor. I wanted it to be fun & pretty!
I only chose to do an accent wall because I felt that if I had done every single wall it may have been too much.
However, I really needed some help with it came to color options. Of course, I knew I wanted it to be pink but how can one choose out of all the hundreds of pink hues there are?!
I also wasn't sure what color I would pair the pink with for the striped accent wall as well. That is where the HGTV HOME™ by Sherwin-Williams new 2018 Color Collections of the Year really helped me.
With four on-trend Color Collections of the Year from HGTV HOME™ by Sherwin-Williams, it's easier than ever to bring harmony to your home. Each Color Collection has a range of colors that go together in any combination, helping take the guesswork out of choosing color and giving your home a sense of room-to-room harmony. All you have to do is choose the designer-inspired look you want to achieve from themes like Next Journey, Future Thinker, Thoughtful Living or Individual Mix.
By looking through their 2018 Color Collections of the Year I easily found a pretty pink shade from the Thoughtful Living Color Collection. To be exact, this pink shade is known as Charming Pink (HGSW2047) a color from the HGTV HOME™ by Sherwin-Williams Thoughtful Living Color Collection.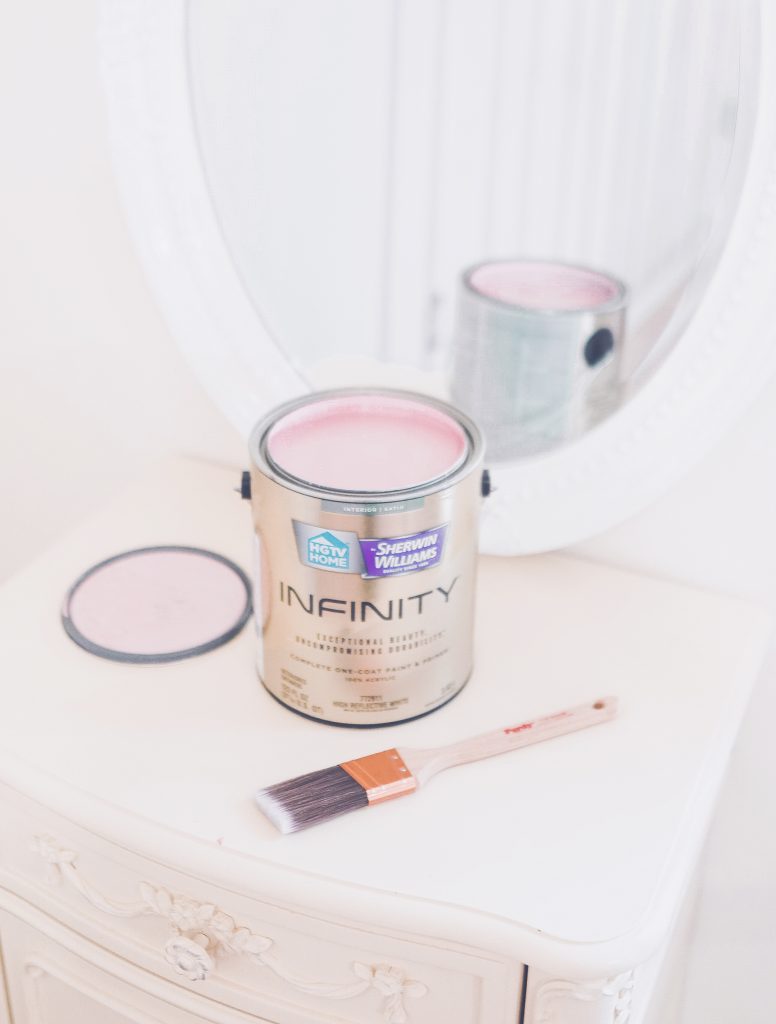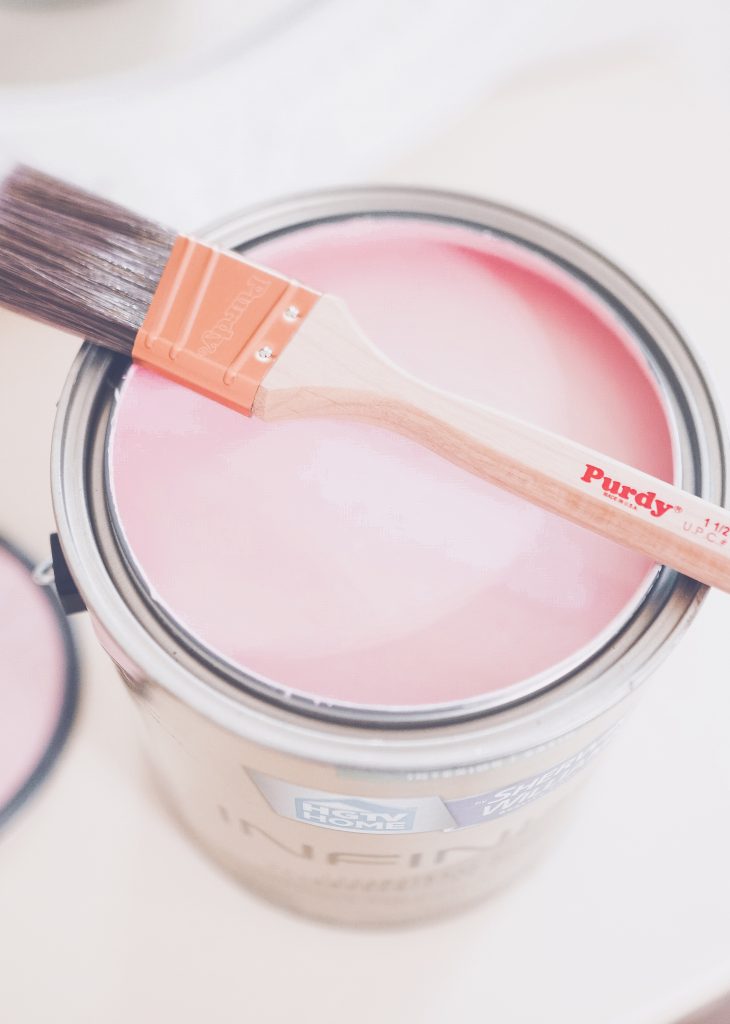 In this Color Collection, you can see colors that coordinate together and take the guesswork out of knowing which shades pair best. What is also pretty neat about these Color Collections is that they help you choose color pairings beyond paint.
If you're needing a little help with decor around the house, fabrics or whatever else, using these collections as a guide for what to pair helps there as well.
I chose to contrast the pink stripes with a second color from the Thoughtful Living Color Collection, Snowbound (HGSW4062).
Thankfully the color selecting process was much simpler than I expected it to be.
Next would come the hard work of bringing this vision I had to life.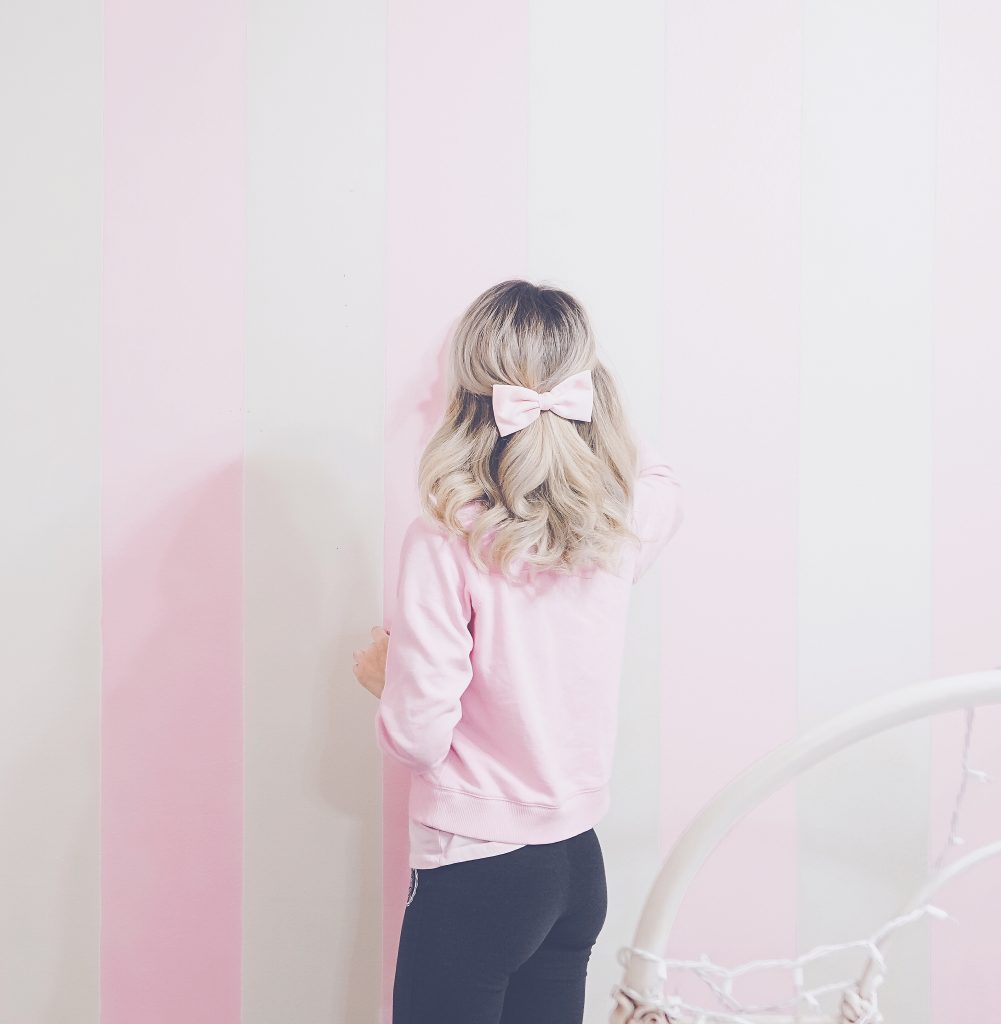 The hardest part really was taping the wall to get the stripes just right. We did the best we could (big thanks to my hubby!) and then the painting process began.
The wall I chose to do this project on is a pretty large wall. It's at least 10ft in height and very wide. Surprisingly though, it only took me a few hours to paint both colors.
I first had to paint the Charming Pink. I then waited for it to dry, which didn't take long, and then retaped the wall to then paint the Snowbound white on.
Here are a few important things I noted from using the HGTV HOME™ by Sherwin-Williams INFINITY Interior Paint and Primer.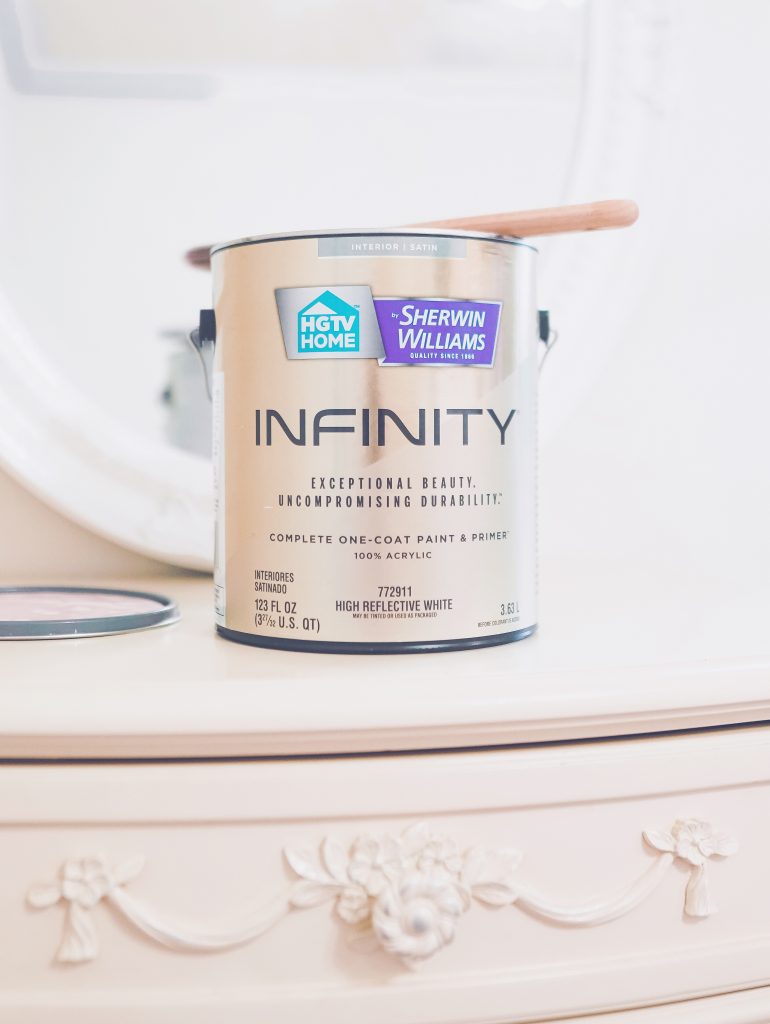 Unlike other brands I've used and other types of paint, one coat really was enough.
The paint actually went a lot further than I thought. Initially, I thought I would need more but I actually used way less than I ever imagined.
There were hardly any fumes. Paint fumes usually give me a headache while painting but with this paint, I could barely notice them. It made it a lot easier for me to get the job done without a headache.
As for the final result, I seriously can't even begin to tell you just how happy I have been with it.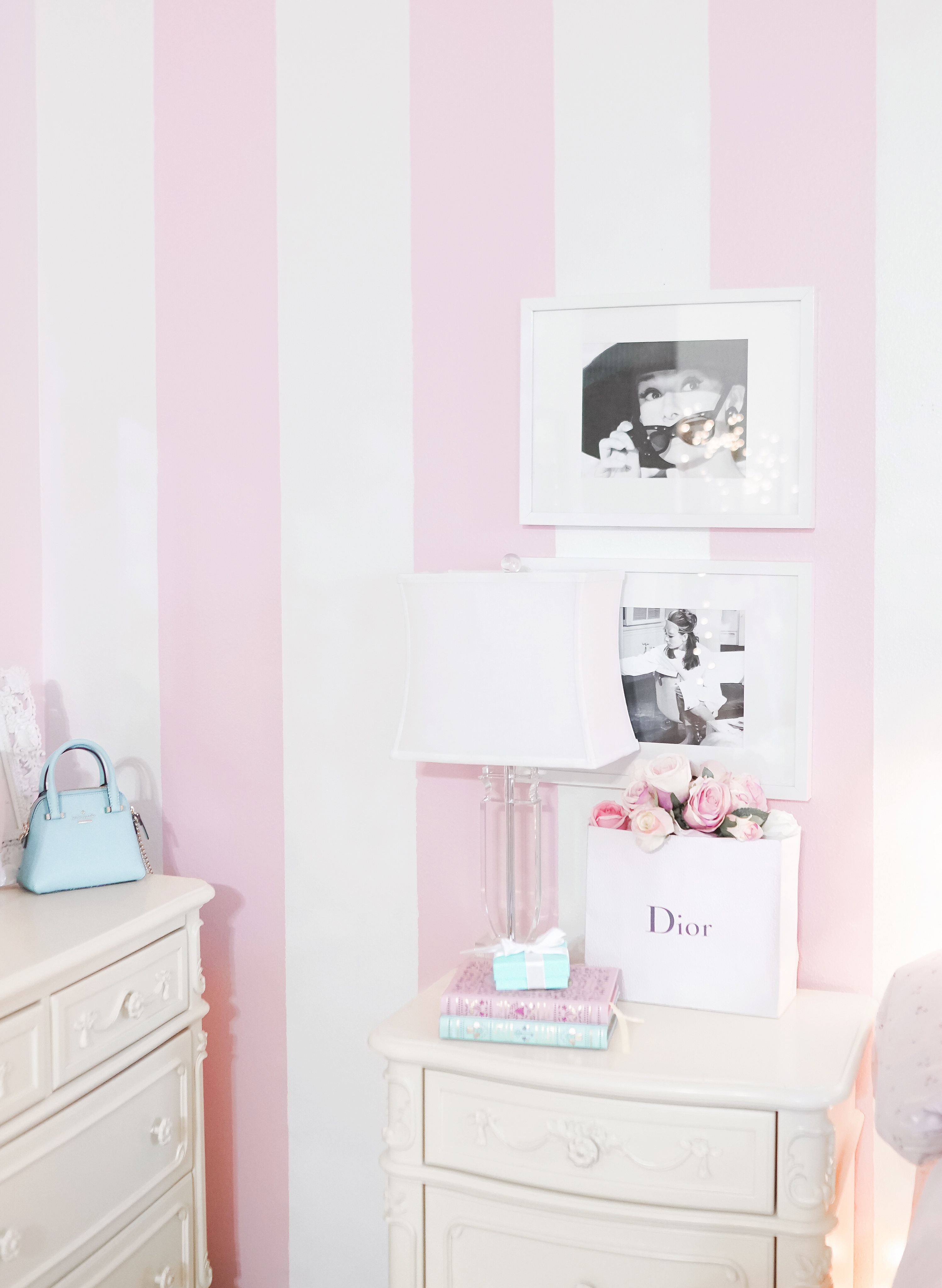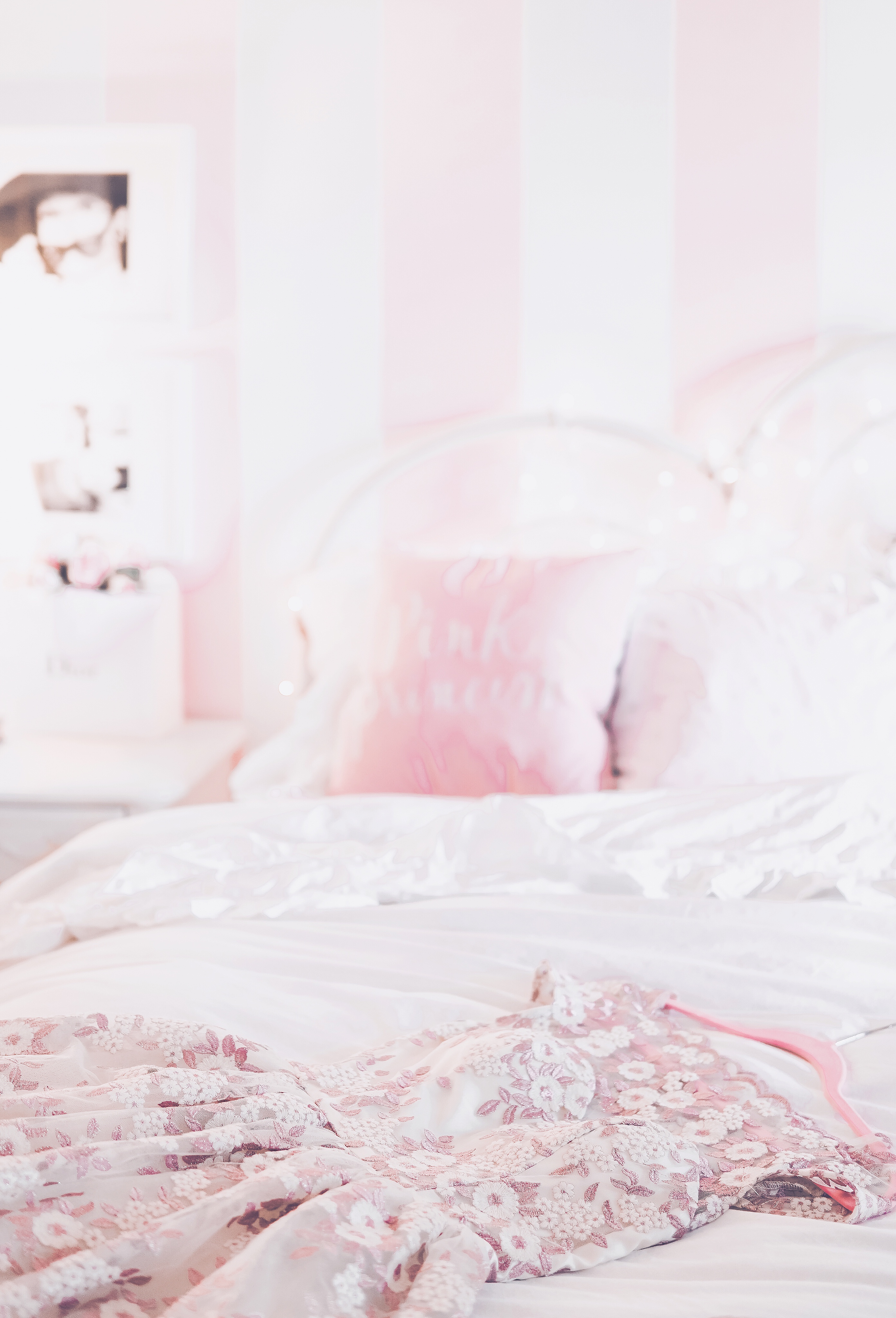 Like a giddy schoolgirl, I keep finding excuses to go up to the bedroom throughout the day just to catch a glance of these pretty candy-like stripes! I LOVE it!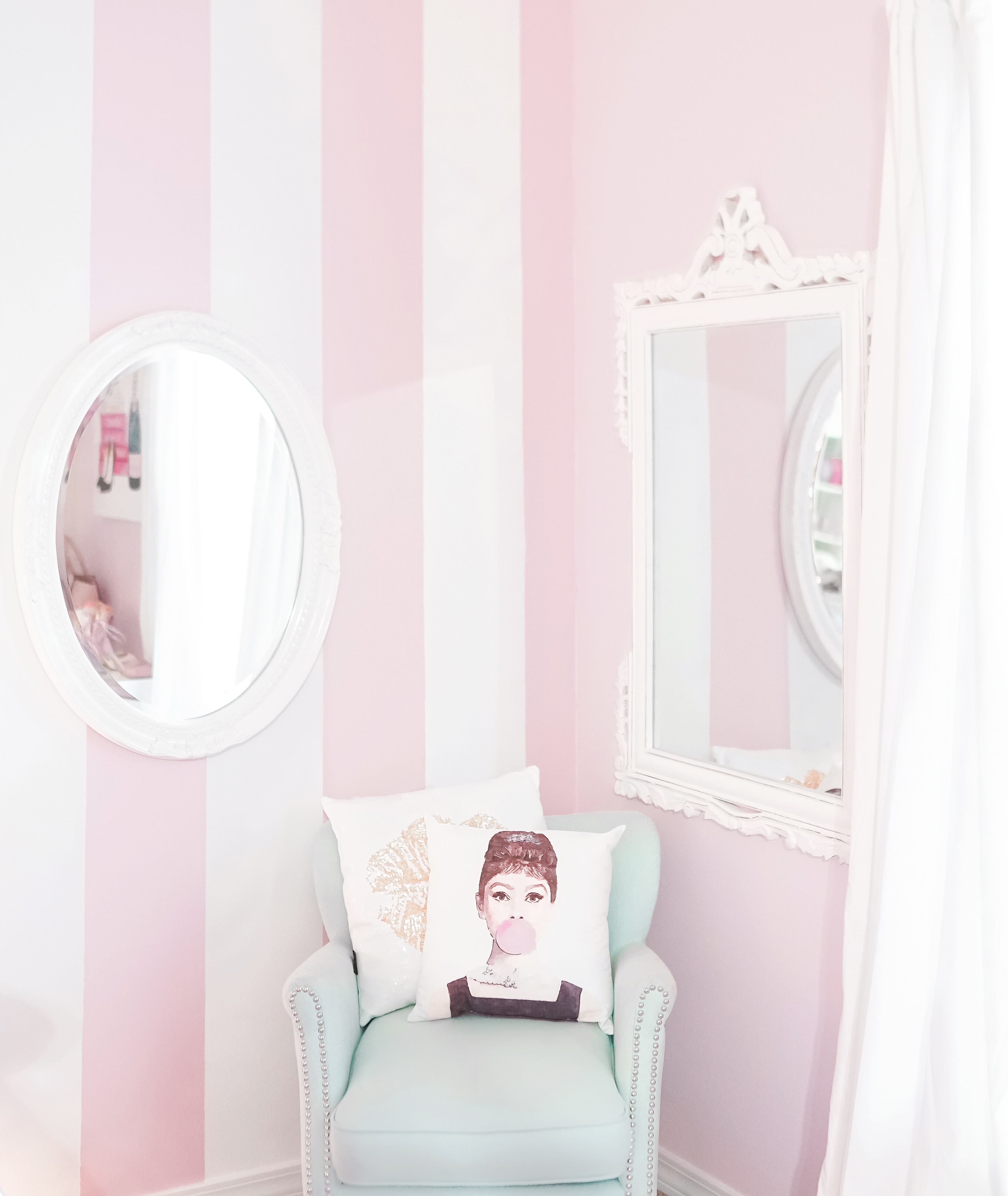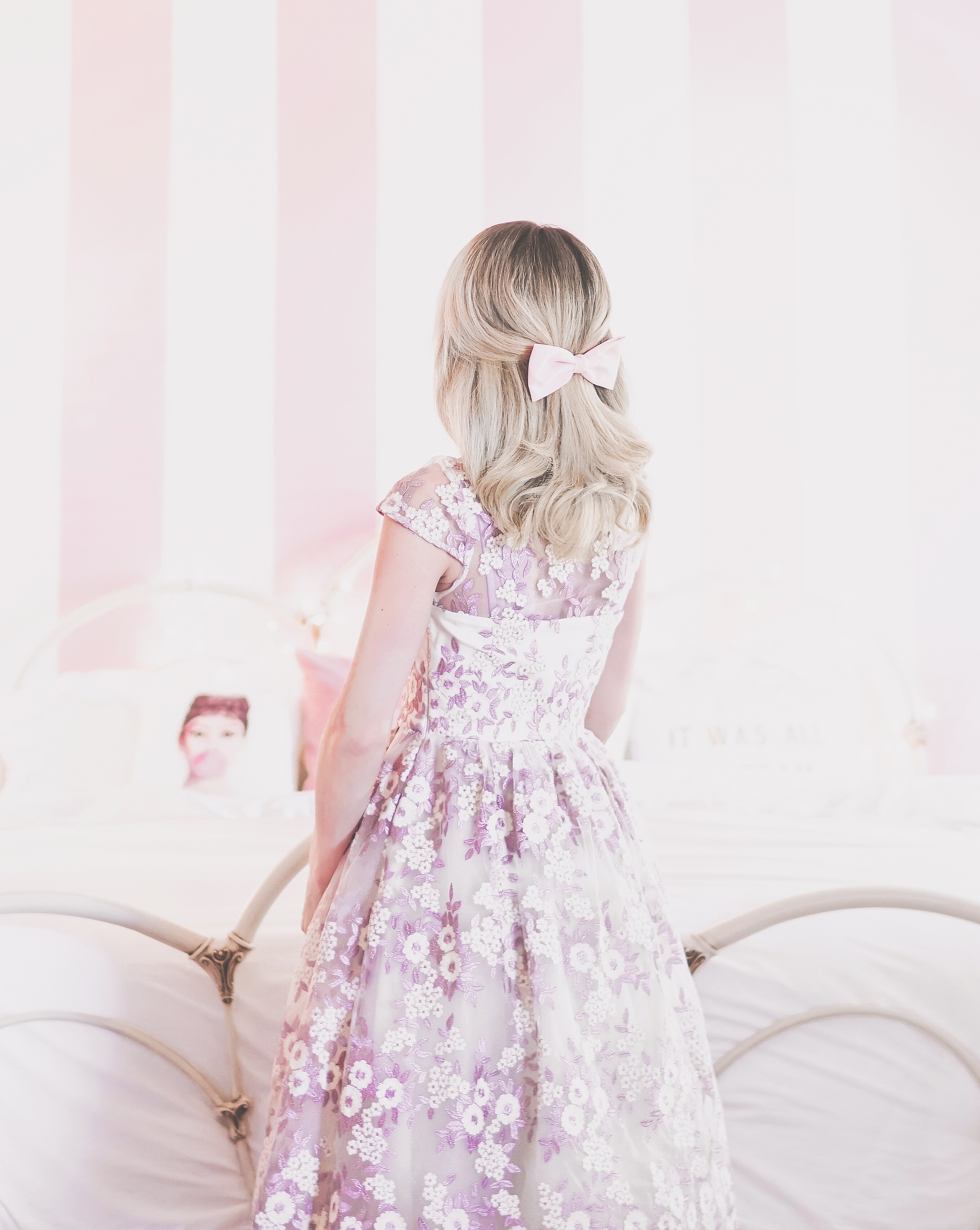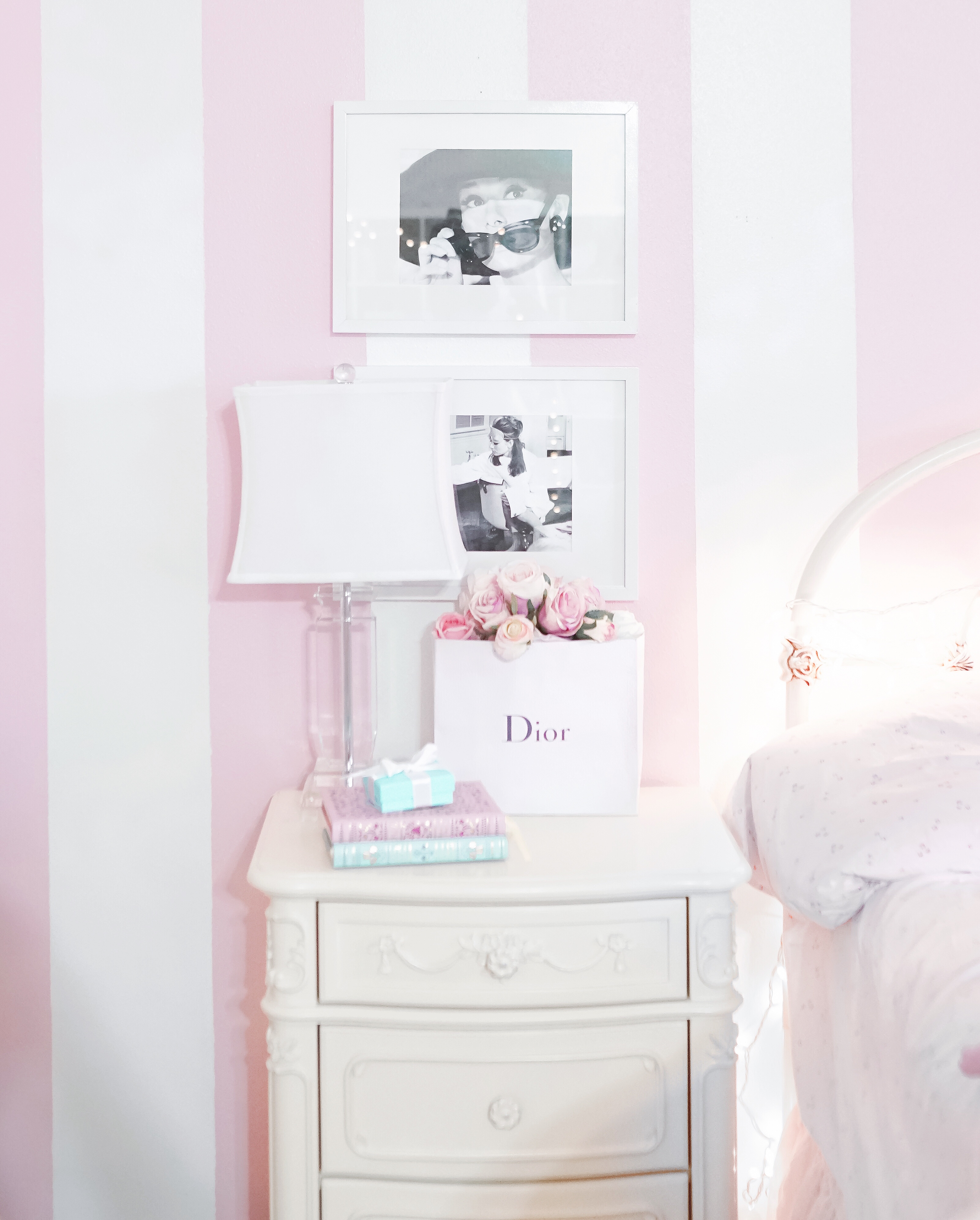 This project took a bit of work but it was well worth it. I also would recommend to you if you choose to do a paint project for this year to try the HGTV HOME™ by Sherwin-Williams Color Collections for yourself. I absolutely doubt you'll be disappointed.
I was selected for this opportunity as a member of CLEVER and the content and opinions expressed here are all my own.