I'm so happy to finally reveal to you one of the most exciting & time-consuming home decor projects that I have ever done. It's taught me so many lessons, most important of all, patience.
To bring this room to life, it relied heavily on finding truly unique and one-of-kind pieces. Items such as those don't just pop up overnight nor all at once. It takes almost 24/7 surveillance of the Facebook marketplace along with a willingness to go whatever distance to find the "one".
This bedroom makeover all began with a vision, as most of these kinds of things do. Inspired by this crazy year I was determined to turn that vision into a reality.
I have felt pushed to transform my interior spaces, now more than ever. Driven with an intent to find a positive outlet and a way to also find some kind of control in my life, through all of the uncertainty and chaos that this year has brought.
My bedroom is truly my haven and I wanted to bring to life a space that would allow me to feel peace and calm. I couldn't be more in love with how it turned out.
I can't explain to you just how exciting it was to work on this! It was so Incredibly different than just ordering mass-produced pieces online and waiting for them to show up. It was an actual treasure hunt. Finding pieces that resonated with myself and with the vision I had for this room. Pieces I know that would be difficult to find again. Beautiful treasures that I'll want to keep and cherish forever.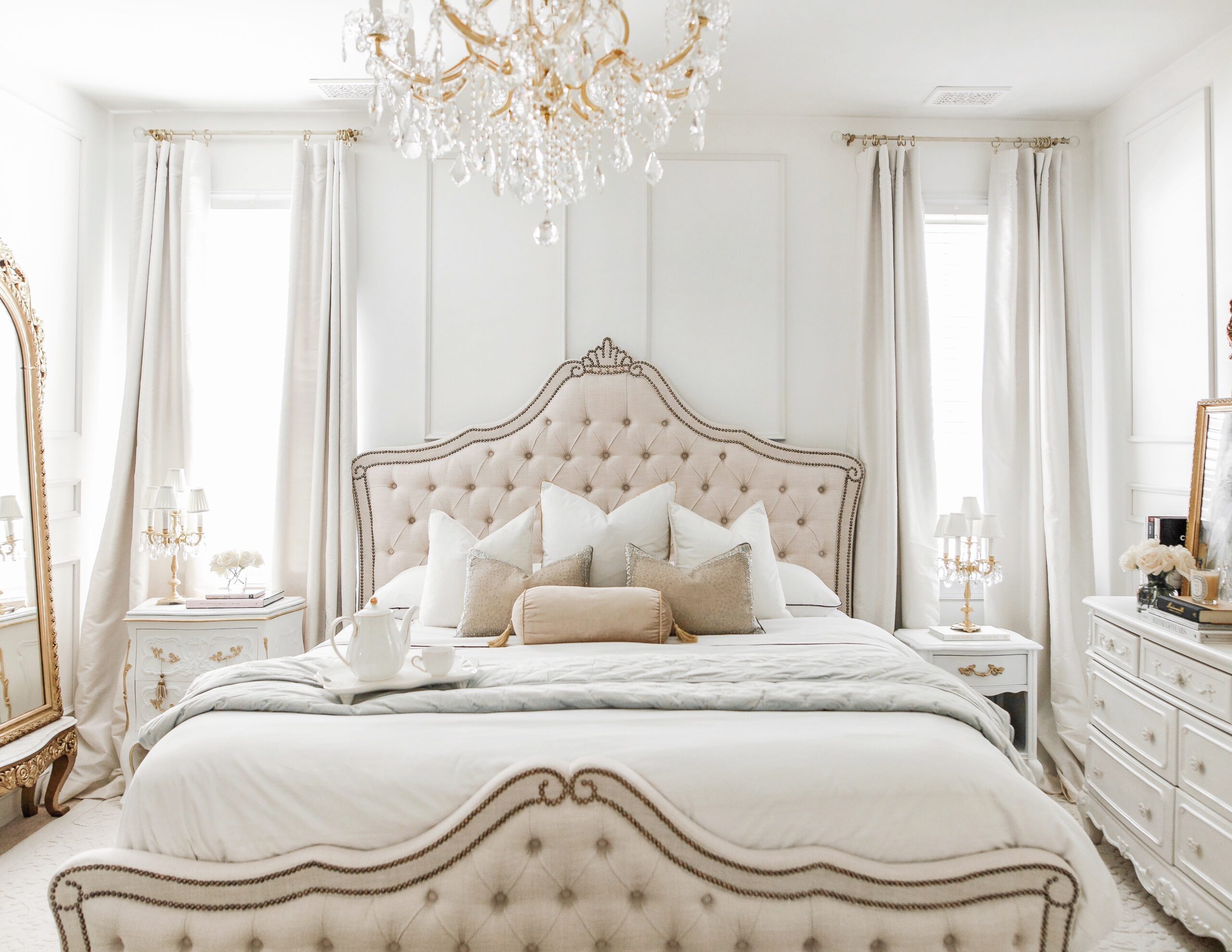 Now before we dive into the makeover, let me first share with you the room before and the problems with the prior designs…
the room before
One of the main issues before was that only sections of the room were given focus at a time. The room lacked consistency and a theme. While I did spend time adding in new pieces that I loved on a whim, inevitably I ended up with a room that wasn't flowing right.
Another problem was that I styled parts of the room to be changed and moved around when I got bored. I have always kind of been that way. However, it was time to evolve.
My long term goal would be to design areas of the room in such a way, that they wouldn't need to be continually rearranged.
Now let's talk about the paint. This room initially began with a pale pastel blue color that I never showed you. I thought I wanted it but the room ended up being too cool throughout the day, making this color choice a very unappealing idea. I next chawed it to what I had hoped to be a muted, pastel blush color. Again, the cool light in the room made this to be too purple looking and not favorable.
I finally settled on a creamy white, "simply white" by Benjamin Moore. My walls would now act as a blank canvas, allowing my future theme to shine. The creamy color stays beautiful throughout the day and also gives the room a much larger and brighter feel. With this important step out of the way, I was getting closer and closer to having the room I desired.
creating a theme
The idea for a new theme was a simple process because I already knew what I wanted. And while bringing the new room to life, the original theme did evolve a bit. However, it stayed in the realm of having a consistent vibe while embodying elements that I love most from popular French interiors.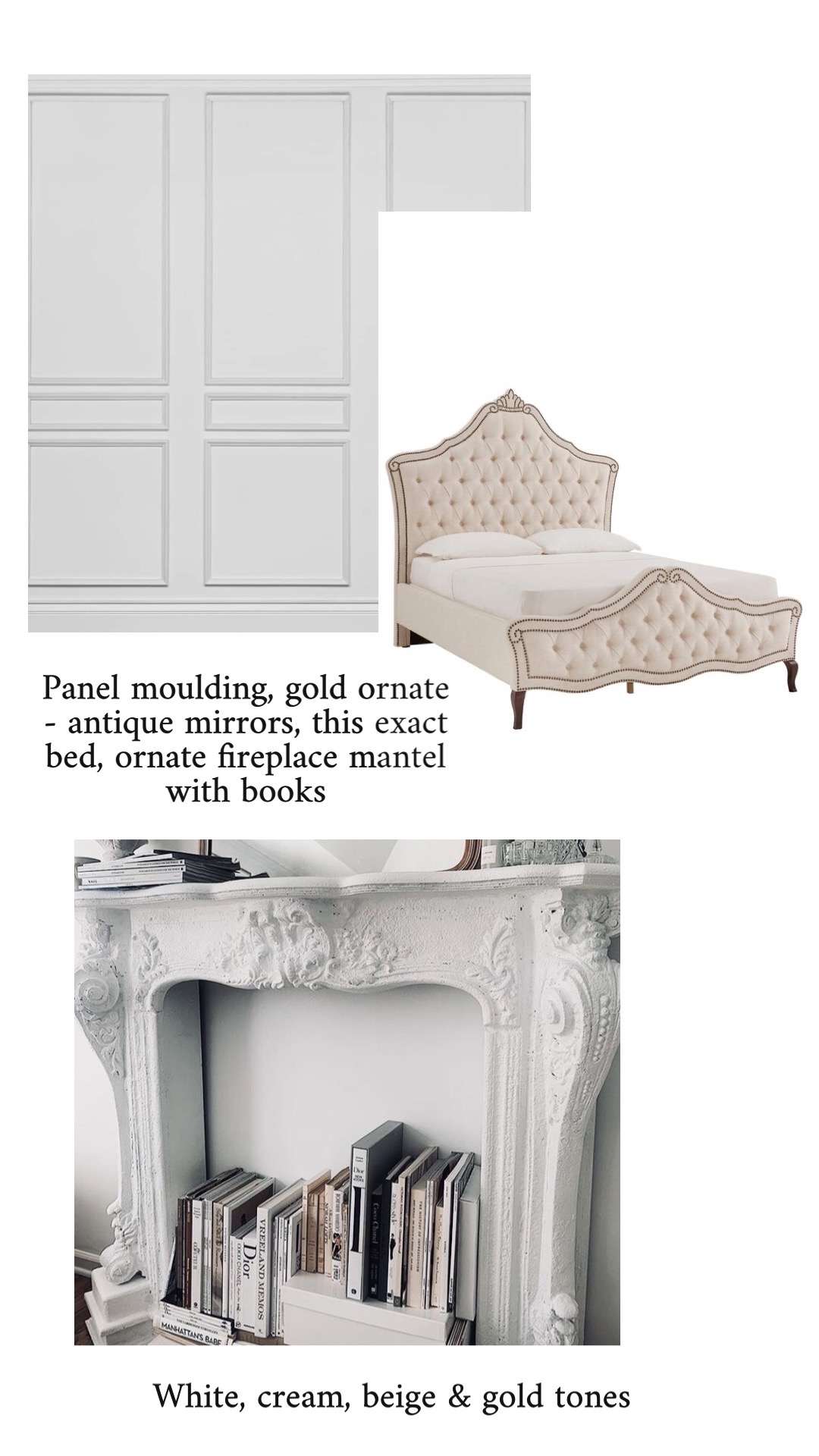 The theme – Parisian apartment & Marie Antoinette's Versailles
This theme was heavily Parisian apartment inspired with a touch of Versailles. Naturally, for the Versailles touch, Marie Antoinette came to mind. She was known for her love of accessories, fashion, and femininity. This inspiration was carried out through showcase of accessories in the room, fresh florals, rococo portraits, and rococo styled furniture ( Louis XIV style but still has the Marie vibes), girandole crystal table lamps, tassels, silk taffeta drapery, and candle sconces.
Some of these things can be found in Parisian apartment interiors as well. Initially, when I began with the theme of a Parisian apartment, I wanted to create that vision into the room through panel molding, baroque a fireplace mantel, gold ornate antique mirrors, antique-style tufted crown bed, and crystal chandelier.
And to bring in a personal & modern touch I added some of my favorite fashion magazines and books that are styled throughout the room.
the essential list
To start this project, I began with a list of essentials that I knew I just had to have to bring this space to life. To be exact these essentials were:
a new bed,
molding for the walls,
a French-themed fireplace mantel,
a breathtakingly beautiful chandelier,
crystal doorknobs,
and beautiful antique mirrors.
I knew if I could at least just get these pieces, the room would have the foundation that I was going for.
moulding
I began acquiring the essential list with the one thing I have been wanting to do for so very long which was adding panel moulding. Nothing quite adds that touch of elegance in the way that panel moulding does. I tried to find what would be the most practical solution for my room. Doing the traditional kind of moulding application would cost too much and take too much time that I knew we didn't have.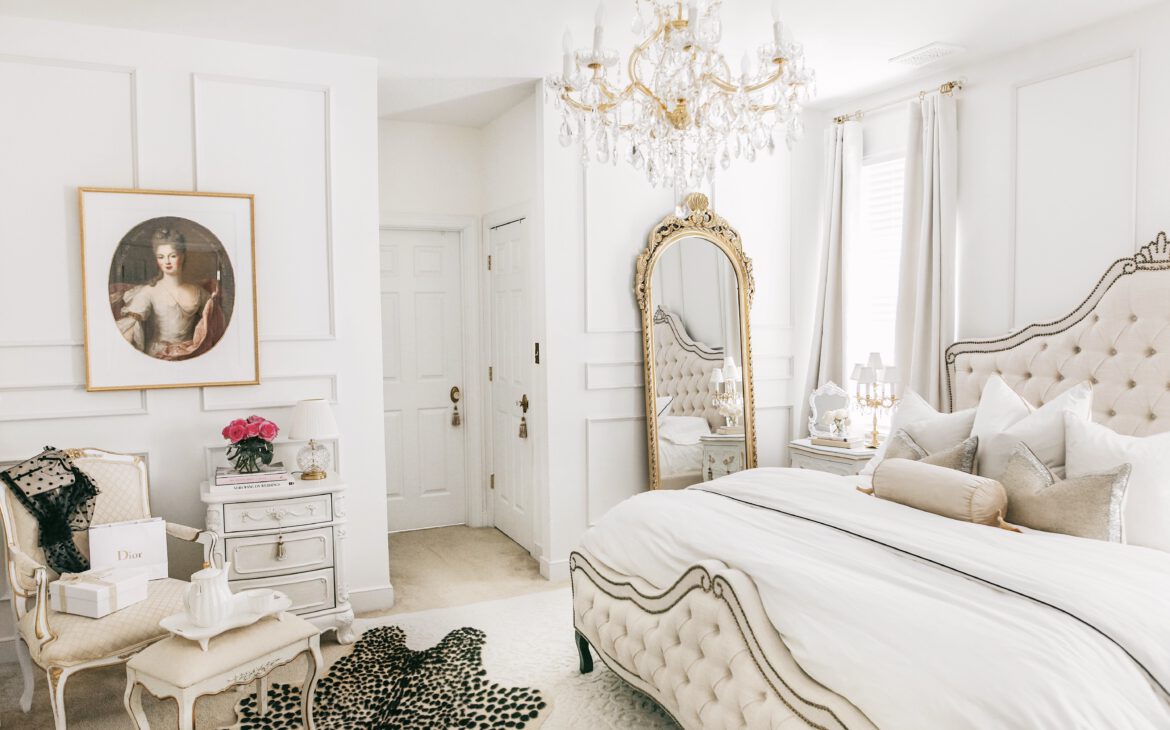 The search led me to Luxe Architectural. Here you'll find moulding kits that come already put together. They have adhesive on the back allowing you to easily place them on the wall. And if you want to later remove them and take them with you when you move, you can. These kits were seriously the perfect solution for me!
There are also multiple panel moulding styles to choose from and even customizable options as well.
This store is run by an amazing woman named Esther whom I am so thankful to have communicated with. She goes above and beyond to answer any questions you may have during the process while giving helpful instructions to walk you through the installation process. And I can't even begin to tell you just how simple the installation of the kits were.
These moulding kits dramatically transform a space. After they were installed, I was so giddy with excitement because they were better than I could have ever imagined. The walls looked so much more lovely and taller as well. Even now after some time of installing them, when I am in the room, I feel the same as I did when we first put them up. They are truly, a game-changer, and I can't recommend using the Luxe Architectural moulding kits enough.
Find the exact ones I used, here.
Here's a look at the walls before, during, and finally after the fabulous moulding kits.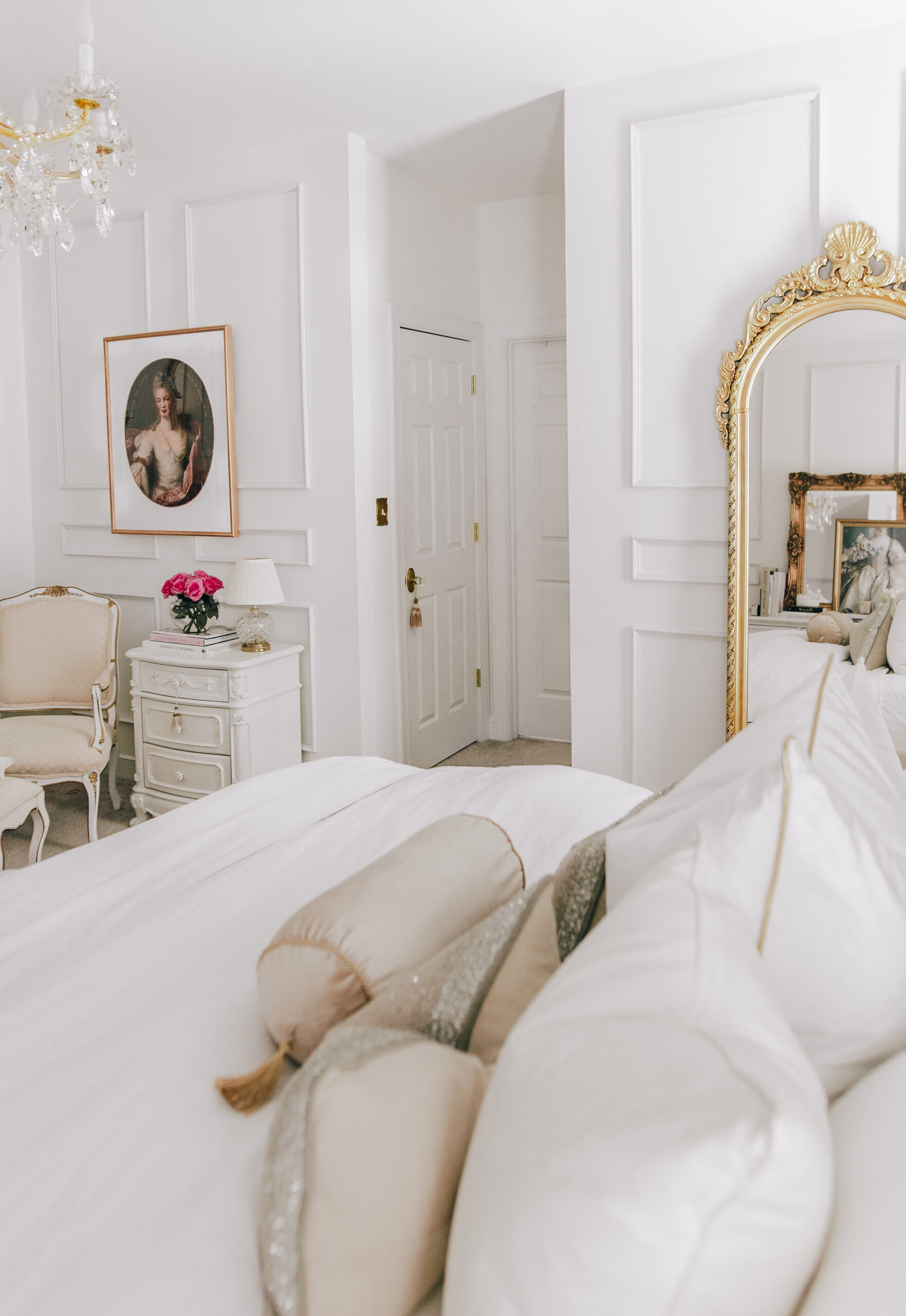 chandelier
Next on the essential list is the beautiful crystal chandelier. When I thought of where to find a chandelier for this space, I looked no further than Crystorama. One of my last makeovers was for my workspace and I used a very similar chandelier from Crystorama for the reveal. I was and still am so happy with that chandelier. I just knew getting another for the bedroom would make the room truly stunning.
This chandelier is adorned with such a numerous amount of crystals, making it a statement piece in the room. If you want Versailles vibes, honey look no further. As we unboxed the chandelier and began to put it up I couldn't help but think how the stock photo of this chandelier in no way captures the true essence of this piece. In-person, it takes your breath away with its beauty, and for the price, it's just impeccable.
You can find it right here by Crystorama.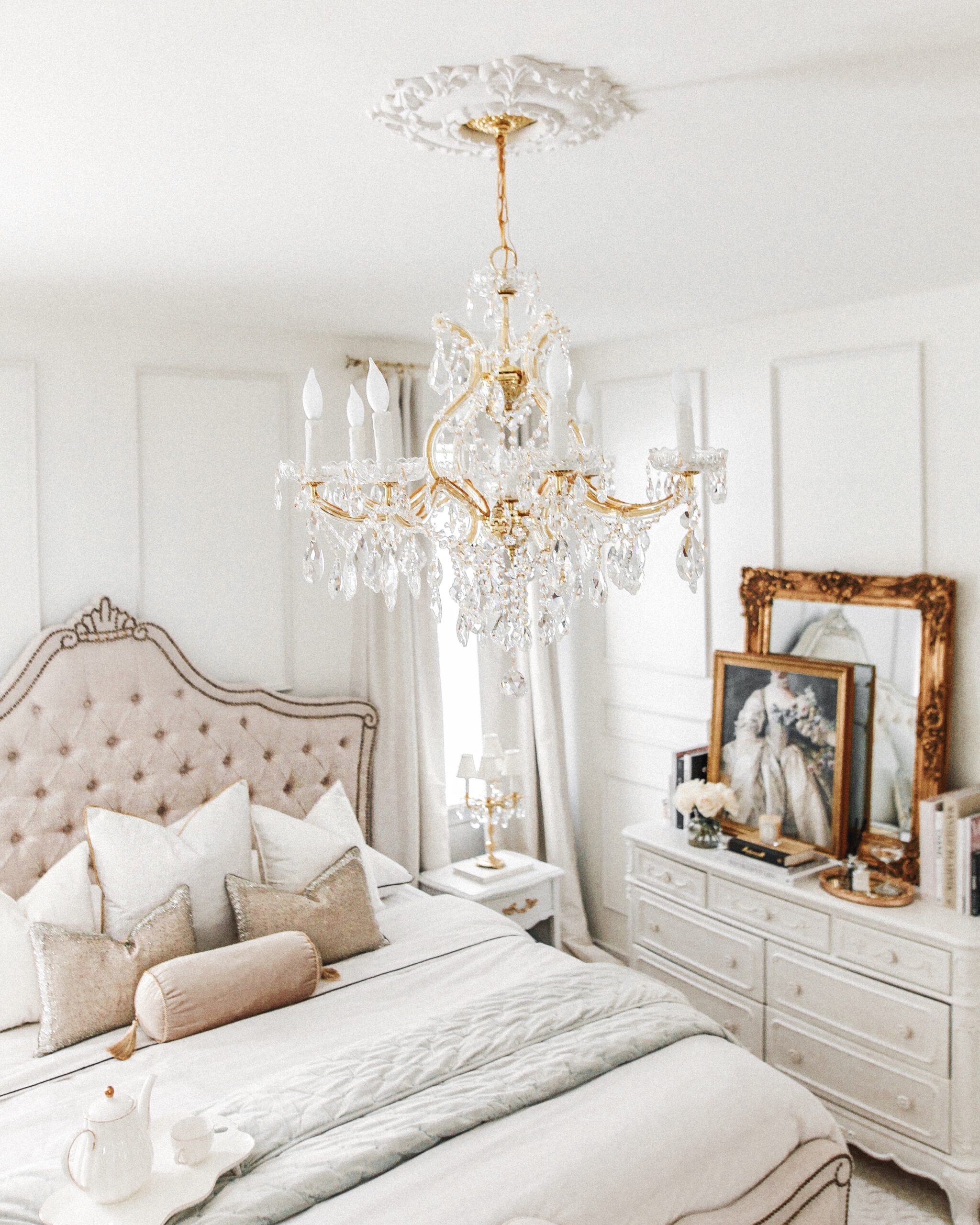 crystal knobs
I knew that crystal doorknobs would be a small detail that would have the ability to transform the room in such a grand way. They would also be a way to make the room feel more antique. So I decided to change out all of the doorknobs with these stunning crystal doorknobs and gold rosettes by Emtek.
For the design, there are many different styles to choose from when it comes to the crystal knob and rosette (backplate). For the bedroom, I chose the Astoria crystal knob with a satin brass oval rosette because the combination has just the right look that I was going for.
The quality of the pieces is just beyond. You would never think that such a small change such as this would have such an effect but it truly does. You can find these here.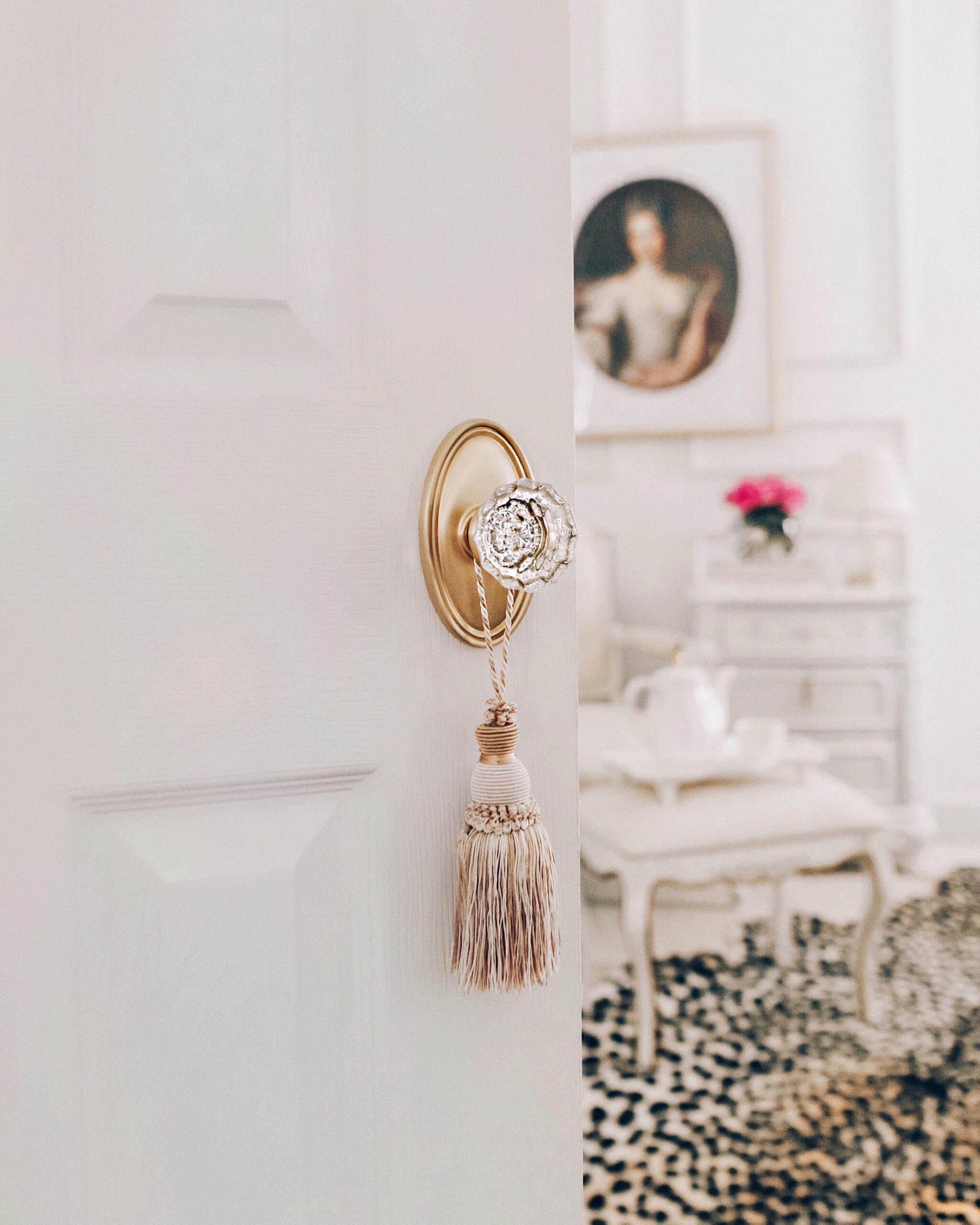 To go with the doorknobs I added tassels as well. You can find those here.
a new bed frame
I disliked the dark grey color of the previous tufted bed that I had. For the new space, I wanted to keep the tufted look but go brighter with a white, cream, or beige fabric. I also was in search of a bed that had a bit more charm.
After searching endlessly, I finally found one that had a French vibe and that was also located in the United States. Most of the beds that caught my eye were in Europe which was a total no go. I also searched the Facebook marketplace and local antique stores but just couldn't find what I was looking for. Luckily I found this beauty on Overstock and made it mine.
These essentials were the easiest things for me to find along my journey but the real challenge was just beginning.
facebook marketplace
The last essential from this list would take me beyond my traditional ways of shopping, this is where the Facebook marketplace came into play. A gained a lot of inspiration from A Glass of Bovino when it came to finding furniture this way. Never had I realized just how many beautiful pieces were available on the FB marketplace until I started seeing all of the stunning pieces she would find. I thought this project would be the perfect opportunity to dive in and start finding some for myself.
the fireplace mantel
The fireplace was the hardest to find. Online there are plenty of beautiful ones that you can buy brand new, but the prices were just not practical for my budget. So I took to the Facebook marketplace, searching day and night to find one. Each day, my anxiety only grew because nothing was coming up. I began to accept the idea that I wouldn't be able to get this piece that I so desperately longed for.
Then one day, it just popped up, after I gave up on finding it. Funny how life works like that. It was under $70 and had the Parisian vibes I had been searching for. I instantly messaged the seller, arranged for a time to pick it up and it was ours.
However, that wasn't the end of that story. This beauty needed a lot of work. We spent weeks trying to transform it. It had layers upon layers of different colors of paint and was just a mess. After much paint stripping and sanding, it was getting closer and closer to how I wanted it to be. I finally was able to paint it and bring it on inside.
Here's a photo from the seller of the fireplace before & underneath you'll see the after.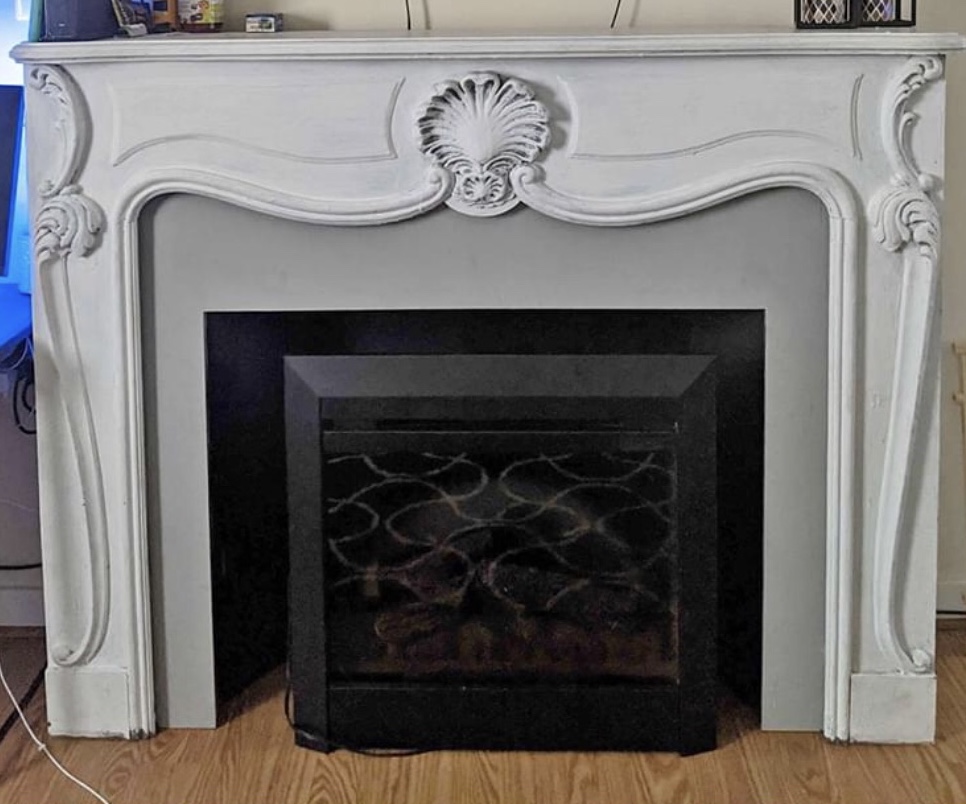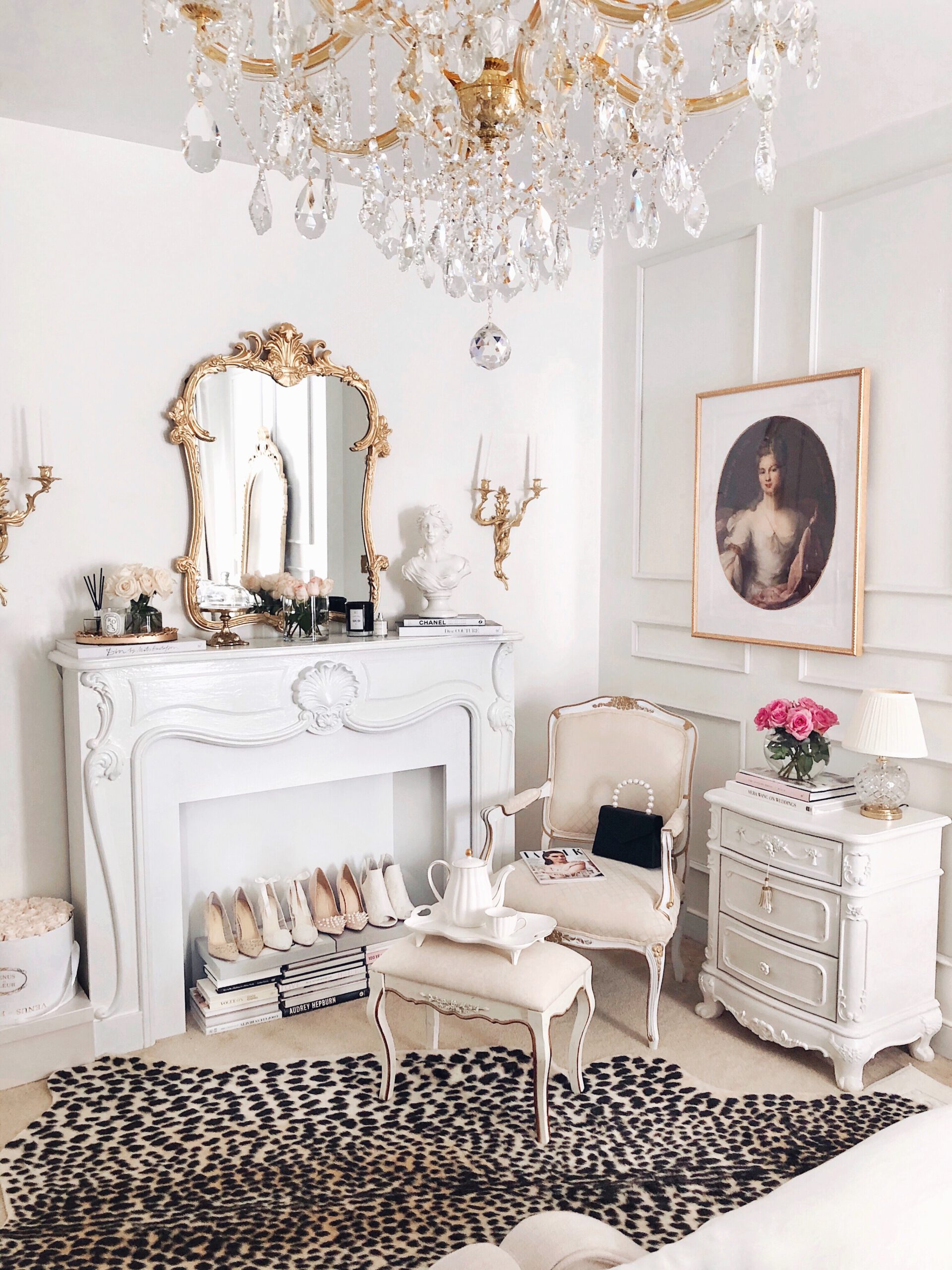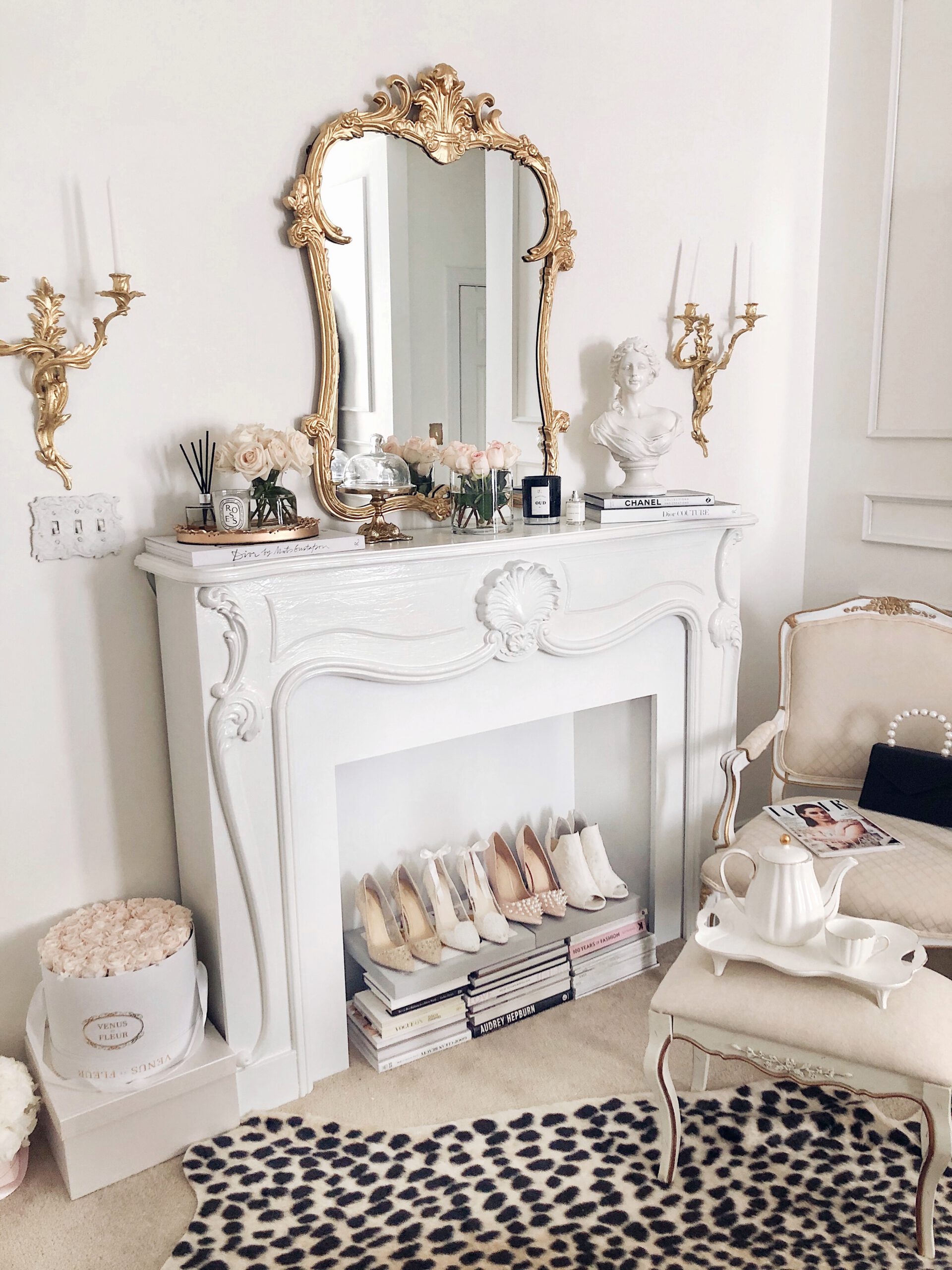 While my adventure for tracking down the perfect fireplace mantel came to a close, the hunt for more statement pieces was still very much on. After finding the mantel, I was absolutely obsessed with obtaining more antique pieces via the Facebook marketplace. Through consistent keyword searches related to the styles of furniture and decor that I was in search of, my antique collection slowly started to begin.
mirrors
At the beginning of my FB marketplace hunting, while I searched for the mantle I was also looking for a Louis XV style, mirror with a golden marble demi table. The potential issue with getting this would be not knowing where it would go exactly. I wanted to place it on the wall next to one of my nightstands but the reality is the space was too cramped. It was one of those things on my list that I just really wanted without really thinking.
Through my endless searching, I found what I thought to be the perfect compromise to my original vision. I realized the only thing that would work in the place I was needing to fill, would be a floor-length mirror. The compromise? A pier mirror, featuring a long golden mirror with crown detailing at the top that was designed to rest a marble floor table, very similar to the Louis XV style.
Truly this was a one-of-a-kind find. I have yet to see anything similar to show up in all of this time. I picked it up from a nice woman, who's grandmother had owned and had it custom made. On the back, it says made in Italy. And the price? It was a fraction of what you'd find for any brand new floor length mirror on the market today.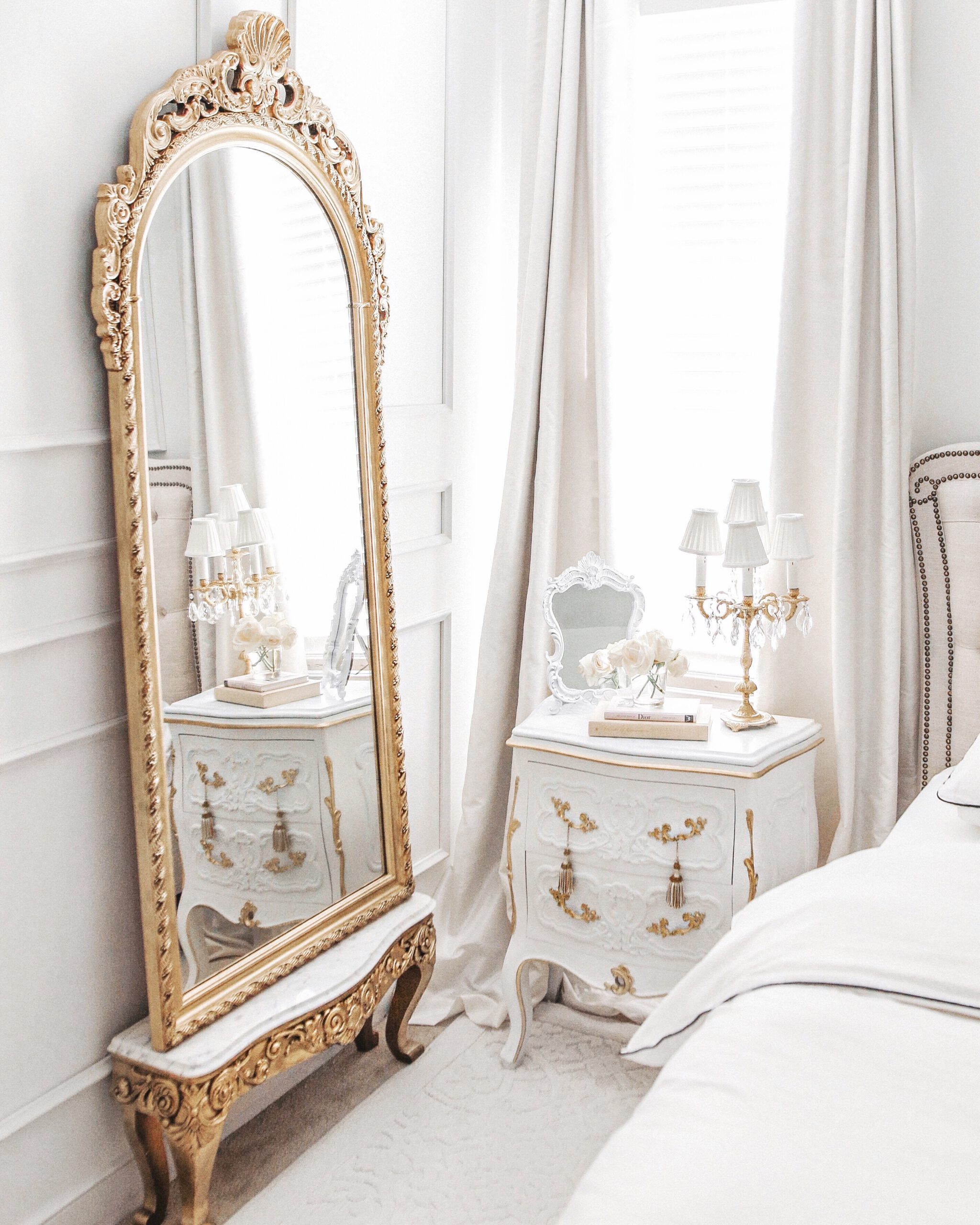 I just love mirrors and the magic that they can do for any space. If you have a room that doesn't get as much light as you'd like, they're perfect for brightening up things a bit. And that's exactly why I felt that I needed multiple for this bedroom makeover.
When it comes to antique mirrors, it's astonishing how many beautiful mirrors you can find out there. I don't know what it is about them, but I find baroque golden mirrors so swoon-worthy. They also make for a great way to bring more character to a room.
I was able to find another old beauty from an estate sale that I placed above my fireplace mantel. Along with that one, I found a beautiful one for the dresser, which was also from the Facebook marketplace.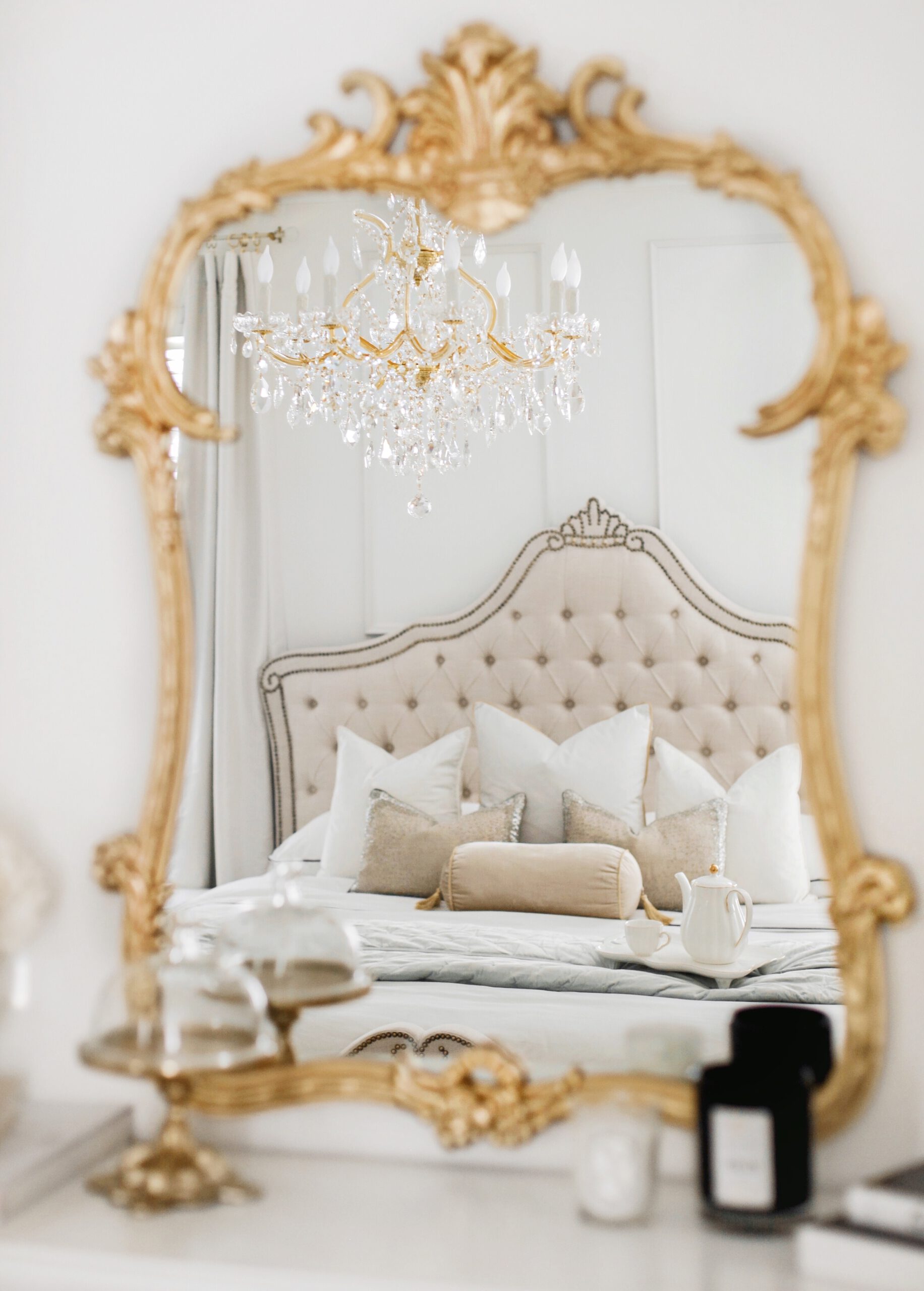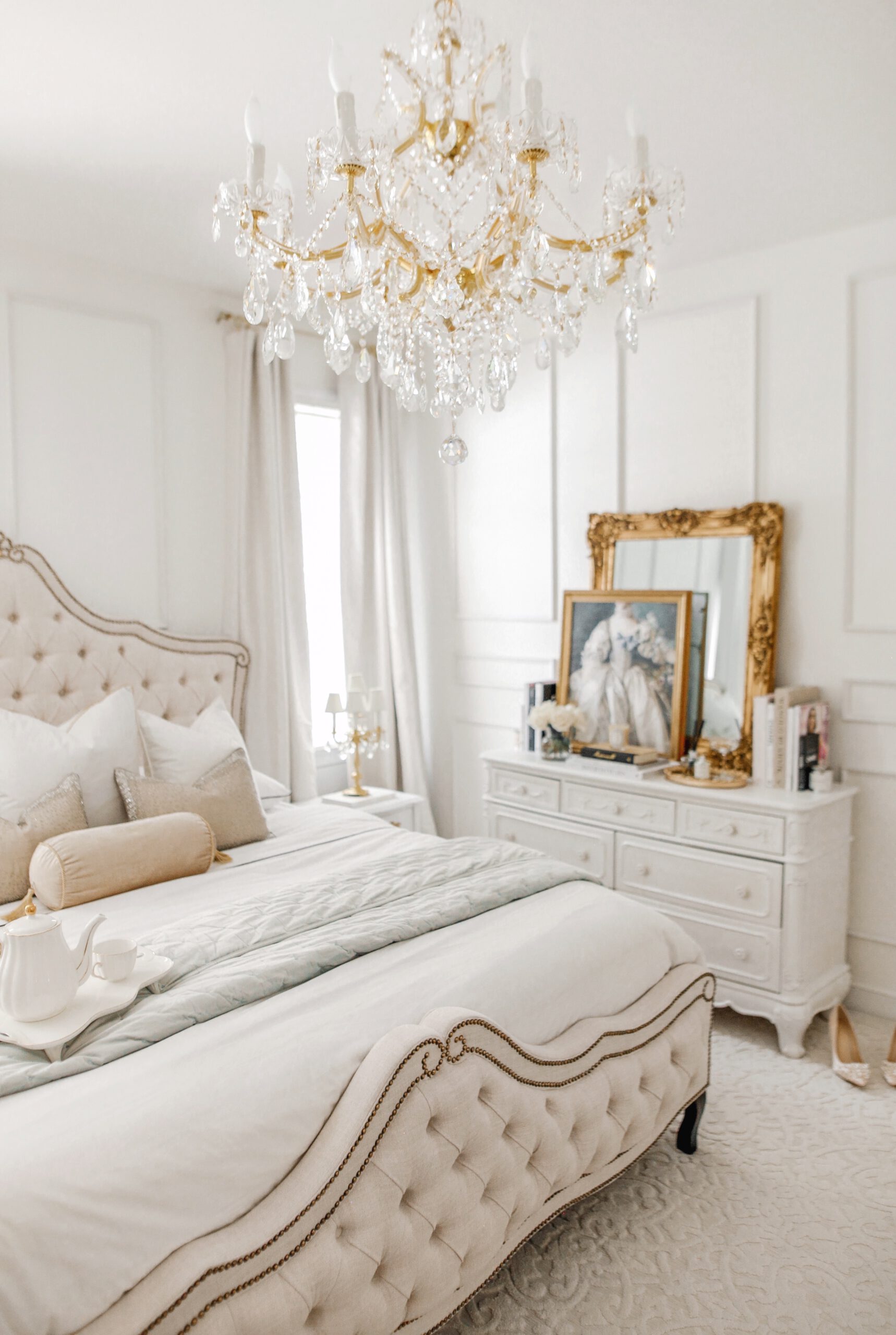 lamps
The closer I got to the end of this project, the more I felt something was still missing. It took trying out multiple antique lamps to discover that. The other lamps I tried first were so unique and beautiful in their own ways and I felt so guilty to not share them in the final result. But in the end, they just weren't right.
This led me to my next favorite find, the girandole lamps. Another facebook marketplace find, were these stunning, crystal candelabra style lamps ( also girandole style). These were such a steal and incredibly hard to find at the price that I got them for. I found the same ones on eBay for over $1000. The lamps were beautiful, to begin with, but were too dark for the room. So I cleaned them and painted the same gilded gold. To complete the look I was going for I added little shades from Overstock which gave me the Girandole lamp look that I had been dreaming of.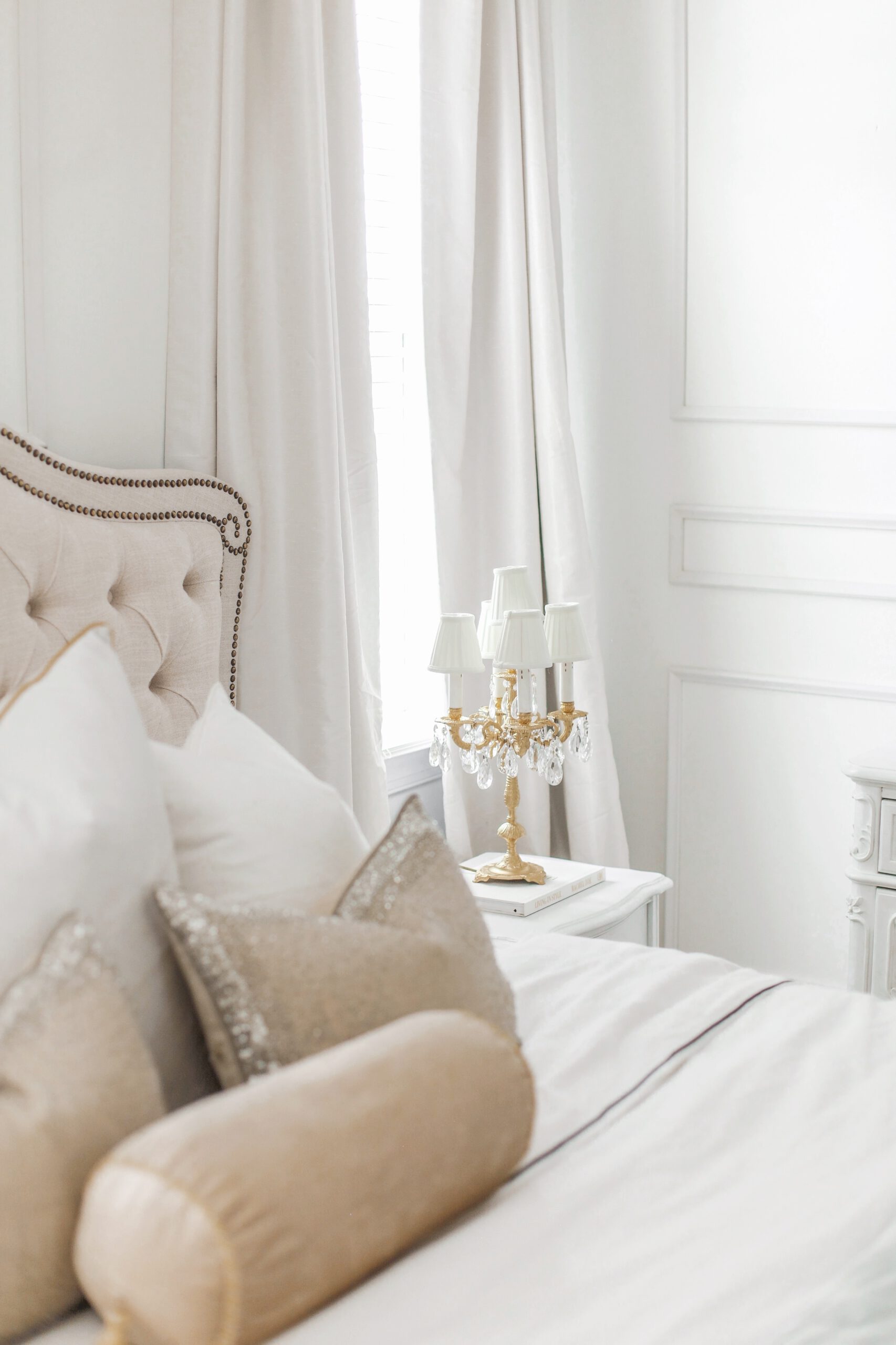 candle sconces
For months I searched for Louis style sconces to go on either side of the fireplace mantel. After all of the time, I found the most perfect ones from another wonderful person on the Facebook marketplace. They're heavy-duty and gorgeous. I used a special gold paint to paint the sconces, the mirror above the fireplace, and candelabra lamps so that they would all match. The gold paint is so rich and emulates a Versaille touch when combined with the pieces.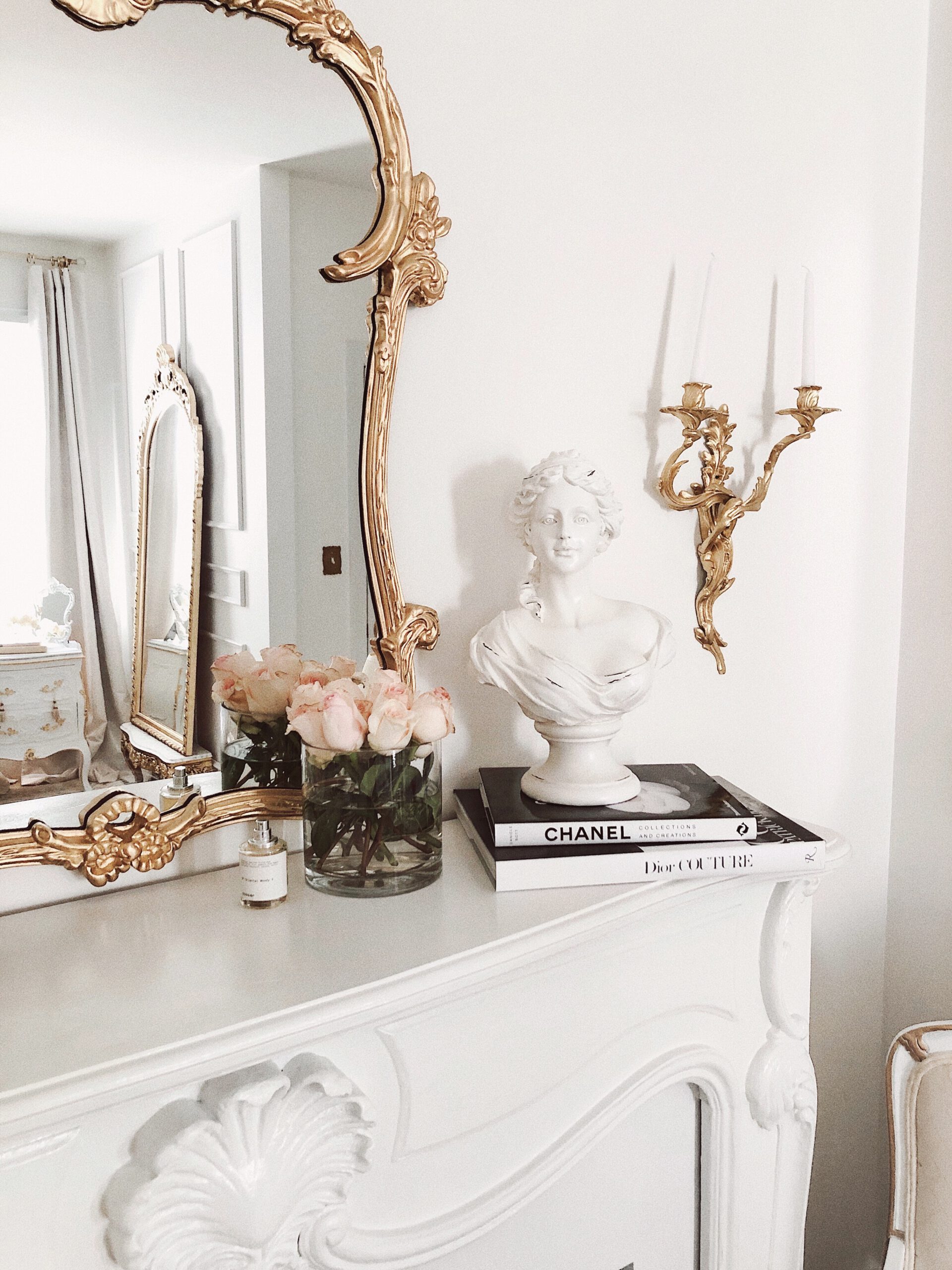 chair
Another fabulous find, this gorgeous armchair that I picked up from the Facebook marketplace for just $50. I added a coat of white paint and gold painted accents to get it looking just the way I wanted it.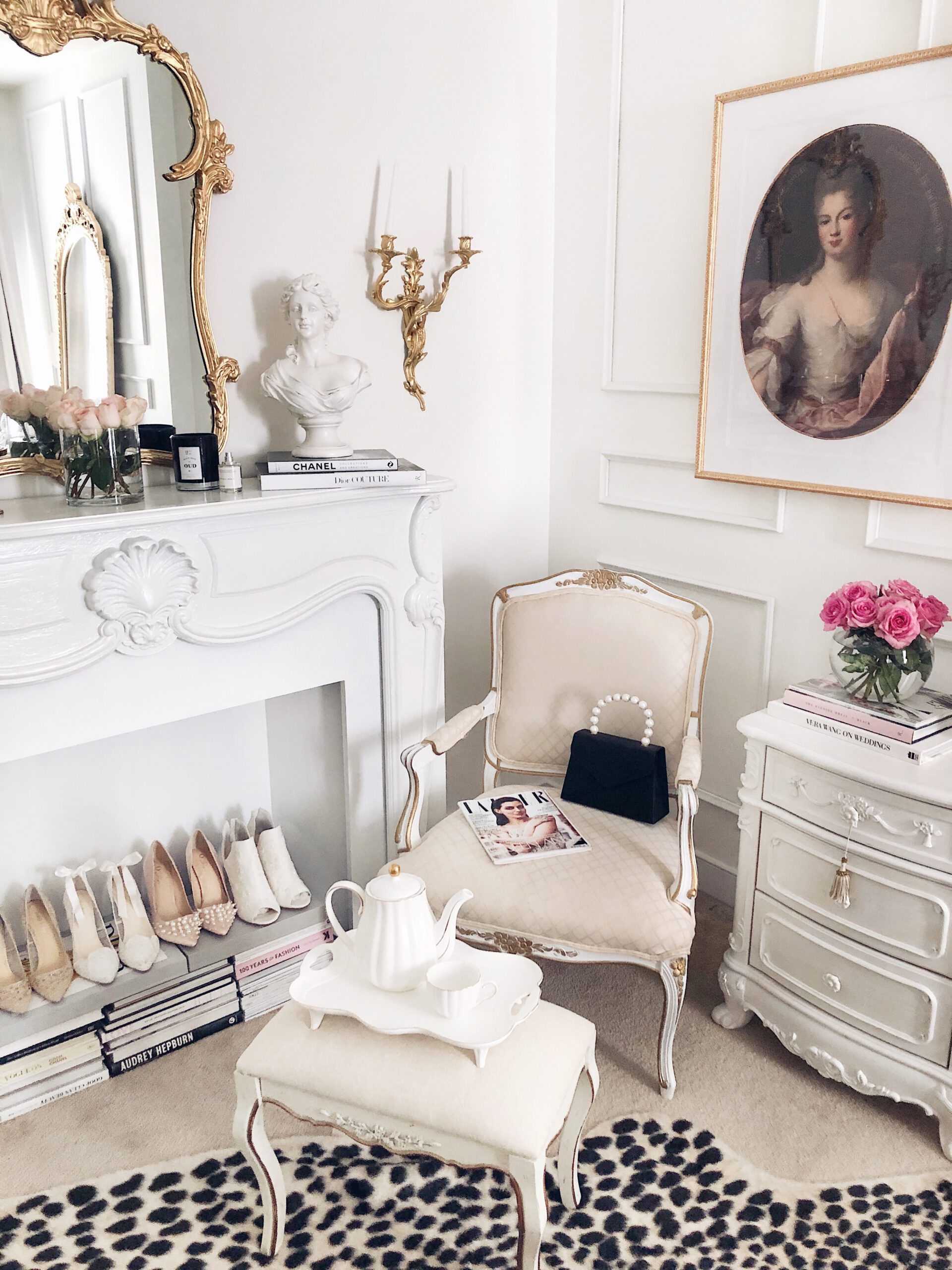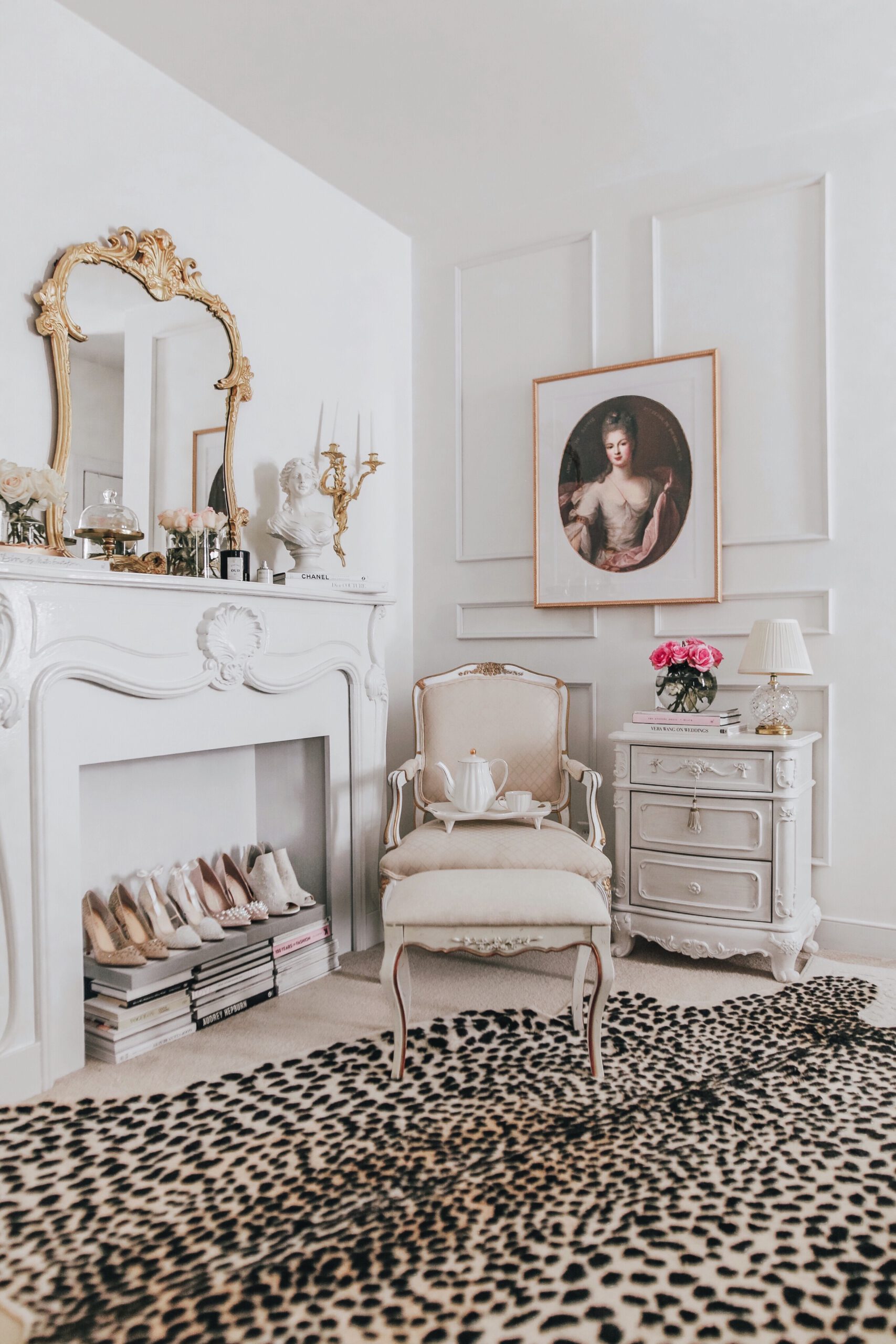 side table
The exciting finds didn't stop there. I became OBSESSED with finding more Louis XIV and XV style pieces to create my very own little Versailles. I replaced the nightstand that I previously had by my bed, with another beautiful made-in-Italy piece. It needed some cleaning and repainting to go with the room and once that was done, it fit so well.
Here's a before & some afters.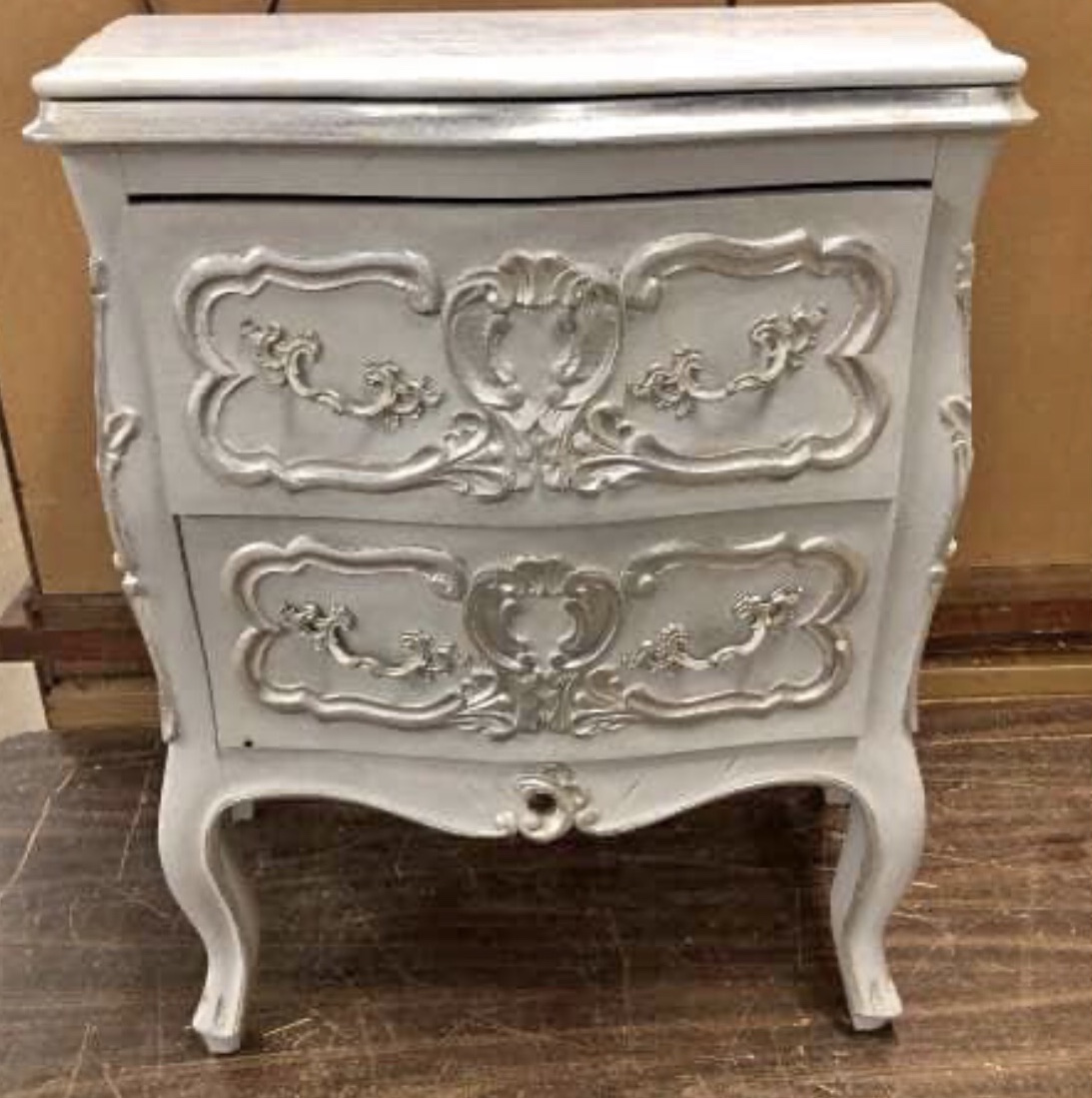 I hope that sharing these finds with you brings you an inspiration to do the same. If you can't fully re-do a room right now, start small.
Simply start with a vision until you know exactly what you want. You can start by just painting your room. And after a certain amount of time passes and you're able to start looking for pieces, definitely look at the Facebook marketplace. There are so many beautiful and well-made pieces to find there at such a small price if you look.
When it comes to Facebook marketplace hunting, it takes time to acquire the things you want. So naturally this way you would be just picking up one item at a time until you have a complete room.
the smaller details & final touches
With all of the foundational and statement pieces out of the way, my search moved towards the final touches.
On the dresser, I placed a framed painting of Madame Bergeret by Francois Boucher, a rococo portrait painting during the Marie Antoinette era. I cropped the painting to focus more on her dress because that's honestly my most favorite part, and again followed a subtle theme that highlights fashion and accessories.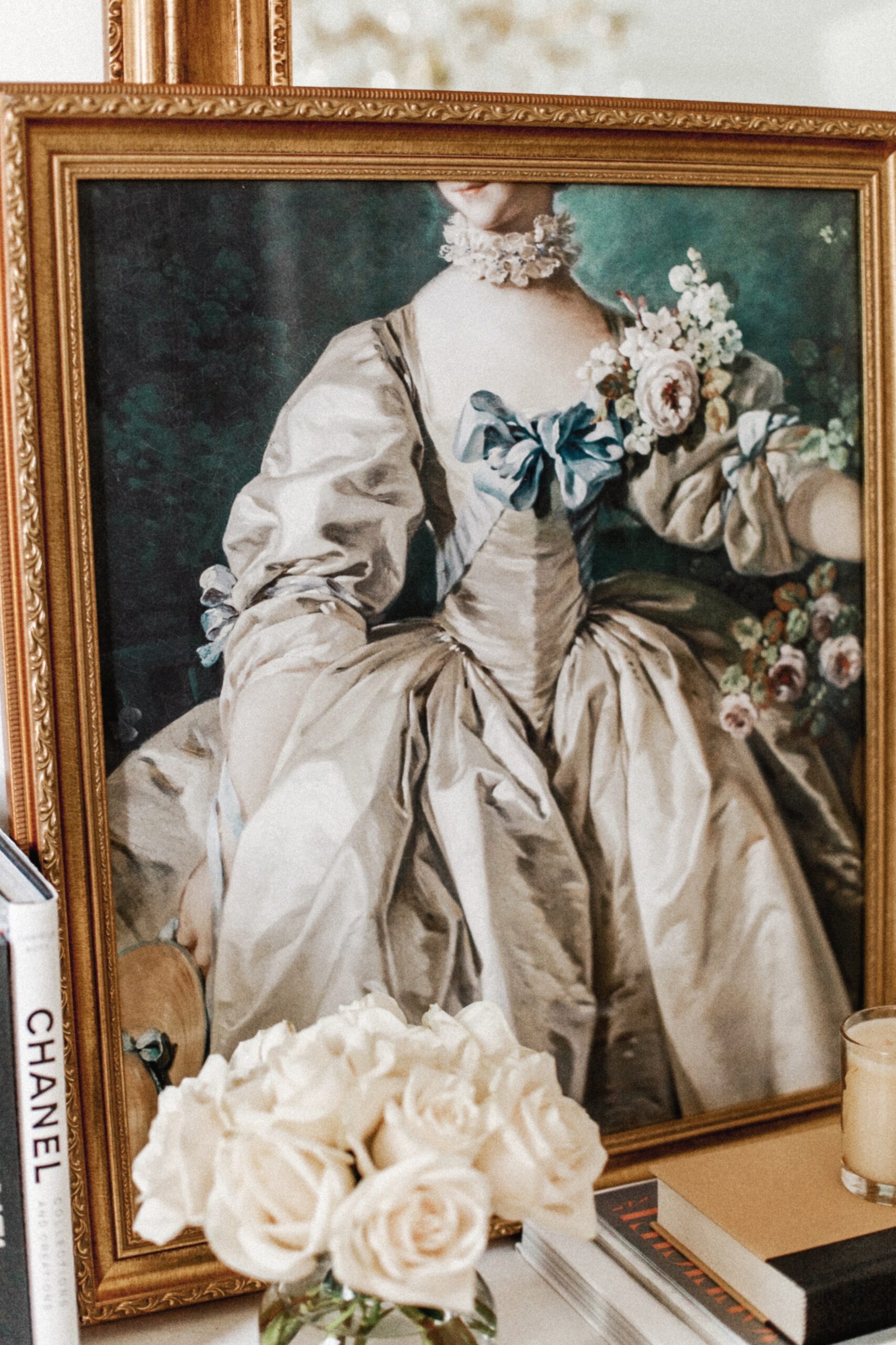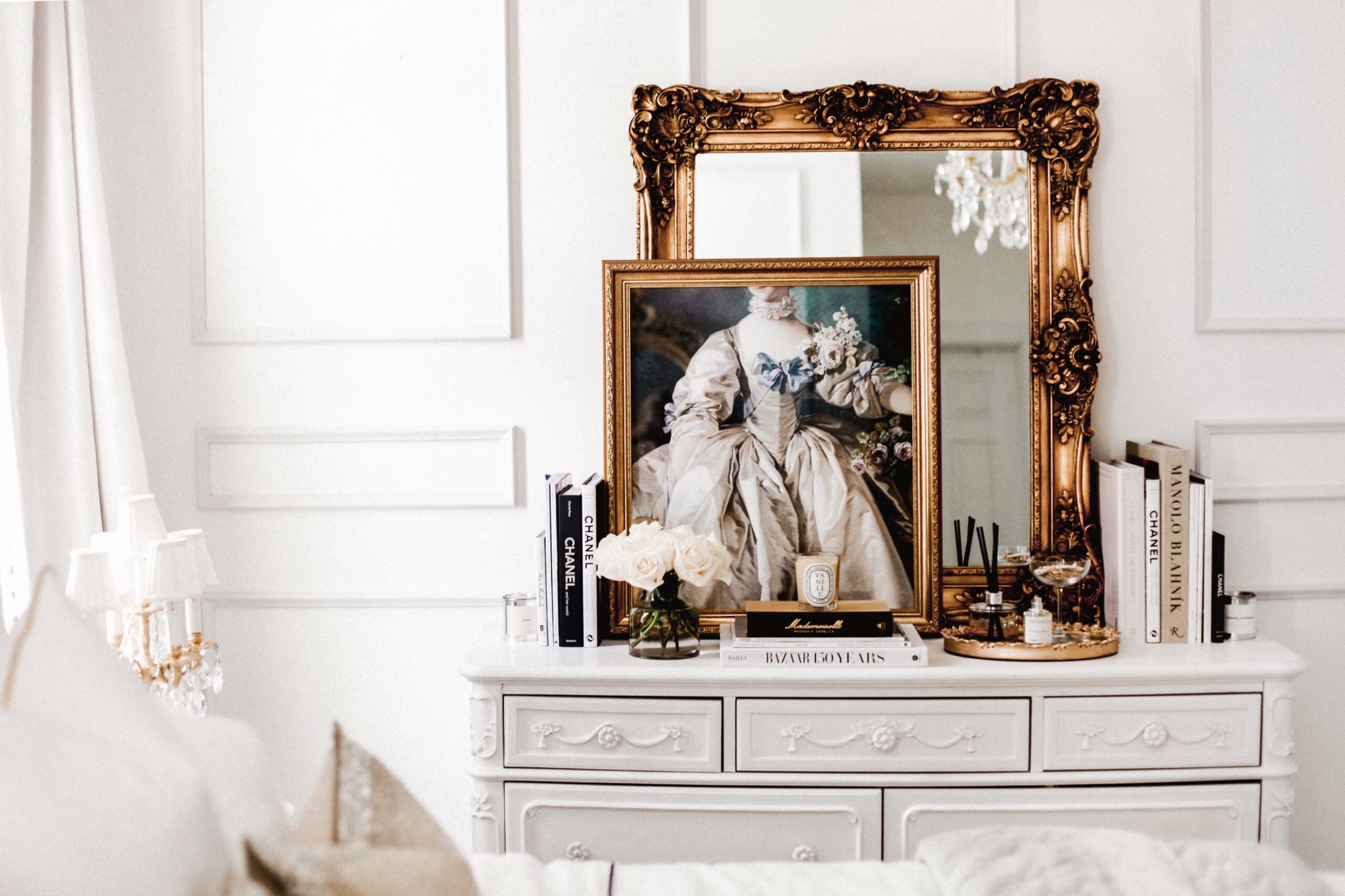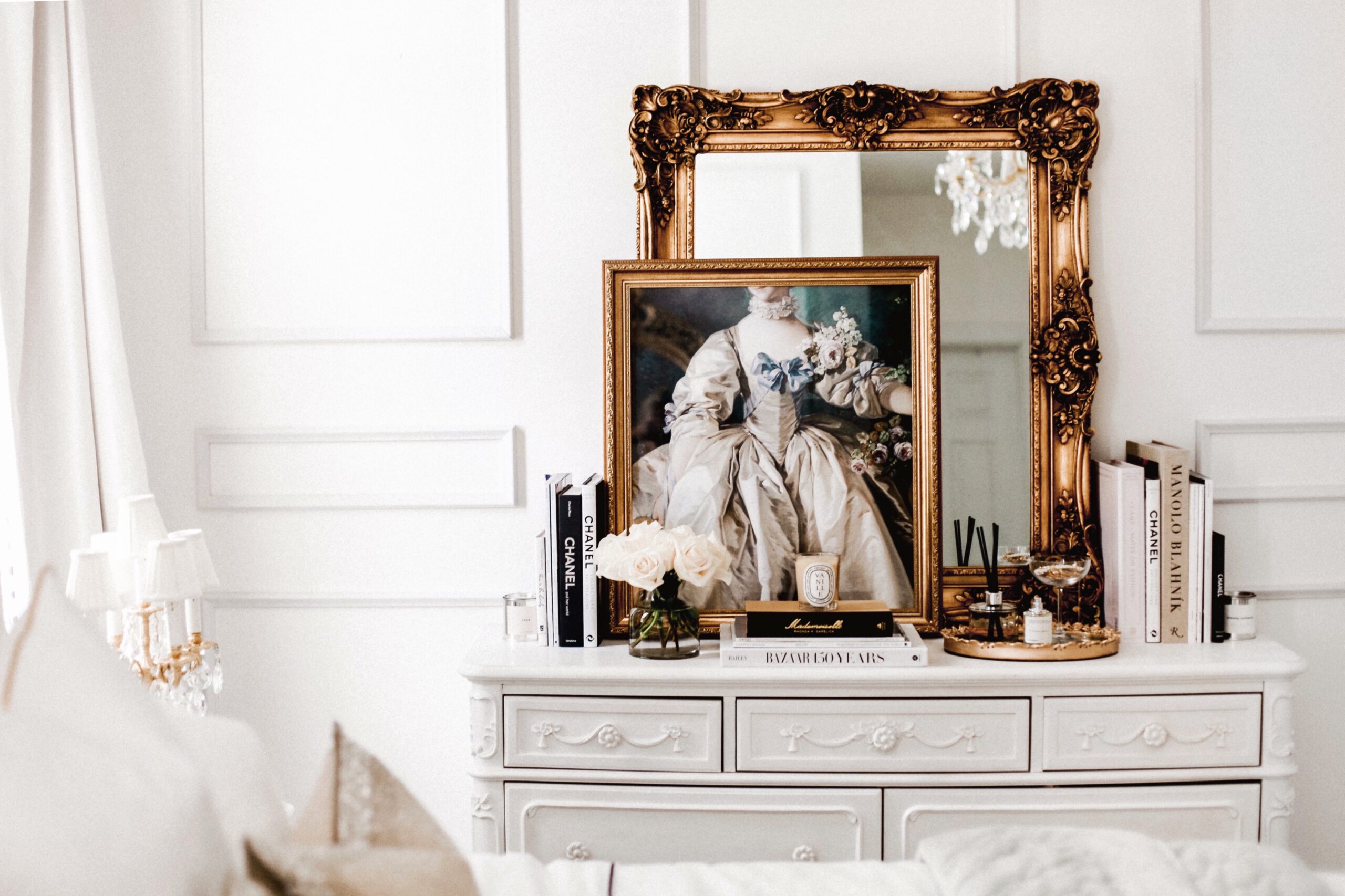 By the chic sitting area, I added a portrait of Marie Adélaïde of Savoy, by Pierre Gobert. This is another Rococo piece and one that I chose specifically because of the feminine soft vibes. It adds a hint of pink to bring in color and a fashion & a rococo touch to the room. In the same area, I added a beautiful feminine bust statue that I picked up from amazon. You can find it here.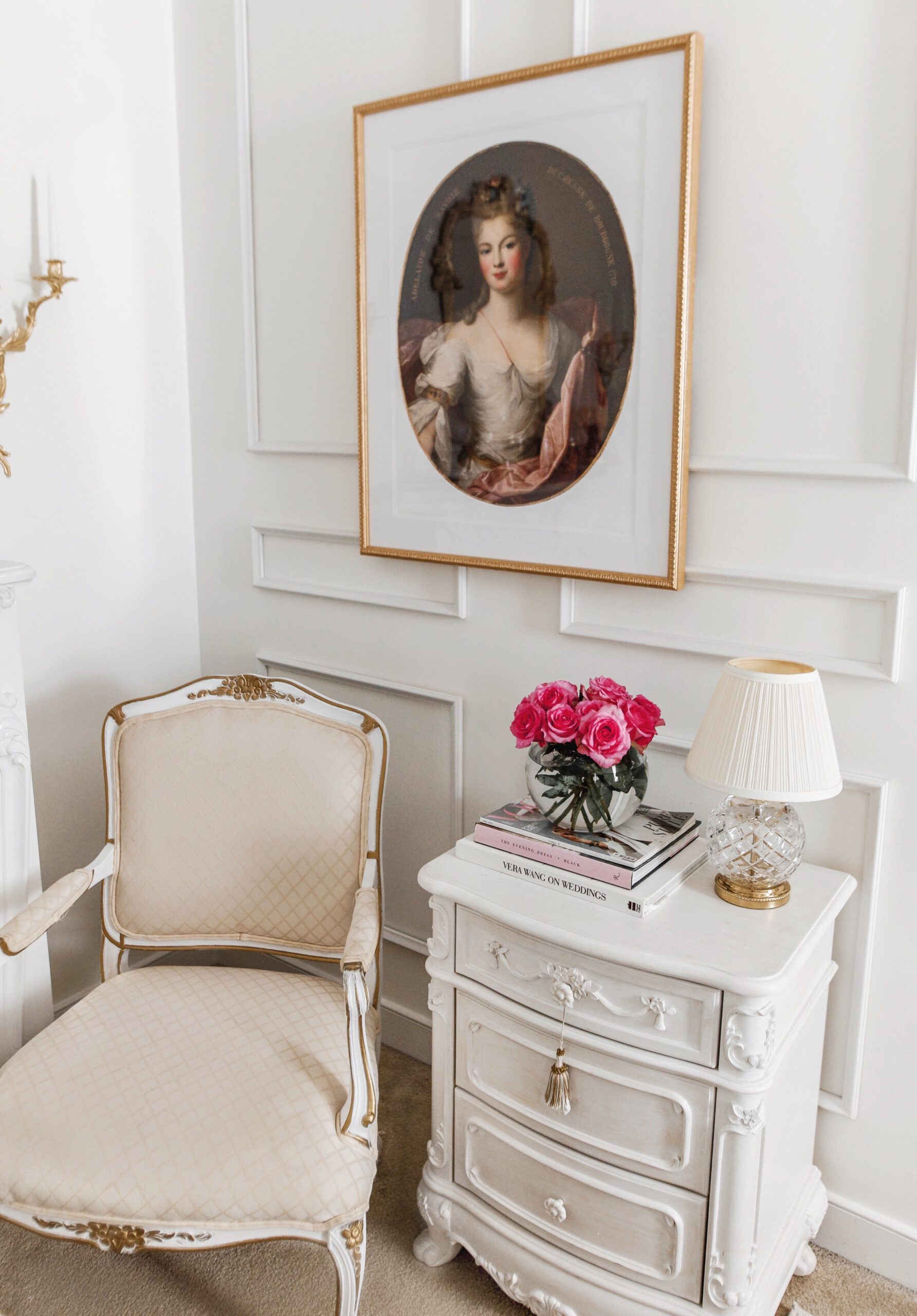 throw pillows
The Marie Antoinette theme inspired me to add a little sparkle to the room through these gorgeous pillows by On Cloud 9. They add such a beautiful sparkle while remaining incredibly elegant. The pillows are wheat-colored featuring a silver beaded border with down feather inserts. Find these here.
Another pillow from On Cloud 9 featured on the bed, is a euro sized white velvet pillow with gold piping. I love how the gold piping ties in with the theme of the room and the velvet adds a soft luxurious touch. This pillow also comes with a down feather insert and you can find it here.
sheets by thomas lee sheets
A bedroom makeover calls for an opportunity to bring luxury bedding into the mix. I truly have an obsession for bed sheets and I was on a mission to find new ones that had a more luxurious feel than what I had before. When it comes to sheets, an absolute must for me is that they keep me cool and have somewhat of a satin touch.
After some research and looking around I came across Thomas Lee Sheets and decided to try their Percale sheet set. Known to be soft to the touch while keeping you cool, they sounded just like what I was looking for. With each wash, they get softer and softer, believe me, I've tried and tested this and it's true! They are the epitome of luxury and I couldn't love them more. I picked up the white color in a king size. Find them here.
down feather comforter by thomas lee sheets
I also desperately needed to replace the previous comforter insert that I had which led me to look at what Thomas Lee had to offer. The previous one I had was too thin and the feathers would all sink to one spot, leaving the comforter with a flat, undesirable look.
I decided to try the European down feather comforter by Thomas Lee, in hopes of giving the bed somewhat of a facelift for this reveal. When I first took it out of the box I was afraid that again I would have a comforter that would be too thin and flat. To my surprise, once I inserted the comforter into the duvet and fluffed it up a bit, it was just perfect. It's not too hot which is a huge plus for me and leaves the bed with a fuller look. Each day that I've slept with it, I only love it more and more.
Find the comforter here.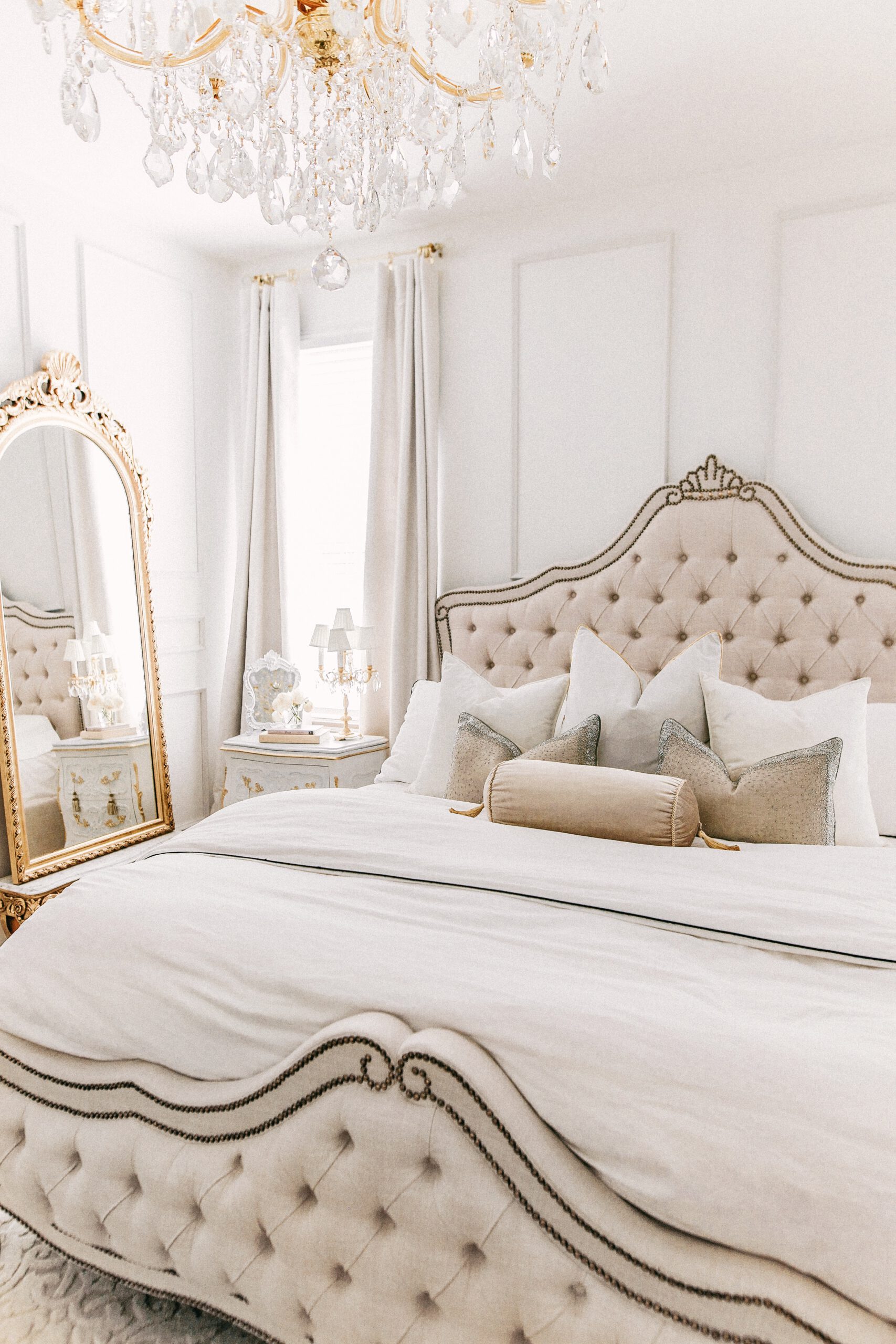 As for the black and white duvet, shams and tassel lumbar pillow are from HM. Again carrying on a subtle theme of black & white that I love.
velvet coverlet
In another effort to add subtle color to the room, I added a jade blue velvet bedspread for the end of the bed. It's such a beautiful, soft color. It's quite hard to capture the true color in photos because it shows up as more of a silver instead of a blue-green. Find it here.
rugs
The main area rug featured in the space is one that I didn't update for the makeover, It's an Orian Rugs area rug. I kept it because I love the size, texture, and the way that it brightens up the space.
As for the hide rug, that was a new addition and I was hesitant at first going with the leopard. It truly makes a statement but I wasn't sure if it was the statement I wanted. After trying many variations and colors I decided this was the best option. I was insistent on gold being a consistent theme throughout the room but also wanted black and white and neutral colors. The rug reflected that. Find the rug here.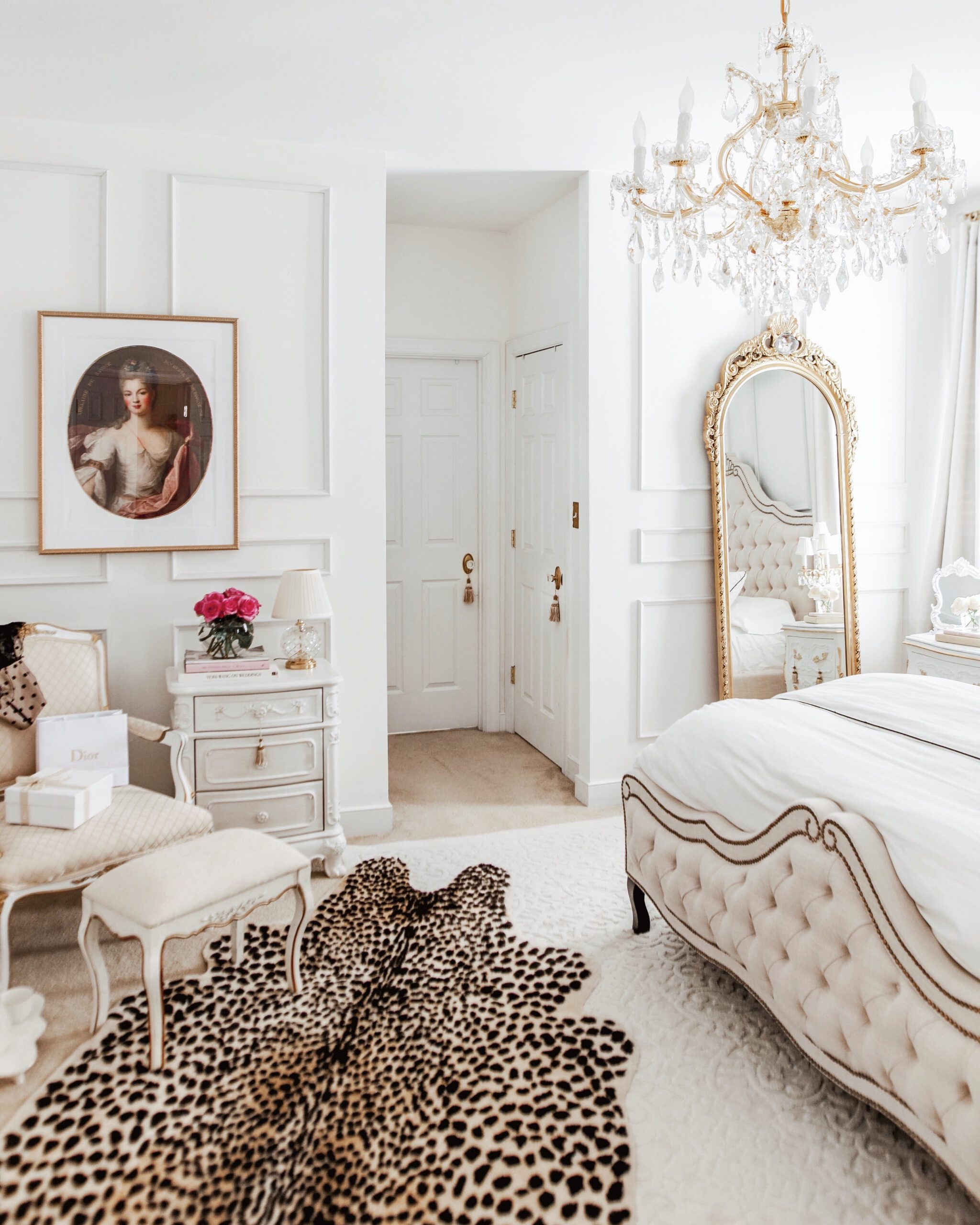 a happily ever after
The beauty of all the hunting that I did, is that I found pieces that are truly treasures. They're breathtakingly beautiful, made of excellent quality and the stories of how I came across each piece and the people I met along the way, will stay with me.
That is magic. That is something you can't simply just find by buying all-new, mass-produced pieces online. One of the most beautiful learning experiences I took away from this project was learning that. I have found a new appreciation for home furniture and decorations that you can't instantly buy.
The key thing here is a built a room that I just LOVE. And no matter where I go I will and can take it all with me to bring it right back to life elsewhere.
I honestly can't believe that time has come for me to end my search for this room, wrap it in a bow and finally reveal it to you. In ways it had become an obsession, constantly searching for the "perfect" pieces to bring it together and the excitement that followed. However, it was truly a welcome distraction from a lot of the things that have seemed beyond our control this year.
From that, I have a space now that has had so much thought and care put into its design and that transpires way beyond the stages of just putting it together. Where ever I go from here, my French-inspired room will go with me. These pieces are my new-found treasures. And when I look at them I will be reminded of places I went to find them, the wonderful people that I met, and the work that I put into them to truly make them feel like my very own.